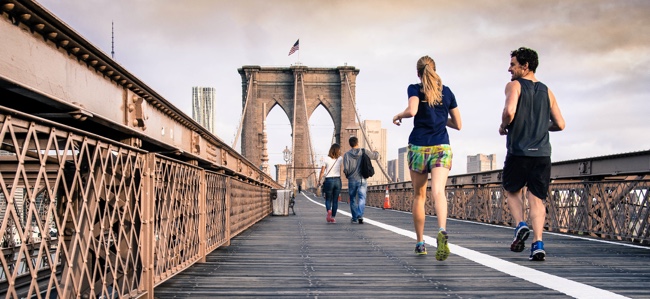 If you're a personal trainer who wants more clients and perhaps additional ways to make money from your skills, knowledge, and experience, then this article is just for you.
This post will explain how you can build an effective WordPress website to promote your personal training services and land more clients. We'll also be looking at some other ways you can use your website to generate an income that will supplement or even replace your work with clients.
By the end of this guide, you will know what essential features and pages your website should have, some options for giving it the right look for your brand, and a number of new ways of increasing your income.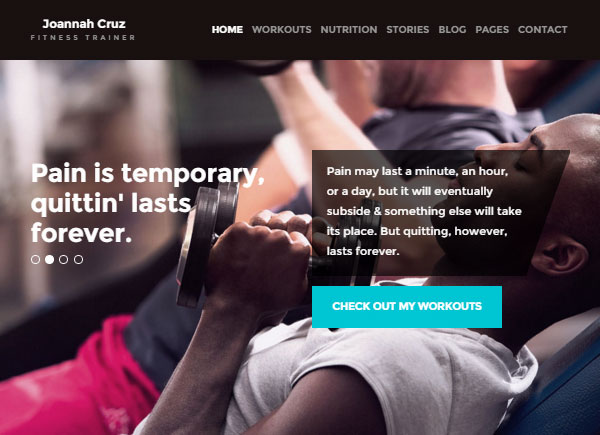 Essential Pages for a Personal Trainer Site
Before you get started on writing the content for your website or choosing a suitable theme, it's a good idea to spend some time figuring out who your ideal client is. Doing so will ensure that every aspect of your website is focused on landing the right type of client.
For example, your ideal clients might be new mothers who want to get back in shape, or runners who want to move into competing in triathlons, or brides and grooms to be who want to look their best on the big day.
Whoever your ideal client is, keeping them in mind when creating your website and its content will ensure that when that client arrives at your site, it's immediately clear that you are the perfect person to help them achieve their goals.
You might exclude some potential clients by taking this approach. However, by avoiding trying to be a general all-purpose, middle of the road personal trainer, and presenting yourself as an expert in your chosen field, you will have more chance of landing the clients that you can help the most.
So let's look at some of the pages you should include on your WordPress personal trainer website.
About Page
The main unique selling point of your business is you. There are undoubtedly countless personal trainers to choose from in your local area. Therefore, the best way to stand out from the crowd is to present yourself in the best possible light.
Creating an engaging about page that connects with your ideal client is vital to ensuring your personal training website is a success. It's been shown that a good about page can increase conversions so it's definitely something you shouldn't overlook.
You really don't want to go down the route of competing on price. So if you want to land those high quality clients that will pay you what you are worth, then you really need to make sure that your about page makes the right kind of impact.
As you are selling a personal service, this page will most likely be the most popular piece of content on your site. Therefore, you must make it count.
To write a good about page, you must tell a story that resonates with your ideal client. This means going far beyond simply listing your experience and qualifications. Share who you are, why you are doing what you do, how you can help, and what your goals are.  If you want more advice on creating a killer about page, be sure to check out Undullify Me.
Services and Packages Page
Presenting the services you offer will be a vital component of your website. Some personal trainers also offer packages that include a range of services that are focused on different goals. This can be a great opportunity to sign up clients onto a program, or a series of recurring services, which should result in a more predictable source of income.
When listing services and packages, be sure to highlight the benefits on offer to the client, rather than just the details of the option. For example, don't list an item as a weight training session; instead package it as a strength building and fat loss program. Most clients will be more interested in the results you will deliver, rather than how you will deliver them.
Client Testimonials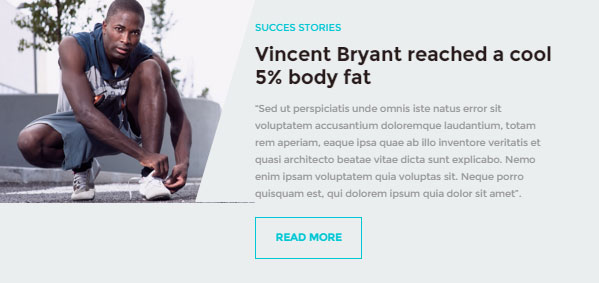 A page featuring client feedback and success stories from real people is another important piece of content for any personal training website, as it will help you land more clients. Make sure you follow up with your past and current clients and ask them for a testimonial.
Video testimonials have been shown to increase sign up and conversion rates so try to persuade your clients to record a video message. Even if you have to bring a video recorder to them to capture the review, it will be worth it in order to get that content on your site.
Locations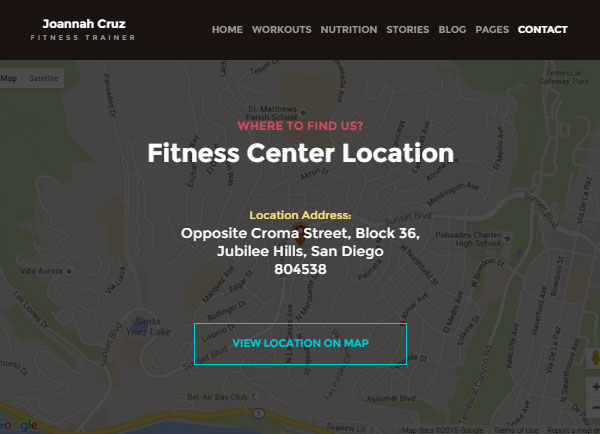 It's always a good idea to list the areas where you operate. This could include the gyms you work from, or where you're happy to travel to. Mentioning specific places, such as your local area can help with the search engine optimization (SEO) of your site. This in turn will increase the number of people who can find you via search engines like Google.
For example, if you are a personal trainer working in Manhattan, New York, make sure you mention this a few times on your website so the search engines know when to display your site in their results.
Should You Publish Your Prices?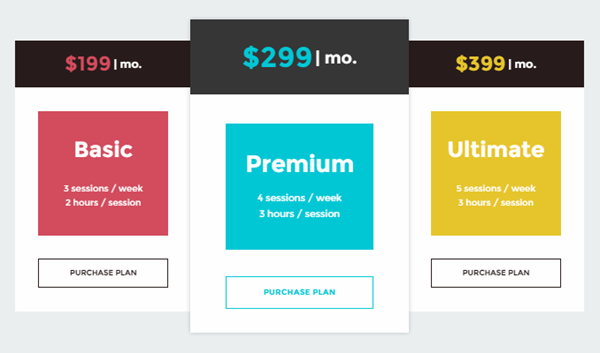 The last thing you want to do is compete with your rivals on price. This always ends in a race to the bottom where even the winner loses. Instead, you should be competing on the value you can offer your clients and the results you can deliver.
However, there is still the decision of whether to publish the prices of your services on your website or not.
Perhaps you don't want to let your competitors know what you charge, or you'd rather talk with potential clients and discuss prices on an individual basis. While these are good reasons, your visitors will be looking for your rates and when they don't find them, they may well go elsewhere.
While you might feel uncomfortable making your rates public, it's a vital piece of information your potential clients will be looking for. However, if you do a good job with the rest of your website, your rates won't be the only piece of information your visitors will take into account when deciding whether to work with you or not.
Contact Page
Don't forget to include a contact page on your site. In fact, it's also a good idea to display your key contact details throughout your site. This could be your email address and phone number in the header or sidebar area of your site.
You can then add an email form to your contact page, as well as links to your social media profiles in order to give your potential clients another way of getting in touch with you.
However, it's worth thinking about which modes of communication work best for you. Do you have time to respond to email queries, or would you rather have the chance to close the deal with potential clients on the phone? If this is the case, feel free to leave certain forms of communication off your site, or at least make one mode more prominent than the others.
Links to your social media profiles might help your visitors get a better sense of who are you, but do you want to risk losing potential clients down the rabbit hole that Facebook can be? If you do link out to external sites, such as Instagram and Twitter, make sure those links open in new browser windows.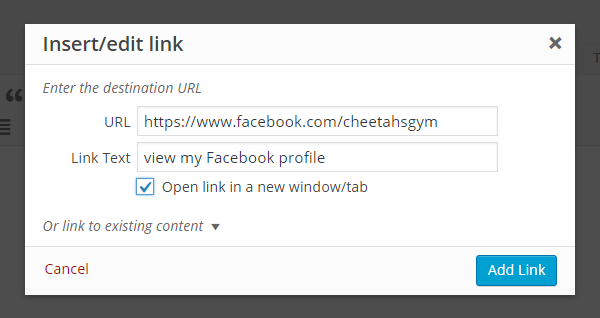 Newsletter
No matter how good your website is, there are going to be some visitors who just aren't ready to become one of your clients. However, this doesn't mean this will be the case forever. For whatever reason, even if they aren't ready to start working with you today, it's worth trying to keep in touch with them until they are.
One way, is to encourage those visitors to join your email newsletter. This way you can send them useful information that will help them work on their goals independently. Then when the times comes for them to hire a personal trainer, you will be foremost in their thoughts.
Setting up an email newsletter is free with a service like MailChimp and it's a proven way to turn one-time visitors into paying clients. For help on setting up your newsletter, be sure to read our guide on how to start an email list with WordPress.
You can display email sign up forms throughout your site. However, you might also want to create a specific page that really sells the benefits on offer to your visitors if they join the newsletter.
Health and Fitness Blog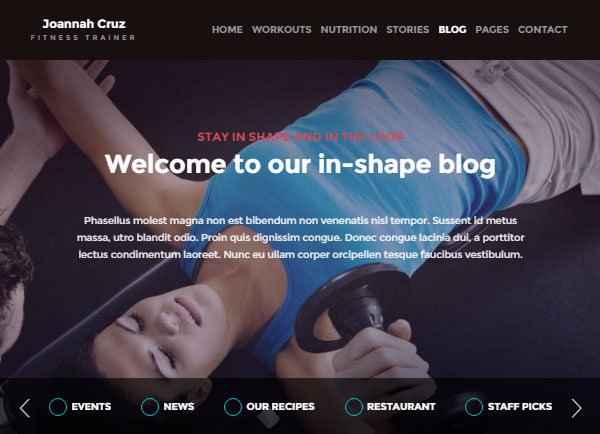 Adding a blog to your personal trainer website has many benefits. One is that the more content you add to your website, the more chances there are for your potential clients to find your site. By publishing articles related to the services you offer, you are giving your target audience another way to find you.
For example, if you provided services related to running and improving race performance, you could publish a blog post on the best running routes in your local area. A runner might use Google to find this information, discover your website, then join your email newsletter for more useful content, and then when the time is right, hire your services to help them in their next competition.
This approach to finding new clients is called content marketing. It's a proven way to get more visitors to your website and can be used alongside or instead of traditional advertising to help you grow your business.
When it comes to what you should write about, think about the problems your ideal client might be facing. Maybe it's where to exercise outdoors in your local area, where to buy fitness equipment, healthy places to eat out in your town, or just general fitness advice.
Each blog post you publish increases the chances of your website being found via the search engines or being shared on social media, so set aside some time in your schedule for creating a new article for your blog on a regular basis. This content can also be automatically emailed out to your newsletter subscribers by using a service like MailChimp.
Essential Plugins for Personal Trainer Sites
Plugins are the files that add new features to your WordPress website. To create some of the pages listed above, you will need to install a specific type of plugin in order to add the necessary features.

An example of this would be the Contact Form 7 plugin, which as the name suggests, makes it easy to add an email form to your contact page.
Easy Testimonials

This free plugin makes it easy to publish client testimonials on your website. Easy Testimonials simplifies the whole process of organizing and displaying client feedback, making this an essential plugin for your website – if your chosen theme doesn't already include this functionality.
Optin Forms

This free plugin will add attractive opt-in forms to your blog posts that make it easy for your readers to join your email newsletter. Optin Forms is a great way to get started with promoting your newsletter on your site. However, if you want to use more advanced forms such as pop-up and fly-in forms, you might want upgrade to one of the commercial opt-in form plugins.
Weekly Class Schedule

If you offer classes or a set schedule of sessions, then the free Weekly Class Schedule plugin gives you an easier way of displaying your timetable. Now your visitors can see when you are available and if your schedule fits in with theirs.
Appointments Scheduling

The free Appointments plugin lets you accept, set, and manage appointments online. As well as giving you a central place to store and view your schedule, this plugin lets you collect payments and deposits online via PayPal. If a visitor to your website suddenly has the motivation and inspiration to book an appointment, why not give them the opportunity to do so before their enthusiasm wanes.
Easy Pricing Tables

Offering multiple levels of service and then comparing those options in a pricing table is a tried and tested way to increase your revenue. People love to compare prices so if you don't give them the opportunity to do so on your site, they will go off and compare you to your competitors site's and maybe never come back.
By using the free Easy Pricing Tables plugin, you can offer multiple pricing plans for your services and give your clients the option of self-selecting a more expensive option.
WordPress Themes for Personal Trainers
You can use any good WordPress theme for your personal training website. However, there are some templates that have been made specifically for personal trainers and gyms and by choosing one of them, you can give your website a custom-built look for very little cost.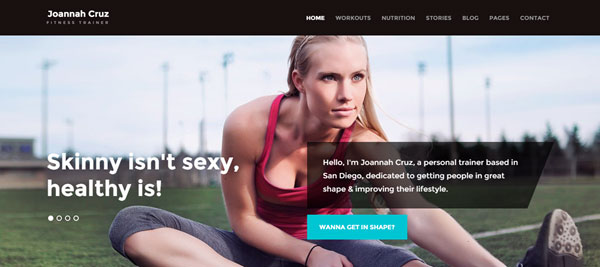 Other Ways to Make Money from Your Personal Training Website
In the introduction to this article, I mentioned we'd cover some of the ways you can make money from your personal trainer website by leveraging your skills, knowledge and experience. While this information would take up an entire article of its own, a quick roundup of ways you can make money online include:
Earn commissions: join an affiliate program such as Amazon Associates and earn money for each customer you refer to them.
Create an eBook: compile some of your best blog posts or write a mini-eBook on a specific problem or goal your clients have and then sell it from your site or through Amazon Kindle Direct Publishing.
Deliver online training: use a plugin like MemberPress to setup a paid area on your site that teaches your members how to achieve their goals using videos and other content.
Set up a paid community: add a premium forum or social network to your website where you can coach and train your community of online clients.
Teach others to become personal trainers: for many, you have their dream job, so why not create an online course teaching them how to get started, land more clients, increase their rates, and more.
Offer coaching: use an online scheduling plugin to offer paid coaching sessions to your international visitors.
The great thing about almost all of these methods of making money online is that they can run without your input – after the initial work has been done. Once you've created an eBook, you can sell an unlimited number of copies of it, on autopilot, while you sleep. The same applies to online courses, member's only areas, and product referrals
If you have any downtime during your working day when you aren't seeing a client, why not start working on an online product or service that can add another income stream to your personal training business.
Final Thoughts
You now have all the information you need to get started on your personal training website. If you need more clients, or you want more of the right kind of clients, then your website can be a powerful marketing tool.
Furthermore, if you put in the effort, you can also turn your website into another source of income that can generate revenue when you're busy with a client or even asleep.
If you have any questions about building a website to promote your personal training services with WordPress, please leave a comment below.