Growing a database of visitors who've subscribed to your email list is often stated as being the most important factor online businesses should focus on. While the ranking and visibility of your website will fluctuate, your email list is always there, allowing you to instantly connect with your subscribers, whenever the need arises.
The value of being able to communicate with your subscribers directly via email, whenever you publish new blog content, launch a new service or product, or just want to reach out to a group of like-minded individuals, cannot be overlooked.
However, when it comes to growing that all-important subscriber list, many website owners and bloggers fail to take action. Even those that do, often aren't doing all they can to ensure their website is optimized to effectively turn readers into subscribers.
While there are countless tools available to help your build your email list, there is one plugin which aims to turn your WordPress website into a lead-generation machine. That plugin is Thrive Leads and in this review we will be putting it through its paces so you can decide if this is the right tool to help you build your email subscriber list.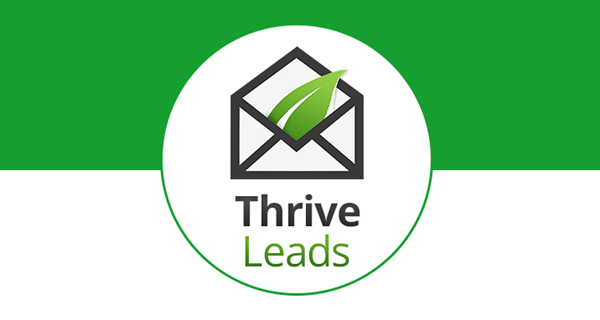 Thrive Leads Features: What This Plugin Can Do For You
Thrive Leads has been created to help you build your email list faster than ever before.  Depending on the source, 50-80% of new visitors to your website will leave and never return.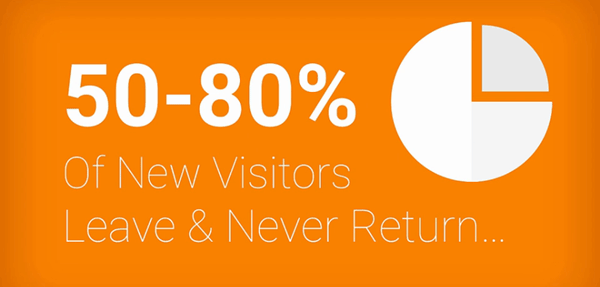 Furthermore, the rule of seven, an established marketing convention, states that seven interactions are required before a purchase decision is made. In order to have those seven interactions, you could sit back and wait for your prospects to return to your website organically six more times. Alternatively, you could simply email them with value-packed content seven times, before asking them to complete an action.
However, if less than half your first time visitors are likely to return to your website, and you don't get their email address before they leave, forming that bond with just isn't going to possible.
These are the problems that Thrive Leads was built to solve; and it's something that any website owner will benefit from overcoming.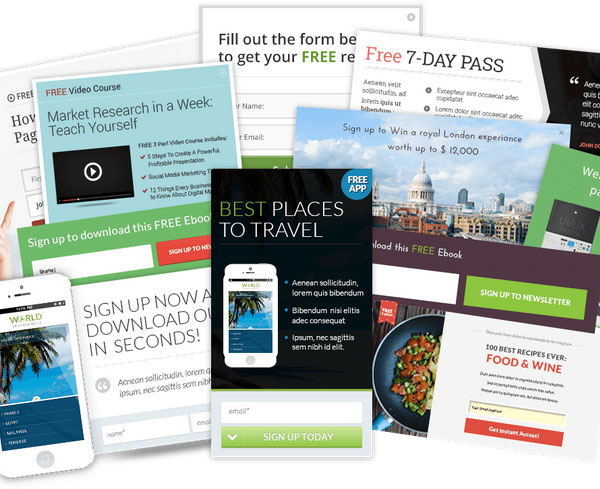 So how does Thrive Leads go about turning your website into a lead-generation machine? Well firstly, this plugin aims to stand above the competition by offering you much more than standard in-content and sidebar sign-up forms.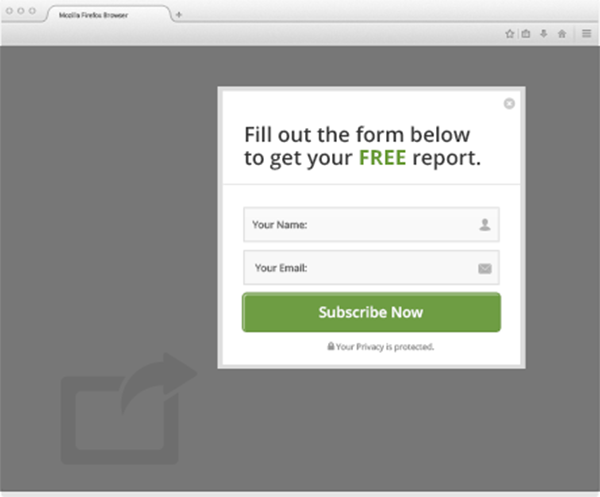 Instead, the developers have strived to incorporate all the best conversion and list-building strategies into one plugin. This means you can create: popup light boxes, slide in forms, insert forms anywhere in your content, display forms in any widget areas, create two-step opt in links which open the light box opt in form when clicked, and add ribbon forms to your site header.
As well as allowing you to display the forms anywhere you want on your site, Thrive Leads also includes lots of form templates. These templates all look top quality and have been optimized for the highest conversion rates. Not only that, but they can all be customized easily, using the integrated visual editor.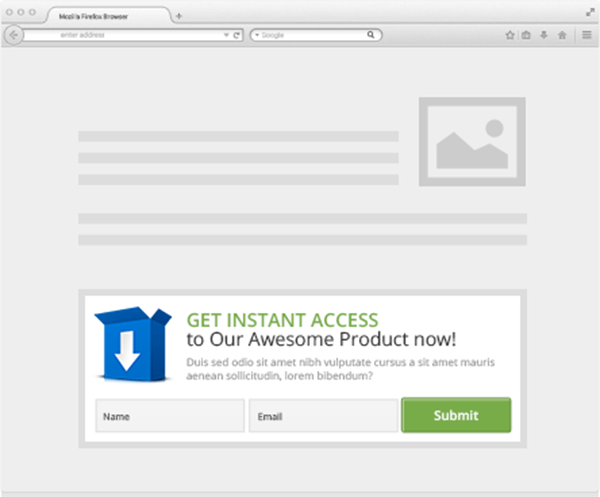 To help you select and create the highest converting sign up forms for your website and audience, Thrive Leads also includes a split testing tool. This allows you to create multiple variations of your forms, and then let the plugin compare them head-to-head, to find the best performer. You can even let the plugin automatically disable the loser, to ensure you don't miss out on any signups.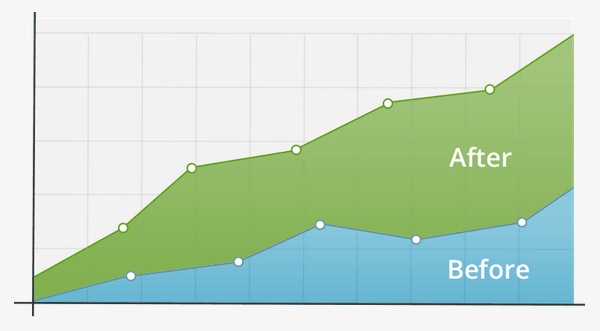 It's important to note that this plugin isn't an email subscriber management service, but instead gives you the tools to grow your mailing list faster. If you are yet to sign up with an email marking service, MailChimp is a good free option, which integrates with Thrive Leads, and many other opt in form plugins.
For more information, the developers have published a great overview video which does a good job of explaining why they think Thrive Leads is the best tool of its kind available today.
Thrive Leads Review: The User Experience
Thrive Leads certainly looks great on paper, but how easy it is to use? Let's find out, in our Thrive Leads review walk through of setting up an email opt in form for a WordPress website.
Installing and Configuring Thrive Leads
After activating the Thrive Leads plugin, four new items are added to the admin sidebar menu of your WordPress website. However, before using the plugin you must enter your license details to activate the plugin.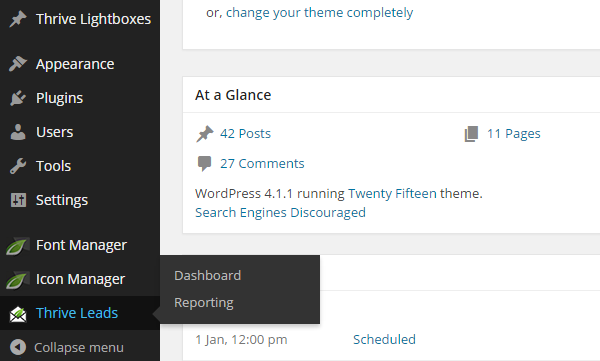 From the main Thrive Leads Dashboard area, you can view your existing forms. You can also view statistics on how your opt in forms are performing. However, the first step is to create the form which is to be displayed on your website.
Creating Your First Opt In Form with Thrive Leads
Thrive Leads uses a grouping system to organize your forms. The first step in adding a new opt in form to your WordPress website, is to create a new group. This takes place through the dashboard of the plugin. After creating the new group, you can then expand its options to decide which type of forms it will make use of.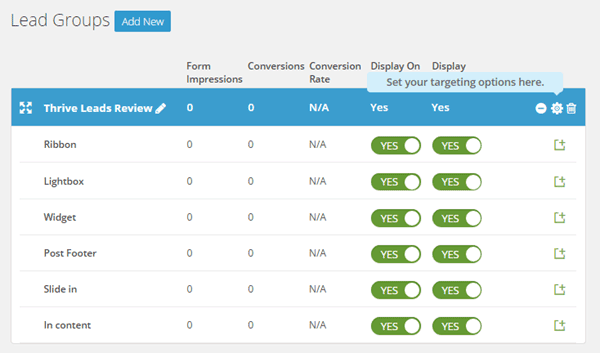 After clicking on the create form icon, the next step is to give the form a name. After which, you can begin work on the design of the form by clicking on the edit design icon.

The visual form editor opens in a new browser tab. Once it's loaded, you can then get to work by choosing from one of the many form templates included with the plugin.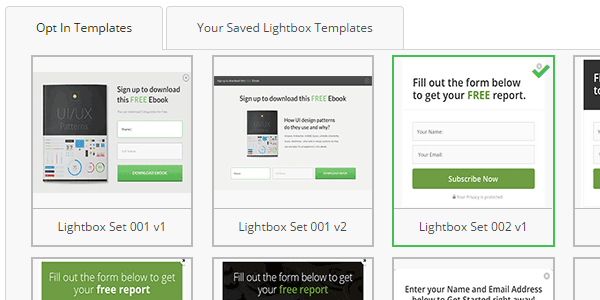 After choosing a template, you can then begin personalizing the design of your chosen form through the visual editor.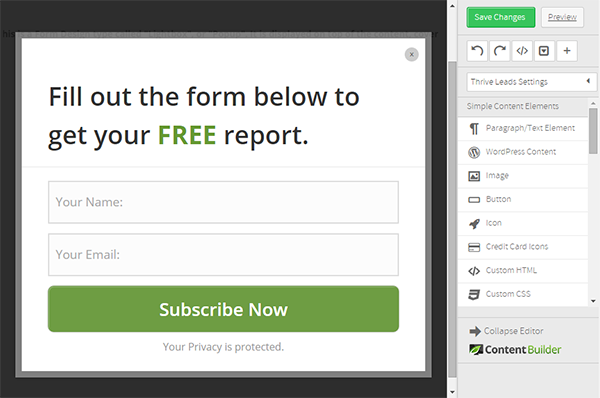 The visual editor makes it very easy to just click on the template text and start entering your own content. You can also personalize the appearance of the text, or any other elements of the form, through the visual editor menus.
If you can use software like Word, or even the WordPress editor to enter and format text, you will have no problem using Thrive Leads to design your own email subscriptions forms. This interface is the same as the one used in the Thrive Content Builder and Landing Pages products, so if you've used those before, you should know what to expect.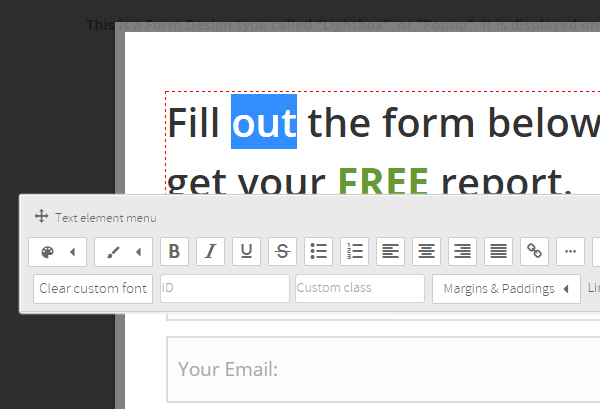 You can also easily choose from a wide range of useful elements to add to your forms. This includes images, custom content created with the WordPress editor, icons, buttons, credit card icons, custom HTML and CSS, star ratings, content reveal, widgets, video, pricing tables and much, much more. The list of items you can include in your forms is very impressive. Furthermore, each of them can be customized with ease, through the visual editor popup element menu.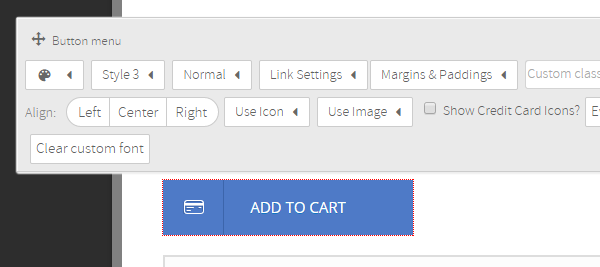 The whole interface of the editor is drag and drop. This allows you to simply drop new elements onto the form, then reposition them as needed. Any elements that you want to remove, can be deleted by using the appropriate icon.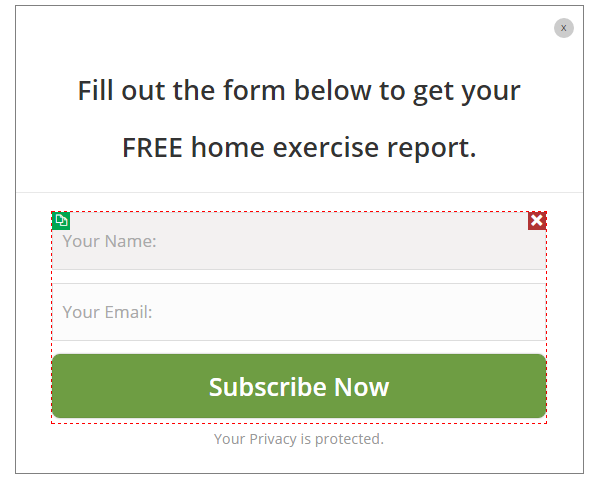 Each form has its own individual appearance settings. These govern things like the background image or colour, the border type, and size. Once you are happy with the appearance of your form, it's time to integrate it with your email auto responder service.
By clicking the form fields, you can then click the autoresponder code button. Now you must log into your email marketing service, such as MailChimp, and generate the HTML code for the signup form. After viewing the code, you must copy it, before pasting it into the Thrive Leads form builder.
While this isn't a difficult task, and only takes a minute or two, it's not an ideal situation, and isn't necessary with some of the other opt in form plugins for WordPress, such as OptinMonster.
Now that the form has been built and integrated with your email marketing service, you can set the trigger for the form. This will govern when the form will be displayed. For a light box popup opt in form, the trigger options are:
Show on page load
After a certain period of time
When a user scrolls to a specific part, or percentage of the page
When a user clicks on a on a specific page element
When the user is about to leave the page (exit intent)
When the user reaches the end of the content
As you can see you have lots of control over when the forms are displayed on your posts and pages of your website. You can also set the display frequency, to help you avoid annoying your repeat visitors.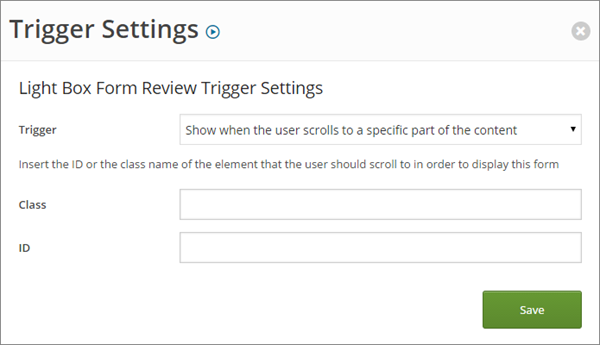 Finally, you can set the animation effect of the form. This includes a selection of zoom and slide options to help your forms really grab the attention of your visitors. Once the triggers are set, the final step is to decide where this form will be shown on your website.
The display settings are very detailed and go way beyond simply enabling the form for all, or individual posts or pages. You can select specific categories and tags, archive pages, post types, pages templates, and more. This means you can create multiple forms which are totally customized and tailored for a specific category, or even laser-focused on a single post.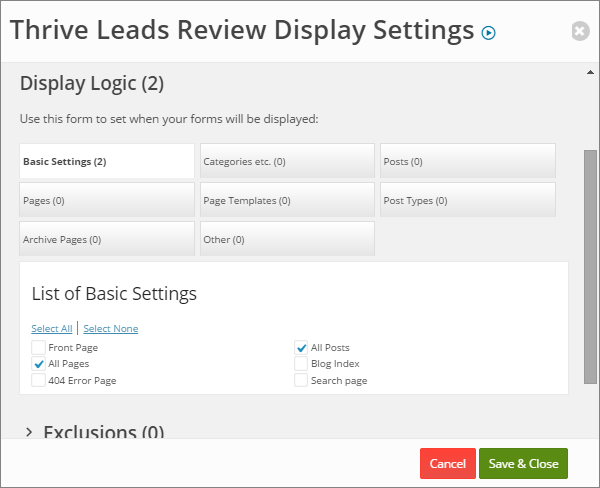 Now your custom designed form will display on the areas of your website you've defined, using your chosen trigger. However, that isn't all Thrive Leads can do. Aside from all the other form types you can experiment with, this plugin also has a split testing tool.
This allows you to clone an existing form, modify its appearance and/or settings, and then let the plugin display the two or more variations in equal amounts. The aim of this is to help you find the best performing design or trigger. As well as comparing variations of a form, you can also compare form types against each other. This could be lightbox popup vs. slide in forms, or whatever options you'd like to compare.
Through the A/B testing options, you can give the plugin the ability to automatically declare a winner. After a set amount of time, or number of impressions or conversions, the poorest performing form will be archived and no longer shown. As mentioned earlier, this is very handy as you won't have to worry about manually disabling the losing form, in order to avoid missing out on new subscribers.
Through the dashboard you can then monitor all the forms you've created. This includes viewing their impressions and conversion rates.
Documentation and Support
There are lots of high quality support videos to help you get started with this plugin. The more advanced features are also well documented with additional videos.
As well as these videos being available on the member's area of the website, they can also be launched from the plugin pages, within your website's admin area. This makes it very easy to find the video you need to explain the feature of the plugin you are currently working on.
For further help, there is also a knowledge base covering the individual aspects of the plugin, as well as a support forum.
Pricing Information
The Thrive Leads plugin from Thrive Themes is available either on its own, or as part of the Thrive Themes membership package. The pricing plans for buying the plugin by itself as are follows:
Single Site License: $59
Unlimited Sites License: $97
Agency License: $247
While the single and unlimited licenses include access to support for one year, the agency option includes lifetime support. However, all options include lifetime access to plugin updates. While one year support deals are commonplace, lifetime access to product updates isn't, so it's nice to see this offered on all pricing options.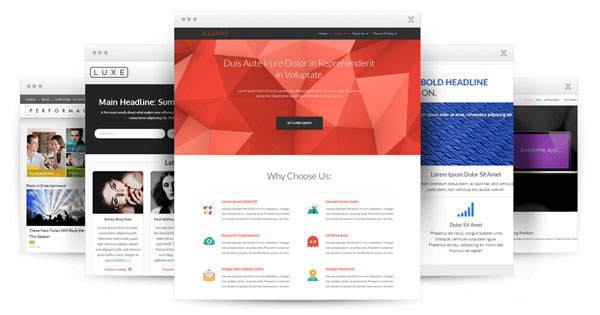 If you are interested in the other products from Thrive Themes, such as their content builder plugin, or any of their premium WordPress themes, then you might want to consider joining their great value membership club.
Singing up gives you access to all their current products, as well as any future releases, for either a monthly or annual recurring fee. There are personal and agency licenses available. This means that whether you're building websites for yourself or your clients, there is a package for you.
It's nice that all purchase options of the plugin include all features. There is no need to purchase additional modules to unlock more features.
View the Thrive Themes All-Products Membership Options
Conclusion and Recommendations
Thrive Leads certainly has all the features you will need to turn one-time visitors into subscribers, and enable you to get those repeat interactions that are needed to generate sales, or other positive outcomes. In fact, the feature list of Thrive Leads is the most extensive of all the options in the category of plugin.
However, that higher level of functionality does come at a cost. In this case that cost is ease of use. Although Thrive Leads is user-friendly, the wealth of options and settings, especially on the form designer, does make getting started and putting an attractive form together more time consuming than is the case with some of the other premium options in this field.
However, if you are someone who prefers total control over how your website works, and relish the thought of getting stuck into a vast array of settings and design elements, then this is definitely the email list building plugin for you.
On the other hand, if you'd rather have a solution that can be up and running in less time, and includes higher quality ready-to-go form designs, then OptinMonster would probably be a better choice. Although that would mean sacrificing some functionality, with a greater financial outlay required for the full set of features.
Building an email list is essential for any website that covets visitors, and with Thrive Leads including everything you need to build that list, it's definitely something you should take a closer look at. If you prefer more features, greater control over how your tools work and look, and don't mind putting in a bit of extra effort to get exactly what you want, then this is the best option for you.