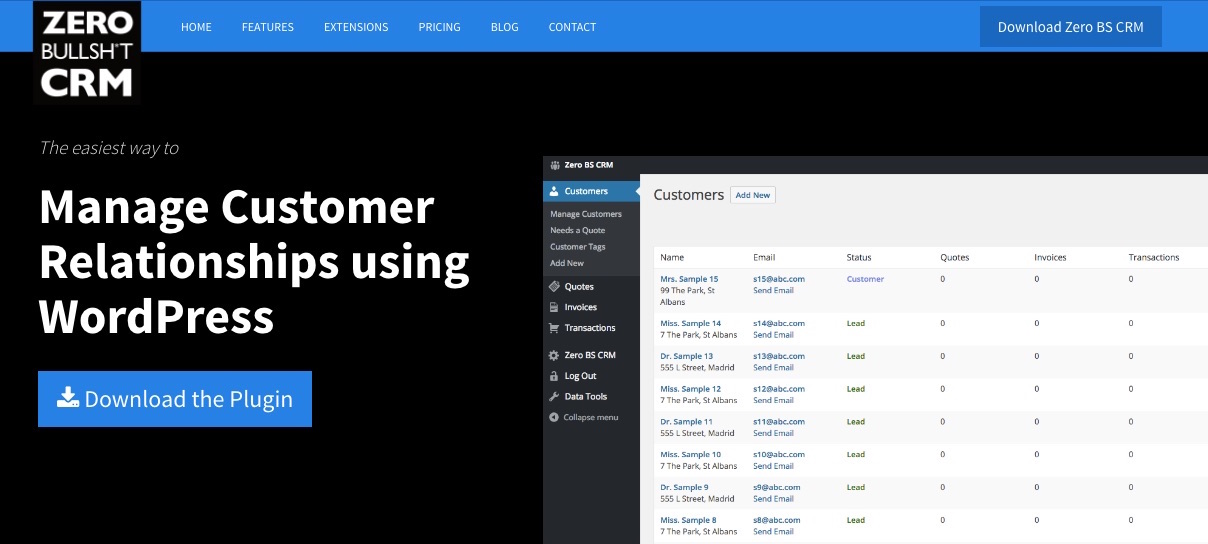 If you're looking for a simple and free CRM (Customer Relationship Manager) solution for your business you should try Zero BS CRM.
Zero BS CRM is a no nonsense Customer Relationship Manager plugin for WordPress that's free and easy to use. With ZBS CRM you can create your own self hosted CRM using WordPress. It allows you to keep all your customer information in one place and manage all your leads and customers directly from your WordPress site (or a separate install if you like).
Zero BS CRM is from the developers of Epic Plugins and was created out of their frustration in finding a suitable CRM solution to manage their customers. They found that most of the hosted and self hosted CRM solutions available were either expensive, unreliable, old-fashioned, or overly complex with too many settings. The ZBS CRM team wanted a simple, functional, and extendable way to manage the customers so they built their own CRM – The Zero Bullshit CRM.
Zero BS CRM is a WordPress plugin that sits on top of a WordPress install on your server. All of your data is on your server so you have full control. The core CRM system is free and out-of-the-box will give you customer management tools, quotes, and attachments. The core functionality suits many businesses from day one, but for those who want more features there are reasonably priced extensions available to further extend the functionality of ZeroBS CRM.
Customer Management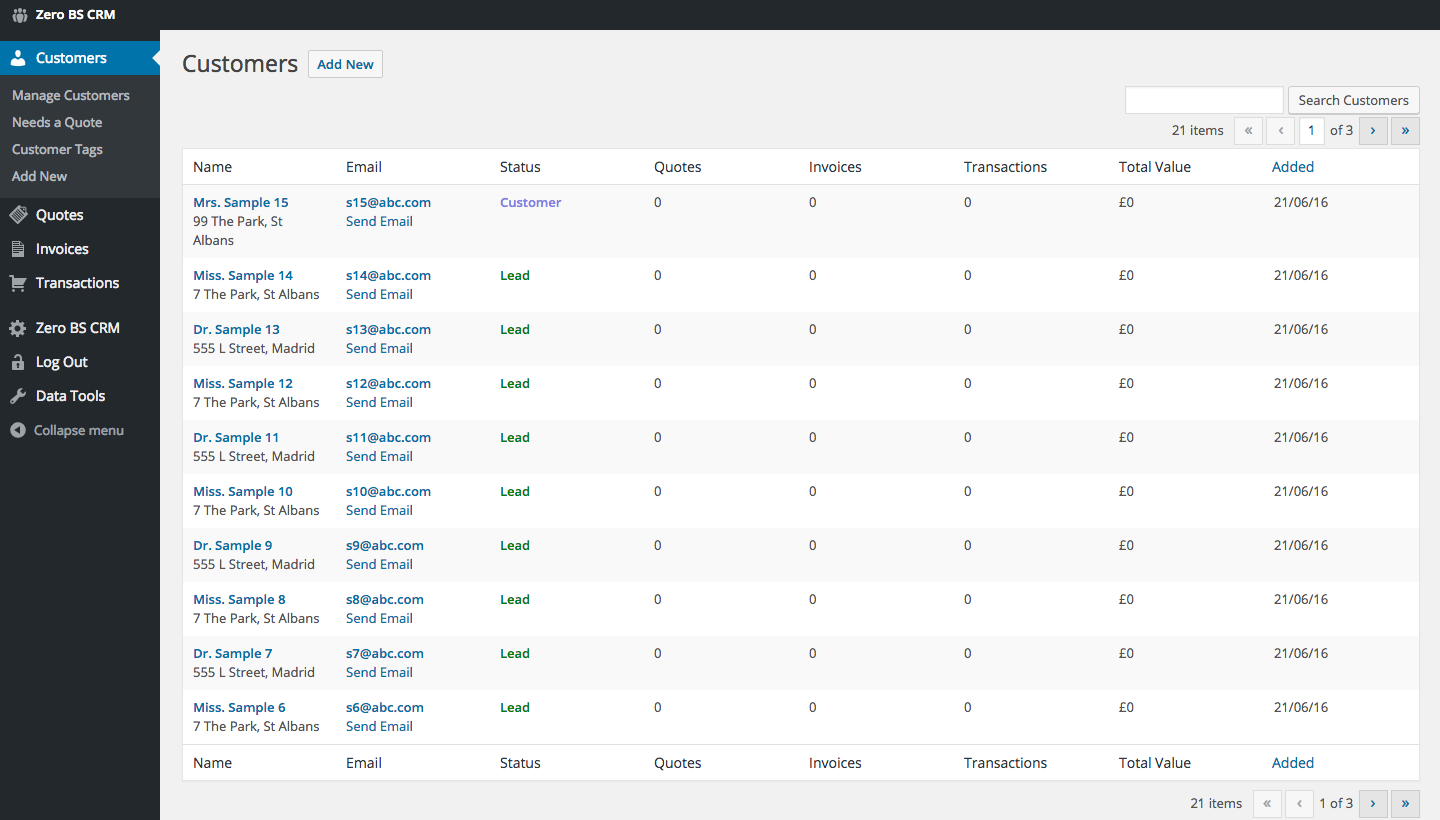 Manage Invoices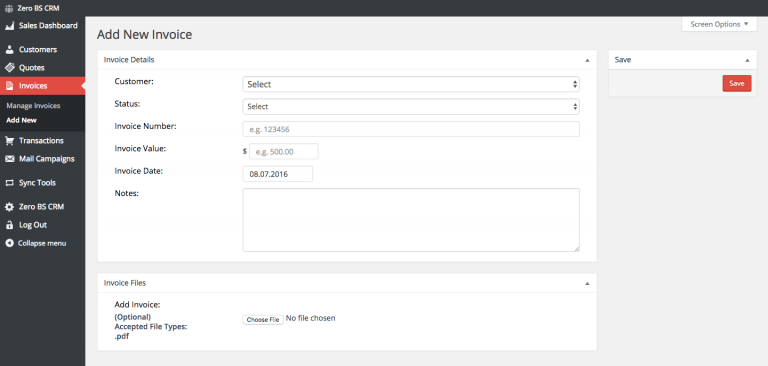 Send and Manage Quotes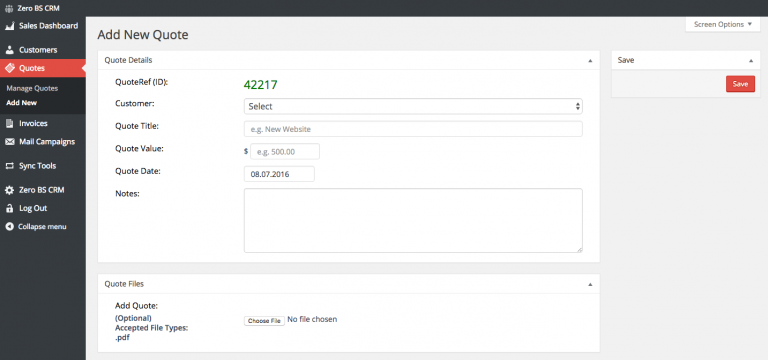 Zero BS CRM Key Benefits and Features
Some of the key benefits of using ZBS CRM include:
Self hosted using WordPress – you don't need to reply on other companies with your data
Its Free (with very reasonablly priced extensions available for a one-time payment – no monthly fees)
Works out of the box with any WordPress installation
Regularly updated with new features
Some of the key features of ZBS CRM include:
Manage Customers Easily

Keep their info up to date
Tag them, or add notes
Attach documents
Contact them

Send and Maintain Quotes

Manage Customer Invoices

Manage Transactions

Team Management, with user roles:

Admin role (add and manage your CRM users)

Customer Manager role

Invoice / Quote Manager role

Transactions Manager role

Quick and Easy 4 Minute Install

Updates via you WordPress Dashboard

Works with Ecommerce platforms – PayPal and WooCommerce

Optional sections such as "Needs a Quote" (great for local business)

Optionally disable front end / WordPress takeover (so users can't tell it's WordPress)

Add an image to each customer

Works great on mobile devices

Extendable and powerful
Zero BS CRM Extensions
There are a number of powerful optional extensions available for ZBS CRM that extend the functionality of the core plugin and help you with deeper analysis and leveraging of your customer data. Whats really nice is that unlike most other free WordPress plugins that offer paid extensions, all the ZBS extensions are a one-time cost. There's no monthly or annual fees for these extensions. There's even a ZBS Lifetime bundle that gives you every extension they ever make for Zero BS CRM for a one-time fee. Individual extensions start from just $19.
Here are the Zero BS extensions currently available:
ZBS CRM Mail Campaigns – a powerful mail extension that allows you to send emails to targeted segments of customers.
PayPal CRM Sync – retrieve all customer data from PayPal automatically.
CRM Sales Dashboard – the ultimate sales dashboard that allows you to track gross revenue, net revenue, customer growth etc right from your CRM.
Simple CSV Importer – allows you to import existing customer darter into the zero BS CRM system.
WooCommerce CRM Sync – lets you retrieve all customer data from WooCommerce automatically.
Sales Dashboard Extension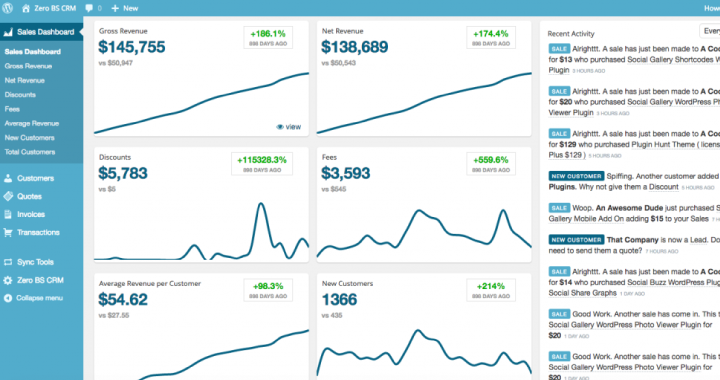 Price
The Zero BS CRM WordPress plugin is completely free.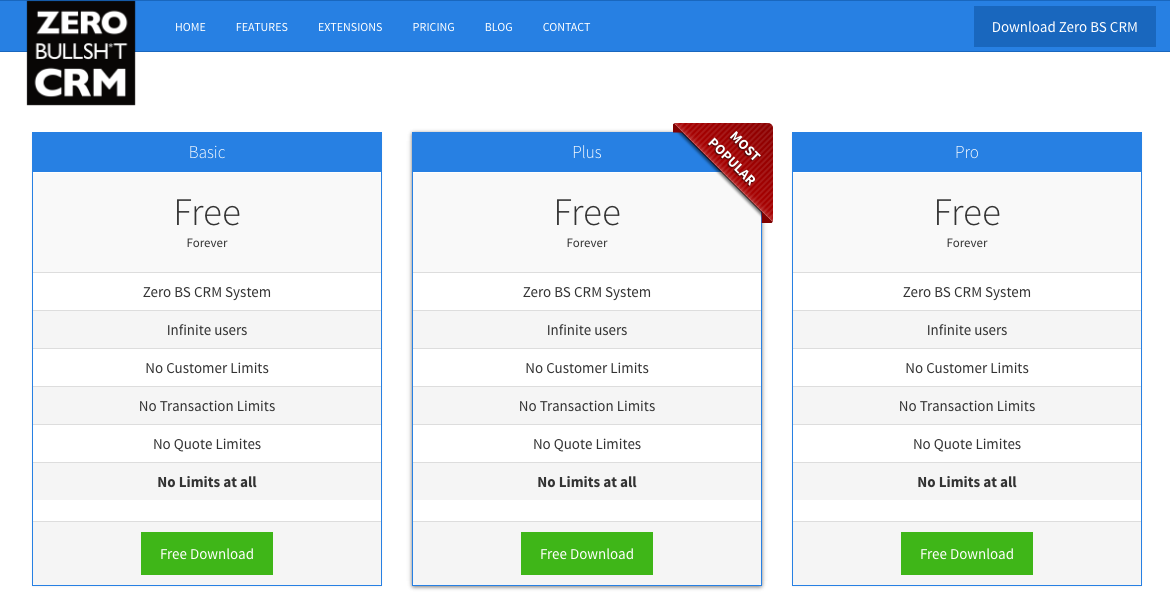 Wrap Up
If you're looking for a simple, easy-to-use and free customer relationship manager the Zero BS CRM plug-in for WordPress might be your answer. With ZBS CRM there are no monthly fees or thousands of confusing features and options, just a no-nonsense CRM thats give you the tools you need to easily manage all your customer data. The handy optional extensions really take Zero BS CRM to the next level and help you analyze and leverage your customer data even further making it a simple but powerful CRM solution.
Give Zero BS CRM a try. You can find out more details and download it for free here.
Let us know about your experience using the Zero BS CRM plugin in the comments below.
Readers Rating

Rated 4 stars




4

/ 5 (

Reviewers

)

Excellent
---