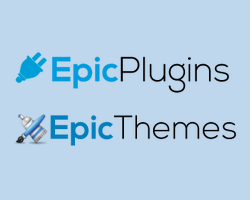 Epic Plugins is a premium WordPress plugin and theme developer based in the United Kingdom. They offer a number of advanced niche WordPress themes and epic premium plugins on their two websites: EpicPlugins and EpicThemes.
Epic Themes
Epic Themes offer a number of advanced and feature packed premium WordPress themes.
Epic Hackers Theme
The Epic Hackers WordPress theme allows you to create your own Growth Hackers style website. Users can post links and questions from the front end of the site and users can then vote the posts up or down and participate in discussion on the links. The reddit style post ranking algorithm mathematically ranks and shows the best content on the homepage to visitors. Some of the other notable features of the theme include: custom profile pages, customization options using the WordPress Customizer, a clean and flat design, mobile friendly, translation ready, and free future update.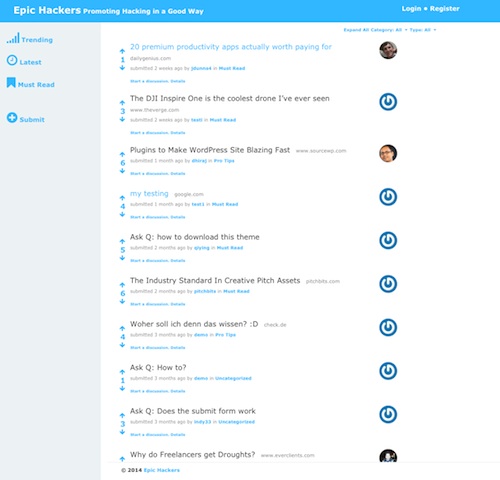 Price: $59.99
Plugin Hunt Theme
Plugin Hunt is a content curation WordPress theme that allows you to build a website similar to the Product Hunt website. Users can submit content from the front end and the content is grouped by the day of submission. It has infinite scrolling functionality. Visitors can view the content is a "flash view", comment in the fly-out box, and vote up / down content using the wpeddit algorithm. Its built on the Bootstrap framework, is easy to install, translation ready and mobile friendly.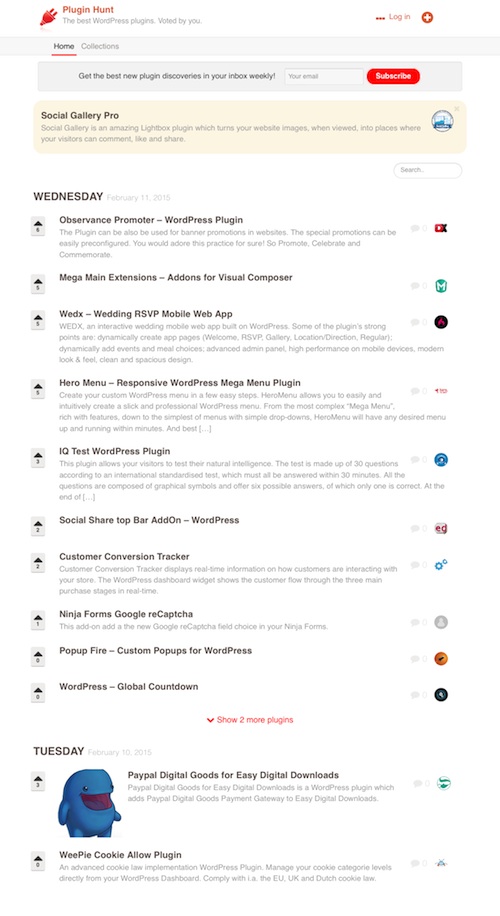 Price: $79.99
WPeddit Theme
WPeddit is a Reddit clone WordPress theme that allows you to build a powerful and flexible user engaged content submission website. With WPeddit users can post content and links from the front end of the site and logged in users can vote the content up or down. The inbuilt Reddit voting algorithm ensures trending posts are mathematically ranks to show the best content to new users. Vote security provides IP vote locking or member vote locking. Its fully customizable and built on Bootstrap so you can quickly and easily add new skins by updating the bootstrap.css. WPeddit is also mobile ready, translation ready, quick to install and free updates are provide for life.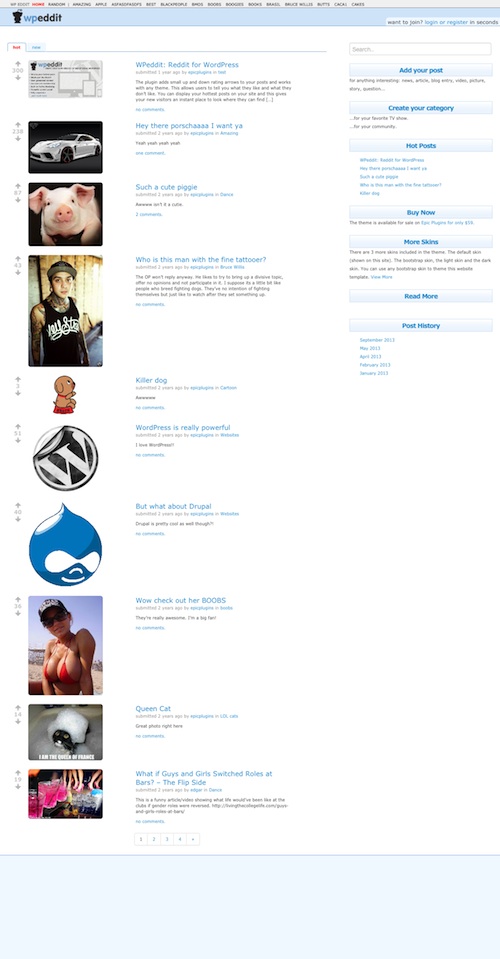 Price: $59.99
Epic Plugins
Epic Plugins sell a number of premium WordPress plugins that provide handy functionality. They also sell a number of add-ons for certain plugins they sell on Code Canyon.
Epic Bootstrap Buttons Pro
The Epic Bootstrap Buttons WordPress plugin allows you to add bootstrap buttons to any theme and easily use the buttons in your posts and pages. Features include: custom buttons using a colorpicker, easy to use jQuery button creator, shortcodes created on the fly as you style the buttons, simple copy and paste.
Price: $9.99
GeoPost for WordPress
The GeoPost for WordPress plugin allows you to tag your WordPress posts with a location and show your posts on an interactive mega map mash up. This plugin has potential for lots of applications. You could use it in a travel blog or website, review website for locations of hotels, restaurants etc, travel guide websites and more.
Price: $19.99
Link to Featured Image Plugin
The Link to Featured Image WordPress Plugin allows you to set your post thumbnail (featured image) from an external URL without uploading the image to your WordPress media library. It has two options: 1) Automatic upload and setting of featured image from a link (adds the file to your Media Library) and 2) Direct "Hotlinking" to the external link (does NOT upload the file to your Media Library).
Price: $14.99
Envato Auto Affiliate Plugin
The Envato Auto Affiliate WordPress plugin allows you to auto import into your website the themes from ThemeForest or the plugins from Code Canyon. The plugin also lets you assign your affiliate ID to the product links so you can earn commission if people go on to purchase the product.
Price: $29.99
For more information and to purchase Epic Plugins and Epic Themes go here.