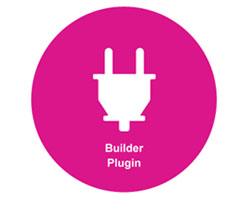 Themify recently updated all their premium WordPress themes to include Builder – a drag and drop layout builder that lets you to create your own layouts by dragging and dropping your content. They've now released Themify Builder as a WordPress plugin that will work in ANY WordPress theme!
The Builder Plugin gives you drag & drop features and functions and allows you to build any page layout with live front end editing and previews. It lets you create responsive layouts that work for desktop, tablets, and mobile. You can use the Builder plugin on any theme: static, responsive, premium (with or without framework), and custom coded themes. The key features of the Builder Plugin are listed below:
Key Features
Front End Drag and Drop – Builder's intuitive user interface lets you easily create complex grid layouts by just dragging and dropping. Content can include static text, images, videos, sliders, galleries, tabs, maps, etc. or dynamic content, such as posts, menus, and even sidebars + widgets
Mobile Responsive Support – The Builder front and backend are completely responsive which works on desktop, tablet and mobile devices. Dragging and dropping also works on touch devices, such as iPad, iPhone, and Android tablets
All Post Types – Themify Builder works on standard WordPress Post, Page and any custom post types created by the theme and plugins. It works with plugins such as WooCommerce so you can create your product pages etc
Layouts and Colours – All modules come with pre-designed layouts and color schemes to fulfill your design needs. If the default presets are not good enough for you, you are able to insert custom classes in each module to style it even further
Shortcodes – Themify Builders gives you the ability to run any shortcode. For example, you can display a Twitter feed shortcode within a tab, or insert a WordPress gallery shortcode inside of an accordion etc
SEO Friendly – All content created by the Builder is 100% SEO friendly. Builder appends the content to the post and they are searchable with search engines
Widgets – the widget module allows you to drop any available widget on the page via the Builder
Widgetized – the Widgetized module displays any sidebar or widgetized area. It automatically pulls all widgets and widgetized areas registered by the theme or plugins
Price: $39/year
Go to Themify.me for more information and to download the Builder plugin

Themify create beautifully designed WordPress themes built on a framework which gives you complete customization of the style & functionality. The offer a range of theme styles including: business, ecommerce, portfolio, magazine, and blogging style.