Themify Builder is a drag and drop framework that is now included in all Themify WordPress themes. The Builder framework provides an easy to use user interface that allows you to create beautiful designs and layouts by dragging and dropping your content. The live previews and editing all from the front end provide a true "what you see is what you get" drag and drop WordPress website builder. Builder is also mobile ready and lets you built any type of responsive layout you want that works for desktop, tablets and mobile.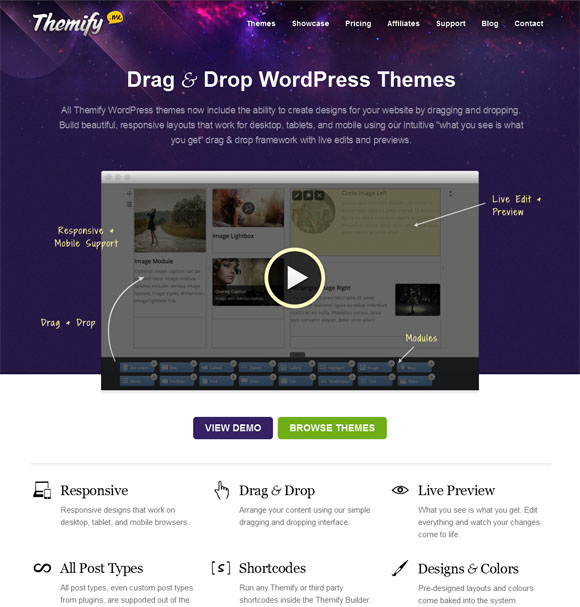 Live Editing
The Themify Builder drag and drop framework lets you drop in various modules to build different types of content and then you can then rearrange the content block, rows, and grids by dragging for the layout you desire. It works with static content (text, images, videos, etc.) and dynamic content such as displaying posts from the database or running shortcodes. You can edit everything live from the front end so what you see is what you get.
Unlimited Layouts
You can create unlimited layouts with Themify Builder. With it you can build a simple blog or portfolio page, a business websites, news or magazine layouts, complex grid layouts or anything you like. Builder also comes with many preset layout and colours you can use.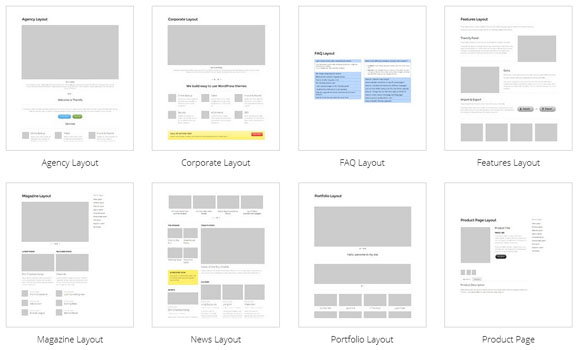 Modules
Themify Builder includes lots of different modules you can drag and drop to build different content layouts. Modules are the various components you can add via the Themify Builder. They comprise various types of content such as menus, content boxes, posts, etc.
Modules Include:
Accordion – Accordion or toggle-able content
Box – Boxed content with shortcode support
Callout – Call to action text box
Divider – Customizable horizontal divider
Gallery – WordPress lightbox gallery
Highlight – Feature or service highlights
Image – Image with title and caption
Map – Customizable Google Map
Menu – WordPress custom menu
Portfolio – Portfolio custom post type
Post – Displays Posts from any categories
Slider – Slider of images, videos or text
Tab – Vertical or horizontal tabs
Testimonial – Testimonial custom post type
Text – Text using the WordPress visual editor
Video – Video embeds (eg. YouTube, Vimeo)
Shortcodes
Shortcodes are handy bits of pre-made design elements and functionality. Themify Builder lets you run any Themify or third party shortcode inside the Builder. For example you can easily create a tab, make columns, insert buttons, display a Twitter feed in a tab, insert a gallery, create content boxes and more.
Supports All Post Types
Themify Builder supports all standard WordPress post types (post, page etc) as well as any custom post types created by the theme or plugins. This allows you to use Builder with third party plugin such as WooCommerce and Gravity forms.
Mobile Responsive
Themify Builder is completely responsive. It lets you create responsive layouts by drag and drop that will automatically adapt and work on desktop, tablet, and mobile browsers.
Drag and Drop WordPress Themes
Themify currently have 37 beautiful and high quality WordPress themes with responsive designs. They have a range of different styles including: portfolio, photography, magazine, ecommerce, business, restaurant, multimedia and blogging. All Themify WordPress themes now include Themify Builder.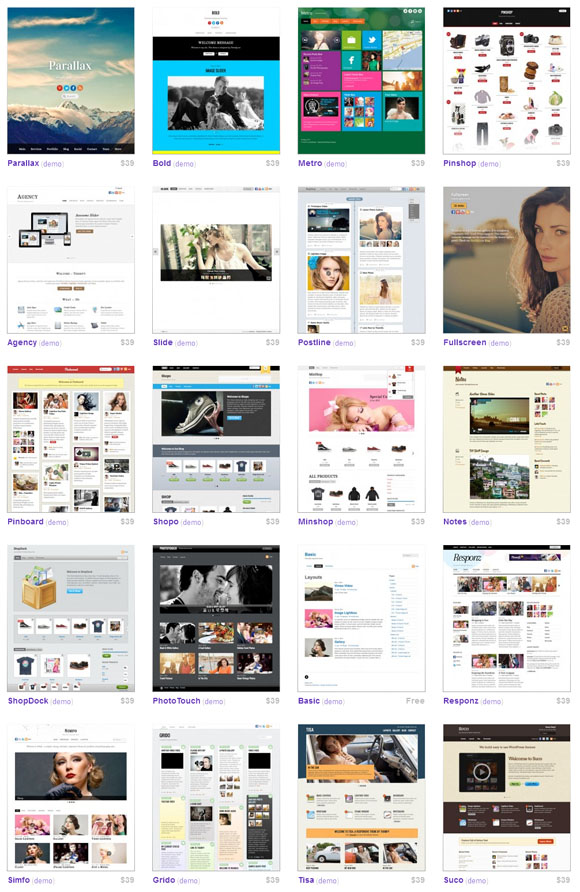 Themify's Builder is a powerful and feature packed yet easy to use framework which is included in all Themify themes giving you the ability to create beautiful and mobile ready designs for your website with drag and drop ease. Have a look at the Themify Builder demo video and the live demo site at Themify to see how it works and check out all the excellent WordPress themes from Themify.
Prices
Standard Theme: $39
Standard Club: $69/y (access to all themes)
Themify Builder Plugin
You can now also purchase Themify Builder as a WordPress plugin which works on any premium WordPress theme, framework or custom-built theme. The Builder plugin costs $39/year.
For more details go to Themify.me