WordPress theme frameworks are solid starter themes, while Builder Themes are powerful theme systems with lots of in-built features and functionality to make it easy for anyone to built a professional, customized blog or website.
These WordPress template and builder frameworks offer a huge amount of built-in control and flexibility allowing you to create many different styles and layouts, and easily customize the template to build a professional and unique looking website. The theme frameworks below are for users of all levels.
A simple screen shot of the basic homepage of these themes often does not do them justice. They have a lot of features, functions, layout options and design possibilities that can't be fully shown here. So try the demos, watch the videos, and read the detailed features on the release pages to fully understand and test out these premium theme frameworks.
Below are the best premium WordPress theme frameworks and Builder themes available.
Genesis Framework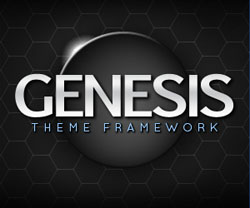 Genesis is an advanced, flexible and secure WordPress theme framework from StudioPress with lots of great turn-key designs (child themes) available for it.
The Genesis Theme Framework is essentially a core WordPress theme that is highly optimized with state of the art code and smart design architecture. It has a mobile responsive design and also includes convenient inbuilt layout, design and SEO options. The theme has been fully search optimized, and the clean, efficient code ensures your website and its content will achieve the best possible rankings in the search engines. Genesis also follows all WordPress security best practices and is audited by the WordPress Lead Developer to ensure it has the best security possible.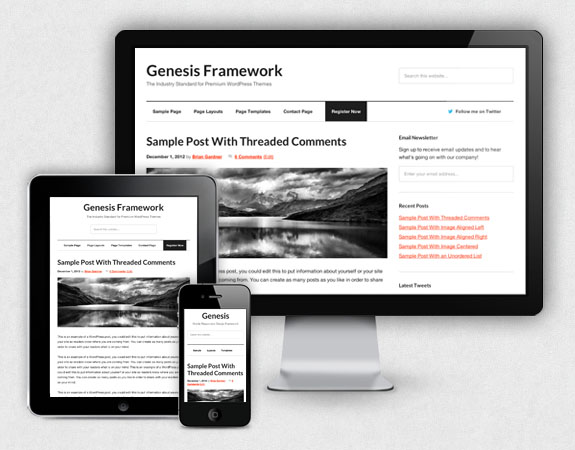 Theme Designs
The Genesis theme can be used as is for a clean minimalist website, or extended with the many beautiful child themes (designs) available for a sleek professional look without paying a fortune. Check out all the available child themes here. Using a framework / child theme system is smart from a "future proofing" and SEO perspective because you can radically change the look of your site, every week if you want to, and you'll never lose your content or hurt your search engine rankings because the design is kept completely separate from the core theme framework code.
Feature Packed
Genesis also makes it easy to customise and manage your site with lots of inbuilt features such as mix-and-match layout options for individual pages or posts, custom widgets, automatic framework updates, comprehensive theme options panel, custom widgets and much more.
Developer You Can Trust
When selecting a WordPress theme framework (or any theme for that matter) it's important to choose one you know has been built by a developer or company you can trust, and is high quality. StudioPress is the pioneer 'premium WordPress theme' company and has been creating top quality products since 2007. Many top websites choose to build on Genesis and you can be sure it's an optimized, secure and flexible foundation for your website you can trust.
Unlimited Everything
Genesis is fantastic value because StudioPress gives you unlimited everything in the onetime purchase price. They provide unlimited support, updates, and domains you can built which makes for unparalleled value.
Key Features of the Genesis Framework
Responsive Design – automatically adjusts to fit perfectly on all screen sizes and mobile devices
Automatic Updates – easy upgrade similar to the way that WordPress itself (and plugins) are handled
6 Layout Options – selectable site wide or for individual post/page
Theme Options – many settings that let you fine-tune the way your site looks
Custom Hooks (40+) – a hook is a piece of code written into the theme that allows you to attach additional content to the theme itself
Custom Widgets (MyTweets, User Profile, eNews & Updates, Featured Posts, Featured Pages)
Lots of great turn-key designs available (child themes)
State of the art security
Import / Export Settings – the Genesis Theme and SEO settings are completely portable, so you can back up, restore, and transfer settings from one install to another
User Control System – allows admin to turn on/off theme settings, layouts and SEO option availability for users on a per user basis
Author Box – display per page option
Register / Unregister Layouts
Dynamic Text / Image Logo option
Navigation menu controls
Drop down navigation menu
Post Thumbnails
Auto sized featured images
Custom Widgets
Search Engine Optimised
SEO Options (site wide and individual page/post controls)
Post and Page Tracking/Conversion Code box
Widget-Ready
Ready for advertising
Breadcrumb navigation
Integrated Blog
BuddyPress Compatibility
Developed for Localization
More
Divi
While not really a framework as such, Divi is a smart, powerful and extremely customizable WordPress theme builder. The flagship premium WordPress theme from Elegant Themes has an extensive set of features and options giving you complete creative control to build any type of mobile friendly responsive website exactly the way you want. Divi is probably the only theme you will ever need!
The core of Divi is the Divi Builder – an advanced drag and drop layout builder that allows you to create beautiful and unique layouts visually, without touching a single line of code. There's no limitations to how layouts can be customized and arranged, giving anyone the ability to create truly dynamic websites with ease.
Some of the other key features and benefits of Divi include: 20 pre-made layouts, ability to create and save your own layouts, extensive module options with the drag and drop layout builder, fully mobile responsive, rock solid security, lots of header and navigation options, fully translated inside and out, full RTL support, one-page website option, beautiful portfolio and product page layouts, WooCommerce ready, video and parallax background options, 300+ elegant icons, unlimited color options, and much more.

Ultimatum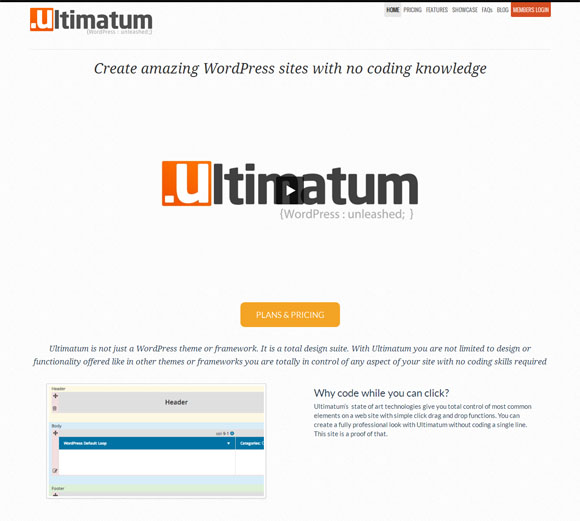 Ultimatum is an extremely powerful and feature packed drag and drop responsive WordPress theme builder. Ultimatum isn't just a WordPress theme or framework, but a total design suite that puts you in total control of every aspect of your WordPress site without requiring any coding skills.
Ultimatum has an innovative layout builder that lets you easily create your own layouts via drag and drop functions. It lets you create complex and professional layouts without having to know or understand any code. Ultimatum's CSS editors also make it easy to set your desired styling. Every element in the theme can be styled via the inbuilt options, colour pickers etc. There is no need to get into the CSS files to make your styling changes.
Innovative Layout Builder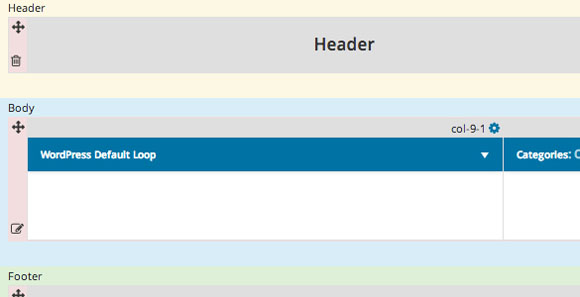 CSS Style Editors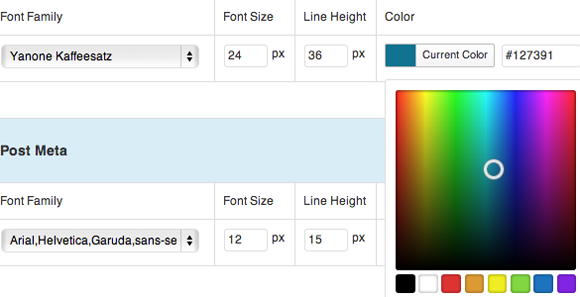 Ultimatum is mobile ready and lets you create beautiful responsive websites that will work for any device. The Pro version also gives you ability to create dedicated mobile web apps. Ultimatum includes the classic 12 column grid system from 960.gs as well as the hugely popular Bootstrap with 12 bootswatches. It's written in HTML5 and CSS3 so your websites will be ready for the future.
In additional to the core layout and design functionality Ultimatum integrates a number of great premium plugins for enhanced functionality. These include: 3 different sliders, a visual composer (for pages), easy forms, Font Library (600+ Google fonts), 7 menu systems, shortcodes, slideshow generator, custom post type creator, custom widgets, front end CSS editing and live preview, WooCommerce ecommerce support and more.
If you have a specific design in mind and want to create your own WordPress theme then Ultimatum puts you in total control and lets you be your own web developer and designer. It's a powerful, customisable and complete all-in-one WordPress solution.
Features
Innovative Layout Builder – comes with a unique layout builder where you are able to drag and drop native WordPress widgets. You're not bound to specific add-ons and can use any plugin and widget in Ultimatum with just dragging and dropping them in to your desired layout position
Easy Styling – you can easily set your desired styling with ease using Ultimatum's CSS editors. Each element defined in the back-end can be styled with just filling the forms and setting the options
Mobile Ready – Ultimatum creates beautiful responsive websites for any device. It's also possible to create mobile web apps with Ultimatum in matters of few clicks
Bootstrap and Bootswatches – option to use the classic 12 column grid system from 960.gs or Bootstrap with 12 integrated bootswatches
For Non Coders – Ultimatum's state of art technologies give you total control of most common elements on a web site with simple click drag and drop functions. You can create a fully professional look with Ultimatum without coding a single line
For Coders / Developers Also – Ultimatum is also great for code-savvy designers. Ultimatum brings freedom to ones who love to code with hooks and filters so you can hook into any place of the site and set your own functions with ease
Premium Plugins – Ultimatum includes integrated premium plugins for optional enhanced features and functionality

Visual Composer – provides drag and drop editing for your pages
Sliders – a number of sliders are bundled including: Layer Slider, Slider Revolution and Showbiz Slider
Easy Forms – drag and drop form builder
Font Library – gives you access to the whole Google Font Directory (600+ fonts)
Slideshow Generator – create Slideshows from any content in your site with simple drag and drop actions
Ultimatum Shortcodes – for things like columns, toggles, tabs, google maps, buttons, tabs etc
Seven Menus – seven different menu types you can from to use anywhere. Horizontal menus, vertical menus, mega menus, Bootstrap menus etc.
Custom Widgets – comes with lots of custom menus
Front End CSS Editing – edit your CSS live from front-end and se results before you click submit
Import / Export Designs – export your design with on click and import it in another site again with one click
Countless Hooks – Ultimatum has many hooks and actions
Custom Post Types – lets you create your own post types and organise your content with ease
WooCommerce Support – Ultimatum is designed to work with WooCommerce flawlessly so you can easily set up a ecommerce store or a section to sell products
Thesis
Thesis is a powerful, high quality WordPress master framework that makes it easy for anyone to run a professional, customized blog or website. In addition to excelling at critical tasks like SEO, site speed, and layout flexibility, Thesis comes with one of the most comprehensive Option Panels that allows you to easily control and customize almost every aspect of the framework with ease. You can select the font style and sizes, colours for most elements, the number of columns (1, 2 or 3 columns), the order of those columns and the exact width of each individual column – all without having to dig into the pages of code. Thesis also boats the strongest SEO of any WordPress theme.
Thesis 2.0 was released on October 1, 2012 after 2 years of development with claims the totally rebuilt theme is a "new website engine that will define the future".
Thesis 2.0 is not just an updated version of the Thesis 1.8.x theme, it's been totally rebuilt from the ground up into an entirely new engine. DIY Themes claims when you use the Thesis framework for WordPress, you can completely customize your theme without digging into ANY code. The new version has 3 main new features:
Thesis Skins and Skins Editor – Thesis 2 has a visual skin editor for building templates and managing your design. The Thesis Skin Editor lets you "see" HTML and allows you to click on, move and interact with the elements of your website.
Thesis Boxes – add-on functionality with drag and drop, point and click ease, without the hassle of writing your own code.
Thesis Packages – allow you to deploy complicated CSS without writing any code while leaving you to interface with the stuff you actually care about—colours, fonts, and other simple properties.
Thesis Skin Editor
Drag and drop layout editor lets you click on, move, and interact with the elements of your website and "see the HTML"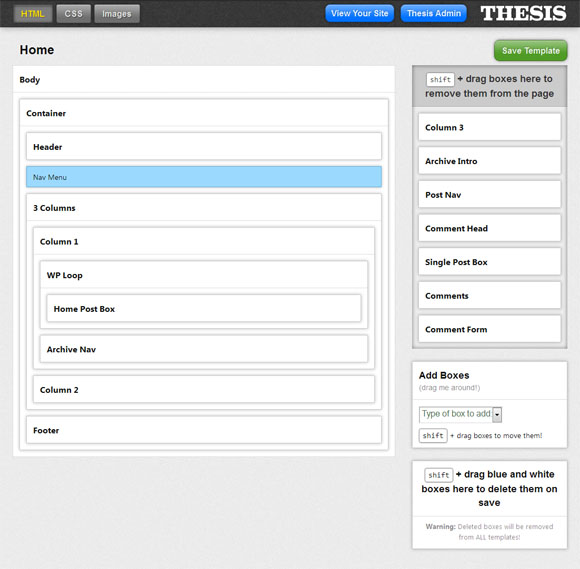 Thesis Packages
Point and click options to customise the CSS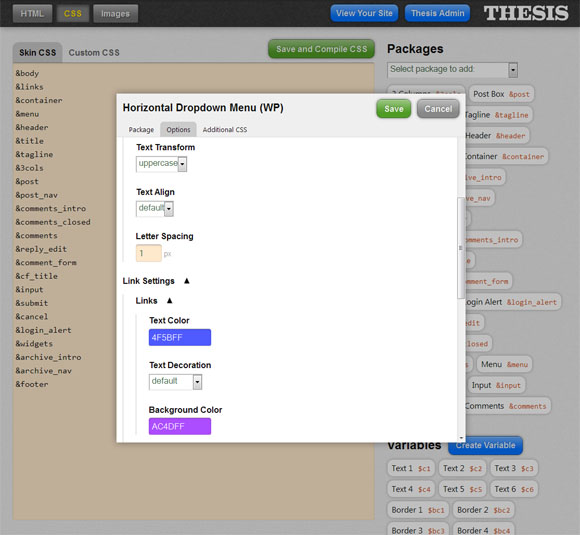 Template Editor
Create and customise your pages individually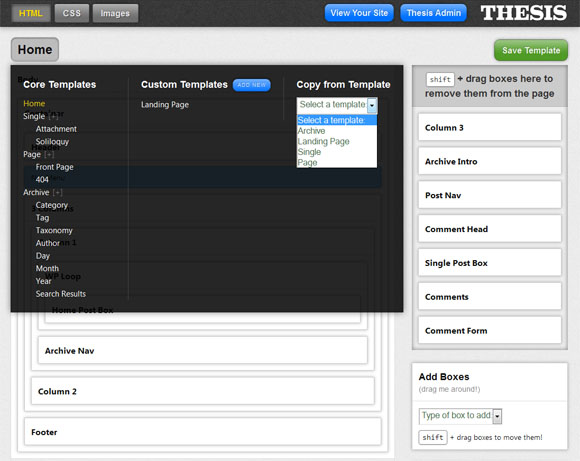 Some of the other features of Thesis 2.0 include the ability to create pixel perfect typography (without any coding), options to create your own custom 404 page in a few clicks, and a template editor that lets you make unique landing pages, or any other page specific web design without needing to get into the code.
Check Out These Awesome Themes…
Readers Rating

Rated 5 stars




5

/ 5 (

Reviewers

)

Spectacular
---