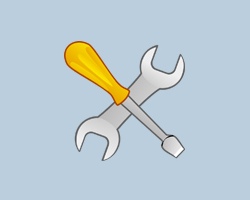 Finding a great WordPress theme with the exact design, layout and features you need can be a challenge – if not impossible.
Although there are thousands of great free and premium WordPress themes it's not often you'll find one that meets your needs perfectly right out-of-the-box. When you do find a suitable theme to use, you'll no doubt need to modify various elements and customize things so it looks and functions the way you want.
If you're not that savvy with HTML, CSS and PHP, or don't even know what those things are, getting into the code to customize your theme can be daunting. It can also take a heap of your valuable time that would be better spent writing and creating great content for site.
One option is to hire a designer to create a custom WordPress theme or hire a developer to modify your free or premium theme. However that can be expensive and finding the right developer isn't easy.
Thankfully there is an easy way to get a unique WordPress theme design if your budget is limited and you're not a skilled designer or developer. Powerful and highly customizable WordPress themes frameworks and WordPress theme builders are available that give you full control to create your own unique WordPress theme without needing to touch a line of code.
The 10+ top WordPress themes below are packed with features and options such as drag and drop layout builders, styling options, color pickers, font selectors, and heaps of other in-built functionality and options so you can easily and cheaply build your own unique WordPress themes without needing any coding knowledge.
Divi
Divi is a smart, flexible and powerful WordPress theme with an advanced page builder that allows you to create your own layouts, giving you complete creative control over your website. The premium theme from Elegant Themes lets you easily build any type of mobile friendly responsive website – an online portfolio, business website, ecommerce store, professional blog or anything else.

Endless Layout Possibilities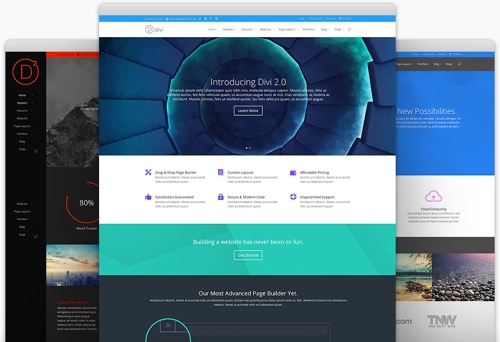 Some of the possibilities with Divi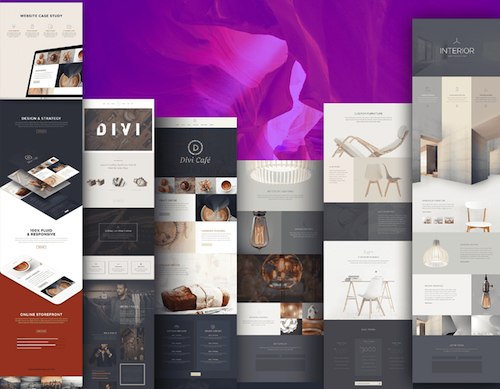 Divi has an advanced drag & drop page builder together with a robust collection of modules that lets you to create truly unique and dynamic pages from the ground up, giving you complete control of the layout and design of your site without needing to learn code. The design elements in Divi are broken down into building blocks (sections, rows, columns and widgets) that can be customized and arranged in any number of ways using Divi's drag and drop builder. The layouts you create will look perfect on every device with its mobile responsive design.
Advanced Page Builder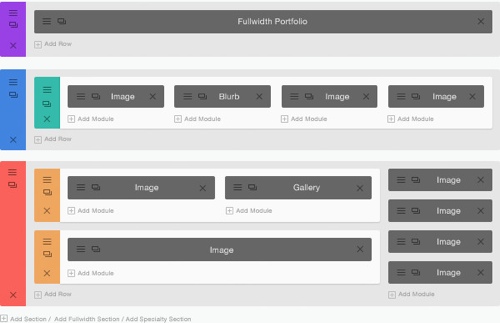 Divi is fully responsive, so no matter how you build your website it will look great on all devices. It comes with 10 pre made layouts you can use to build on: four homepage layouts for business, commerce, portfolio, and blog, as well as pages for a project case study, a blog, portfolio, and a shop. Divi supports WooCommerce so you can use it for a full ecommerce store or have a shop section in your website.
Some of the other features of this powerful WordPress theme builder include: full width design, portfolio module and premade portfolio layouts, various blog layouts, business modules, video background options, theme options and customizer so you can easily adjust colours, fonts and all other aspects of your website.
Features
Divi Builder – allows you to create beautiful layouts from scratch, use premade layouts, and lets you design fully responsive websites from a diverse collection of modules
Drag and Drop – the Divi Page Builder functions on a drag and drop editing system that allows you to customize and arrange your design with ease
Premade Layouts – comes with 10 premade layouts that are completely customizable and can be used as a great starting point for creating your own designs. Includes 4 homepage styles: Business, Commerce, Portfolio, and Blog. And pages for a contact page, a project case study, a blog, portfolio, and shop
Divi Modules – comes packed with an heap of great modules (building blocks) to create your pages. These 'building blocks' are the pieces that make your website whole and each one is completely responsive to all of its surrounding widgets as well as all device sizes
Module Options – each module has unique options that make your Divi layouts truly unique. You also have complete control over the appearance of your page elements with the custom CSS box built into each module
Responsive Design – Divi is responsive and the layout has been designed with mobile devices in mind. No matter how you use it your website will be accessible and readable on all devices
Theme Options – the ePanel theme options panel allows you to easily control your website without ever touching a line of code. ePanel allows you to toggle on and off features, adjust your layout, manage advertisements, control colors, optimize for search engines and more
Unlimited Colours – using the Theme Customizer and Custom Background Images, the possibilities are endless
Video Backgrounds – option for video backgrounds in your sliders and in any section of your website
Save and Load Layouts – save your favourite layouts for future use throughout your website
Export and Import Layouts – export you saved layouts and import them to different WordPress installs
Portfolio Module – Divi's portfolio module lets you show off your work anywhere on your site. Choose from premade portfolio layouts, or create one entirely from scratch
Ecommerce Integration – includes WooCommerce support, a couple of premade store layouts, and the store module lets you sell anywhere on your site
Blog Layouts – comes with various blog layouts to choose from that you can customize
Business Modules – includes a wide range of business savvy modules that let you easily create serious yet modern looking designs
Full Width Design – Divi's fullwidth section attributes allow to build truly amazing pages. With fullwidth images, videos, colour backgrounds, and a little bit of imagination, the possibilities are countless
Theme Customizer – easily adjust every aspect of your website. Quickly change your website's colours and choose from dozens of web fonts etc
More – Divi has been built to scale and more modules and features will be added in the future
Demo & Release Page | Download
Themify Builder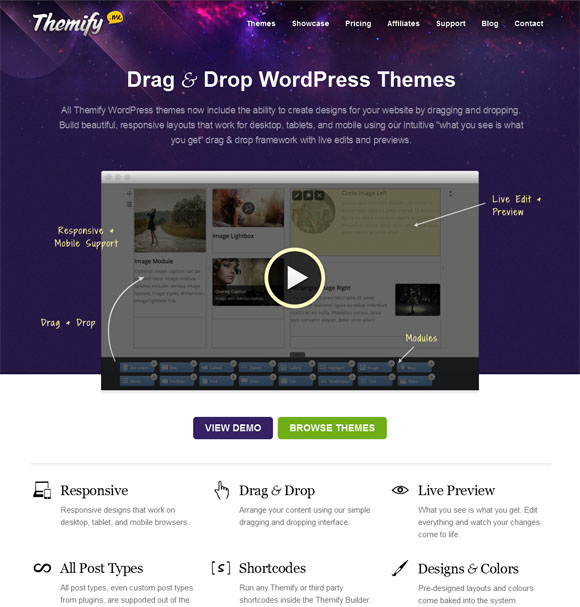 Themify Builder is a drag and drop framework that is included in all Themify WordPress themes. The Themify Builder framework provides an easy to use user interface that allows you to create beautiful designs and layouts by dragging and dropping your content. The live editing and previews all from the front end provide a true "what you see is what you get" drag and drop website builder. It also mobile ready and lets you built any type of responsive layout you want that work for desktop, tablets and mobile.
Live Editing
The Themify Builder drag and drop framework lets you drop in various modules to build various types of content and then you can then rearrange the content block, rows, and grids by dragging for the layout you desire. It works with static content (text, images, videos, etc.) and dynamic content such as displaying posts from the database or running shortcodes. You can edit everything live from the front end so what you see is what you get.
Unlimited Layouts
You can create unlimited layouts with Themify Builder and you can build anything. With it you can build a simple blog or portfolio page, a business websites, news or magazine layouts, complex grid layouts or anything you like. Builder also comes with many preset layout and colours you can use.
Modules
Themify Builder includes lots of different modules you can drag and drop to build different content layouts. Modules are the various components you can add via the Themify Builder, they comprise various types of content such as menus, content boxes, posts, etc.
Modules Include:
Accordion – Accordion or toggle-able content
Box – Boxed content with shortcode support
Callout – Call to action text box
Divider – Customizable horizontal divider
Gallery – WordPress lightbox gallery
Highlight – Feature or service highlights
Image – Image with title and caption
Map – Customizable Google Map
Menu – WordPress custom menu
Portfolio – Portfolio custom post type
Post – Displays Posts from any categories
Slider – Slider of images, videos or text
Tab – Vertical or horizontal tabs
Testimonial – Testimonial custom post type
Text – Text using the WordPress visual editor
Video – Video embeds (eg. YouTube, Vimeo)
Shortcodes
Shortcodes are handy bits of pre-made design elements and functionality. Themify Builder lets you run any Themify or third party shortcode inside the Builder. For example you can easily create a tab, make columns, insert buttons, display a Twitter feed in a tab, insert a gallery, create content boxes and more.
Supports All Post Types
Themify Builder supports all standard WordPress post types (post, page etc) as well as any custom post types created by the theme or plugins. This allows you to use Builder with third party plugin such as WooCommerce and Gravity forms.
Mobile Responsive
Themify Builder is completely responsive. It lets you create responsive layouts by drag and drop that will automatically adapt and work on desktop, tablet, and mobile browsers.
Drag and Drop WordPress Themes
Themify's Builder is a powerful and feature packed yet easy to use framework which is included in all Themify themes giving you the ability to create beautiful and mobile ready designs for your website by drag and drop. Have a look at the Themify Builder demo video and the live demo site to see how it works and check out all the excellent WordPress themes from Themify.
Demo & Release Page | Download
Ultimatum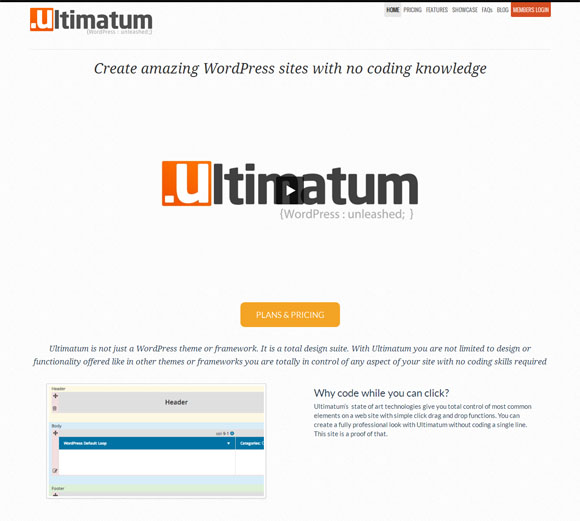 Ultimatum is an extremely powerful and feature packed drag and drop responsive WordPress theme builder. Ultimatum isn't just a WordPress theme or framework, but a total design suite that puts you in total control of every aspect of your WordPress site without requiring any coding skills.
Ultimatum has an innovative layout builder that lets you easily create your own layouts via drag and drop functions. It lets you create complex and professional layouts without having to know or understand any code. Ultimatum's CSS editors also make it easy to set your desired styling. Every element in the theme can be styled via the inbuilt options, colour pickers etc. There is no need to get into the CSS files to make your styling changes.
Innovative Layout Builder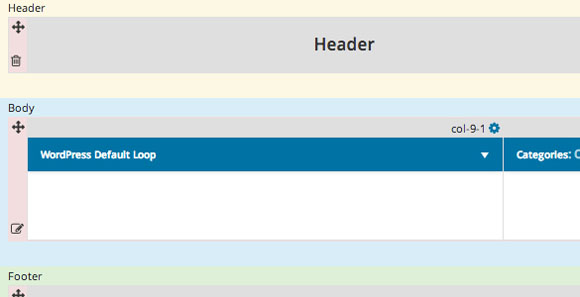 CSS Style Editors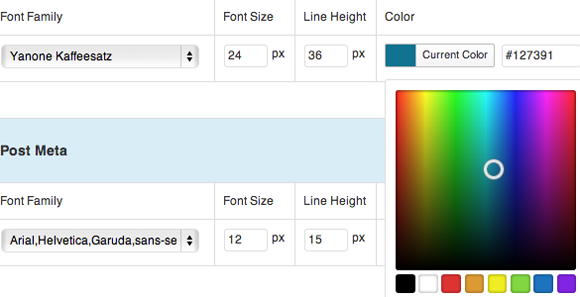 Ultimatum is mobile ready and lets you create beautiful responsive websites that will work for any device. The Pro version also gives you ability to create dedicated mobile web apps. Ultimatum includes the classic 12 column grid system from 960.gs as well as the hugely popular Bootstrap with 12 bootswatches. It's written in HTML5 and CSS3 so your websites will be ready for the future.
In additional to the core layout and design functionality Ultimatum integrates a number of great premium plugins for enhanced functionality. These include: 3 different sliders, a visual composer (for pages), easy forms, Font Library (600+ Google fonts), 7 menu systems, shortcodes, slideshow generator, custom post type creator, custom widgets, front end CSS editing and live preview, WooCommerce ecommerce support and more.
If you have a specific design in mind and want to create your own WordPress theme then Ultimatum puts you in total control and lets you be your own web developer and designer. It's a powerful, customisable and complete all-in-one WordPress solution.
Features
Innovative Layout Builder – comes with a unique layout builder where you are able to drag and drop native WordPress widgets. You're not bound to specific add-ons and can use any plugin and widget in Ultimatum with just dragging and dropping them in to your desired layout position
Easy Styling – you can easily set your desired styling with ease using Ultimatum's CSS editors. Each element defined in the back-end can be styled with just filling the forms and setting the options
Mobile Ready – Ultimatum creates beautiful responsive websites for any device. It's also possible to create mobile web apps with Ultimatum in matters of few clicks
Bootstrap and Bootswatches – option to use the classic 12 column grid system from 960.gs or Bootstrap with 12 integrated bootswatches
For Non Coders – Ultimatum's state of art technologies give you total control of most common elements on a web site with simple click drag and drop functions. You can create a fully professional look with Ultimatum without coding a single line
For Coders / Developers Also – Ultimatum is also great for code-savvy designers. Ultimatum brings freedom to ones who love to code with hooks and filters so you can hook into any place of the site and set your own functions with ease
Premium Plugins – Ultimatum includes integrated premium plugins for optional enhanced features and functionality

Visual Composer – provides drag and drop editing for your pages
Sliders – a number of sliders are bundled including: Layer Slider, Slider Revolution and Showbiz Slider
Easy Forms – drag and drop form builder
Font Library – gives you access to the whole Google Font Directory (600+ fonts)
Slideshow Generator – create Slideshows from any content in your site with simple drag and drop actions
Ultimatum Shortcodes – for things like columns, toggles, tabs, google maps, buttons, tabs etc
Seven Menus – seven different menu types you can from to use anywhere. Horizontal menus, vertical menus, mega menus, Bootstrap menus etc.
Custom Widgets – comes with lots of custom menus
Front End CSS Editing – edit your CSS live from front-end and se results before you click submit
Import / Export Designs – export your design with on click and import it in another site again with one click
Countless Hooks – Ultimatum has many hooks and actions
Custom Post Types – lets you create your own post types and organise your content with ease
WooCommerce Support – Ultimatum is designed to work with WooCommerce flawlessly so you can easily set up a ecommerce store or a section to sell products
Demo & Release Page | Download
Thesis Theme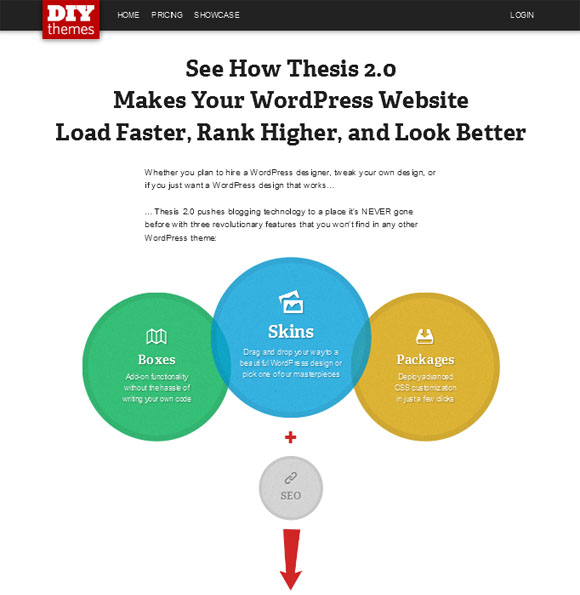 Thesis is a powerful, high quality WordPress master framework that makes it easy for anyone to run a professional, customized blog or website. In addition to excelling at critical tasks like SEO, site speed, and layout flexibility, Thesis comes with a comprehensive Option Panels that allows you to easily control and customize almost every aspect of the framework with ease. You can select the font style and sizes, colours for most elements, the number of columns (1, 2 or 3 columns), the order of those columns and the exact width of each individual column – all without having to dig into the pages of code. Thesis also boats the strongest SEO of any WordPress theme.
Key Features
Thesis Options Panel – one of the most comprehensive theme options panel in a premium WordPress theme. Allows you to easily control and customise almost any aspect of the framework with ease. You can customise everything including, font styles, colours what you want to appear in the navigation menu, page titles, your RSS feed, what meta data shows on your post / page, how your archive page shows up etc.
Layout Options – Thesis gives you a multitude of column and width options to choose from. You can select the number of columns (1, 2 or 3 columns), the order of those columns and the exact width of each individual column – all without having to dig into the pages of code.
Features and Teasers – Thesis gives you an option called 'features and teasers' that allows you to have a front page that is more of a magazine style showing featured posts and short excerpts of other posts with thumbnails.
Colour Control – Thesis allows you change the colour of virtually every element of theme. Easy change text, border, link, background colours etc.
Automatic Thumbnail Generation – Thesis will automatically resize pictures and generate thumbnails for your posts.
No coding experience required – The Thesis option panels allow you to command your site with ease without requiring detailed knowledge of HTML, PHP or CSS.
Future Proof Customization System – Allows modifications with a custom style sheet meaning you can modify your theme and protect it against any future upgrades.
Less Plug-ins Required – some of the capabilities that you would normally use plug-ins for are built into the theme. For example SEO options, Google analytics or other header and footer code, navigation menu options etc can all be managed in the theme options panel.
Pixel Perfect Typography – Thesis has polished typography with finely-tuned geometrics for maximum legibility. You can select what type, and size, of font you want in all the different sections of the theme.
Hooks – Thesis has a custom hook architecture that allows you to add to, subtract from or modify the functionality of your Thesis installation. It allows you to isolate all of your custom changes to just two key files. This makes your Thesis installation easy to customize, and easy to upgrade.
Rich Style Classes – Thesis features built in classes to help you make important content stand out, and add some pizzazz to your site. You can add a drop-cap, alert box, a note box, or even wrap text around adsense ads etc.
Customisable Multimedia Box – Thesis includes an optional fully customizable multimedia box which can be used for rotating random images, video, advertising or your own custom code.
Search Engine Optimization – Thesis boasts the strongest SEO of any theme on the market today thanks to its expertly-coded HTML + CSS + PHP framework.
Support – Access to documentation and a great support forum managed by talented and helpful staff
Continuous Improvement – Thesis is continually being upgraded and improved and new featured added. When you purchase thesis you get access to lifetime updates.
Much More
Demo & Release Page | Download
Dynamik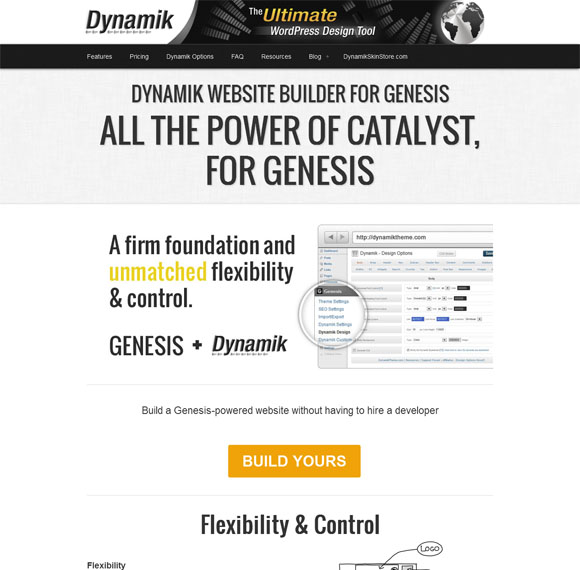 Dynamik is a powerful WordPress website builder for the Genesis Framework. Dynamik is in fact a child theme for the excellent Genesis Framework by StudioPress, however it is so much more than just a child theme. It's an amazing WordPress website builder and design tool with more than 800 no coding design options thats gives you full control of your website design (layout, appearance, colours, fonts etc) to create any type of website you like.
The Dynamik Website Builder is ideal for beginners and the average user because it provides a well organized, intuitive set of design and functionality controls that puts the power in your hands to create and customise your website without needing coding knowledge or hiring a designer. Dynamik has over 800 no coding design options for total control over your entire website.
Creating a unique homepage layout with the exact design you want is always a challenge if you don't have the coding skills to make it yourself. Dynamik gives you complete homepage control with 49 one click page home configurations as well as unlimited options to create any layout you want.
Dynamik has remarkable flexibility for creating your own layouts with unlimited custom widget areas and content areas. You're no longer subject to the limits of a default sidebar or two. The website builder gives you a black canvas to create as many new layouts and structural additions as you desire and place them where ever you wish.
One of the great things with Dynamik is the Custom CSS Building Tool which makes it really easy to add your own custom CSS code, controlling how every element appears on your site. The front end CSS Builder lets you pick and choose what customizations you want to apply and then writes the code for you! You don't need to know anything about coding.
Mobile is important these days, and extensive responsive design features are built right into the Dynamik Website Builder so your website will have a 'responsive design'. This means your website will automatically respond to the dimensions of the screen size and device used to view it, so it works beautifully on everything from desktops to tablets to mobiles. A single click Responsive Activation feature along with intuitive controls allows you to easily fine-tune the way your site responds for mobile visitors.
It has a plethora of features and functions, so briefly some of the other features include: comprehensive font and styling options, automatic updates, extensive backend options with robust feature set and design controls for every website element, lightweight and efficient front end, favicon and background uploader, MU support, and much more.
While the Dynamik Website Builder gives you full control to create your own website, the Dynamik Markeplace also offers a growing number of pre made premium and free skins you can use as your website starting or ending point. See them all here.
Key Features
Complete Control – more than 800 no coding design options
Homepage Control – 49 one click home page configurations included
Responsive Design – Extensive responsive design features are built right into the Dynamik Website Builder so your website look great on ALL devices from tablets to mobile phones (responsiveness is optional)
Unlimited Widget Areas and Content Areas – allows you to create any layout structure you like
CSS Builder – lets you pick and choose what customizations you want to apply and then WRITES THE CODE FOR YOU. Ideal for those of you who want total control but aren't a 'coder'
Front End CSS Builder – lets you see your custom styles take effect in real time
Custom Fonts and Styling Control – includes 165 websafe fonts, integration with Google Font Directory API, TypeKit support and point and click options to control how text appears on your site
Fast, Efficient Code – Dynamik's code has been professionally written, refined and maintained to provide a quality foundation for your next web design project. While the back end of Dynamik contains a robust feature set and design controls for every website element, you can rest assured that the front end of your site will be lightweight & efficient
Automatic Updates – notifications and update from the WordPress dashboard with a couple of clicks to always run the latest version
No Limits – Use Dynamik on an unlimited number of sites, domains, Client Sites, whatever!
Custom Child Themes – allows you to create your own custom child themes with a single mouse click
Background Image Uploader
Import / Export Dynamik Options
Easily Add Custom Favicon
Fully Compatible with WordPress MU
Comprehensive Documentation
Free and Premium Skins Available in the Dynamik Marketplace
Lifetime Support
More
Dynamik requires the Genesis Theme Framework from StudioPress, which is not included with Dynamic Website Builder and needs to be purchased separately. You can read more about the Genesis Framework and purchase it here.
Demo & Release Page | Download
X Theme

X is an extremely powerful premium WordPress theme with multiple built-in designs and extensive customisation options. The X theme allows you to build any type of mobile responsive website with virtually any look and layout you wish. The X theme is unique in that is includes multiple, completely unique designs in the one powerful WordPress theme. These built-in designs are called "Stacks", and there are currently 3 Stacks to choose from – Integrity, Renew and Icon (with more on the way). All of the base "Stacks" can be extensively customized to your needs via the WordPress Customizer.
Customizer
The X theme doesn't have a clunky additional admin control panel but rather utilizes the native WordPress Customizer. However it's not just the basic WordPress theme customizer – it's been "souped up" with all the customization and control options you could need for total control of the layout and styling of your site. You can control the header placement, menu placements, content layouts, colours, fonts, backgrounds, buttons, logos, and much more. Using the WordPress Customizer you can see a live preview of all the changes you make to your site without needing to switch windows, refresh the browser or disturb visitors on your site. When you're happy with your changes, select "Save & Publish" and your updates will go live.
Unlimited Possibilities
The X theme truly offers unlimited styling. It's a canvas that lets you build virtually anything – blogs, photography and portfolio sites, business websites, product sites, ecommerce stores or anything else. The developers have created lots of live demos of the X theme demonstrating just some of the possibilities of what you can create with X. You can check out the full list of theme features and demos here.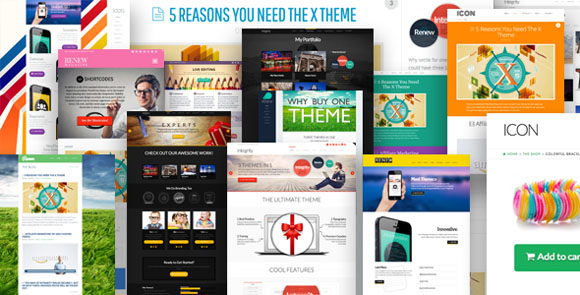 X Features
Stacks – includes multiple unique designs inside of one powerful theme. No setup required, works simply and easily
WordPress Customizer – utilizes the native WordPress Customizer (or rather, our souped up version of the WordPress Customizer)
Unlimited Styling – virtually any layout or design you can think of is possible
Mobile Responsive – a completely fluid (percentage-based) design that looks great on all screen sizes (even the "in-between" ones)
Typography – included over 600 free Google Fonts with respective weights of each font. Adjust sizes, colours, letter spacing, capitalization, and so much more with X's near endless typographic options
Shortcodes – 40 shortcodes allowing you to build virtually any layout your mind can imagine. All shortcodes are included via a custom built plugin for easy maintenance.
WooCommerce Support – the X WordPress theme is fully integrated with the WooCommerce plugin so you can easily transform your WordPress website into a fully fledged eCommerce storefront
Site Layout – choose between boxed or full width layouts across all stacks
Custom Backgrounds – set a custom background and even set unique background images on individual pages, including using multiples to create full width background slideshows
Page Templates – X comes with numerous pages templates to provide you with plenty of flexibility and power when it comes to building the site you want
Unlimited Sidebars – unlimited unique sidebars which can be set on the left or right side of the page
Portfolios – lets you create unique portfolio layouts which support images, galleries and video
Slider Revolution – includes the premium Slider Revolution plugin
Icons Fonts – includes two icon font libraries, Font Awesome, and the Foundation Social Set, to give you nearly 400 icons to use throughout your paragraphs, buttons, lists, and just about anything else you can think about
Integrated Social Sharing – built-in options allow for a quick, efficient, and seamless sharing experience
Retina Ready – along with HTML5, CSS3, and icon fonts, X also ensures things like your logo look crystal clear across all devices
Dynamic Thumbnail Sizing – included some custom scripting that dynamically sizes all featured image content across your site based upon the dimensions you've chosen for your theme
Clean Code – conforms to industry best practices at all levels implementing the latest HTML5 and CSS3 techniques, along with cutting edge WordPress standards
Custom Post Types – includes custom post formats for images, gallery, audio, video, links quote etc
Search Engine Optimized – everything from the foundational markup utilizing the latest semantic HTML5 elements, up to specialized shortcodes for increased click through rates have all been expertly crafted to ensure that your site ranks as best it can
Experts – X was built upon the input of industry-leading experts. We consulted numerous individuals and asked them what sort of features they wanted to see in a theme from an SEO standpoint, design, feature-set, et cetera
Translation Ready – comes with included .mo and .po files
WAI-ARIA Roles – X includes WAI-ARIA roles throughout each and every template file
Multisite Tested
Child Theme Compatible
Custom Widgets
Cross Browser Compatibility
Threaded Comments
Support and Member Resources
More
Demos & Release Page | Download
Ultra Theme
Ultra is an extremely powerful and flexible drag and drop WordPress website builder theme from Themify. The theme gives you total control from the header to the footer on either site-wide or per-page basis so you can create any type of mobile friendly responsive website you want.
Some of the key features of the theme include: drag and drop builder to create unlimited responsive layouts, 25+ professional pre-made layouts, 6 different header / page designs (block, horizontal, boxed-content, left-panel, boxed-layout, min-bar, or none), header background options (image, transparent, slider, video, animated colors etc), beautiful typography options (600+ Google fonts), unlimited color options, 6 different post layouts (slider, full width, masonry, grids, polaroid, and overlay with ability to toggle the visibility of the post elements such as post title, featured image, meta, content, etc), animating colors, portfolio and image filters, WooCommerce integration, customize panel (to style almost every element of the theme), hook content, auto theme updates, social icons, WPML compatible, and more.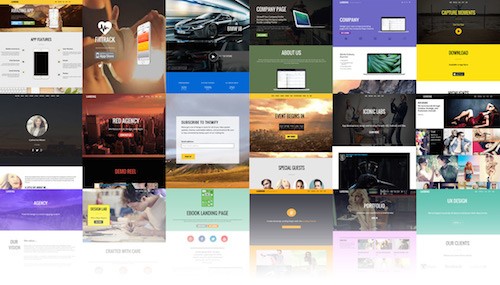 Demo & Release Page | Download
The Core
The Core is a powerful and feature rich multipurpose drag and drop WordPress theme that comes with 10+ purpose built child themes for specific niches and industries. The Core theme will allow you to build all sorts of modern and professional looking websites quickly and easily.
The Core is built on Unyson, ThemeFuses's free and open source WordPress framework. It comes with heaps of cool features and customization options including an advanced visual drag and drop page builder, unlimited color schemes using a color picker, mobile responsive and retina ready, multiple sliders (Slider Revolution, Layers Slider and a custom-built slider), demo content install, WooCommerce integration (with styled page templates from product listing to checkout), 4 header types, 3 footer variations, multiple page layouts, mega menu, over 700 Google font options, lots of shortcodes (use together with the drag & drop page builder to create unique, complex pages), animation options, multiple portfolio types (2, 3 or 4 columns, plus different types of display portfolio blocks), sticky header option, events management, advanced SEO options, translation ready and more.

MORE THEMES
11 Super Customizable, All-in-One, Multipurpose WordPress Themes – 11 of the most popular feature rich, super customizable, multi-purpose WordPress themes.
Readers Rating

Rated 5 stars




5

/ 5 (

Reviewers

)

Spectacular
---