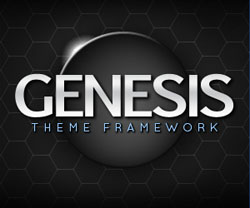 Genesis is an advanced, fast, flexible and secure WordPress theme framework from StudioPress with lots of great turn-key designs (child themes) available for it.
The Genesis Theme Framework is essentially a core WordPress theme that is highly optimized with state of the art code and smart design architecture. It has a mobile responsive design and also includes convenient inbuilt layout, design and SEO options. The theme has been fully search optimized, and the clean, efficient code ensures your website and its content will achieve the best possible rankings in the search engines. Genesis also follows all WordPress security best practices and is audited by the WordPress Lead Developer to ensure it has the best security possible.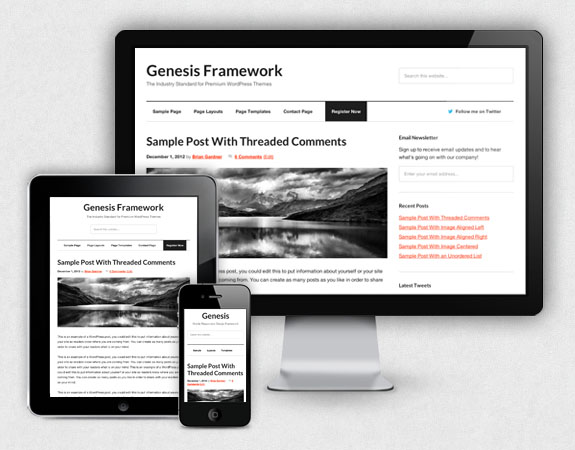 Theme Designs
The Genesis theme can be used as is for a clean minimalist website, or extended with the many beautiful child themes (designs) available for a sleek professional look without paying a fortune (see examples below). Using a framework / child theme system is smart from a "future proofing" and SEO perspective because you can radically change the look of your site, every week if you want to, and you'll never lose your content or hurt your search engine rankings because the design is kept completely separate from the core theme framework code.
Feature Packed
Genesis also makes it easy to customise and manage your site with lots of inbuilt features such as mix-and-match layout options for individual pages or posts, custom widgets, automatic framework updates, comprehensive theme options panel, custom widgets and much more.
Developer You Can Trust
When selecting a WordPress theme framework (or any theme for that matter) it's important to choose one you know has been built by a developer or company you can trust, and is high quality. StudioPress is the pioneer 'premium WordPress theme' company and has been creating top quality products since 2007. Many top websites choose to build on Genesis and you can be sure it's an optimized, secure and flexible foundation for your website you can trust.
Unlimited Everything
Genesis is fantastic value because StudioPress gives you unlimited everything in the onetime purchase price. They provide unlimited support, updates, and domains you can built which makes for unparalleled value.
Child Theme Examples
StudioPress have more than 45 child theme designs available for the Genesis Framework such as ones below.
Metro – Magazine WordPress Theme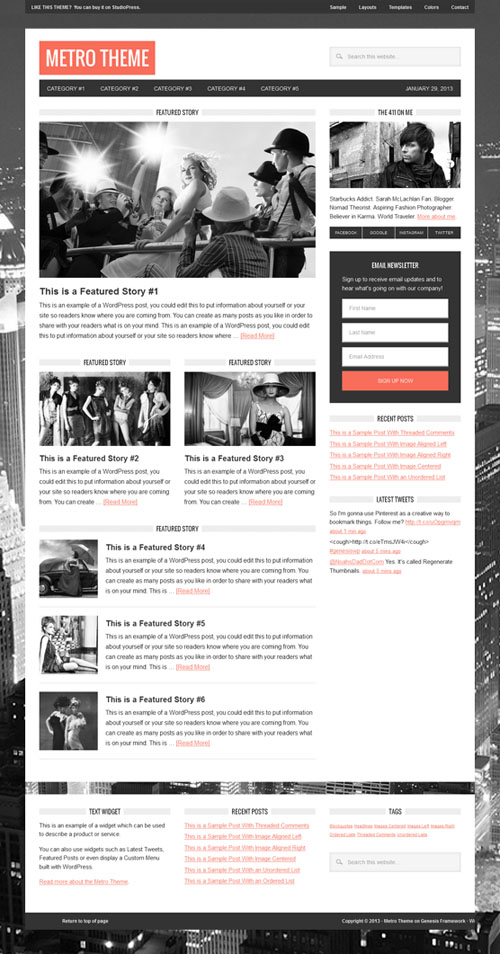 Executive – Responsive Business WordPress Theme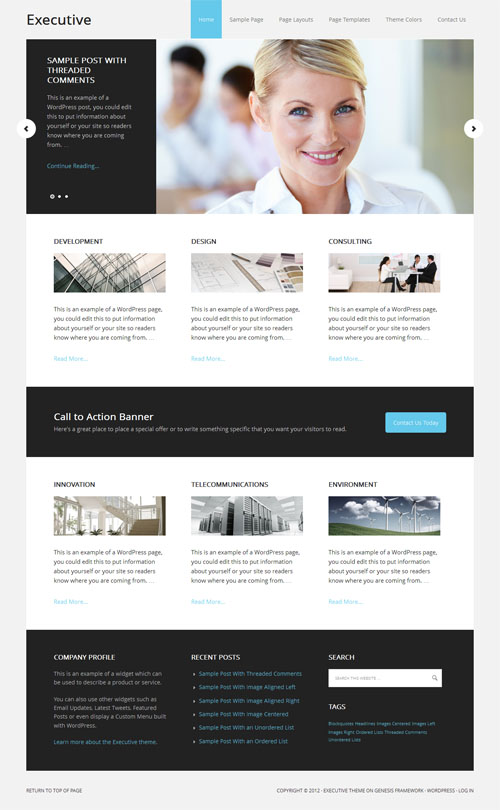 Minimum – Responsive Minimalist WordPress Theme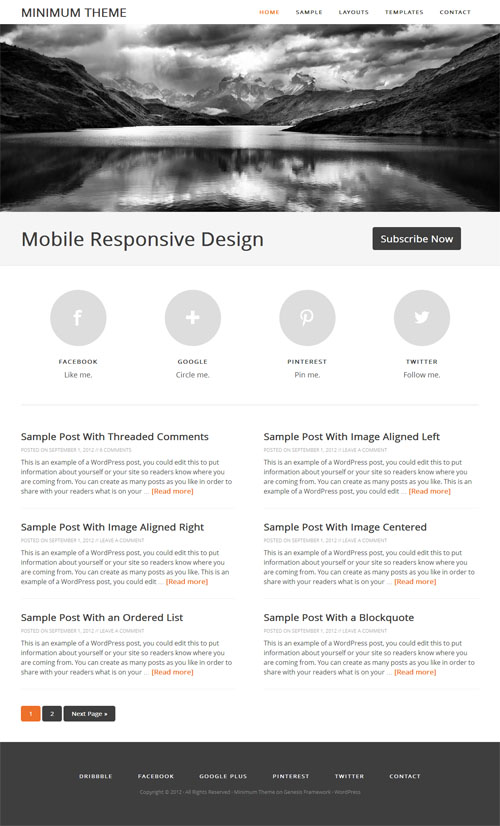 AgentPress – Real Estate WordPress Theme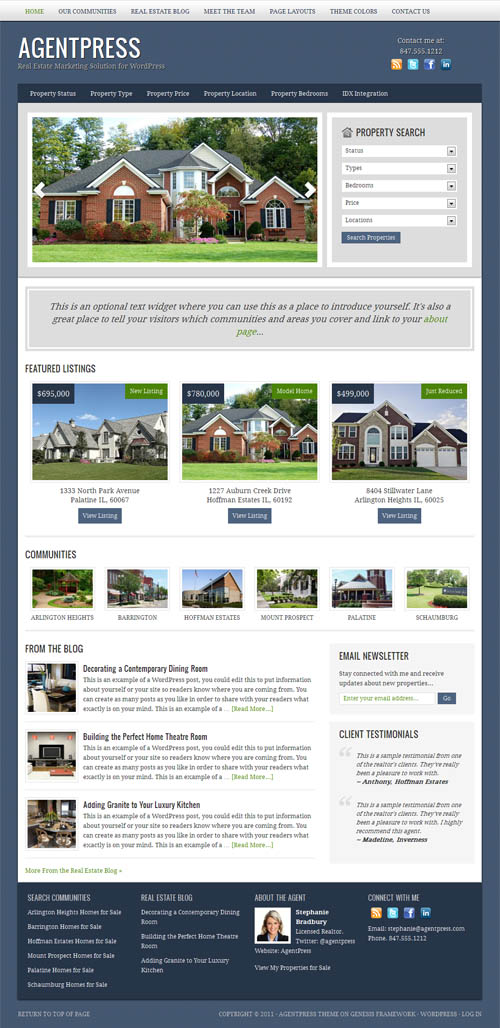 Eleven40 – Responsive Blogging WordPress Theme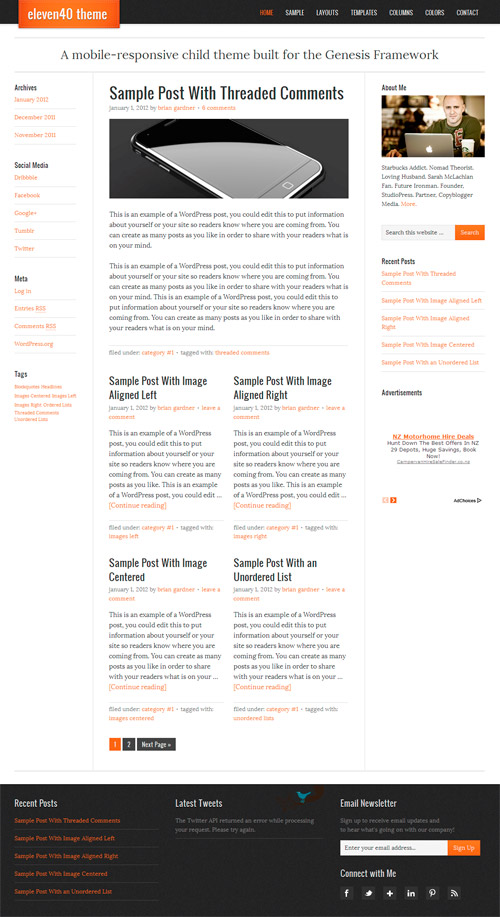 Lifestyle – Magazine WordPress Theme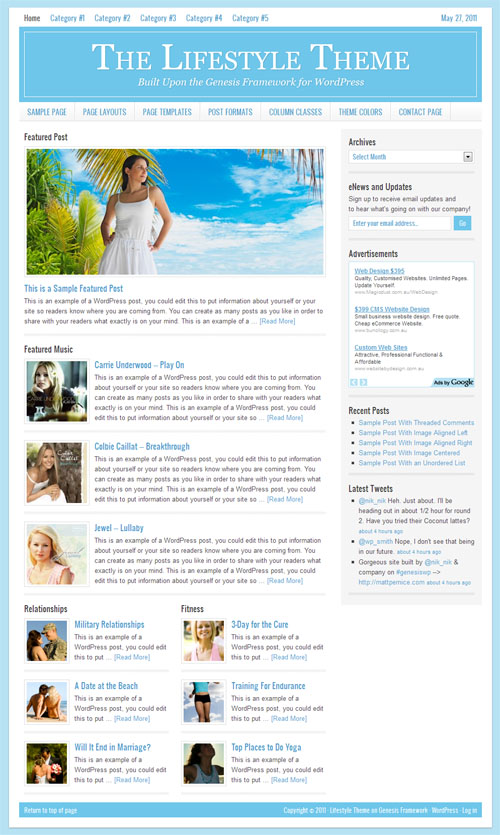 Agency – Business WordPress Theme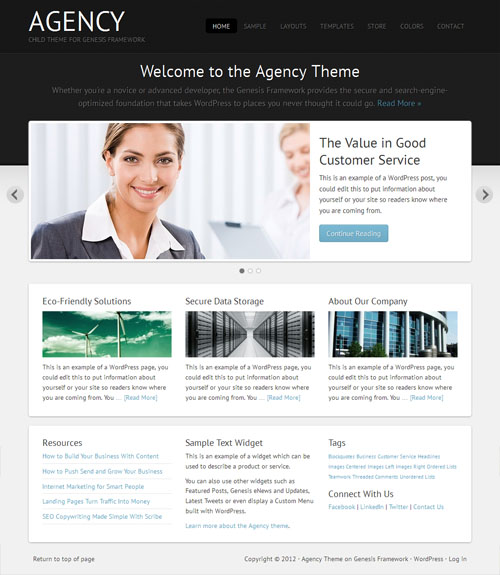 Check out all the available child themes here.
Key Features of the Genesis Framework
Responsive Design – automatically adjusts to fit perfectly on all screen sizes and mobile devices
Automatic Updates – easy upgrade similar to the way that WordPress itself (and plugins) are handled
6 Layout Options – selectable site wide or for individual post/page
Theme Options – many settings that let you fine-tune the way your site looks
Custom Hooks (40+) – a hook is a piece of code written into the theme that allows you to attach additional content to the theme itself
Custom Widgets (MyTweets, User Profile, eNews & Updates, Featured Posts, Featured Pages)
Lots of great turn-key designs available (child themes)
State of the art security
Import / Export Settings – the Genesis Theme and SEO settings are completely portable, so you can back up, restore, and transfer settings from one install to another
User Control System – allows admin to turn on/off theme settings, layouts and SEO option availability for users on a per user basis
Author Box – display per page option
Register / Unregister Layouts
Dynamic Text / Image Logo option
Navigation menu controls
Drop down navigation menu
Post Thumbnails
Auto sized featured images
Custom Widgets
Search Engine Optimised
SEO Options (site wide and individual page/post controls)
Post and Page Tracking/Conversion Code box
Widget-Ready
Ready for advertising
Breadcrumb navigation
Integrated Blog
BuddyPress Compatibility
Developed for Localization
More
Prices:
Genesis Theme Framework: $59.95
Pro Plus All-Theme Package: $349.95 (Genesis Framework and all child themes)
Demo & Release Page | Download

StudioPress offer a large range of professional WordPress themes build on the optimized Genesis Framework. Styles include personal blog, magazine / news, media, photo, video, business / CMS and other niche WordPress themes.