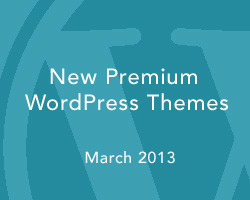 This is the monthly round up of new premium WordPress themes. Below are the best premium WordPress themes that have been released in March 2013. The month got off to rather a slow start for new theme rereleases, but it's picking up with a number of attractive, unique and interesting new themes released.
We will be updating this list throughout the month as themes are released. You can see all the new themes from previous months here.
Interakt WordPress Theme
Interakt is a responsive business WordPress theme with a unique and modern design ideal for all kinds of business and corporate websites, agencies, creative studios and others. The premium theme from ThemeFuse has a modern 'flat design' which is the in design trend at the moment, and like all good new WordPress themes is mobile ready with a responsive layout. Other features include: 2 different slider options, a number of different custom page templates, shortcodes, image and video functionality, portfolio, integrated blog, a powerful framework and admin options panel and more.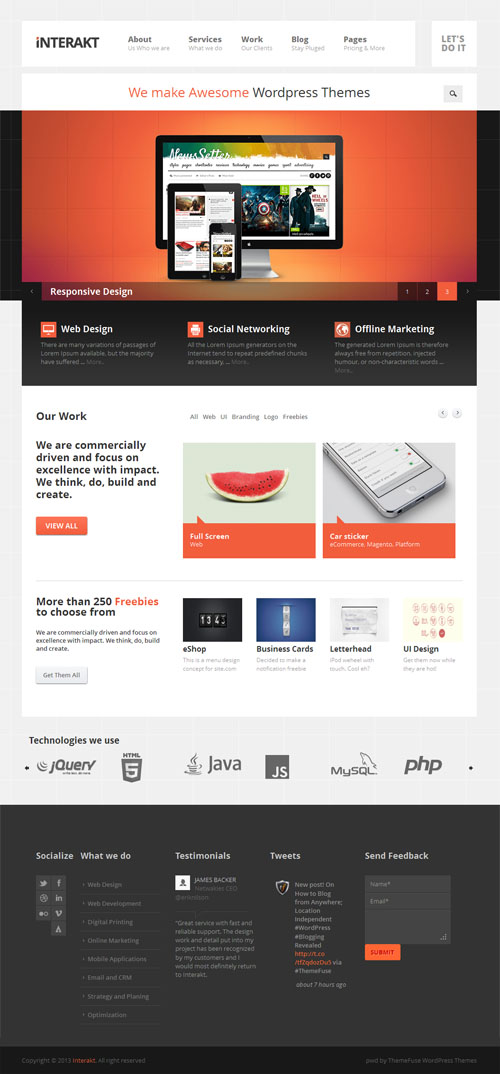 Price: $49
Demo & Release Page | Download
Fabric8ed WordPress Theme
Fabric8ed is a beautifully elegant responsive premium WordPress theme ideal for female bloggers or websites targeting women. The premium theme has 4 lovely muted colour scheme options (teal & peach, purple & yellow, blue & pink, green & peach) that create a stylish and feminine backdrop to your content. Fabric8ed has a unique homepage design that allows you to bring focus to multiple categories in an organized and elegant fashion. It also has a wide featured slider, Instragram photo section, and call to action boxes on the frontpage.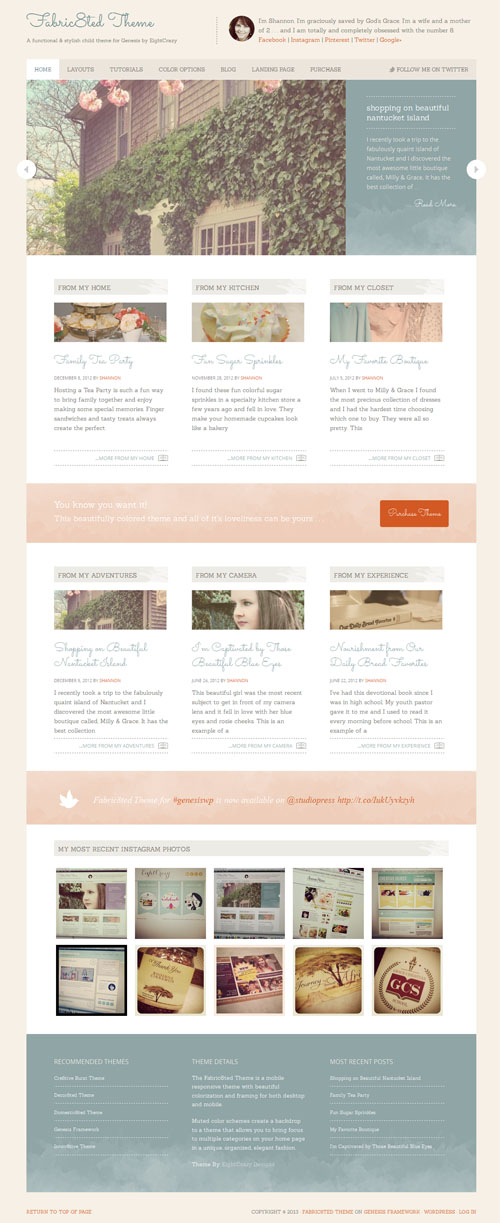 Price: Theme + Genesis Framework: $79.95
Demo & Release Page | Download
Modern Grid WordPress Theme
Modern Grid is a responsive WordPress theme with a beautifully minimal grid design. The premium theme from RichWP could be used for any type of website but would be perfect for sites about interior design, travel, glamour and fashion, lifestyle, entertainment news or similar topics.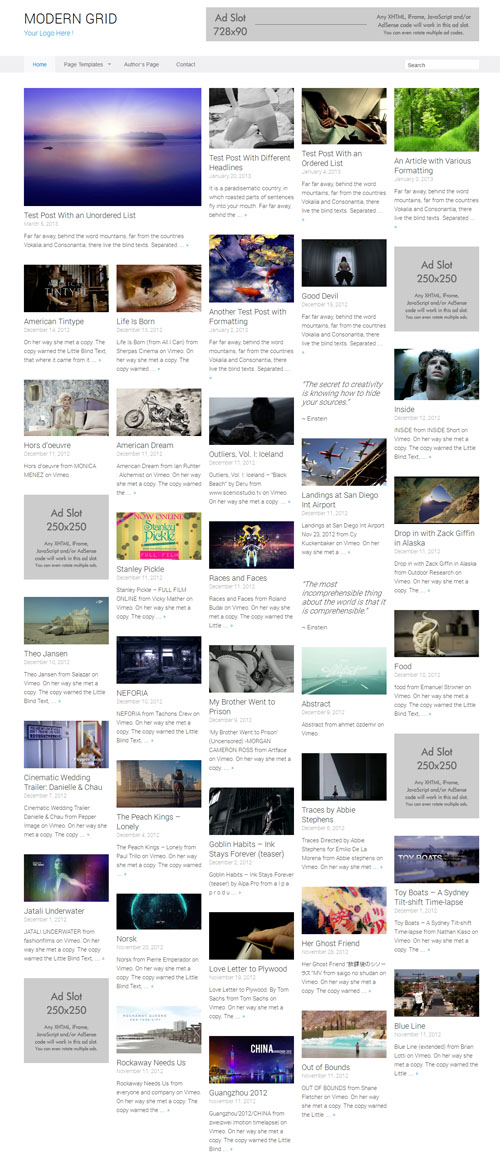 Price: $69.95
Demo & Release Page | Download
Noise WordPress Theme
Noise is a responsive child theme for the Builder Framework perfect for bands and musicians. The premium music theme from iThemes has a dark, bold and modern design ideal for bands. The theme has a built-in audio player, ways to display albums and discographies, a list of upcoming shows, and support for downloading and/or selling music. Some of the other features include: an events block to easily include upcoming shows, WordPress post format support (to post videos, links, images, standard blog posts etc), full width image header option, a mobile responsive design and more.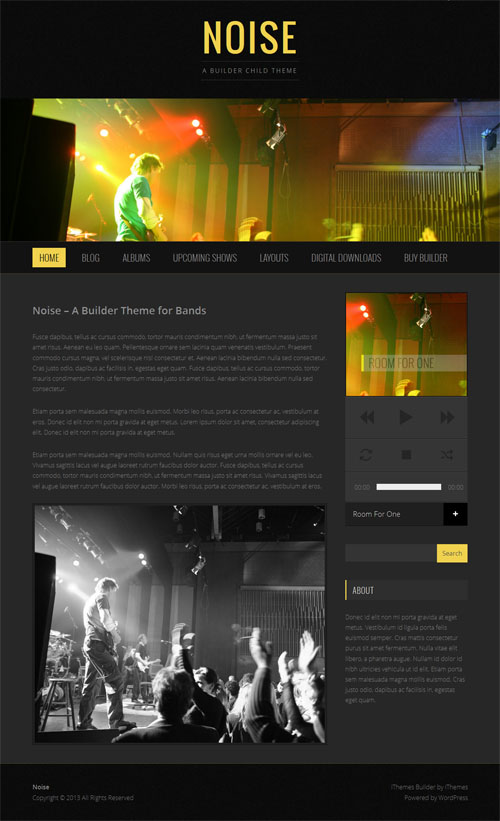 Price: $80
Demo & Release Page | Download
Automotive WordPress Theme
Automotive is a car portal and vehicle directory WordPress app theme from Templatic. The premium theme can be used by car dealers to showcase new and used vehicles for sale, or as a vehicle classifieds website for selling second hand cars, motorbikes trucks etc, or it could even be used as a car information portal / directory website.


Price: from $89
Demo & Release Page | Download
Patterns WordPress Theme
The Patterns theme from Gabfire is a beautiful, modern looking and responsive magazine WordPress theme perfect for newspaper and magazine style websites. Features include featured collage section, news ticker, 5 different category layout options, 4 post layout options, smart navigation menu, responsive design, numerous shortcodes, media module, automatic thumbnail images, advanced control panel and more more.


Price: $79
Demo & Release Page | Download
Aspec WordPress Theme
Aspec is a clean and customisable responsive WordPress theme from Theme Spectrum. The premium theme has a flexible design and could be used for business, blogging, photography, art and more. Features include: a touch friendly slider, a mobile responsive design, 5 page template layouts, many Google font options, easily add your own logo, 2,3,4 column shortcode support, custom background / menu support and more.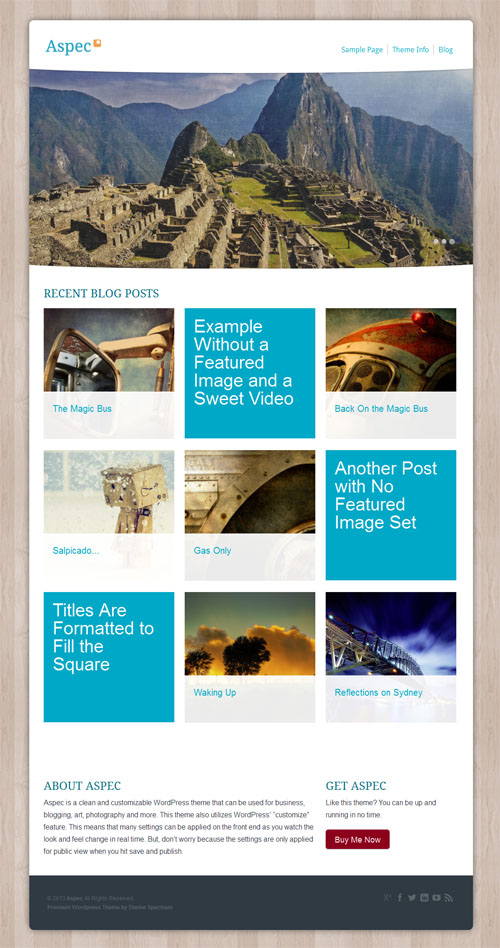 Price: $49
Demo & Release Page | Download
Fundify WordPress Theme
Fundify is an amazing crowd funding WordPress template that allows you to easily create your own crowd funding website with WordPress. It has a front end submission form that allows people to easily submit new campaigns. They can set the goal amount, the length of the campaign, and images and video can also be easily added to the campaign page. Once submitted, campaigns are set to "pending" for a site administrator to review and publish. Visitors can browse the site and "back" campaigns they are interested in supporting. Campaign "Backers" can pledge specified amounts of money towards a project and receive rewards for their contributions. The theme integrates with the PayPal Adaptive Payments extension to preapprove a pledge amount, so the pledged amount will be charged and backers receive their reward only if a campaign reaches its goal in the time specified. Its supports 20+ payment gateways including PayPal, Stripe, Google Checkout, etc, and has a mobile responsive design.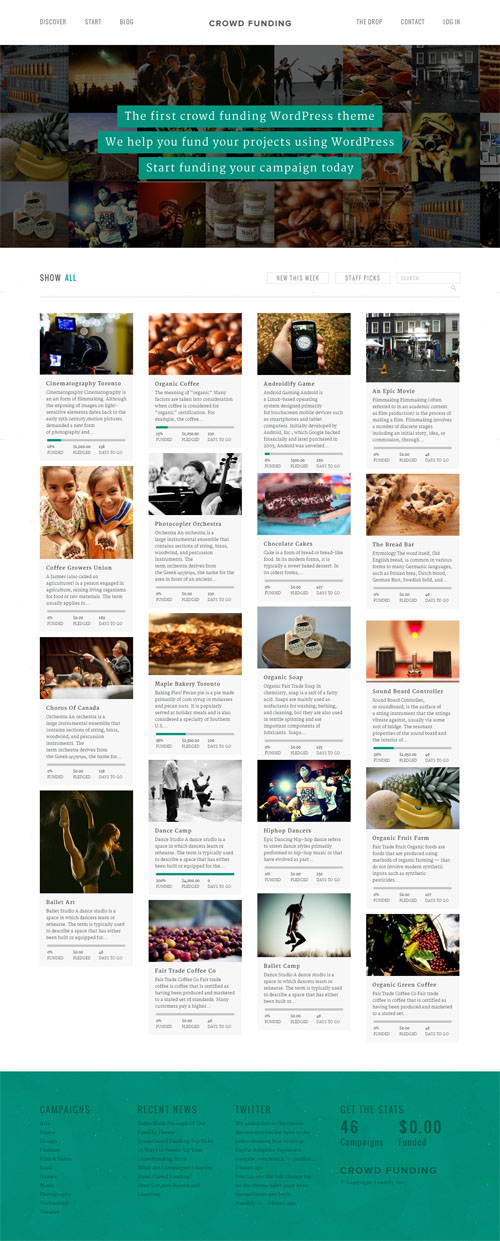 Price: $60
Demo & Release Page | Download
MH Magazine WordPress Theme
MH Magazine is an attractive responsive magazine WordPress theme from new premium WordPress theme shop MH Themes. The theme is built with valid HTML5 and CSS3 and features include: 2 homepage template options, FlexSlider with touch swipe functionality, support for RTL languages, shortcodes, built in author box and related posts box, custom widgets, advanced unbranded theme options and colour pickers with unlimited colour options, a mobile responsive design and more.


Price: $39
Demo & Release Page | Download
Academica Pro WordPress Theme
Academica Pro is a flexible and modern WordPress theme with a responsive design from WPZOOM ideal for education websites such as schools, universities and colleges. It will also work nicely for non profit organizations as well as any for-profit business website. Features include: a featured posts slider and a dynamic homepage builder, numerous custom page templates, shortcodes, responsive design, easy colour styling in the theme options pages, translation options, custom background and logo, menu management and more.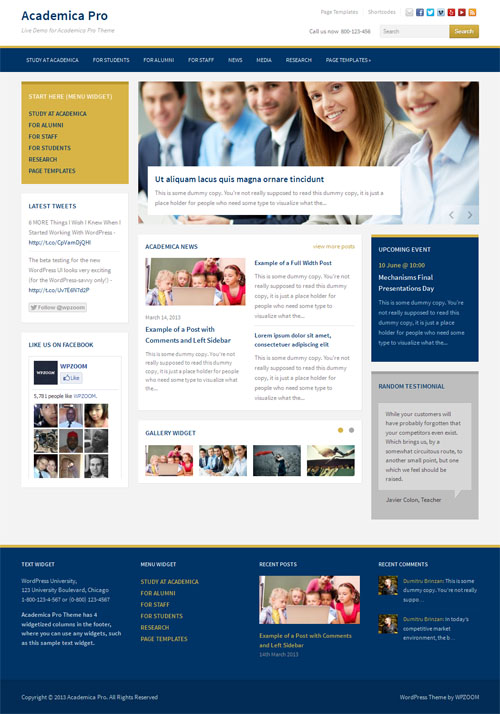 Price: $69
Demo & Release Page | Download
Profile WordPress Theme
The Profile Theme from Organic Themes is a premium WordPress theme designed to be a hub for everything about you. The premium theme lets you easily create a modern and professional personal website where you can display your online resume, showcase your work, link to all your social media channels and also blog. The theme features multiple portfolio templates, a slideshow template, many social media links, and a versatile blog layout.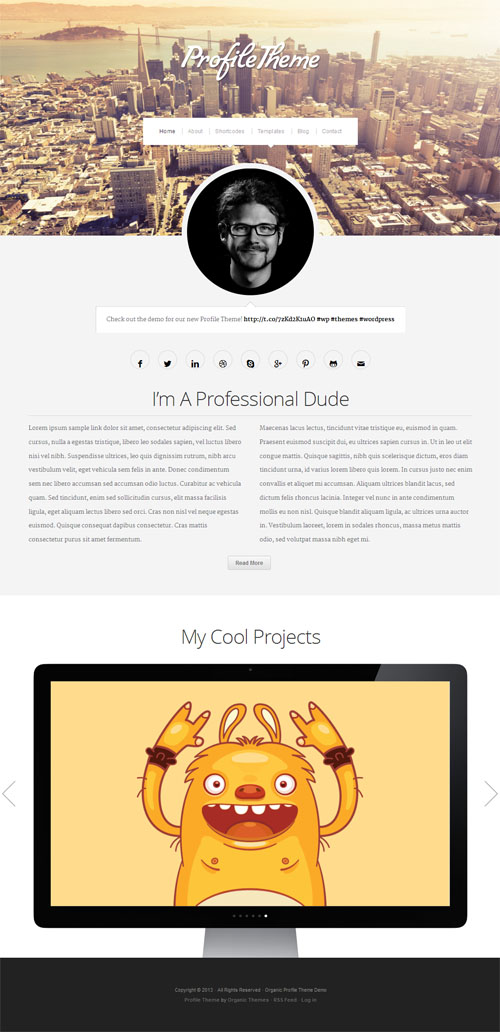 Price: $69
Demo & Release Page | Download
Master Grid WordPress Theme
Master Grid is a clean and minimalist responsive WordPress theme from RichWP. The premium theme has a modern, flat design that is perfect for magazine and blog websites.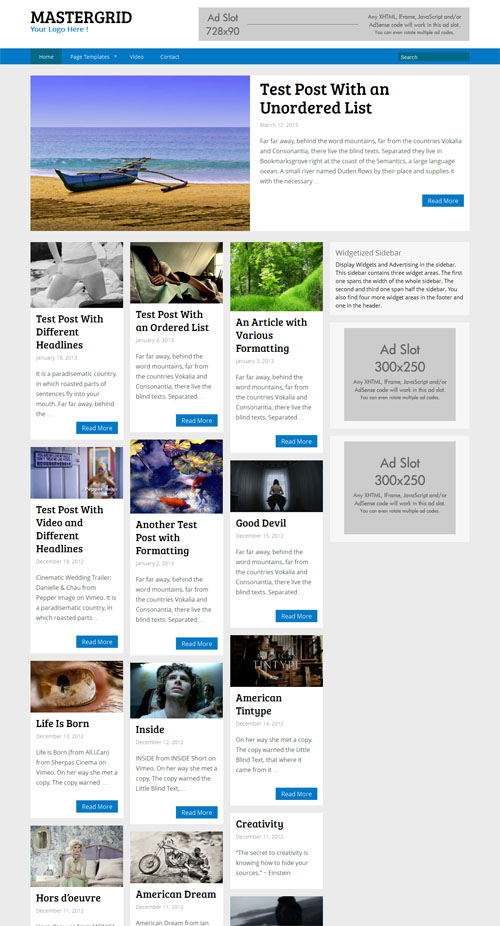 Price: $69.95
Demo & Release Page | Download
Conexus WordPress Theme
Conexus is a versatile responsive WordPress theme for business, corporate and agency websites. The premium theme from Theme Fuse has a beautiful modern design with 4 pre made colour options, a responsive layout, 2 types of sliders, a highly customisable mega menu, 1,2 and 3 column portfolio templates, integrated blog section, shorcodes, and custom page templates for services, pricing etc.


Price: $59
Demo & Release Page | Download
SympalPress WordPress Theme
SympalPress is a simple, clean, and modern responsive blog WordPress theme for personal bloggers. The premium theme from Theme Furnace has post format support, a touch swipe enabled slider, light and dark colour styles, a custom menu which lets you build drop downs and use a whole range of icons beside your menu items, theme control panel, typography options, social media profiles and other options.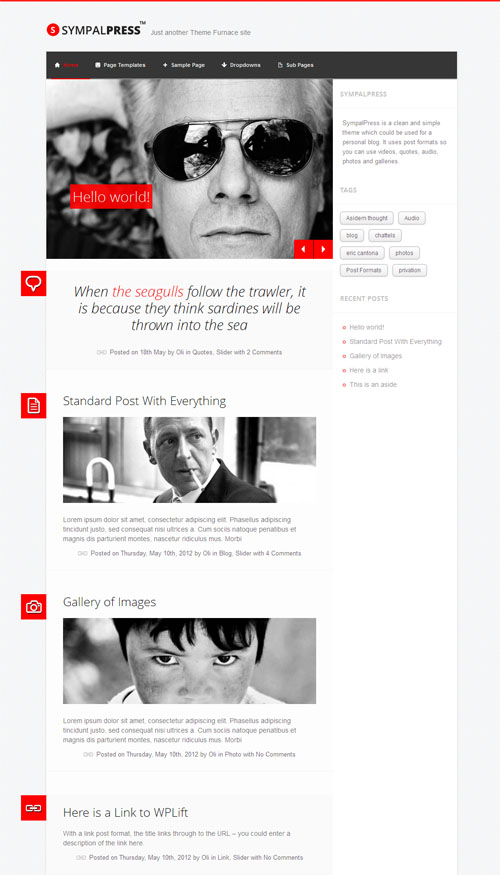 Price: $49
Demo & Release Page | Download
Pintores WordPress Theme
Pintores is a Pinterest like WordPress theme that allows you to share all sorts of media as well as blog in style. The premium theme from cssigniter has a fully responsive design that adapts for mobile visitors. It supports post formats allowing you to post music tracks, videos, images, photo galleries, quotes, links as well as normal posts. Other features include built-in favourites marking, numerous shortcodes, 5 colour options, powerful theme options panel and more.


Price: $39 (unlimited access to all CSSigniter themes)
Demo & Release Page | Download
Bold Premium WordPress Theme
Bold is a responsive blog and portfolio WordPress theme from Themify. The premium theme allows you to publish various types of media such as images, videos, galleries, image sliders and maps, blog posts etc in a full width design. Bold also comes with a Portfolio custom post type for creating a separate portfolio. The content is put front and centre and each post gives you full control of the media alignment, font styles, background colour and image. Aside from the full width post layout, the layout can be set to 4-column, 3-column, or 2-column with or without the sidebar. You upload custom background images and create your own colour schemes using the colour pickers. Other features include an optional bold welcome message, infinite scroll, easy to use custom panel, list and grid layout options and a fully responsive design.


Price: $39
Demo & Release Page | Download
Bref WordPress Theme
Bref is a minimal tumblog style WordPress theme for bloggers. The premium theme from Nice Themes has a flexible designed ideal for bloggers, agencies, typography lovers and others. It has lots of customisation options in the options panel so you can customise it to suit your style. You can pick your logo, set the layout position (left or right sidebar), choose from 500+ fonts, customise the colours, backgrounds and more. The theme support Post Formats so you can post standard posts, videos, images, quotes, links & galleries. It has a portfolio post type and gallery template. Bref also has a responsive design so it looks perfect on any screen size.


Price: $49
Demo & Release Page | Download
Gaming Zone WordPress Theme
Gaming Zone is a WordPress magazine theme for gaming magazine, news and portal websites. The commercial theme from Magazine3 is designed for professional gaming websites but could also be used for any other news or magazine website. It has a responsive design for tablets and smartphones, in-built advertising options, star rating and sores for reviews, big featured slider and featured content sections, theme control panel, custom widgets, automatic thumbnails, social sharing options and more.


Price: from $49
Demo & Release Page | Download
Simplicity WordPress Theme
Simplicity is a beautiful responsive business WordPress theme ideal for start-ups or other business websites wanting a clean and modern design. The premium theme from Gavick Pro has an attractive landing page style homepage with a dominant email capture form and space for clearly informing about your product or service. It's built on the GavernWP Framework which has lots of built in options and features. It includes an integrated blog with WordPress post formats support, various custom page templates, custom typography, custom widgets, social API to let users log in using their Facebook account, a mobile responsive design and more.


Price: from €40
Demo & Release Page | Download
Picture Perfect Real Estate Theme
Picture Perfect is a responsive real estate WordPress theme from Agent Evolution. The theme runs on the Genesis Framework. The Picture Perfect theme is designed for maximum visual impact with full screen background images and options to really show off your professional real estate images. Other features include customisation options to change the design elements and colours to match your brand, various shortcodes and widget styles, and a mobile responsive design.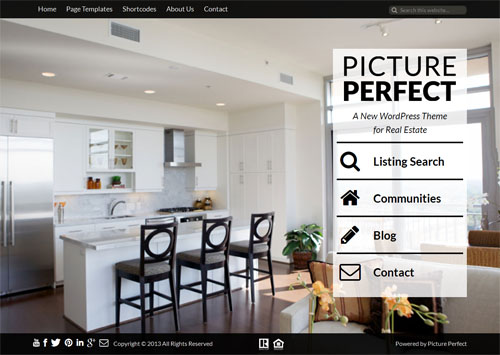 Price: $49.95
Limited special: use coupon code "evothemes10" to get $10 off. This code expires midnight PST, 28 March, 2013.
Demo & Release Page | Download
Bike Store WordPress Theme
Bike Store is an ecommerce WordPress theme from Gavick Pro. The theme could be used for any type of online shop selling thousands of products or just a few. It uses the WooCommerce plugin for ecommerce functionality and has a responsive design so will adapt its layout to work on all mobile devices.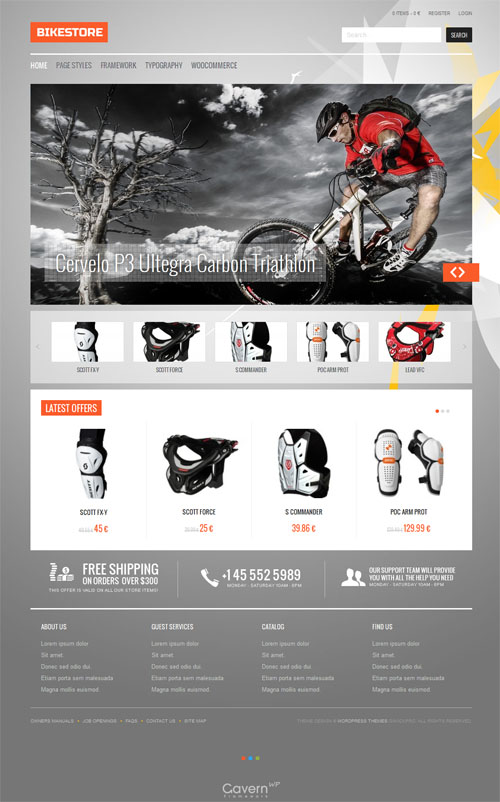 Price: from €40
Demo & Release Page | Download
MORE THEMES
February 2013 Premium WordPress Themes
January 2013 Premium WordPress Themes