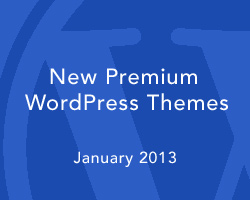 We're only a couple of weeks into the New Year but already have some pretty cool new premium WordPress themes. Going on what's been released already this year, 2013 promises to be amazing for both the quantity of new premium themes and the quality of those themes.
The number of theme companies continues to increase and the premium WordPress theme market get more saturated and competitive each month. So it will be interesting to see the direction established companies take and what type of themes they create, and also what the new players come up with to break into the market and become sustainable.
I believe we are likely to see increasingly niche, 'specific purpose' WordPress themes with custom features and functionality, such as the Voyage theme below. Last year we saw many companies starting to release WordPress themes with responsive layouts. With the rapid growth of mobile use forcing many web developers to consider how they will cater to mobile users we can also expect to see many more responsive WordPress themes. Will 2013 be the year of responsive design and will responsive layouts become standard in WordPress themes? While responsive designs are great, they may not always the best option for certain types of websites so it will be interesting to see the different solutions people come up with for mobile viewers.
Whatever happens in the Premium WordPress theme market this year you can sure we will be showcasing all the best premium WordPress themes right here on PremiumWP. So keep checking back or subscribe to one of our feeds to stay updated.
Below are the best new premium WordPress themes released in January 2013. Also check out all of the best premium WordPress theme from 2012, or browse the galleries of premium WordPress themes. What type of new theme designs would you like to see in 2013?
Hardy WordPress Theme
Hardy is a modern, minimalist and responsive portfolio WordPress theme that could also be used for a variety of other purposes including business websites and blogs. The beautiful, modern premium theme from Theme Trust is designed specifically to place your best work right up front by displaying your projects (or other content) in big customisable sections on the homepage. The homepage also has a large full width featured slider, and Ajax load more button to show more sections without needing to reload the page. Some of the other features in the theme include a custom post type for easy portfolio management, integrated blog template, Google webfonts integration, custom shortcodes, and a mobile responsive design.


Price: $49
Demo & Release Page | Download
Mozzy WordPress Theme
Mozzy is a beautiful and flexible business / portfolio WordPress theme from cssigniter. The premium theme includes an advanced portfolio section that allows you to showcase your work and products in a variety of formats. The homepage is super flexible so you can select how you want it to display with a slider, set column number and sizes, contact forms etc. It has a fully responsive layout which automatically adjusts to work and look great on a wide range of devices from large monitors to smaller mobile phone displays. The theme is built with the latest and best web design standards – HTML 5 and CSS3. Some of the other notable features include 5 pre made colour styles, custom shortcodes, localization options and a themes options panel that provides only the important options to keep things fast simple.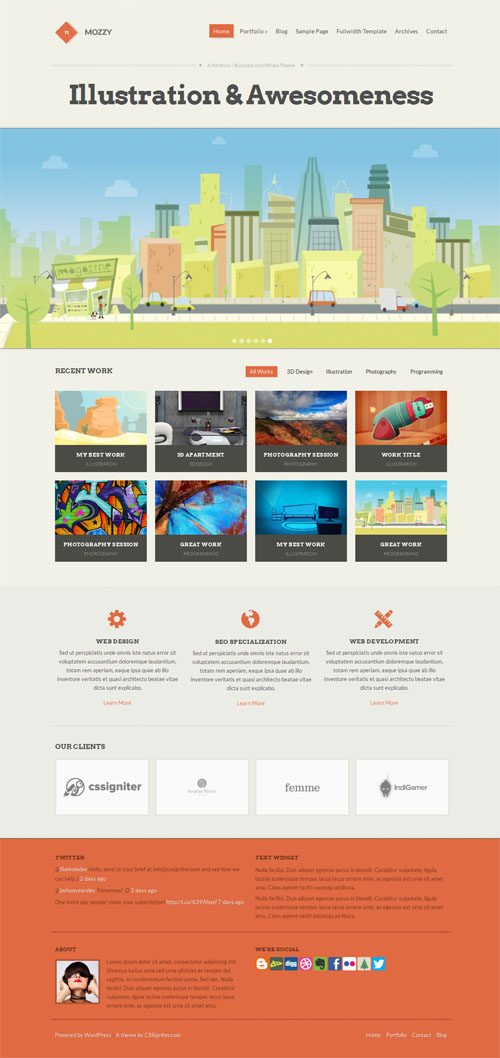 Price: $39
Demo & Release Page | Download
Responsive WordPress Theme
Response Theme is a versatile, multipurpose premium WordPress theme which is fully responsive and retina optimized. The minimally designed WordPress theme from Organic Themes is extremely versatile and could be used for any type of website including business sites, portfolios, ecommerce stores or a blog. It includes a heap of great features but still has an easily understood code base making it ideal for beginners as well as designers and developers to work from. The theme is compatible with the WooCommerce plugin so you can easily start selling products from your website. It supports post formats for displaying blog posts in various formats, and a portfolio template and slideshow template. The Options Framework includes options for changing colours, site width, social media options and more. The theme also has shortcodes for easily displaying beautiful buttons, icons, tabs, headlines, toggles, modal boxes, galleries and much more within any page or post. Response is optimized for retina displays and is also has a fully responsive design so will automatically adjust and fit all mobile devices perfectly.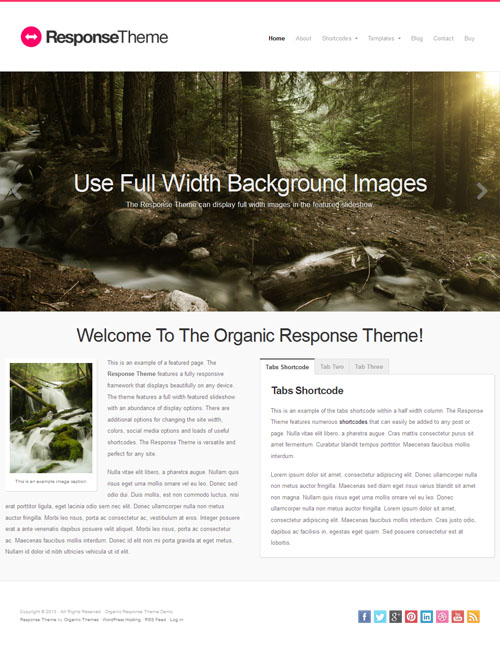 Price: $69
Demo & Release Page | Download
Fusion WordPress Theme
Fusion is a flashy and sleek but professional responsive business WordPress theme from Elegant Themes. The premium theme combines a slick, fun design with professionalism making it a great business theme for start-ups, tech companies, design firms or any other business wanting to impress visitors with a modern design. Fusion has a custom homepage design with a full width slider and custom widget areas so you can customise it to your needs. You can easily customise the theme's colours and background images via the WordPress Theme Customizer, and can also define separate background images for each slide in your homepage slider. The ePanel options panel includes a wide range of features and options to help you easily set up and manage your theme, and a large number of shortcodes are included so you can easily create complex layouts without needing to dig into any code. Other features include various custom page templates, integrated blog section, portfolio templates, a mobile responsive layout that will adjust for all mobile devices and more.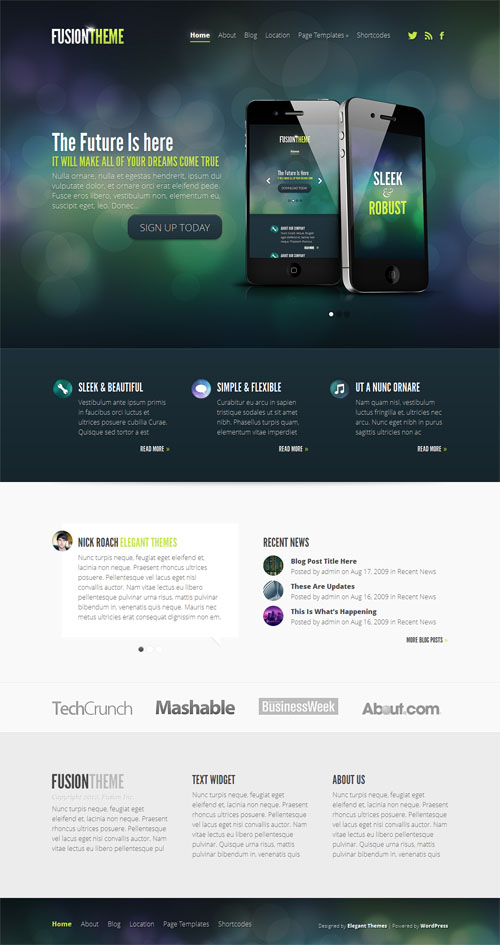 Price: $69
Demo & Release Page | Download
Master Blog WordPress Theme
MasterBlog is a very clean and minimal responsive blog WordPress theme ideal for personal and professional blogs, news and online magazine websites. The premium theme from RichWP has a bold, modern design with big featured images and large typography to make your content stand out. This theme is also very wide with a width of 1180px which fills large displays nicely for a professional look. The responsive design means it also scales down automatically to fit and display perfectly on tablets, smartphones and all other mobile devices.


Price: $69.95
Demo & Release Page | Download
BizzStore WordPress Theme
Bizz Store is one of the best WooCommerce WordPress themes available to date. The premium ecommerce theme from Bizz Themes has a fresh, minimalist design and is incredibly powerful and includes everything you need in a shop website and more. BizzStore is built upon the Twitter Bootstrap framework, so with its powerful and comprehensive front end styling framework it's easy to customise the look exactly to your needs. The theme also has an amazing template builder so you can rebuild and reshape every template in your site to get exactly the layout and design you need for your shop. The theme is fully integrated with the excellent WooCommerce ecommerce plugin which is free, powerful and extendable. Briefly some of the other features include 5 pre-made colour styles, featured slider, mega menus, extensive design options, and a fully responsive design so it works beautifully on all screen sizes / resolutions and all mobile devices.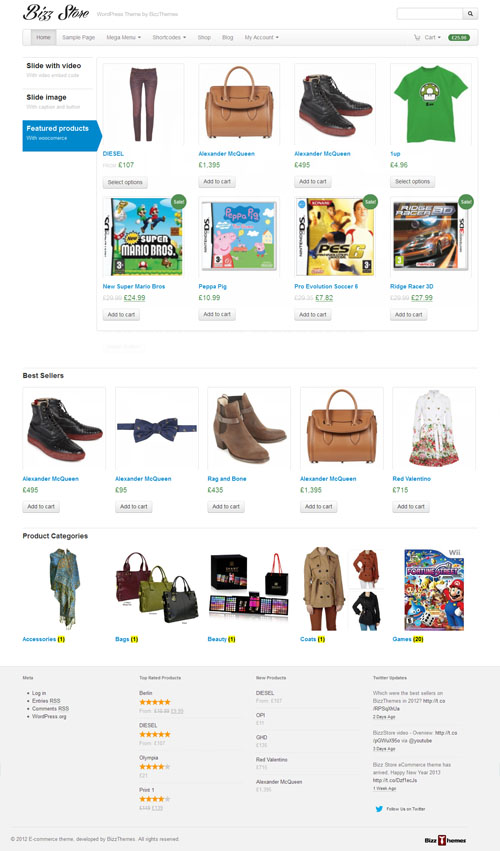 Price: $69
Demo & Release Page | Download
Petit WordPress Theme
Petit is a WordPress theme for food and recipe websites, although it's also versatile enough to be used for a variety of other blog and magazine style sites. The premium theme from WPZOOM has a nice organic colour scheme ideal for food blogs and has a fully responsive design so the layout will automatically adapt to fit on any screen resolution on desktop and mobile devices (iPhone, iPad etc). The theme has a magazine style homepage design so it will stand out from all the other food bloggers with its big featured recipe slider as well as a vertical carousel slider under that. Besides numerous built-in shortcodes it has two custom shortcodes specifically for recipes: Ingredients and Directions. This allows you to quickly and easily create nicely styled sections for ingredients and directions in your recipe posts. Some of the other useful features included in the Petit theme include: an Instragram widget to show off your food photos, PollDaddy ratings plugin integration for post ratings, the advanced ZOOM framework and options panel, support for custom menus, background, logos and more.


Price: $69
Demo & Release Page | Download
Appply WordPress Theme
Appply is a clean and professional business WordPress theme with a modern bold and spacious design from WooThemes. The premium theme has a mobile responsive design that will scale to fit on all browser widths/resolutions and on all mobile devices. It includes 6 pre-made colour styles, and also has styling options for background colour/image and setting link and button colours etc in the options panel. You can also easily customize the theme thanks to its LESS powered CSS development which will allow you to make major changes to the theme with limited code editing. The Appply theme comes out of the box with full support and styling for the WooCoomerce ecommerce plugin so you have to option to offer shop facilities and start selling products straight away.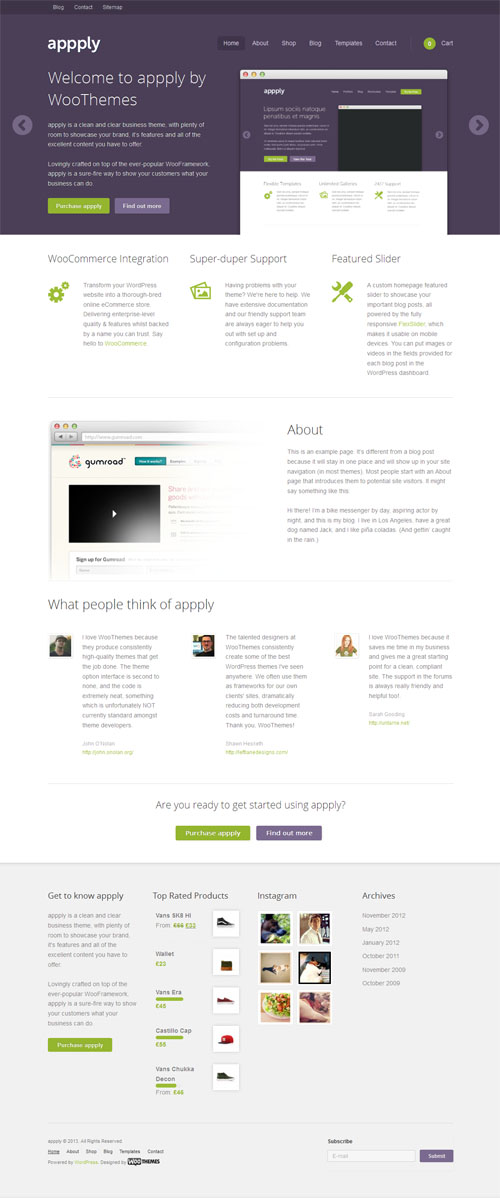 Price: $70
Demo & Release Page | Download
Refresh Pro WordPress Theme
Refresh Pro is a premium business WordPress theme from FrogsThemes. The theme has a simple yet fresh, clean and modern design that will allow you to showcase your businesses services or products in a professional manner. It has a fluid portfolio showcase area that supports images and video, and utilises jQuery Masonry for infinite scrolling to load and stack more items in the portfolio and blog. Refresh Pro supports WordPress post formats so you can easily post different types of blog posts such as featured images, galleries, videos, audio files, quotes and links. Refresh Pro does not have a responsive design, so if you are after a clean and simple business theme this could be for you. Otherwise there are plenty of excellent responsive business WordPress themes if you need a mobile ready website out of the box.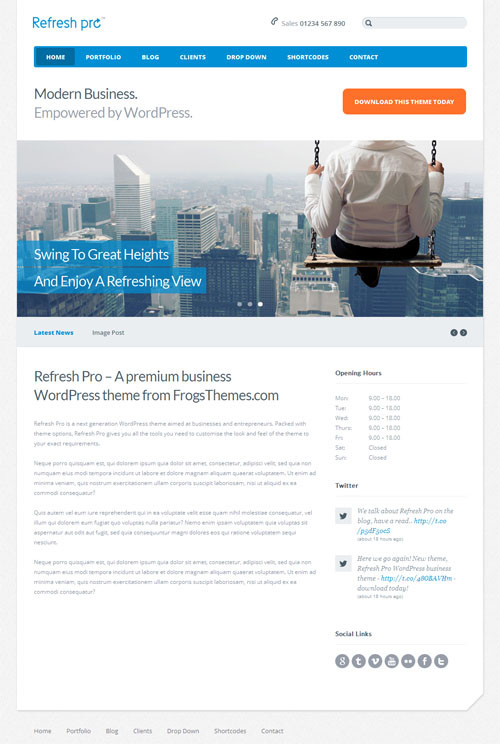 Price: $39
Demo & Release Page | Download
Voyage WordPress Theme
Voyage is a premium travel WordPress theme from Theme Fuse designed specifically for travel agency websites, travel companies and other holiday and vacation business websites. The theme has been created with amazing attention to detail and includes all the features and functionality you would need to build a professional travel business website to showcase tour packages, hotel packages, city break deals and more. It has a responsive design so all the elements scale and resize depending on the device the website is viewed on. It doesn't matter if a visitor is viewing the website on a desktop computer, tablet or smartphone they will have an optimised viewing experience.


Price: $99
Demo & Release Page | Download
Threads WordPress Theme
Threads is a responsive ecommerce WordPress theme for the Builder Framework from iThemes. The feature rich premium ecommerce theme is designed from the ground up to work exclusively with the Shopp ecommerce plugin. You could use this ecommerce theme to easily set up a website to set t-shirts, clothes, fashion accessories or any other range of products – the bold, clean and minimal design makes it incredibly versatile. Threads has a fully responsive design so looks great on desktop computers, but also automatically adjusts its layout to work perfectly on tablets, iPhones and all other mobile devices.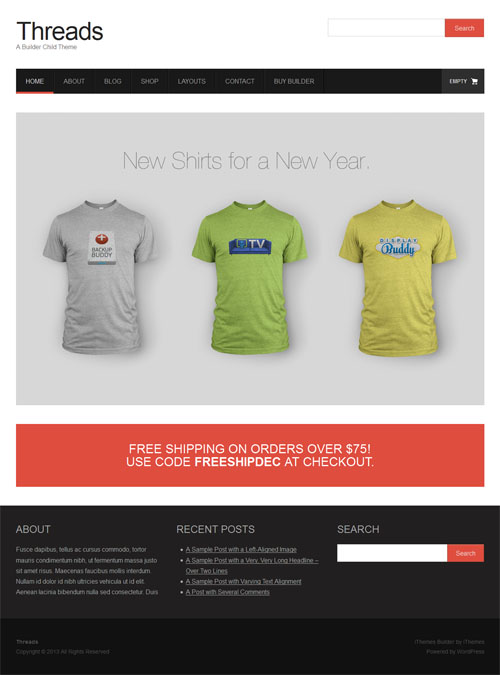 Price: $80
Demo & Release Page | Download
Avando WordPress Theme
Avando is a clean corporate WordPress theme with a responsive design from Theme Furnace. The premium theme has a minimalist, conservative yet professional design making it suitable for use by a wide range of businesses and companies. The custom homepage is highly configurable via lots of widget locations and the themes options panel. One the homepage you can have a responsive flex slider, portfolio section, 2 features areas with custom icon widgets, blog area, space for displaying graphics like client logos & affiliations. Avando has custom post types for staff and portfolio items. The theme has a comprehensive unbranded options panel to easily set up and manage the site making it easy for beginners, but is not bloated with lots of things you would rarely use. The theme takes advantage of the built in WordPress theme customizer so you can easily change accent colours, background colours and images. For more advanced users the code is clean and well commented to easily customise to your needs.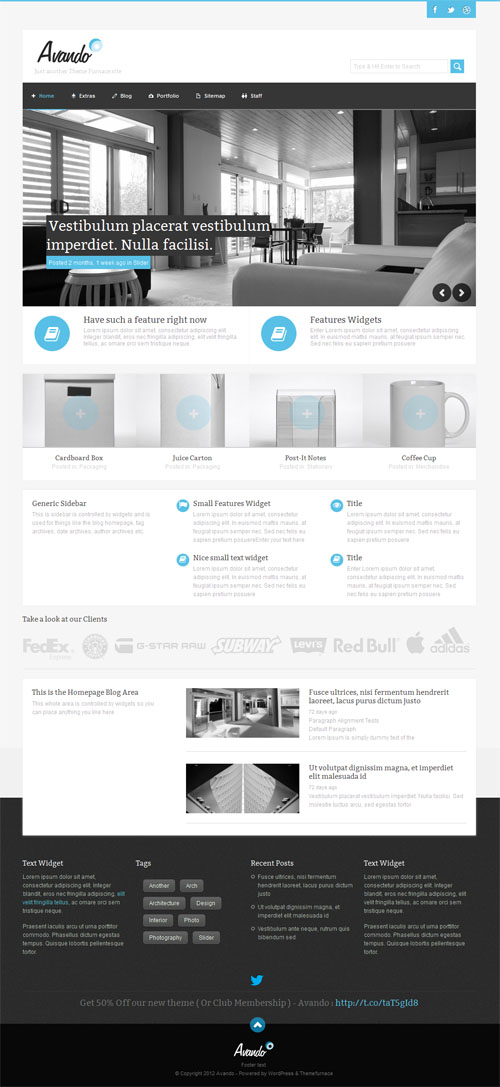 Price: $49
Demo & Release Page | Download
International Post WordPress Theme
International Post is a professional looking newspaper WordPress theme designed for news and magazine websites. The commercial theme from Magazine3 has a clean, professional design ideal for niche news websites, business news sites, magazines or general news websites. International Post has a responsive layout so it automatically adjusts to display nicely on tablets, smart phones and all other mobile devices – essential in this increasingly mobile world. Some of the other features including in the theme are: options to change the colour of each category block, 13 custom widgets, theme control panel for setup and customisation, custom page templates, social sharing options, related and popular posts sections and more.


Price: from $49
Demo & Release Page | Download
Business Two WordPress Theme
Business Two is a flexible business / portfolio WordPress theme with a responsive design from cssigniter. The premium theme could be used for any type of business or portfolio website to showcase work, products, portfolio, clients, services and news. It's highly flexible and allows you to customise the layout to suit your needs. It comes with 7 sidebars and multiple custom widgets and you can create up to 12 combinations of custom designed templates. Business Two comes with a powerful product / portfolio display so you can showcase your products in multiple formats. Some of the other features include 5 pre-made colour schemes, theme options, panel, custom menus and shortcodes for things like buttons, columns, dividers etc. Business Two is a responsive theme so its mobile ready, automatically adjusting its layout to fit perfectly on desktop monitors, tablets and mobile phones.

Price: $39
Demo & Release Page | Download
Non Profit WordPress Theme
Organic Themes have released an update of their Non Profit WordPress theme which includes some great new features and a beautiful new design. The premium business theme is created for non profit organizations, environmental organizations or any other organisation website trying to raise awareness or promote a cause. It has a clean and fresh design with a flexible layout that allows a variety of content to be displayed on the homepage. Non Profit has a mobile responsive framework for desktops, tablets, smartphones and all other mobile devices, and also has retina display optimisation so will look great on the new high resolution displays. It has WooCommerce ecommerce support and some of the other features included in the theme are: a featured slideshow and tab section, multiple page templates, shortcodes, several widgetized sections, Google fonts, colour change and customisation options and much more.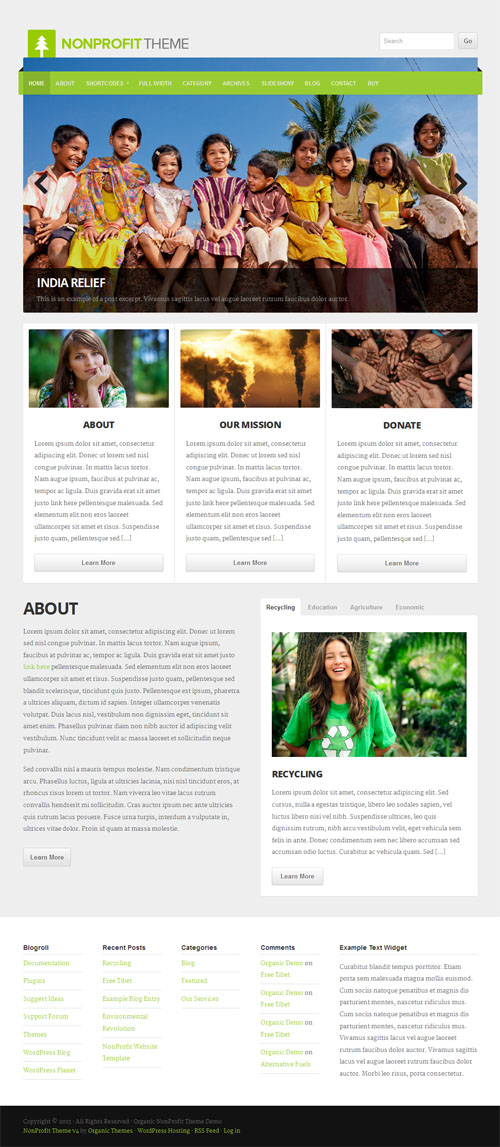 Price: $69
Demo & Release Page | Download
Personal WordPress Theme
Personal is a super clean, minimalist WordPress theme designed for writers, journalists, bloggers and videographers to house their content in style. The premium theme from Obox has a customisable, content-first design to promote your writing, videos, portfolio items or other items without distraction. The theme has a flexible homepage layout with a simple drag and drop widget system to give you endless layout possibilities. You can have as many content categories in different layouts and orders as you like on the homepage.


Price: $79
Demo & Release Page | Download
Super Grid WordPress Theme
Super Grid is a minimal grid WordPress theme with a fully responsive and adaptive layout. The premium theme from RichWP has a clean, minimalist design that places the focus on your content. The SuperGrid theme would work perfectly for websites about design, art, lifestyle and other related magazines or blogs. Some of features include infinite scrolling, in-grid advertising options, support for all native WordPress post formats, custom page templates, easy logo integration, various widget areas, options to change lead colour and text colours and more.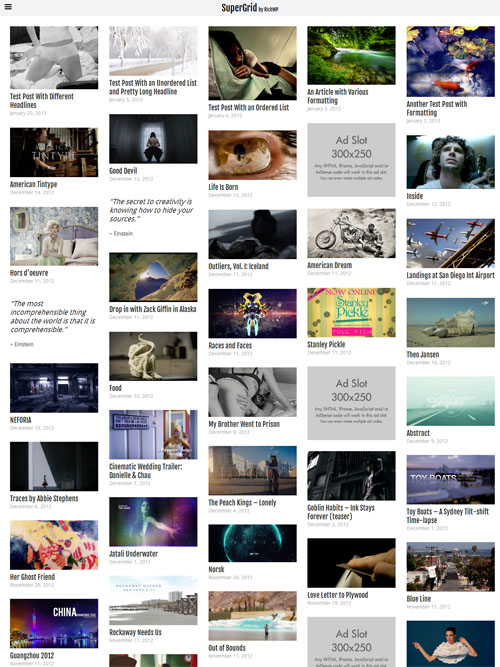 Price: $69.95
Demo & Release Page | Download
Metro WordPress Theme
Metro is a modern magazine WordPress theme with a mobile optimised responsive layout from StudioPress. The premium theme is a very spacious 1152 pixels wide, and the "flat design" gives it a very modern look. The mobile responsive layout ensures your website will look great on large wide screen monitors right down to tablets and small mobile displays. Metro comes with 5 colour styles, 6 layout options, sleek social features, custom background, header and menu options, featured images, a landing page template and more. Metro is a child theme for the Genesis Framework so includes all the other features and benefits of that excellent theme framework.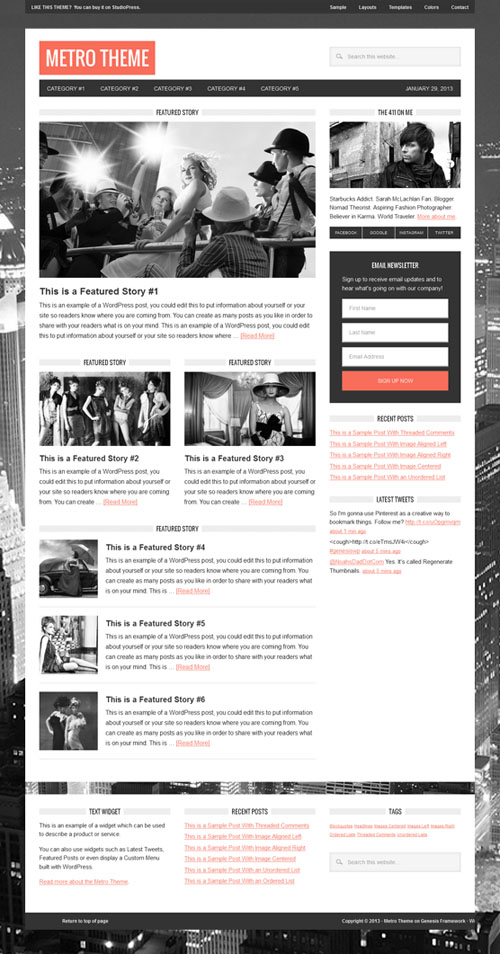 Price: $79.95
Demo & Release Page | Download
Delivery WordPress Theme
Delivery is a blog / magazine WordPress theme from Theme Junkie that could be used for news, blog or magazine websites. The premium theme has a clean and fresh design with a 3 column blog / magazine style layout for the homepage, while posts, pages and categories have a 2 column layout. It includes numerous navigation menu locations and unlimited ad spaces throughout the theme to generate some income. Other features include custom widgets and shortcodes, useful page templates, theme control panel and more.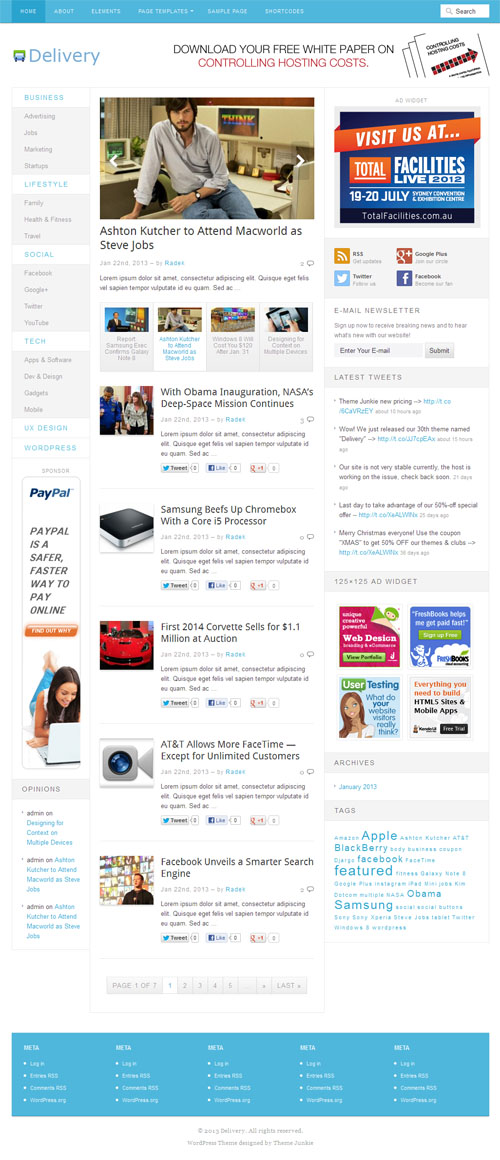 Price: $39
Demo & Release Page | Download
Anchor WordPress Theme
Anchor is a flexible, mobile friendly WordPress theme from Templatic that can be used for magazine websites, business sites, blogs, ecommerce shops, a combination of all, or anything else you can image. Some of the features include: fully customisable widgetized homepage layout, unlimited colour options, mega menus for complex drop down menus, Twitter Bootstrap shortcodes, automatic updates, translation and multi language options, WooCommerce and bbPress integration and a mobile friendly responsive design.


Price: from $65
Demo & Release Page | Download
Image Grid WordPress Theme
The Image Grid theme is a responsive grid WordPress theme with a bold yet minimal design from RichWP. The premium theme has a striking image grid design that puts your images and content in full focus. Image Grid would be ideal for design, photography, art, fashion and lifestyle related blogs and magazine websites.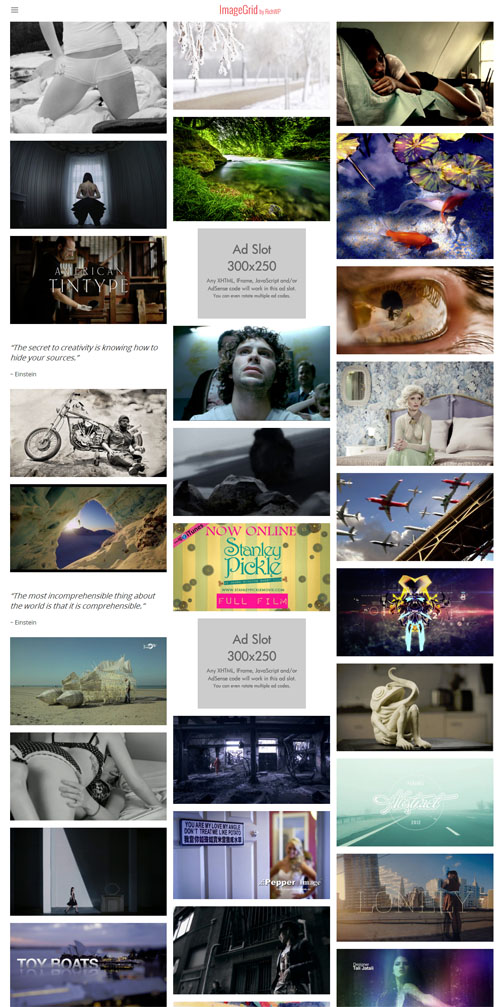 Price: $69.95
Demo & Release Page | Download
Emerald WordPress Theme
Emerald is a versatile, chic premium WordPress theme for women business owners. The premium theme from BluChic could be used as a business website, blog or ecommerce shop. The theme has a chic style with a colour scheme inspired by the colour company Pantone with its colour of the year for 2013 – emerald, with its combination of pink, emerald and cursive handwriting font. The theme is fully compatibility the WooCommerce ecommerce plugin so you can easily add shopping cart functionality and has a responsive design. Other features include custom shortcodes, a featured slider, options to customize the colours, theme options and more.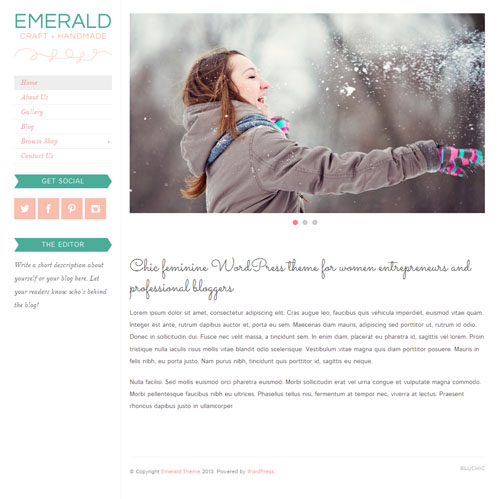 Price: $79
Demo & Release Page | Download
Foundation WordPress Theme
Foundation is a professional WordPress theme designed specifically for big or small non profit organizations. The premium theme from Organized Themes includes everything a non profit organization would need in a website. Features include: in-built donation tools, staff pages, donor pages, social media profiles, press release section, newsletter option, a mobile responsive design and ecommerce support to sell products from your site.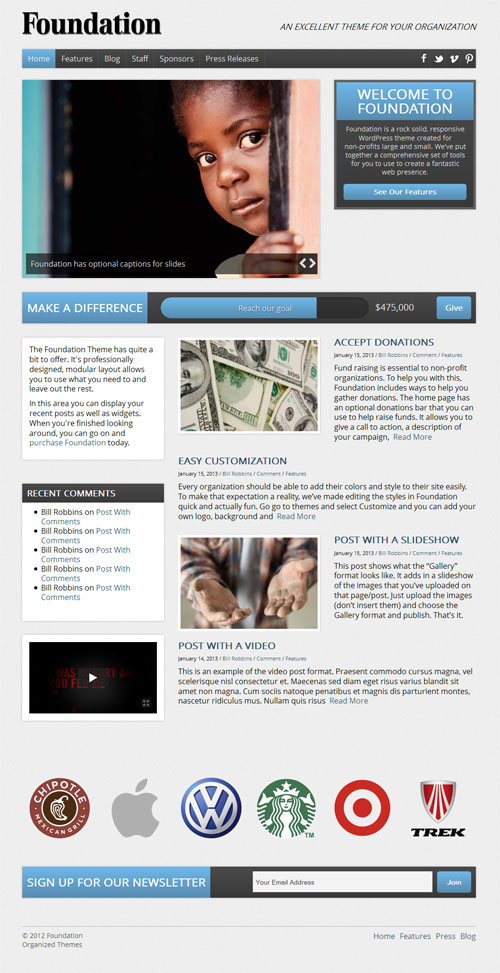 Price: $49
Demo & Release Page | Download