A quick look at the Alexa traffic rank graphs of WordPress.org, WordPress.com and other popular WordPress websites could easily give you the impression that traffic is dropping and WordPress is in decline.
WordPress.org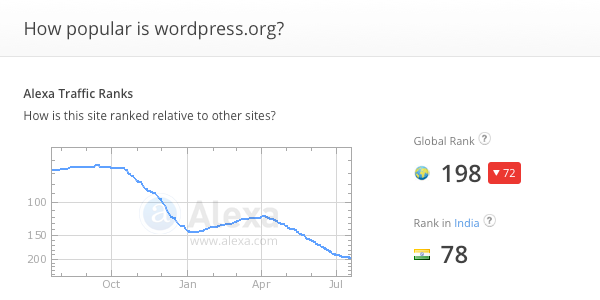 WordPress.com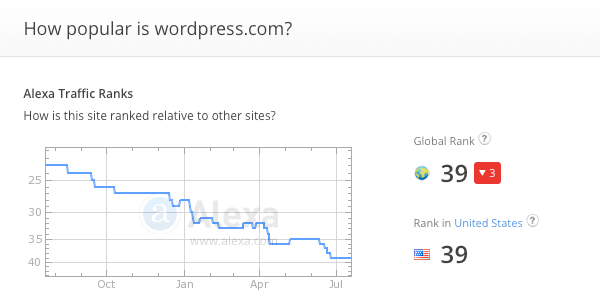 The Alexa graph for the last year doesn't look positive, so is WordPress really in decline?
We reported last week that many authors on ThemeForest have experienced a massive decline in theme sales (50-70% drop) over the last couple of months. Some independent WordPress theme shops have reported their sales are dropping also. Speculating about the reasons for such a drastic decline some people have pointed to the Alexa rankings and blamed the drop in sales on decreasing traffic levels.
Lets have a look at the Alexa Traffic Rank graphs for ThemeForest and some other popular WordPress shops and blogs. It's interesting to see that all these sites share a similar pattern in their traffic rank chart, and all are in decline.
ThemeForest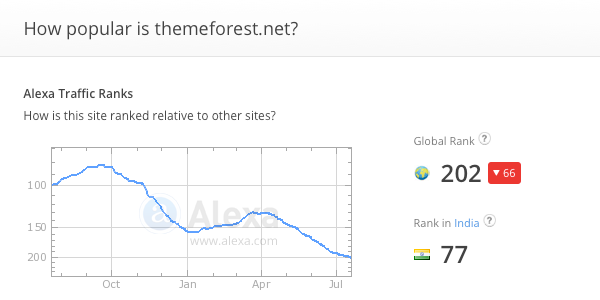 StudioPress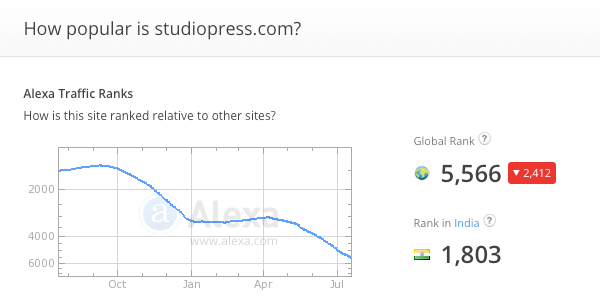 WooThemes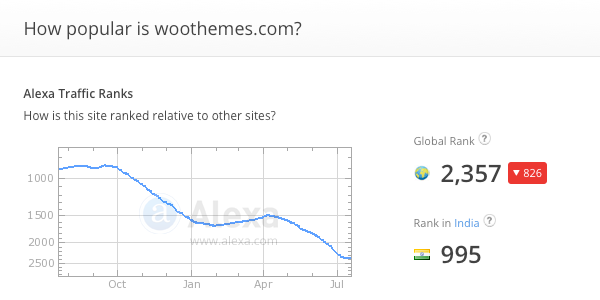 Elegant Themes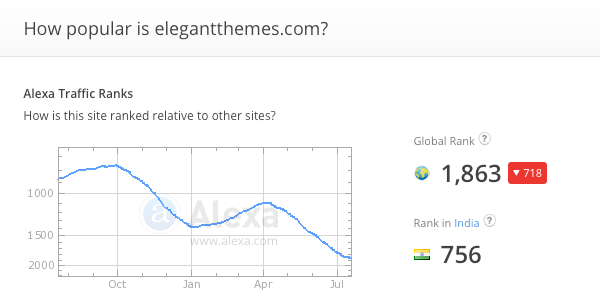 Mojo Themes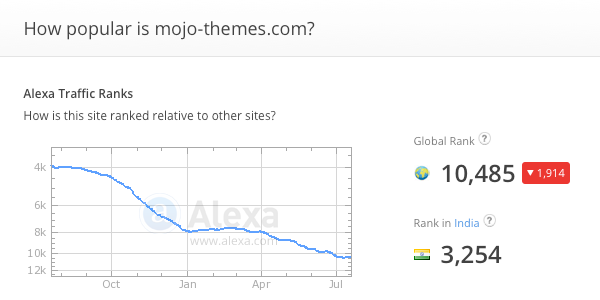 WPTavern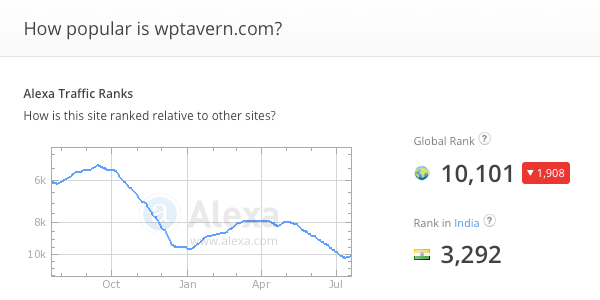 WPBeginner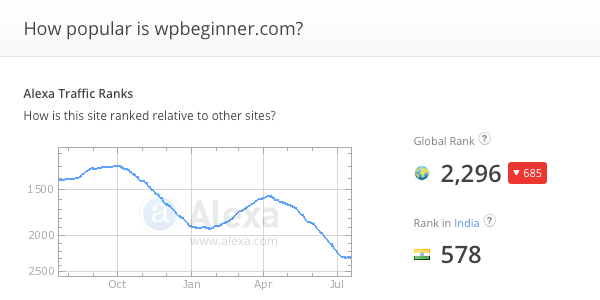 WPMU DEV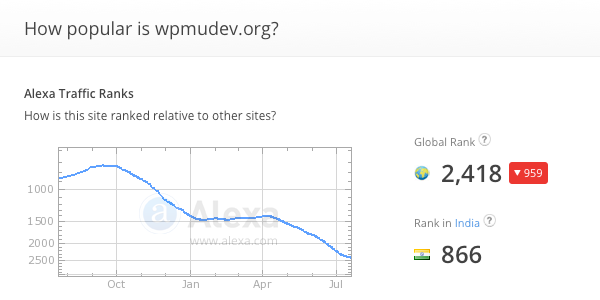 So what's going on here? Is WordPress traffic and popularity really in decline?
It's important to understand what the Alexa Traffic Rank actually is and how's its measured.
As explained on the Alexa website, "the Alexa Traffic Rank is an estimate of a sites popularity. The rank is calculated using a combination of average daily visitors to the site and pageviews on the site over the past 3 months. The site with the highest combination of visitors and pageviews is ranked #1"
So how does Alexa measure the traffic and pageviews for a website?
Alexa's traffic estimates and ranks are based on the browsing behavior of millions of people in their global data panel, which is a sample of all internet users. This data is collected from a large and diverse set of 25,000+ different browser extensions and plug-ins. They also gather data from direct sources including the Alexa toolbar and sites that have chosen to install the Alexa script and certify their metrics.
That sounds like the Alexa Rank should be a fairly accurate indicator of a sites traffic and popularity. So what's going on with the rankings of WordPress sites?
The key thing to remember with the Alexa traffic rankings is that it's relative to other websites. "The Alexa Traffic Rank of a given website isn't only based on traffic to the given site, but takes into account the traffic to all sites and ranks sites relative to each other. Since your site is ranked relative to other sites, changes in traffic to other sites affect your site's rank."
So as crazy as it may seem at first, it's quite possible that a website's Alexa ranking can decline even when the amount of traffic to the website is stable or even increasing! Is that what's happening with WordPress sites?
According to all reports WordPress is still growing strongly, and it doesn't appear WordPress is loosing popularity as a web publishing platform. WordPress is currently used on 24.2% of websites worldwide, and is on track to reach 25% before the end of year. BuiltWith, the popular service dedicated to monitoring internet technology trends and usage, in their report on CMS usage from January to July 2015 showed that 48% of total CMS's tracked are WordPress and that WordPress had been added to 1.1 million domains since January accounting for a 7% increase in customer base.
So why is the Alexa traffic ranking in decline for WordPress.com, WordPress.org and many other WordPress related websites?
Could it simply be the effect of the relative factor of Alexa's ranking algorithm – in that there's an ever increasing number of websites, and other websites are experiencing a greater increase in traffic and popularity thus causing the Alexa ranks of WordPress related websites to decline as a result?
Or is it something else entirely? Has Alexa changed the way they collect their data? Is it a seasonal pattern? Or is interest in WordPress plateauing or even declining?
Let us know what you think in the comments below.