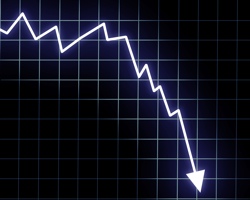 It appears some ThemeForest authors are hurting financially at the moment with many sellers reporting a massive decline in theme sales over the last couple of months.
In the Envato ThemeForest discussion forums authors have started numerous threads about the substantial drop in sales they've experienced recently, asking Envato for answers and the reason/s for the sudden and drastic decline. The posts have generated hundreds of replies with loads of other ThemeForest authors saying their sales are way down also, generating lots of discussion and speculation about the reasons why.
A recent post in the ThemeForest forum by Chris Robinson of Contempo – an Elite Author with 50 themes who's been selling on ThemeForest since 2008 highlights the problem. He explains "for myself sales have declined over 70% starting from May with each passing day getting worse, I've also spoken with other elite authors explaining the same thing. One example going from $1500/day to $700. This isn't just one or maybe twenty authors, its marketplace wide affecting everyone. A marketplace wide decline in sales of this magnitude doesn't just happen due to vacations, or other buyer factors. Going through the years of sales data (since 2008) this has never happened, I've personally gone from $2-3000/week to less than $700/week…that's insane!"
Many other authors are experiencing similar declines in theme sales and wondering why. For example:
Loveishkalsi "I noticed a huge drop in my sales. I see a lot of other members are shouting about low sales in the June 2015 Sales thread. What might be the reason for this huge drop down in sales?"
Aligatorstudio "I don't think it's the matter of simple fluctuations … We had very stable sales with normal decreasing after certain time period, until new year (2015). After new year, huge drop … For all our items."
designnova "From last April the sales are dropping dramatically and these days it is becoming worst. This sudden drop is happening for the first time since our 3 years here."
Theemon "Seriously we got almost zero sales this week. This is hurting us here"
themeva "I've been an Author for nearly 5 years, I've received sales ups and downs which is completely normal. But this new sales pattern which started early 2015, is very strange! I've increased traffic, yet the conversions have been poor."
dedalx "As many other Elite authors we get drop in sales from 15-20 sales per day to 0-3. Our month profit drop from 100% to 10% from usual."
Some of the reasons being suggested for the decreasing sales many authors are experiencing include:
The huge number of themes now available on ThemeForest combined with the ever increasing number of authors and themes popping up every day resulting in a decreasing market share amongst authors
Recent changes made to the back end, front end and UI of the ThemeForest website
EU VAT Tax regulations
Price additions on checkout discouraging potential customers
Growing competition from other marketplaces and theme shops
Envato spending less money on advertising
Saturated theme market
The increasing dominance of multi-purpose, feature packed, 100-in-1 type WordPress themes
The unfair pricing advantage of these complex, multi-purpose WordPress themes
Seasonal factors
New support time limitations
Google mobile friendly update impact
ThemeForest dropping in Google rankings and decrease in traffic?
Changes to the ThemeForest search algorithm
Lots of poor quality themes on ThemeForest giving the marketplace a bad reputation (not a new problem) with buyers turning to other shops
Despite frequent requests by theme authors for Envato to comment on the huge drop in sales there has been no official response from Envato management so far. The only reply in the forums has been from an Envato "Community Officer" stating "we don't really give sales updates over the forums other than to say your sales can go up and down for a multitude of reasons. Try not to assume the sky is falling every time the USA has a long weekend. We have fast and slow periods throughout the year same as any business, and your portfolio will no doubt have peaks and valleys as well."
Many full time theme authors depend on ThemeForest for their primary source of image and the massive decrease in sales is deeply concerning for them. So while no one can identify the exact reason(s) their sales have dropped so dramatically on ThemeForest, most authors seem to agree that something isn't quite right and they'd like answers from Envato.
Chris Robinson probably sums it up best in a recent forum thread post stating: "I completely understand the marketplace is growing exponentially that's fine, however that doesn't account for a SEVERE drop in sales over a period of a couple months like this. Trust me I've talked with other top authors that have been here for years, doing massive sales and they're all experiencing the same thing and agree this isn't normal."
UPDATE
The Envato Community Manager has provided a comment in the ThemeForest forums to try and addresses some of the questions and concerns theme authors have about their dropping sales. She states:
I'm sorry some of you have recently experienced a drop in sales. I imagine this has caused you quite a bit of worry and frustration. While I don't have answers to all of your questions, I'd like to try to provide some background info and reassurance.

As many of you know and have already mentioned here, Envato Market (like any market) is ever-changing and rapidly evolving. New trends, authors, buyer preferences, discovery tools, etc. can all have an impact on the popularity of a particular item and cause its author's sales to fluctuate from one day, month or year to the next.

For this reason, we tend not to weigh in on sales threads — there are so many factors at play, making it really tricky to analyze variations in an individual author's sales patterns.

What we can say, though, is that Market continues to experience year on year growth and authors at all levels and across all marketplaces continue to see increases in earnings.

That said, with growth comes increased competition. There's no denying that we have more authors and items on Market than ever before. This is a natural next step in maturity for our market and our community, and with that (as Gareth and others have pointed out) comes an increased need for making your items stand out.
Obox, developers of SalesGenius, the advanced sales tracking software for Envato sellers, have also commented on the issue stating:
"With the benefit of SalesGenius.co (we do sales tracking for over 1000 authors) we can see a broad based overview of the total amount of transactions the app has tracked and based on that data we see no "massive" dip in sales. Year on year it seems pretty equal."
So is the drastic decrease in sales some ThemeForest authors are experiencing just a result of increasing competition and choice meaning sales are getting spread more thinly amongst authors? Or is something else going on?
Are you an author on ThemeForest experiencing a significant decrease in sales? What do you think are the reason/s for the decline? What are you planning to do about it?