Select your favorite search engine and type in the name or topic of a business. If there's a business in your area with that name or topic, the search will show you some unique results. If you're allowing your browser to use your current location you'll see companies that are near your present location with their contact info.
For example, in Google you'll see the company name, URL, Google reviews, address, phone number, and location on a map.
This is known as local search. If you have a company website then you want to be on this list. You want customers in your local area to find you easily. This is local SEO and it doesn't happen by chance.
Bing, Google, and other search engines allow you to use your current location for search results. Many of them have a feature where you can enter any address or zip code you want. The results are local to that location.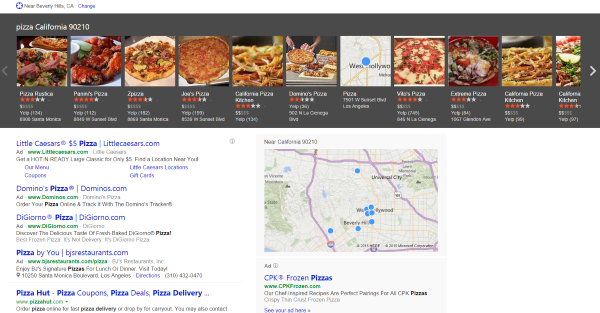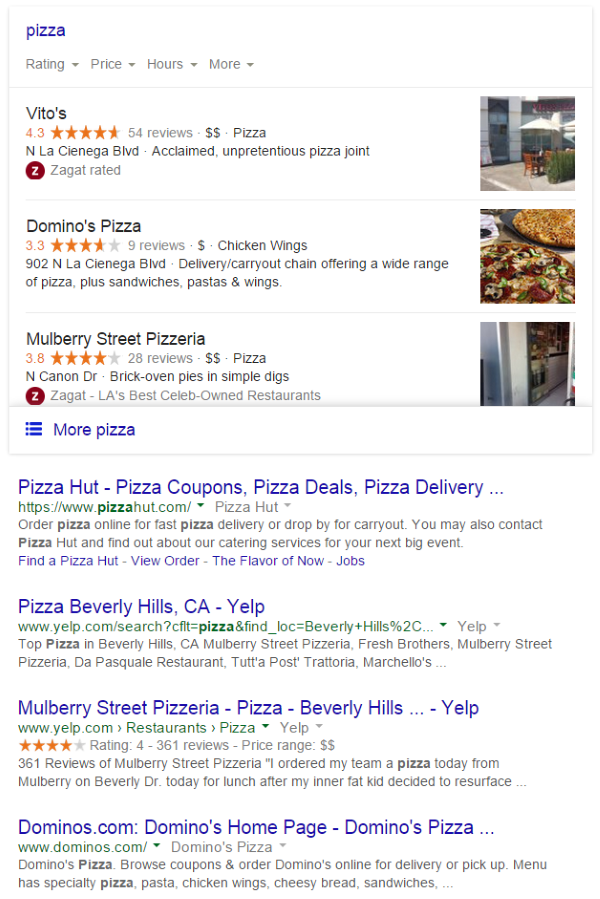 There are actually two types of results: organic and maps (like Google Maps). You want your business to show up in both results, and it takes different strategies for each.
How to Get on the List: Local SEO
Getting your site on the list of local results means optimizing your website for local searches. This is known as local SEO. Local SEO isn't much different than regular SEO. The main focus in on contact info, descriptions of your business, and local keywords.
Organic
To appear in the organic results you want to blog often and use keywords that pertain to your local area. For this you simply write your articles and use names and places around your neighborhood. Make sure you also use categories and tags to match. Just be sure to use the keywords as natural language. If you just write articles for the sake of stuffing them with keywords then your visitors and the search engines will think you're a spammer.
Google and Bing Maps
To appear in the maps search results you need to provide info about your business. Search engines need your contact info. They need to know the location of your business and the type of business you provide, store hours, address, etc.
Getting Your Contact Info to the Search Engines
Search engines get your business information though hCard a Schema.org markup.
hCard
hCard is a microformat that's used to publish information on the web about people, companies, etc. It's suitable for HTML, XML, RSS, etc.
Schema.org is a collaborative effort by Bing, Google and Yahoo! as way of structuring data on the web. Schema for local business focuses on the data that search engines need to know about local businesses in order to show the best possible results.
Using Both
Users are not as likely to use business names. Instead, they'll use the topic with the location. For example, they're more likely to type in Pizza 90210 than to search for a specific pizzeria. Mentioning local places and industry keywords in your content and in your article titles will help increase your ranking in those searches. Just make sure it's quality content. Couple that with your local contact info and this creates two possible ways for your business to be found in local searches.
Local SEO Plugins
Plugins that are designed for local SEO use hCard and Schema.org data along with your information and provide the best possible information to search engines. There are several good plugins that optimize your site for local searches. Here are the plugins that I recommend.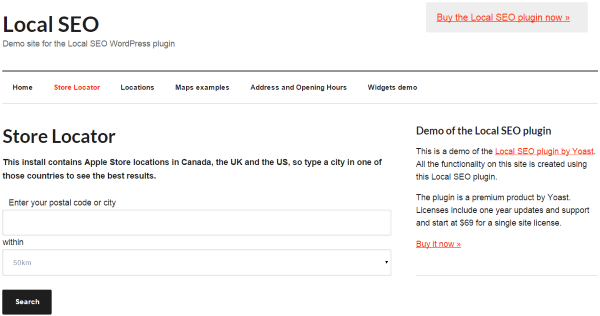 Yoast's Local SEO is a module for their WordPress SEO plugin that gives search engines all the info they need to show your company website in the local search results. It will show single and multiple locations. It will also improve the usability of your contact page. It has a store locator so visitors can find your nearest location. It uses Schema.org to show your address and opening hours. It will show your location using Google maps, and includes a route planner. It will automatically generate a KML file (Keyhole Markup Language – used to show geographic data in a maps browser) and add your info to your XML sitemap.
This is a premium plugin. It costs $69 for a single site, $129 for up to 5 sites, and $249 for up to 2 sites.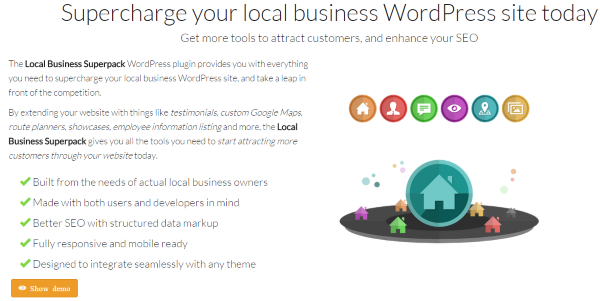 Local Business Superpack was designed with local business in mind. It adds specialty information that helps in local SEO. Information includes:
Testimonials
Custom Google Maps
Route planners
Showcases
List of companies you've done business with (shows their logos)
Employee listings
It shows your information in several different ways. It also includes click-to-call and click-to-email buttons. It marks up your pages for the best local SEO possible. It's responsive so it looks great on mobile devices. It will show contact info with links in the footer.
This is a premium plugin. It costs $45 for a single site, $150 for 5 sites, $300 for unlimited sites.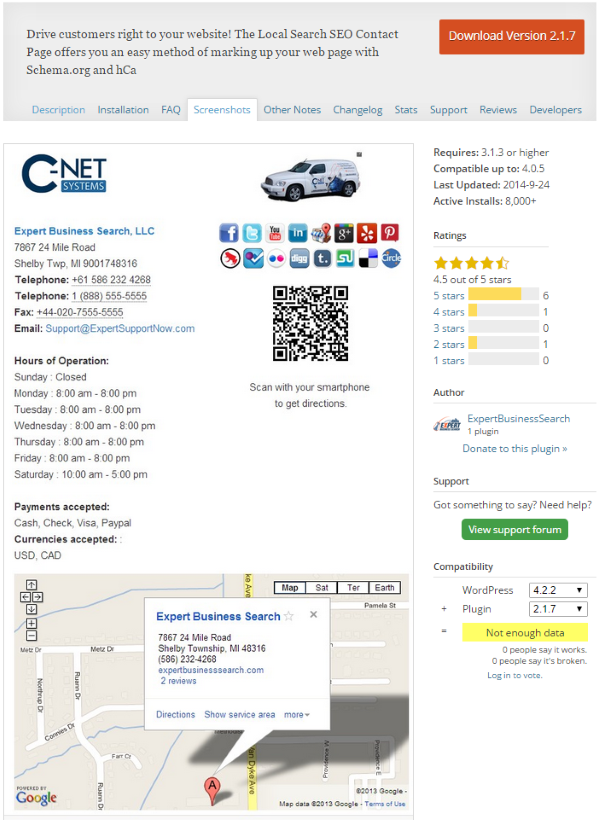 This free plugin will display your microdata information for both Schema.org and hCard at the same time. It will also generate a QR code, Google map, geo-tag coordinates, social media buttons, etc., and you can place them on your pages, posts, and widgets using shortcodes.
Setting it up is easy. You just fill out forms about your business. Forms and information include the basic contact info, longitude and latitude (it provides a link to a geo-tag generator to get the info), hours of operation, building image, logo, forms of payment, Google map options, custom QR code (you supply URL, email, phone, or geo-tags), and social media buttons (supports 18 social networks). You can paste in 9 different shortcodes that will display all or any portion of the company info. It's simple to set up but it gives you a lot of features and good results.
There's also a Premium edition that supports multiple locations, provides a "Contact Info" widget (you can use as many widgets as you want for as many locations as you want), and you can import and export your location data. It's $49.99 for a single site, $99.99 for 5 sites, $349.99 for 25, and $599.99 for 100.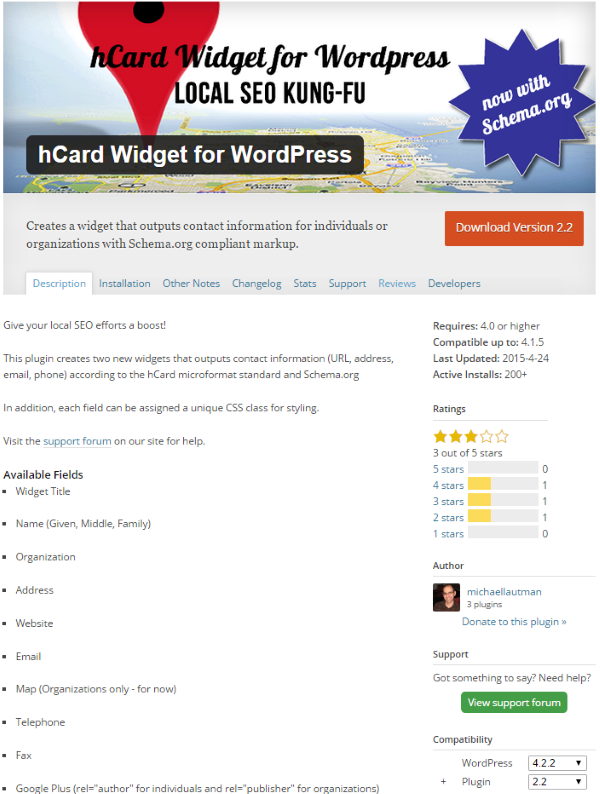 This free plugin gives you two widgets that outputs contact information: one for individual info and one for organizational info which includes a map. They use the hCard microformat standard and Schema.org markup. The contact information is displayed in the sidebar with active links and includes social media links for Twitter, Facebook, and LinkeIn. You can style each field individually with a unique CSS class.
This one has about the fewest features but it's probably the easiest to set up and use. You fill in the basic contact info and provide links to your website, email, and social networks. For maps you have to provide a map URL. One thing I didn't like is it doesn't provide fields for store hours. If that's not a deal breaker then the simplicity might make this one worth trying.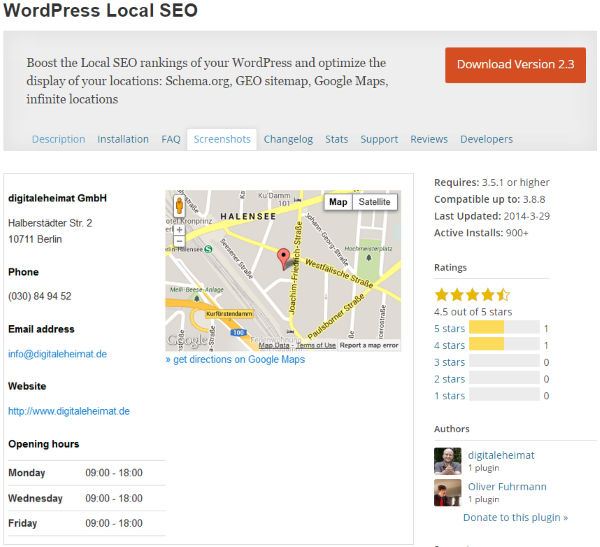 This free plugin has a lot of impressive features. It uses your branding with your title and logo. It shows your basic contact info, opening hours, Google maps for multiple locations, infinite locations (it displays Location as a custom post type) with a Geo sitemap for each, uses categories for locations, multiple layout options, custom template support, CSS, type of location (you can choose from one of dozens of Schema.org types), description, and much more. It support English and German. It displays the info on pages and posts using shortcodes.
There isn't too much to set up and it's not difficult to do. You can turn advanced features on or off. You will need a Google Maps API key. It provides a link so you can get the key. You can choose which fields to display. I like this because you won't have to show empty fields on your website. You can also set custom sizes for maps and your logo.
It adds a field to your editor so you can provide custom location information on specific posts and pages if you want. It will add the basic contact info, type of location, web address, Google map, description, and opening hours.
Manually Optimizing Your Site for Local Search
If you prefer not to use a plugin made specifically for local search you can add the necessary features to your website yourself just by using plugins for general SEO, Google Maps, contact information, testimonials, and creating your own hCard and Schema markup using an hCard Generator and a Schema creator. You'll have to manually keep your hCard and Schema information up to date. This only changes if your business data changes (like operating hours, phone number, etc.). Create an XML sitemap and KML file for your site and submit them to Google, Bing, and others.
Tips to Improve Your Local Search Rankings
Pay attention to both types of results (organic and maps). This gives you two chances to rank high in your local results. Check your results often to see where you need to improve.
Continue to utilize standard SEO practices.
Place your contact info in your footer. You should do this manually if the plugin you're using doesn't place it there for you.
Change your permalink structure to include the title of your articles. This way when you use your location in the title, your location will show up in the article's URL. Instead of:
http://www.yourwebsite.com/p=157
Change your permalink structure to look something like:
http://www.yourwebsite.com/best-pizza-in-beverly-hills
You can also use categories in your permalink structure. It might look like this:
http://www.yourwebsite.com/pizzerias/best-pizza-in-beverly-hills
Don't leave any of your contact info blank. If you have store hours then including them will give you an edge over those that don't.
Sign up for Google My Business.
Sign up for online directories.
Ask your customers for reviews to place on your website.
Promote your business on social networks. Your business should have its own Facebook and Twitter accounts.
Use Google and Bing webmaster tools.
Make your site responsive. Search engines don't like site's that are not responsive and the majority of your customers are searching from mobile devices.
Improve your page-load speed. Google Insights and Yahoo!'s YSlow are good tools to help you solve page-loading issues.
Final Thoughts
Adding local SEO to your WordPress website is not that difficult. You can either use a plugin made specifically for that purpose, or utilize a combination of plugins to get the results you need. No matter which method you choose, you'll get the results you need from local searches and it will give you a competitive advantage over those in your area that don't utilize local SEO.
I'd like to hear from you. Have you optimized your site for local search? Did you use one of the plugins I've mentioned here? Did I leave out your favorite? Tell us about it in the comments below.