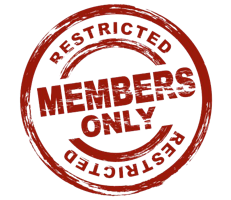 Membership sites are a popular eCommerce solutions for WordPress owners. With a membership site, you can restrict access to specific portions of your website. Your visitors would pay a membership fee to access this restricted content, often as a monthly recurring payment. You could even have multiple levels of membership options with different payments for each.
Another great reason to build a membership site is to build a community. They provide your readers with a safe member's area where they can discuss a subject without having to deal with trolls or other distractions. They help you build a community in which you have credibility and respect in the field.
There are many ways to use this: professional associations, fan clubs, organizations, support, etc. Training courses are some of the most popular types of membership sites. You can add courses that includes content such audio, video, text, files, membership chat areas, email, etc. Topics can include anything form graphic design to business to wood carving to chess. Virtually anything you can image anyone paying to learn how to do can be provided as an online course.
Once you have your topic it's time to create your content. You might want to give some of it away, but you'll still want to restrict access to this content. For this you need to build a membership area into your WordPress website. There is a lot to deal with: user's roles, restricting access, payments, etc. The best way to do this is by using a plugin.
Plugins
There are several great plugins that turn your site into a membership site. Their features range from a simple restriction without a code, to a full eCommerce integration. I installed a few of the most popular plugins and gave them a test drive. Here are my thoughts about each of them. I also took a look at some premium plugins just to give you a few more options. Using one of these plugins you can create your very own membership site without the need of hiring a developer.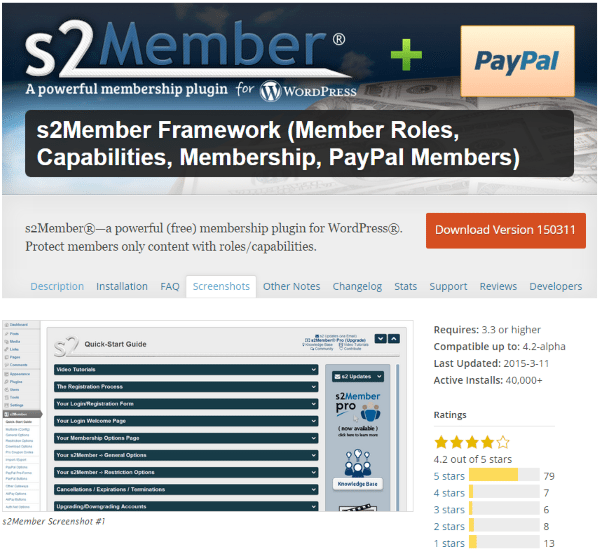 This plugin allows you to sell membership access to posts, pages, tags, categories, URIs, BuddyPress/bbPress, roles, capabilities, downloads, and even portions the content of your WordPress website. It's a popular membership plugin with over 40,000 active installs and a rating of 4.2/5.
To use it you place shortcodes or type the names of posts, pages, categories, etc. into fields. Restrictions range from level 0 to level 4.
There is a lot to set up with this plugin and at first I found the settings to be more complicated than they needed to be. This is partially due to the user interface. The dark menu bars with white text was a little bit of eye-shock. It made me want to look away and left my eyes seeing blotches. Once I went through the settings I found that is it easy enough to use.
For example, if you want to create a new post and restrict access to it, you place the name of the post in the field of the access level you want it to have.
It has lots of integration and tracking options. There are also plenty of add-ons available. Third-party plugins allow to integrate with frameworks such as WP Courseware, Comic Easel, MailChimp, etc., and provides extended features such as member control, adding a secure file browser, affiliates management, etc.
The basic framework is free and includes PayPal buttons. If you want all the features you'll have to upgrade to the Pro version. It's a one-time price of $89 and includes lifetime updates. It ads unlimited membership levels, PayPal, Stripe, Authorize.net, ClickBank, coupon codes, and more.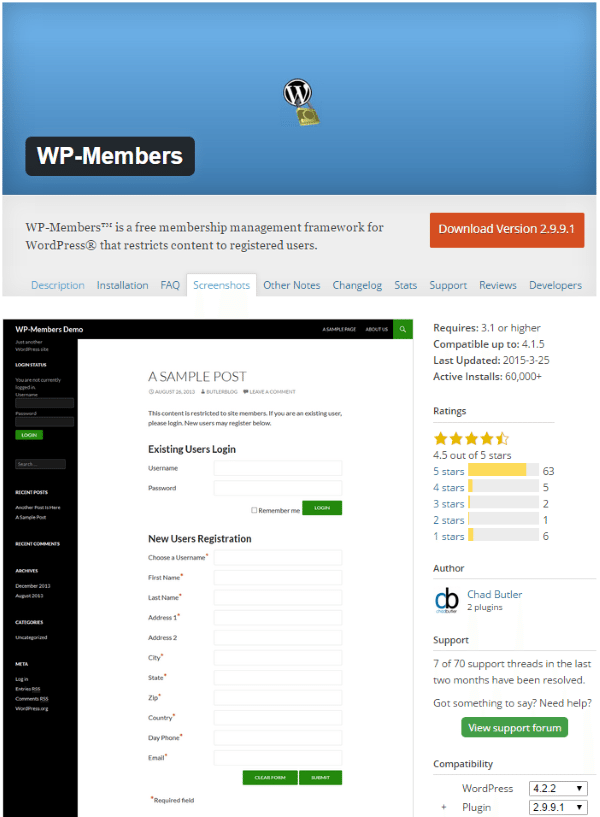 This membership plugin has the most active installs of those in the WordPress plugin depository with over 60,000, and a rating of 4.5/5 makes it one to consider. It's also one of the simpler plugins in that it only protects pages and posts, which are blocked by default. It shows a snippet as teaser content to entice your readers to sign up to your membership site.
It uses over 80 actions and hooks that you can customize. It does not have built in functions for payments or access levels.
It can be expanded by subscribing to the site membership. For $59 per year you get access to the member's forum, code snippets, tutorials, extensions, and more. If you cancel your subscription you still keep the extensions.
Extensions include:
Email as Username
Genesis Style Pack
Invitation Codes
Logged-in Menus
MailChimp Integration
PayPal Subscriptions
Registration Blacklist
Salesforce Integration
Send Test Emails
User List
User Tracking
The extensions are a must if you want a paid membership site. Without the extensions you can only block access to those that are not logged in. With the extensions you can charge for access and manage the members.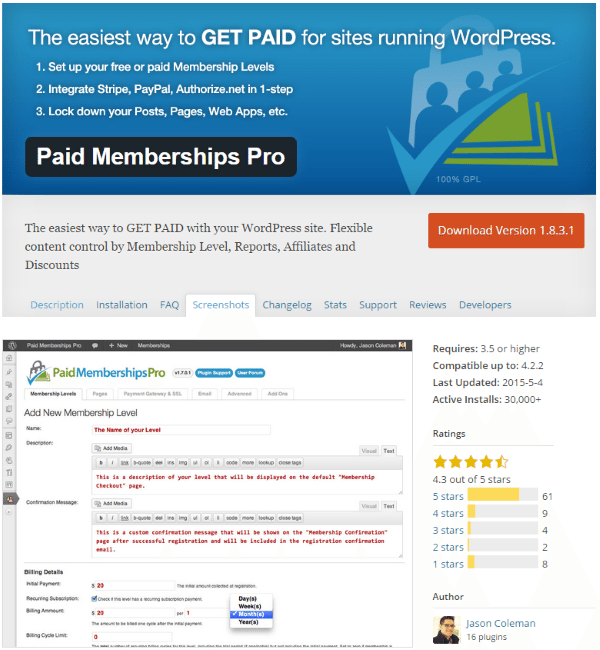 This is one of the most popular membership plugins for WordPress. It has over 30,000 active installs and a rating of 4.3/5. It's a complete membership package. It allows you to restrict access to pages and posts which can include any type of content you want, categories, videos, forums, support, etc. It has lost of choices for payments and integrate with many other platforms and tools.
It has unlimited membership levels. You can have anything from free to payments that range from daily to annually. You can even have trial periods that you customize yourself, which can be free for a specific amount of time, a custom trial-length, or an introductory price that increases to the regular price after a specified amount of time. It will integrate with the popular payment gateways like PayPal, Authorize.net, Stripe, etc.
It doesn't require a specific theme. It works just as well with a free theme as it does a premium theme.
Although this one has a lot of settings it's fairly intuitive and simple to use. You set up your membership levels, choose the pages for the account and payment info, set up the payment gateways, set up email, and then choose any advanced features or add-ons that you want.
All the work is done through the dashboard. You can create reports, export your membership list, and view your orders. You can even include discount codes.
There are 26 add-ons that add features such as MailChimp integration, AWeber integration, email templates, bbPress integration, WooCommerce, login themes, shipping, and much more. All add-ons are free. It has more for free and is easier to use than s2Memeber Framework. Between the two, this is the plugin that I prefer.
The plugin is free. PMPro Membership is $97 and includes one year access to premium content, videos, documentation, and forums.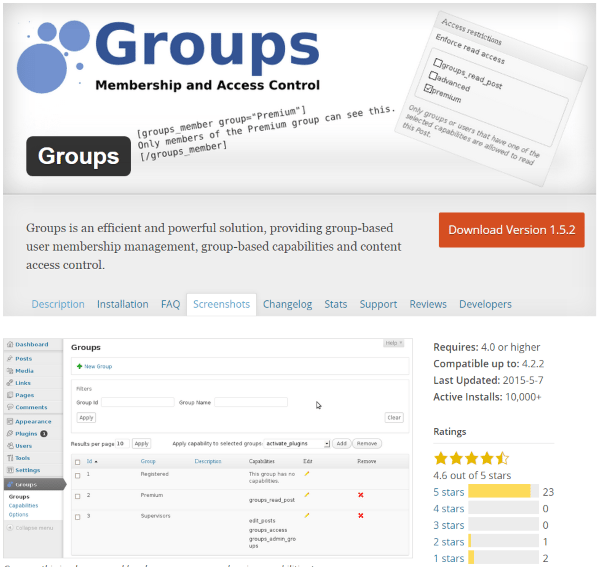 This one has over 10,000 active installs and a rating of 4.6/5. It's a content-oriented membership plugin that places members in groups within hierarchies. Different groups have different capabilities which you can define. Users inherit the capabilities of groups, and groups inherit the capabilities of their parent groups.
You can restrict access to posts, pages, and custom content types to specific groups by placing shortcodes within the content. You can also display certain content to members or non-members. This way only non-members have to see ads or the sign-up forms and only the members will see the content.
Setting up the groups is straightforward. You create a group and then choose their capabilities from a drop-down menu. The capabilities include features for schools such as course and student discussion access, coupons, membership level access, page and post access, and much more. All groups and capabilities can be edited. You can also create your own capabilities.
It's easy to set up and use. Once you've created the groups and assigned capabilities you just place the shortcodes on the pages and posts to show who has access and who does not, and what their capabilities are. It's solid and simple.
This plugin is free. There are lots of extensions available that include PayPal, WooCommerce, forums, newsletters, subscriptions, notifications, and more. Extensions are paid. For example, there isn't a way to charge for membership using just the plugin. If you want the ability to charge for membership you would have to buy the PayPal plugin for $19.00.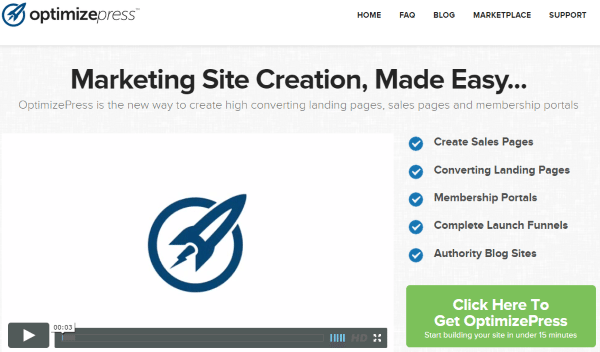 This premium plugin was developed with marketing in mind. It also provides multiple solutions including membership sites, landing pages, sales funnels, and more. It helps you create training courses that have progress bars, webinar registration pages, and is mobile ready.
It integrates into WordPress and even includes a theme or you can use your own, or you can use it as a stand-alone website using the 30 templates and drag-and-drop editor (which you can use with any other membership plugin).
You create product packages and only members with that package can see the content. You can also feed content over time. Anyone that signs up is automatically added to your email list. It includes lessons module listings, breadcrumbs, and more.
It integrates with many payment portals and platforms including PayPal, Authorize.net, ClickBank, and InfusionSoft.
There are three packages to choose from. The Core package is $97 for use on 3 sites that you own and run, the Publisher package is $197 for use on 10 sites, and the Pro package is $297 for use on 30 sites.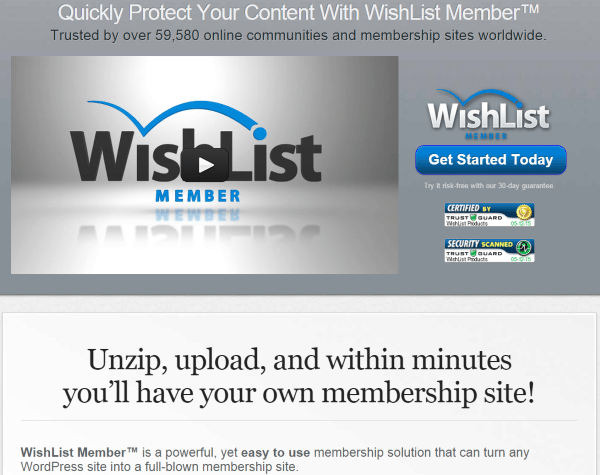 This premium plugin provides a membership solution for WordPress that integrates to your shopping cart and email platforms. It's compatible with:
PayPal
net
ClickBank
Stripe
1ShoppingCart
MailChimp
AWeber
GetResponse
And much more
You can create your own unlimited number of membership levels and charge different amounts for each. You can have free, trial, and paid membership options with multiple levels and up-sale features. You can also deliver sequential content and do automatic upgrades.
For example, you can give them a free trial for 30 days that automatically upgrades them to a paid subscription while the trial expires. You can also show teaser content to entice readers to become members.
You have full membership management features such as the ability to view their status, edit their status, move them to different levels, pause their membership, delete them, and more.
There are two different pricing levels. The first is the single site license for $197. It includes customer care, access to over 30 training videos, support guides, and unlimited support and updates for 1 year. The second is the multi-site license for use on an unlimited number of sites that you own. It costs $297 and includes four bonuses:
Custom membership themes
Audio file – "Top 5 Membership Models"
Webinar – "Plugins that Rock"
Over 300 membership icons
More Membership Plugins
Tips for Running Your Membership Site
Leave some content open so you can use it to hook your readers.
Use up-sales to convert users from a lower membership level to a higher membership level.
Make your pricing easy for your readers to say yes. In other words, the value is higher than the cost.
Be sure to include lots of help. This can be through a FAQ, through videos, or through email.
Give away some memberships for free. In exchange, your members would then tell their friends.
Make use of coupons.
Give free upgrade trials.
Keep content fresh and accurate. Improve and update as needed.
Create amazing content. You want your users to tell their friends about your content and their experience. The content your customers receive should be better than they expected.
Get your members to help you sale. Make it easy for them to spread the word. Use sharing buttons. You could even give them an incentive, such as x month's free or let them become affiliates so they get part of the sale.
Join a membership site and see what you like and don't like about the process. Make yours better.
Final Thoughts
Adding a membership area to your WordPress website can be lucrative. They provide you a way to share your knowledge with the community and make some good money in the process. You can increase revenue with recurring monthly payments and build a following, all without the need of physical products. With the right plugin, building the membership area of your WordPress site is a snap.
How about you? Have you created a membership site with WordPress? Did you use one of the plugins I discussed here? Did I leave out your favorite? I'd like to hear your thoughts in the comments below.
[Updated: 5 July, 2016]