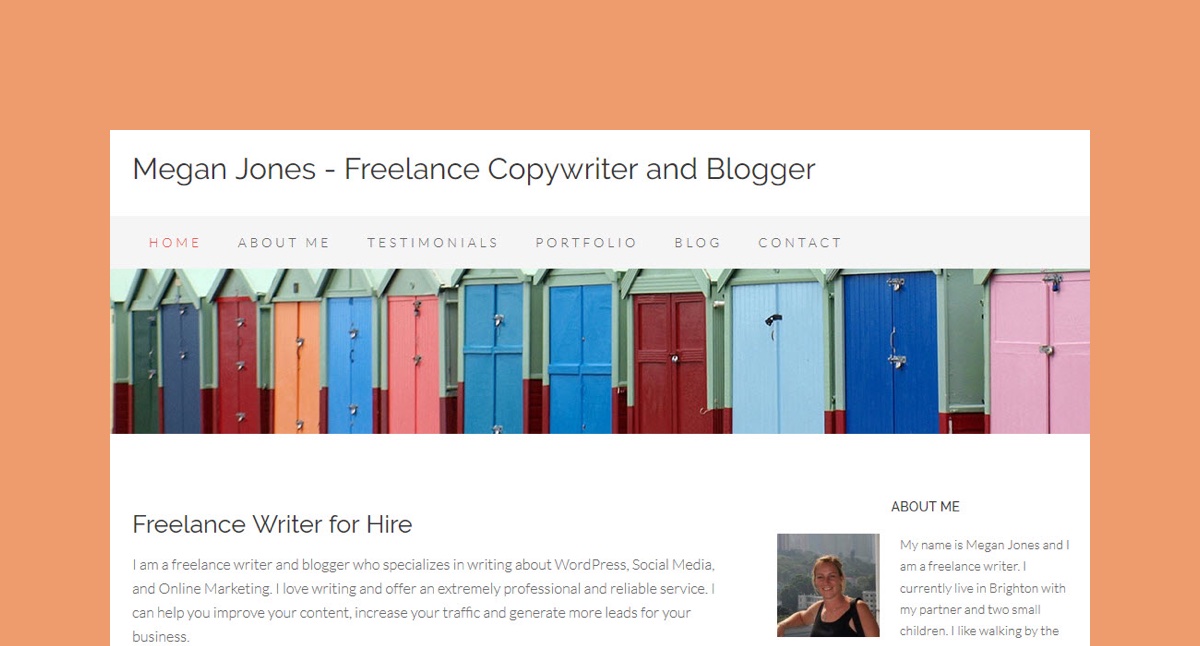 As a freelancer, it is essential your website makes a good first impression. Often potential business will come from clients finding your website online. Even if clients hear of your services, they are likely to check out your website first, before making contact with you. Therefore, having a website that is professional, looks good, and makes an impact, is crucial to a successful freelance business.
In this article, we will discuss how to build a successful freelancer website with WordPress. We will consider the importance of choosing a good theme, and where to find one, as well as what content a freelancer website needs. We will then look at adding opt-in forms to generate leads, adding a blog to drive traffic to your site, and promoting your services through social media.
Choose a Good Theme

Choosing a theme can be a difficult process. The sheer volume of themes, and the extensive advice online, can be overwhelming. However, unless you are a freelance web designer, you should opt for a theme that has been created specifically for freelancers.
StudioPress offer a range of built-for-purpose themes. This will make the website quick and easy to set up and will ensure that the features you need for your freelancer website are all present. Using a StudioPress theme will therefore not only save you time, it will also guarantee your freelancer website is modern, user-friendly and fit-for-purpose.
If you are looking to design a site that is a little more unique, using a page builder can help customize a theme. The end results? An original website built to your exact specifications. The Divi Builder from Elegant Themes is a popular and powerful WordPress page builder. Using the Divi Builder will give you total control over the look and feel of your website, enabling you to create beautiful pages and posts which will help your site stand out from the crowd of freelancer websites.
What Content Does a Successful Freelancer Website Need?
It is important that your freelance website contains all the information that your potential clients will be looking for when they visit your site. Let's have a look at the most important pages, or content, you should display on your WordPress website…
About Page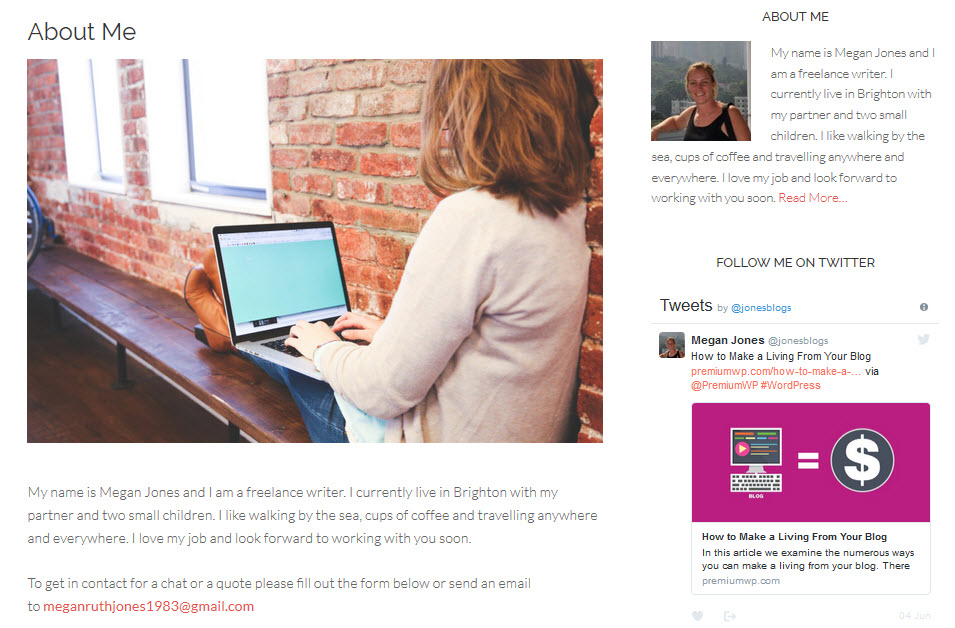 An About Page gives you the opportunity to sell yourself to your future clients. Add a photo of yourself and explain who you are, share your qualifications, and what experience you have had in the industry. This is a chance for you to brag about your capabilities and demonstrate that you are a reputable freelance.
An About Page can also help you to personally connect with potential clients. Often as a freelancer, you never actually meet your clients until late on in a project, if at all. Use an About Page to share some extra information about yourself, that employers would learn if they actually met you in person. For example hobbies, interests, family life, values and goals. This will enable your clients to relate to you as a person, and possibly give you an edge over other freelancers in your niche.
Services Page

Depending on what industry you freelance in, you may want to add a Services Page. This should include a breakdown of the services that you offer. If you provide packages or ongoing services, detail them here.
Some freelancers will recommend providing prices on a Services Page. However, it is in your best interests to withhold prices until clients have got in contact. This enables you to gather email addresses, up-sell your services, and up your prices depending on the job and client.
Often the services freelancers provide aren't extensive, and may not warrant a whole separate page. If this is the case, simply promote your services on your Home Page.
Contact Page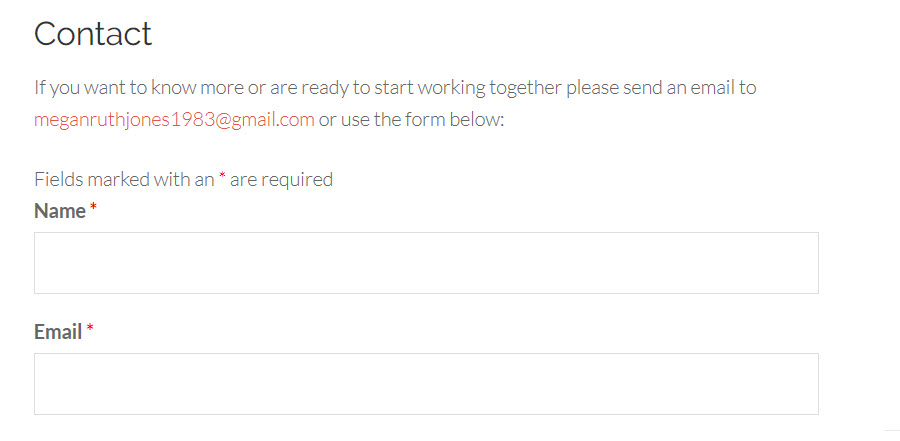 A Contact Page is arguably the most important page of your website. This is where your potential clients can make contact with you and engage with your services. A contact page should display a contact form, enabling clients to send you a message.
Ninja Forms is a free WordPress plugin that will allow you to add a stylish contact form to your Contact Page. Quick and easy to set up, use it to create a contact form for your businesses needs. Then simply add the form to your WordPress website with shortcode. Every time a new client contacts you, you will receive an email containing their message and personal details.
If you have a brick and mortar office, or you are a location-based freelancer, then you should add an address and telephone number to your Contact Page. Embedding a map to your Contact Page can also be useful for clients.
WP Google Maps is another free WordPress plugin. Add a customized Google map to your Contact Page, again just simply using shortcode. Add markers to show where you are located, and other key landmarks near you, so people can easily find you.
Portfolio Page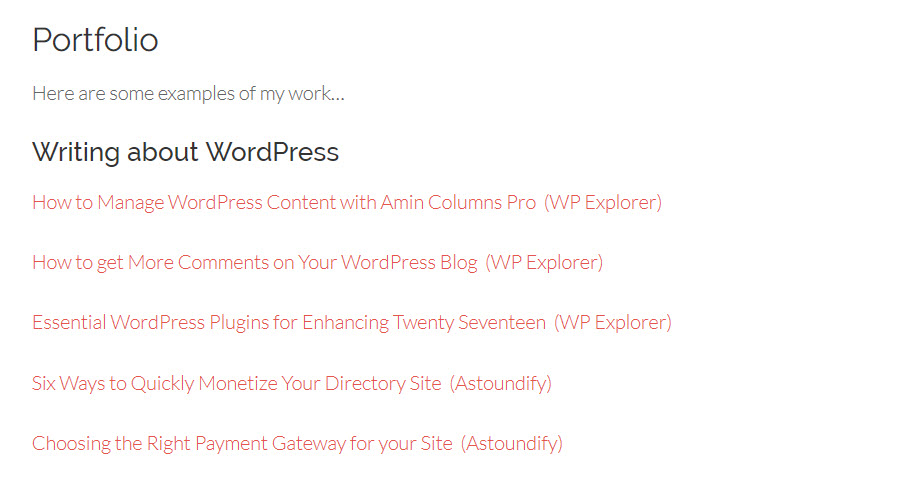 Displaying your work, or links to previous work you have created, is another crucial element of any successful freelancers WordPress website. Customers want to see the level and quality of your work, not to mention who you have worked for. This will also give them a clear understanding of what you are offering, so there are no misunderstandings on what your finished work will look like.
If it fits with your field of work, displaying images of your completed work is an ideal way to impress those visiting your WordPress website. Envira Gallery is a premium WordPress plugin that is ideal for those looking to showcase their portfolio. This plugin will enable you to create stunning galleries and albums, ideal for freelancers who are looking to make a big impact with images of their work.
Testimonials Page

A Testimonials Page can also help to impress visitors to your site, especially if you have worked for some big names in your industry. Ask previous customers to write a couple of lines about your work and their experience of working with you. Happy customer reviews will fill potential clients with confidence, convincing them that you are an expert in your field and just what they are looking for.
Grow an Email List with Optin Forms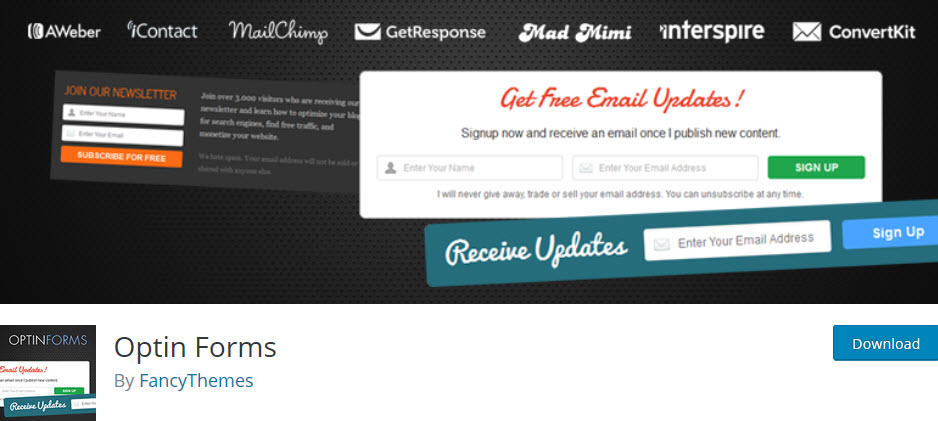 Creating an email list of potential clients, who you can promote your services to, is an important marketing ploy for freelancers. Adding opt-in forms at the bottom of your posts or page, or in your sidebars, is a great way to encourage your visitors to sign up to your mailing list.
Optin Forms by FancyThemes is a popular free WordPress plugin that lets you add stylish opt-in forms to your website. Simple to use, choose from one of their form designs, then customize and add it to your site using a shortcode. This plugin integrates with all the major email solutions and is an obvious choice for freelancers looking to create a successful website.
Drive Traffic to your Site by Starting a Blog
Increasing the number of visitors to your site can be difficult for freelancers just starting out. Ranking well in the search engines, and ensuring people searching for freelancers in your field reach your site, will mean you have an audience to sell your services to.
One way to help drive traffic to your site is to start a blog. Publishing content regularly on your blog will help keep your site updated, which will improve its standing in Google. Write articles that answer questions and deal with problems that your potential clients may be Googling. Not only will this help you connect with those who have an interest in your niche, it will drive the right kind of traffic to your site and give you an audience to sell your services to.
Promote your Services on Social Media
All freelancers should use social media to market their services, reach a wider audience, and help drive traffic to their WordPress website. If you are just starting off, research which social media channels your potential customers mostly hang out on, and then start building your following there.
Link your freelance website to your social media channels, so you can encourage your site visitors to follow you on Facebook, Twitter, Pinterest, or any other platform you may be using. Monarch from Elegant Themes is a social sharing plugin for WordPress. It lets you add social sharing buttons to your website in a variety of ways, including using a floating bar, or an automatic fly-in. Once you have a strong social media fan base, you will have a platform to promote your services from.
Don't Just Build a Successful Freelancer Website!
Building a professional and attention grabbing website is important if you are going to be a successful freelancer. However, don't let the website become a block to starting your own business. Some wanna-be-freelancers spend so much time designing, customizing and tinkering with their website, they never get any further.
Spend a few days putting your site together, and then get on to the promotion of you and your services. Winning clients and securing work is the main objective for a freelancer, so make sure creating the 'perfect' website doesn't distract you from this.
What will you include on your freelancer website? Please share in the comments below…