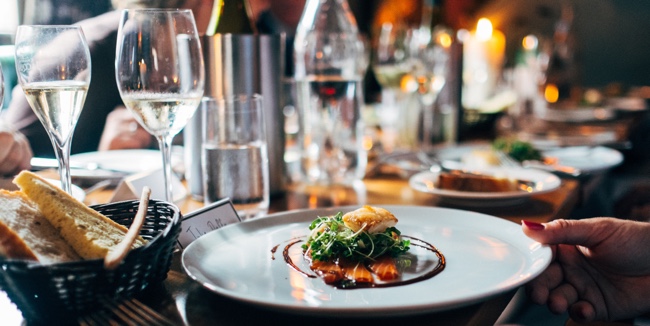 WordPress is an excellent platform for creating a restaurant website or any other type of food service website including bakeries, cafes, pizzerias, clubs, diners, and more. Using a few pages, plugins, and a sharp theme is all you need to create a website that will impress your guests and provide them with the information they need to choose your restaurant for their next meal.
In this article we'll take a look at what a restaurant website needs and see what tools are available to help you create the perfect website for your restaurant.
What Your Website Needs
There are several things your restaurant website will need. Many of these are provided by plugins or themes. Other can be created with a simple page.
The website will need to show off your best dishes using images that are as close up and as high quality as possible. This can be done with a slider or gallery. You'll need to provide a way for guests to reserve a table, get directions, and contact you if they need to. You'll want to provide a detailed menu that includes nutrition information so they can make the decision to give your restaurant a try.
Pages and Features You Need
Most restaurant websites have at least a few of these pages:
About Us – give some info about your restaurant. It should include your story and history.
Menu – this will cover your menu. It shouldn't just be a PDF download. It should include a gallery with description, nutrition info, etc. It's okay to not include prices. You could provide nutrition information here or it can have its own page.
Gallery – this should include photos of your guests, workers, locations, dishes, etc.
Chefs – treat your chefs like the superstars they are and give your guests some interesting information about them. It could include pictures, dishes they've developed, and links to their social networks.
Events – this can include upcoming specials. Calendars are great for this.
Contact – this should have your phone number, email, social links, address, Google Map, and a contact form.
Reservations – give your guests a way to reserve tables online. It should send an email confirmation and provide confirmation on the screen.
Reviews – this is the great things your customers are saying about you. Great testimonials will convince others to give your restaurant a try.
Online Orders – let guests place orders online.
Shop – this will include gift cards, shirts, hats, sauces, or anything else you can brand.
Newsletter – give your readers special privileges and coupons through email. This is a great way to remind them to come back and keep them informed of new items on the menu.
Plugins
A lot of the work can be done with just plugins. The advantage of plugins is they're usually cheaper (many are free) and you don't have to change your theme.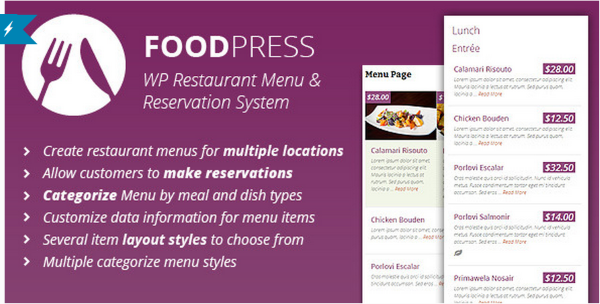 FoodPress gives you the tools to turn your WordPress site into a restaurant website. You can create menus for multiple locations and categorize them by meal and dish-types. It has several menu layouts. You can show the food in a lightbox, boxes, with tabs, with accordions, etc. You can also accept and manage reservations using the form and management tools. It has tons of custom icons made for restaurants. You can even customize the colors to fit your theme.
It's $29 for the regular license and $145 for the extended license.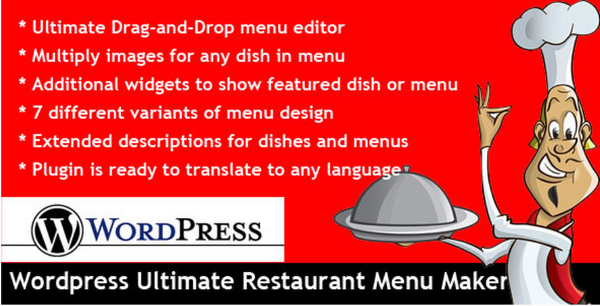 WordPress [sic] Ultimate Restaurant Menu Maker lets you create menus for your restaurant website. It has seven different menu designs. You can build the menus by dragging and dropping multiple images. You can provide descriptions. It includes widgets to show your dishes and menu items. It's compatible with WooCommerce.
It's $18 for the regular license and $90 for the extended license.

Restaurant Manager is a free plugin that lets you create a restaurant website from any WordPress theme. You can create and manage your meals and menus, include nutrition information, prices, spice level, and more. You can also accept reservations and it includes customer email support and SMS notifications. It's compatible with MailChimp so you can build your customer list and send out your newsletter. You can modify the CSS to fit your theme.

WP Restaurant Manager is a plugin that provides an all in one solution for creating a restaurant website. It has both a free and a premium edition. The free edition includes a booking manager with form, email notifications, hours of operation, menus with nutrition information, and much more. It provides lots of management tools from the admin panel. You can use the built-in generator to create shortcodes and widgets.
The pro edition is $29 and adds a detailed calendar view, custom booking fields, SMS notifications, scheduled notifications, and more.
More Free and Premium Plugins
Themes
Themes provide the best all-around solution. They usually include all of the plugins, pages, templates, etc., to make a restaurant website that shines. Have a look through our comprehensive collection with 50+ of the best restaurant WordPress themes for food industry websites. Some nice restaurants WordPress themes are listed below.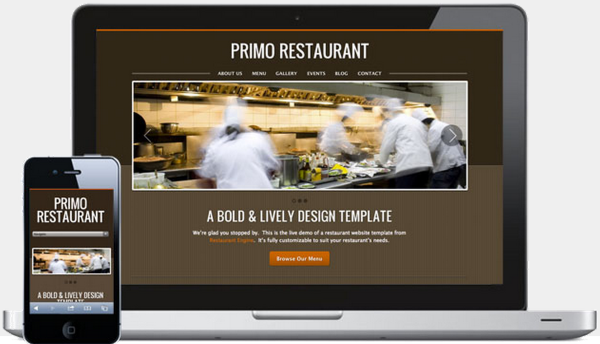 Primo Restaurant is from Restaurant Engine and includes everything you need to create a website for your restaurant. They even have consultation and web hosting if you need it. It has online menus with photos, prices, categories, and descriptions. It has online reservations that integrate with OpenTable.com or you can use the built-in form. There's an events calendar with automatic updates, a reviews feature so you can showcase your best reviews, galleries to display photos and video tours, social media integration, and Google Maps to show your locations. It's highly customizable, responsive and Retina ready, and includes SEO tools.
Prices vary depending on features you choose. Professional setup and launch is $199.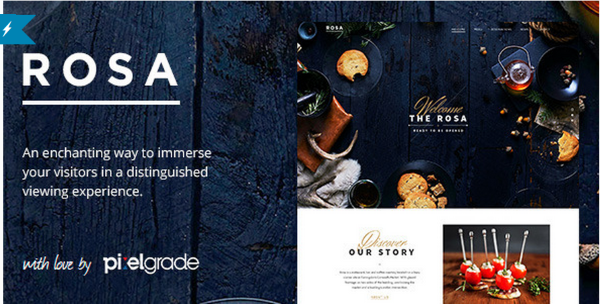 Rosa is a parallax theme that's sharp and elegant. The 60fps parallax scroll looks impressive. It includes everything you need to launch your restaurant website. It has easy to build menus that display product titles, descriptions, prices, etc., to any page using a shortcode. It integrates with OpenTable reservations. You can sell through your site using WooCommerce. It includes a live customizer that lets you customize your styles and see the effects live before saving the changes, and you can make further customization using the built-in options panel. It includes the PixCodes shortcodes plugin. It's optimized for speed, translation ready, responsive, SEO friendly, and includes 600 Google fonts and the PSD files. It's a perfect choice for restaurants, bakeries, and coffee shops.
It costs $59 for the regular license and $2950 for the extended license.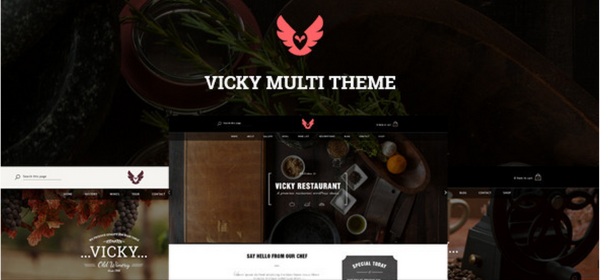 Vicky was made for restaurants, cafes, diners, coffee houses, etc. It has a modern design with parallax, HTML5, CSS3, and Bootstrap 3. It includes 600 Google Fonts, Font-Awesome icons, the drag and drop Visual Composer, WordPress Form for Visual Composer, Easy View Shortcode in Visual Composer, Slider Revolution, a mega menu, and more. It supports post formats and includes multiple blog layouts. It supports modal account login and Facebook login. It includes WooCommerce extensions: Product by Brand and Filter Product by Brand. It creates a beautiful menu page. You can download thumbnails from many video sites for a video post format. It includes a child theme, advanced options, has unlimited colors and skins, and is responsive and Retina ready.
It costs $59 for the regular license and $2950 for the extended license.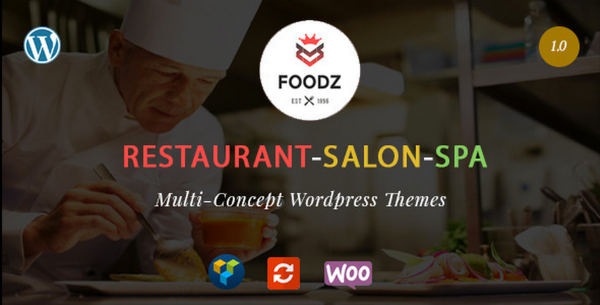 Foodz is a modern theme made for food or similar types of service businesses. It has multiple blog layouts and page templates that include multiple menu styles, multiple galleries, and a 404 page. It includes several plugins: Slider Revolution, Visual Composer, and ZoTheme. It's built on Twitter Bootstrap so those shortcodes are automatically supported. It includes parallax, movable sidebars, post formats, unlimited colors, and is responsive to look great on all devices. You can sell through WooCommerce.
It costs $59 for the regular license and $2950 for the extended license.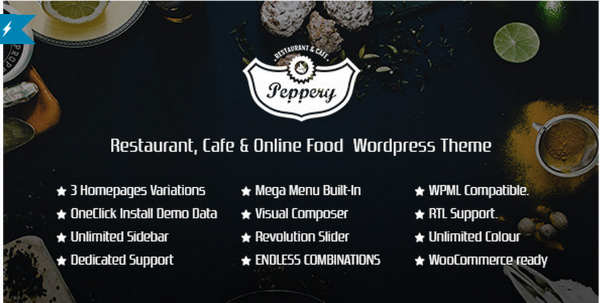 Peppery was built especially for restaurants, cafes, and online food sales. It includes three home page variations that you can customize and include both wide and boxed layouts. Page templates include chefs, services, events, and more. It uses an extensive reservation system and includes two different forms including the Reservation form. It includes parallax and will display full-screen Vimeo and YouTube videos. There are four different headers, unlimited sidebars, a mega menu (XMenu), Visual Composer, and Revolution Slider. It's responsive, WPML ready, WooCommerce ready, and includes 600 Google fonts and Font-Awesome icons. It uses schema microdata to help you rank in local searches.
It costs $59 for the regular license and $2950 for the extended license.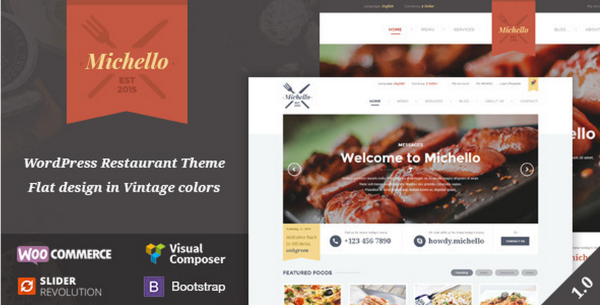 Michello is a restaurant theme designed for any food and beverage business. The menus are based on WooCommerce products. It will also accept payments through WooCommerce. It includes two different home page designs. It uses shortcodes to control the layout and number of dishes displayed in the menu. You can take reservations online. It has two different header styles for a dark or light logo. There are five color-schemes to choose from. It has lots of page templates including food menu, reservation, about us, contact, under construction, testimonials, FAQ's, 404, and more. It also has parallax. It includes lots of shortcodes. It's responsive and retina ready, translation ready, built on Bootstrap, has MailChimp integration, and includes 33 PSD files.
It costs $59 for the regular license and $2950 for the extended license.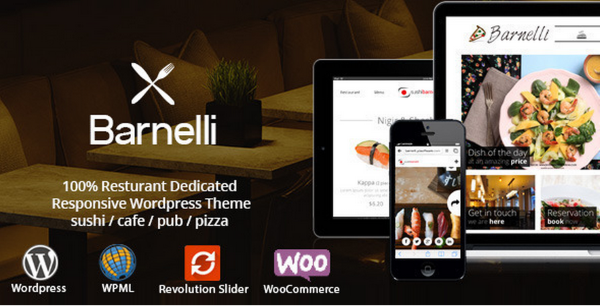 Barnelli is a minimal theme made specifically for small restaurants, fast food, a kebab, or any other type of restaurant. It includes the Revolution Slider to help show off your food. It has three different types of food menus. It includes a calendar to show your upcoming events. It has reservations built in. It also includes Google Maps so your guests can find your location. It has a custom-made visual builder. It's responsive to look great on small screens.
It costs $59 for the regular license and $2950 for the extended license.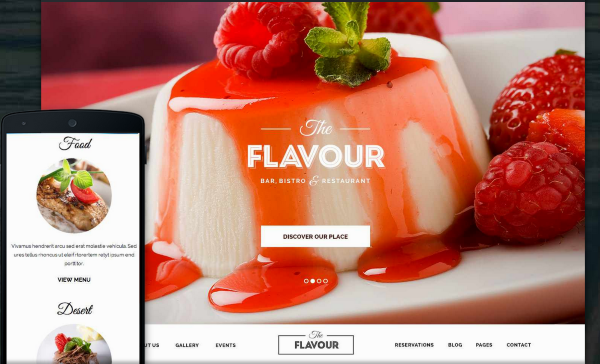 The Flavor is a modern restaurant theme with all the bells and whistles. It includes an HTML5 animated slider. It has several page layouts including food menus, reservations, events, and contact. It has an events calendar built in. It has a mega menu, Google fonts, restaurant specific icons, a sticky navigation menu, parallax, and unlimited colors. It's responsive and Retina ready. It also has a specialized admin interface. From the backend you can control reservations, shortcodes, unlimited sidebars, a contact form module, and SEO settings. It's translation ready.
Prices start at $55.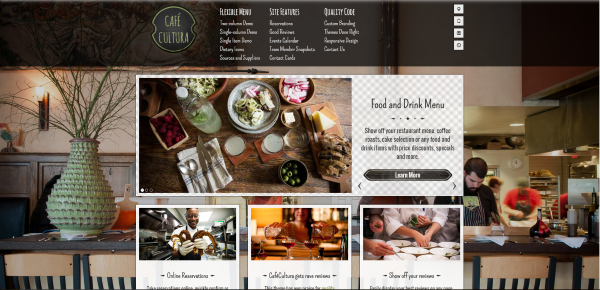 Café Cultura was made with small cafes, coffee boutiques, specialty restaurants, etc., in mind. It has a magazine-style layout and includes a food menu with various page layouts. It has dietary icons. It also has a page so you can show your sources and suppliers. Features include reservations, reviews, events calendar, promotions, team member images, and contact cards. You can adjust fonts, colors, layouts, contact forms, and more. It's responsive to look great on all screen sizes.
It costs $59.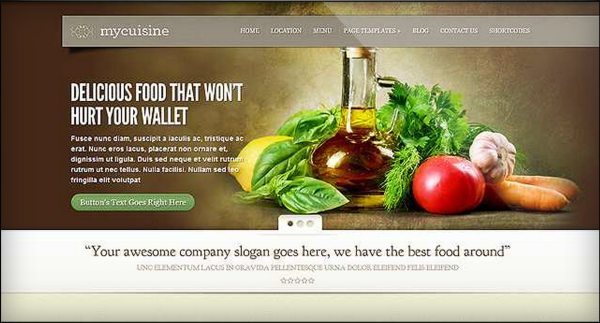 MyCuisine is a clean theme made specifically for restaurants. It includes a full-screen slider to showcase your food. It has a menu page template that lets you separate your dishes into categories. It has a locations page template that integrates Google Maps and shows your hours of operation and contact info. It has customer testimonials. Other templates include a contact page, sitemap, login, image gallery, portfolio, blog, and more. It includes shortcodes to add cool features such as buttons, toggles, accordions, boxes, etc. It has four colors to choose from.
Prices start at $69 and includes access to all themes.
More Themes
For more themes have a look through our hand picked Collection of THE BEST Restaurant WordPress Themes.
Final Thoughts
Creating a sharp restaurant website is easy in WordPress. You can create it by adding a few pages and plugins, use a complete plugin solution, or use a theme that has everything you need built in. The latest themes with modern layouts, features, and plugins provide the biggest bang for the buck. Using WordPress you can easily build a website that looks and works as good as any website from the big restaurants and national brands.
I'd like to hear from you. Have you created a restaurant website in WordPress? Did you use one of the solutions here or do you have one to add? Tell us about it in the comments.