Creating a non-profit website can be a stressful task. Your website needs to engage with your audience, and connect them to your cause. You need to convince your readers that your organization is making a difference, and that they should become involved and give you their support. So how can you make this possible?
In this article, we look carefully at what features should be incorporated into a non-profit website. We discuss the importance of a successful donation process, how to add calls to action to your website, and what types of pages you should include. We also consider the impact that emotive images and an engaging blog can have on your site's visitors, as well as how to share upcoming events with your audience, collect email addresses and gain followers on social media.
1. Accept Donations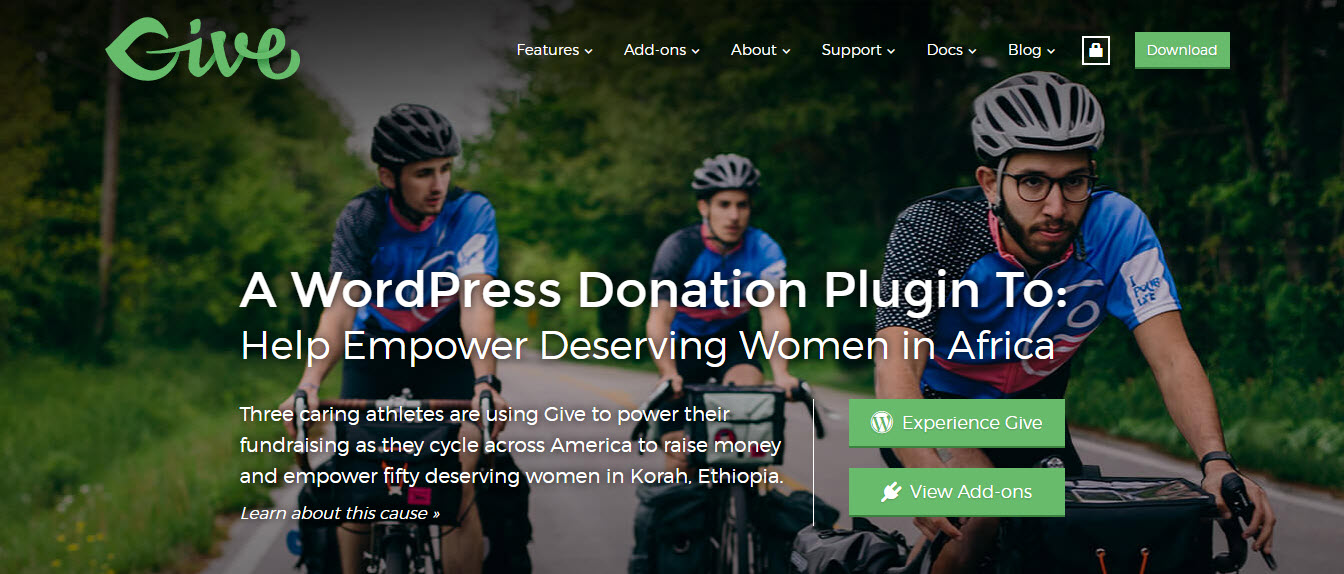 Being able to accept donations online is an extremely important aspect of any non-profit website. Make sure you use a large, bright, eye-catching donation buttons, that are given a prominent position on nearly every page. And donation forms should be streamlined, making it as simple as possible for your audience to give money.
A safe and secure online payment system, that will enable your visitors to make a donation without having to leave your site, is a must. Providing payment options, from paying through a Paypal account, to using credit and debit cards, is also crucial so you don't lose potential donations.
Give is a freemium plugin that will enable you to completely manage your donor program. From beautiful forms, to a slick payment and reporting process, Give can cater for all non-profit donation needs. Bear in mind that although the core plugin is free, many of the advanced features that large organizations may need come at a premium monthly price.
2. Use Clear Calls to Action
You should share your most current and pressing goal with your audience through a call to action to encourage visitors to 'act'. Your most recent goal may be fundraising for your a new project, selling tickets for an event, or increasing numbers of volunteers.
Add a hello bar to the top of your homepage displaying your most recent call to action. Sumo is a lead generation tool that will enable you to add a hello bar (or notification bar as referred to by Sumo) to your website. By keeping a call to action in the eye-line of your visitors at all times, your website is more likely to convert against the goal displayed.
3. Showcase Photographs on the Homepage in a Fullscreen Slider

Showcasing large emotive images (if appropriate) of the work you are doing, the people you are helping, and the results of your projects, is another great way to appeal to your site's visitors. Photographs can stir up empathy towards your cause, and will help your audience understand the importance of your organization.
The free WordPress plugin Smart Slider 3 will allow you to display images on a full-screen slider on the homepage of your website. This can be an effective way to make a real impact on your visitors and hook their interest and support from the get-go.
4. Write an About Us Page
Write an About Us page for your website so your audience can understand exactly what your non-profit organization does and what they stand for. Share your mission, the history of how your charity started and grew, and what it has achieved to date. Pictures and profiles of the founders or board members are important here as they can help visitors relate to the individuals behind the words and understand what drives them.
5. Add a Portfolio of Images

Adding a dynamic and attention-grabbing portfolio of images to your website is a must. Give your audience as much exposure to your cause as possible by displaying photographs of your work. This allows people to visualize what their money is being used for and understand just how worthwhile the charity is.
Use the free WordPress plugin Huge-IT Portfolio to showcase photos of ongoing projects. Photographs could also be complemented with testimonials from volunteers, others who have worked with the charity, and those who have been on the receiving end of the organization's help. Testimonials will give the photograph's context, the people in the images a voice, and increase support for your cause.
6. Display a News Section or Blog
All serious non-profit websites should include a blog, or news section, that is constantly updated with current and relevant affairs and information regarding your organization's work.
A blog helps to keep your community up to date with what is going on and reminds them of the importance of your organization. And it makes sure your work on the ground doesn't become forgotten.
Add stories from those you are helping to your blog, write about how projects are developing, discuss problems that are still to be dealt with, and share any other big news. Every blog post published should include calls to action, encouraging readers to get involved in different projects and issues. By regularly posting interesting articles you will build up a strong following of regularly returning readers. It is this contingent that will become your biggest supporters and donors.
7. Provide a Calendar of Upcoming Events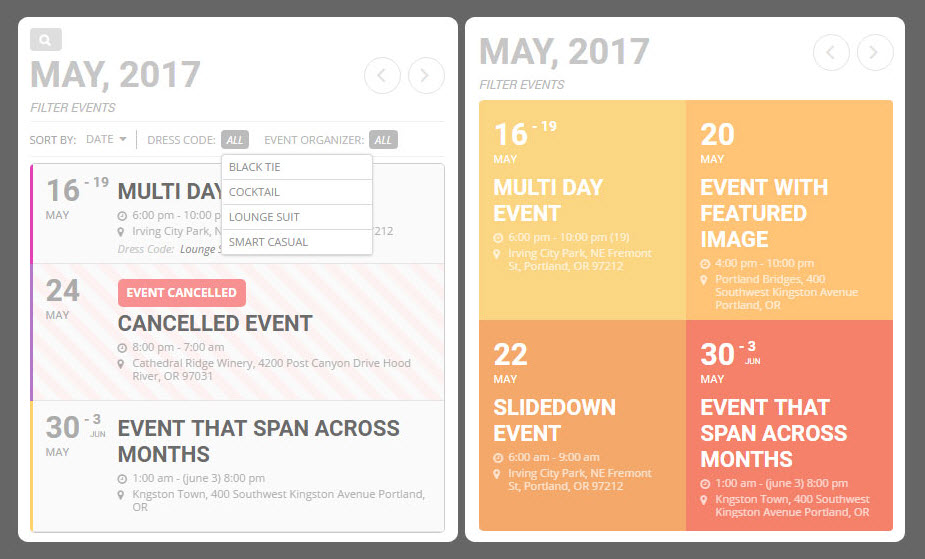 Your organization may run numerous events that you want your visitors to attend and be involved with. If this is the case then you should consider adding an interactive calendar to your website, that displays events and necessary information. This helps your audience easily access 'what's on', find the details they need, register for events and much more.
Event On is a premium WordPress plugin that will assist you in adding a beautiful and extremely useful calendar to your non-profit website. Add descriptions and images of events, as well as Google Maps to display locations. An Appearance Editor will also let you customize the calendar's aesthetics, ensuring it matches your website's branding.
8. Share Volunteer Opportunities
If you are looking to recruit volunteers, then dedicate a page to volunteer activities. Add information that those who are considering becoming a volunteer will need to know, what jobs they will be expected to do, and any other relevant details.
A registration form for visitors to sign up to your volunteer program may be necessary. The free plugin Ninja Forms will let you add stylish forms to your website, that can be easily customized to display the fields necessary for your volunteer registration form.
9. Add a Contact Page

Add a contact page that displays contact info in an easy to access format. Include a contact form, your organization's address, phone number, email, and hours of operation if appropriate.
If you have a physical location that people will be wanting to visit, including an interactive map on your contact page is a good idea. This helps your supporters quickly and easily find your location. To add a Google Map to your contact page, displaying fastest routes and as many markers as you need, try the free WordPress plugin WP Google Maps.
10. Keep in Contact with Your Visitors After They Have Left Your Site
Keeping in contact with people who have shown an interest in your work, and have visited your website, is key for a successful non-profit organization. Being able to re-connect with your audience after they have left your site will help keep support for your organization strong, and encourage people to repeatedly donate.
Popup Builder is a free WordPress plugin that will enable you to add powerful and highly customizable popups to your website to help you grow your email list. By upgrading to Popup Pro you can also create social popups to encourage your audience to follow your organization on social media.
11. Your Non-Profit Website Needs a Professional Design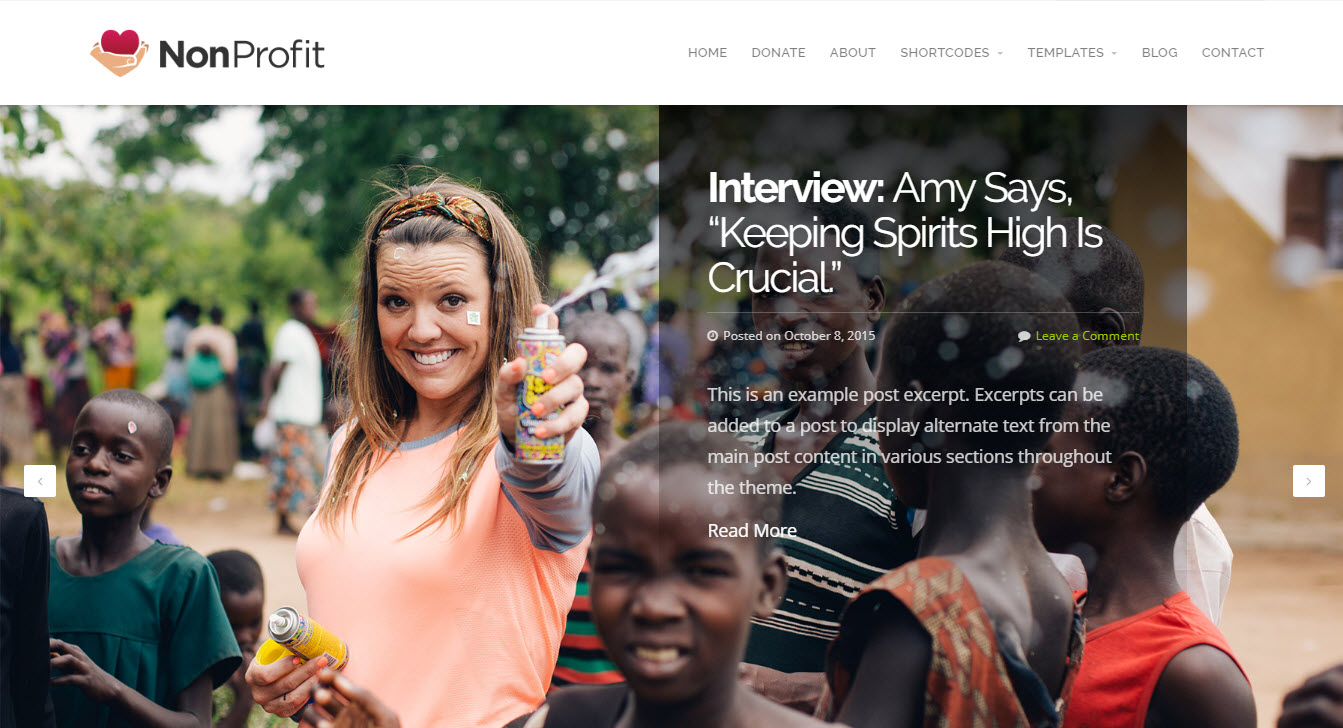 It is important your non-profit website looks professional and reputable. It needs a great design so people take you seriously. There are numerous stylish and feature rich WordPress non-profit themes that you can choose from to help your organization create a professional and well-optimized website.
Check out our collection of The Best Non-Profit WordPress Themes to give you an idea of what is available. The themes in this collection all contain a selection of the features mentioned above, specific to non-profit websites. However, always check exactly what is offered from a theme before making a purchase as features may differ.
Final Thoughts on Features of a Non-Profit Website
Successfully delivering your organizations passionate vision and message through your non-profit website can help increase support and donations for your cause. Use the features mentioned in this article to share your projects and inspire people to get involved with your organization.
What advice have you got for creating a non-profit website? Please share your thoughts in the comments below…