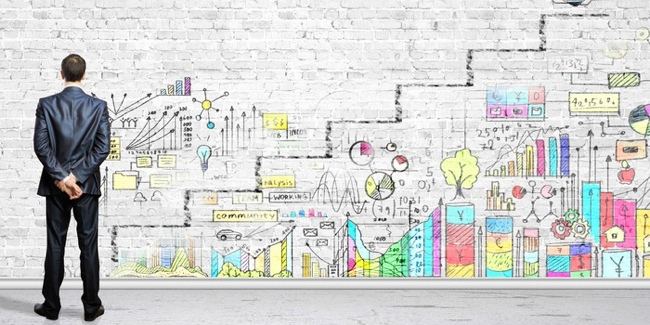 Using project management tools is essential for keeping a project on schedule and within budget. The value of project management is no secret:
It helps keep everything on schedule
Makes the schedule visible
Defines the tasks required
Assigns responsibilities
Gives you a single place to keep the files that pertain to a specific project
There are lots of solid choices for project management system. Basecamp and Trello are popular and rightfully so, but sometimes you need something that you have more control over. Something that's yours. Something closer to home.
Rather than having you and/or your team go offsite and learn a new system, why not bring project management tools to your WordPress website? WordPress is a flexible system. You can set up your WordPress project management system any way you want – in the way that works best for you and your team. How do you do this? Well, by using a plugin of course!
Why Use a Project Management plugin?
A plugin brings all of the project management functions to your WordPress website. It provides all of the tools you need in one place. WordPress is a familiar environment. Using a plugin that works like posts, categories, and other features from WordPress that you're already used to means you don't have to learn a completely new system. If you do any kind of work at all, you can benefit from a project management plugin.
If you work with a team, your team members will be able to access the project information from your website – their home-base. Even freelancers that work alone can benefit from a project management plugin. All of the elements of a project, such as scheduling, tasks, files, etc., are the same regardless of the number of workers there are on the project.
The Top 7 Project Management Plugins
Which plugin should you use? There are a lot of choices. Let's take a quick look at my favorite 7.
I installed these plugins to see what worked and what didn't. They all have their strengths and weaknesses. For example, one might have a nice structure for milestones, but another might have a nicer calendar feature. I've noted their differences to help you decide what's best for you based on the features you need.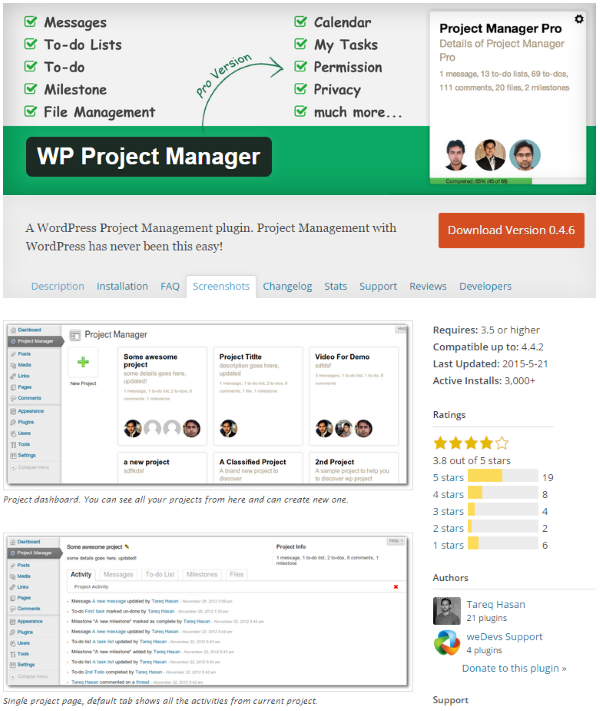 This one is similar to Basecamp in its tools and features. It adds project management tools into your WordPress dashboard so there's no need to go to a different site or integrate with an outside site. Its features include:
Projects – here you create new projects and assign users.
Messages – you can have discussions with your team-members and upload files to the discussions.
To-do List – you can have as many lists as you want and assign users, tasks, due dates, track progress, discuss the project, and mark its completion status.
Milestone – here you can create milestones, add to-do lists, and assign messages.
Files – here you can see the files with messages and comments. You can navigate to the individual threads from here.
Creating the project is intuitive. You just click New Project, give it a name, description, and assign a user. Then it takes you to the dashboard where you can add messages, to-do lists, milestones, and upload and track files. Adding them is also simple: you just go to the tab you want (ex: Milestone) and click Add New. You then give it a name, description, date, user, etc. You can have it to send an email to the users that you've assigned so they know there are updates.
I found this one to be easy to use and it has most of the features that I want in the free version and it's easily expandable. It's one of my favorites. The main thing I didn't like is you can't copy projects. This means you have to create a new project from scratch every time. Being able to copy a project would be helpful if a lot of your projects are similar.
There are 16 add-ons that add features and integrate other systems. Prices range from free to $49. Add-ons include:
Sub Task
Subscriptions
Frontend Comment Manager
BuddyPress File Integration
MailChimp
Invoice
Time Tracker
Stripe
There is also a Pro version that adds new features that include:
Calendar
My Tasks
Permissions
Privacy
Project Manager Frontend
Archiving
The Pro edition is $59 for a single site (includes 1 free add-on and Frontend feature), $99 for 5 sites (includes 2 free add-ons and Automatic Project Creation – requires WooCommerce), and $199 for unlimited sites (includes 3 free add-ons and Sub-task feature).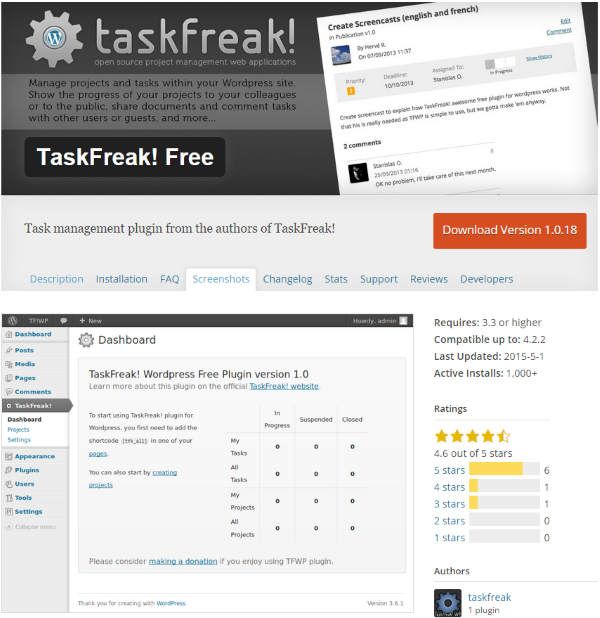 This free plugin from the makers of the TaskFreak! Stand-alone project management tool lets you create projects and then assign tasks to groups or individuals, add attachments, have discussions, and see the status of their progress within WordPress. Projects can be public or private. You can place the project on any page or post using a shortcode. It does not require you to use the web app.
Projects are created with a visual editor just like pages and posts. Once you create a project (title and description), and place the shortcode on the page, you can go to the page and add tasks from the frontend. You can give the task a priority, a deadline, assign it to a team or member, set its status, and instructions, add attachments, and make updates. You can view the list of projects, tasks, and updates from the same page on the frontend or the dashboard.
This one's simple but it works well. This is a good choice if you just need some basic features and access from the frontend.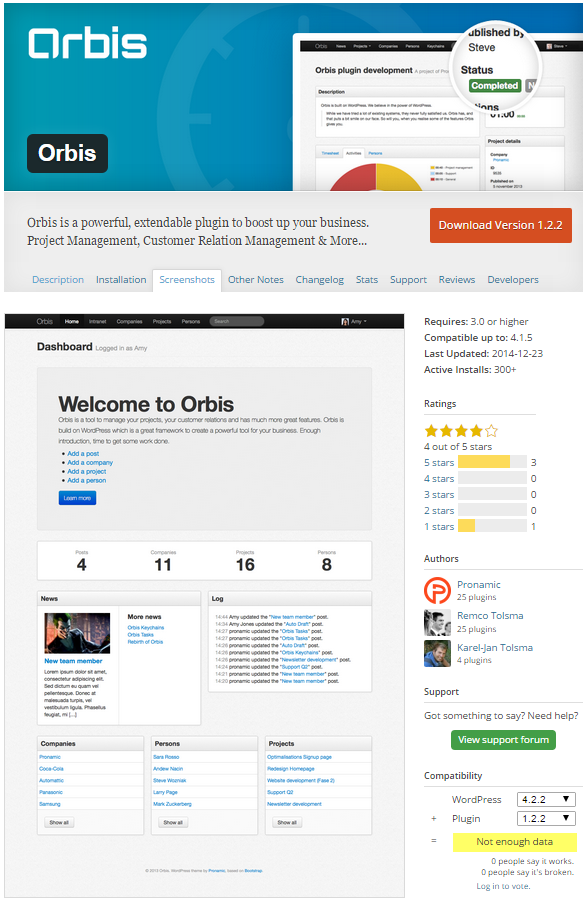 Orbis is a simple project management plugin, but with the free add-ons it does much more than simple project management. The business tools within Orbis include Customer Relation Management and Intranet features. Projects are placed on pages or posts and you can use the regular WordPress comment system for communication about the project.
You create projects, companies (clients), and persons (your team members that you assign the projects to). Once you've done this you can create a project using the visual editor. It adds new fields for project information that includes an Orbis ID, client, time, Agreement ID (upload as a PDF or text document), and select whether or not the project is finished. You can also choose and create categories for the project.
You can expand Orbis with additional plugins. Add-ons include:
Orbis takes little more setup because you have to create companies and persons, but you also have more abilities because of it. You can track everything from the dashboard and you can see stats of all the projects. This is good if you want to see or print reports. The add-ons really kicks Orbis to a new level. Even with all of these features it's still easy to use.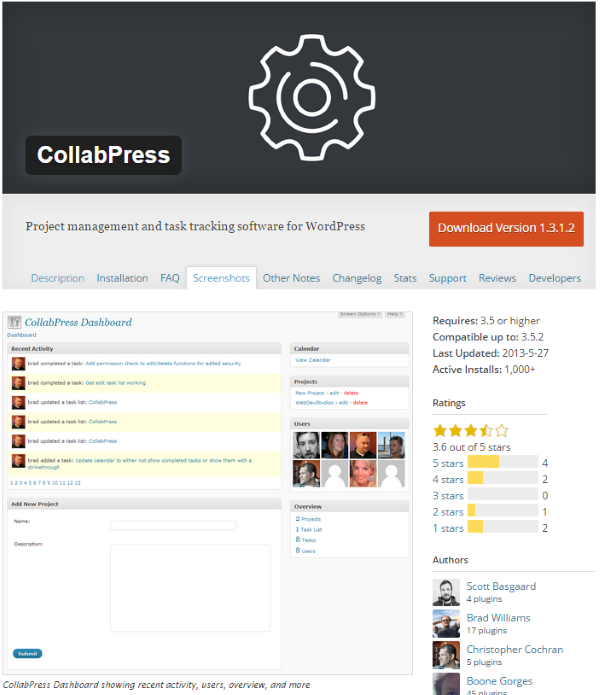 This one allows you to create projects, add tasks, assign users to those tasks, set due dates, and attach files to the projects. You can use this just from the dashboard or you can add it to a post or page using a shortcode. It uses the built-in WordPress users and will send email notifications. It will integrate with BuddyPress.
For me this one wasn't as intuitive as the others. Creating a new project gave me a place to enter a title, description, and choose which user it was assigned to. Next it took me to the project overview – a screen that shows the picture of the users, list of tasks, and list of files. From here there was no clear instructions of what to do next. There were no tasks, but I clicked on View All Tasks to see if it would let me create a task. From here I could create a new task or a new task list. Adding a task opened a window where I could enter a description, due date, choose the user it's assigned to, choose its priority, and check the email notification option.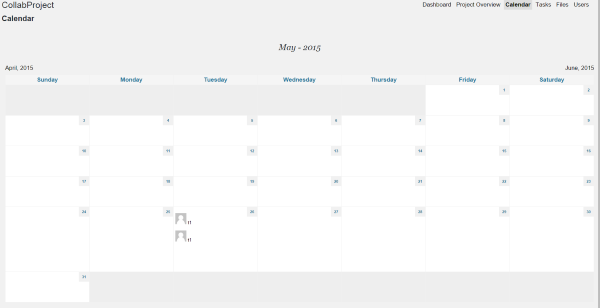 There is a nice calendar where you can see the tasks, their due dates, and who they're assigned to. From here you can select any task and add comments. There is a files list where you can upload files and attach them to any project you want. You can go back and edit or delete any projects, tasks, task lists, or comments.
Once I stepped through the process I found it was easy enough to use – it's just not intuitive at first glance. I like the calendar feature a lot. In my opinion, being able to see tasks on the calendar gives a better perspective of due dates than just seeing them on a list.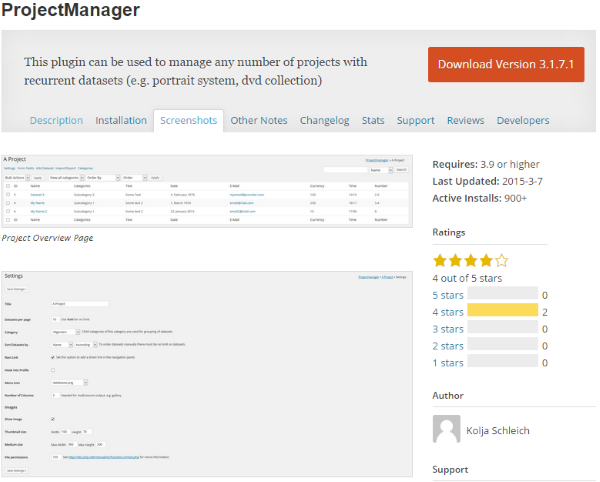 This one lets you create projects and place them on pages or posts with shortcodes or using a widget. Its primary function is to control datasets. It has lots of shortcodes to display various datasets, templates for frontend use, template tags to use in your theme, access control so you can decide who can do what, and lots more. You can even customize the PHP to add form-field types and icons to the admin menu.
Once you add a project title, you have to choose its settings, add a dataset, and choose its form fields. You can import and export your datasets.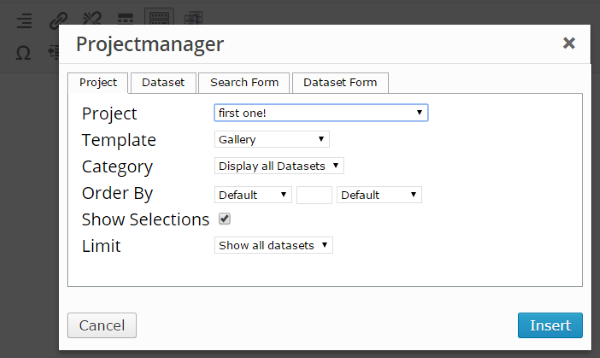 You can place the project on a post by selecting the Projectmanager icon on your visual editor. You can then choose your project from the list in the lightbox that appears. From here you can choose the project, template, category, dataset, and forms.
This one isn't as intuitive as it should be and all of the dataset stuff is confusing. Fortunately there is documentation, but it's unfortunate that it's needed. It does have a lot of customizations that might make it worth the trouble.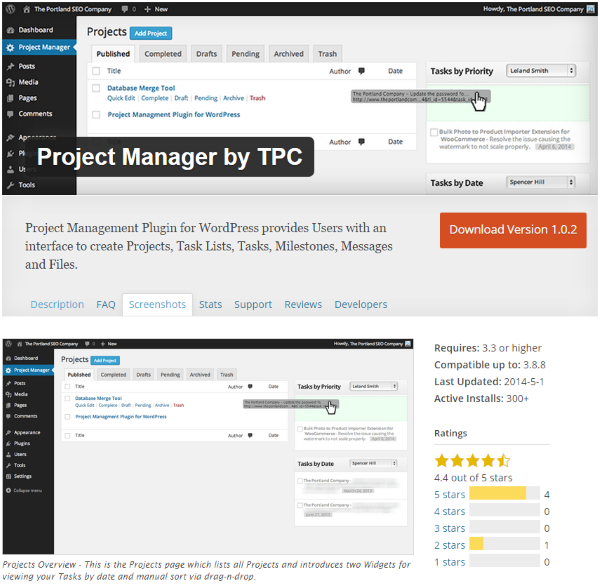 This one is a fork of WP Project Manager, so it will share many of the same features such as Projects, Task Lists, Tasks, Milestones, Messages, To-do Lists, and Files. All of the project management takes place in the dashboard, behind the scenes. It has an improved UI and a few new features such as the ability to link tasks to user's ID's with hashtags that make it a good choice to consider.
The Projects screen has a dashboard with tabs that include:
Published
Completed
Drafts
Pending
Archive
Trash
This screen lets you create and manage your projects. You can view tasks by priority or by date. You can edit a project or mark it as complete, draft, etc. Where WP Project Manager shows your projects as individual tiles with project details, this UI shows your projects in a list-view with details about the project. They both work great and the best choice is a matter of personal preference.
There was a little bug with creating a new project. Part of the screen was hidden behind the dashboard menu. I collapsed the menu and was able to create the project. Once I created the title and gave it a description I could then view activity, add messages, a task list, milestones, and upload and view files. I could also make changes to the title and description. There's a button that will notify contributors by email. This section works the same as WP Project Manager but has a few visual improvements.
I found this one easy to use. It is a stand-alone system and doesn't have add-ons or a Pro edition like WP Project Manager does. If you don't need those, then this UI might be enough to make Project Manager by TPC the right choice for you over WP Project Manager.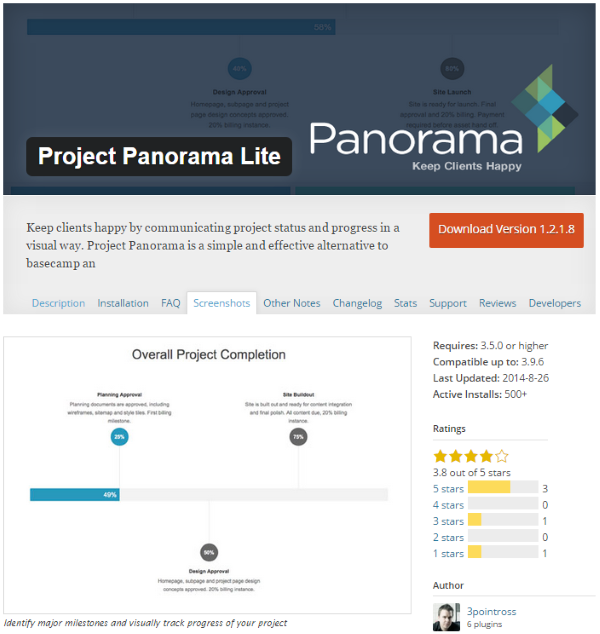 This is a project management plugin that's designed to show project information visually. You can show the project status, create tasks, show task status, store documents, create project types, and have phases with phase progress. It uses another plugin called Advanced Custom Fields that lets you create custom fields visually.
Creating a new project is simple. It gives you the fields to create the title, overview (which includes client, percentage complete, details, documents, start date, and end date), milestones, whether or not to allow comments as discussion, and project type (which work like categories). The project is posted to your site as a sub-page to the Panorama page. It contains all of the information about the project including a graphical timeline for milestones.
This one is easy to use and has some good visual features. You can copy a project as a new draft. I like this because you don't have to create every project from scratch. This feature alone is a good reason to consider this plugin. All you have to do is change the name (or it will have -2 after the original title) and the new project details. It has good documentation to help you create projects.
There is also a premium version. Individual is $68 and adds unlimited project phases and tasks, automatic progress adjustments, document storage, password protection, login restriction, and email notifications. Professional is $88 and allows for unlimited site installs.
You can also get add-ons to expand it even further. Add-ons include:
Checklist
Image Gallery
Front End Uploader
The add-ons are free but they only work with the premium edition of Panorama.
Final Thoughts
Whether you're a loan freelancer or a leader of a team, project management plugins give you an easy way to keep your projects organized and on schedule from within your WordPress website. Integrating project management tools within your WordPress website means you and your team members don't have to go to yet another location on the web or rely on email just to see project details, share files, and communicate the status.
Whichever you choose, just be sure to keep it simple and update the information as you go. If it's too complicated or takes too much time it will be less likely to be used, and then it won't do anyone any good.
How about you? Do you use any of these project management plugins? Did I leave out your favorite? Tell us about it in the comments below.