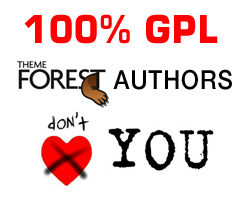 Back in March 2013 ThemeForest introduced the option for authors to choose a 100% GPL license for their WordPress themes. The change meant theme authors had the choice to license their themes as 100% GPL or continue using a split license arrangement. It's now been a couple of months since authors were given that choice and several hundred new themes have been released. So I thought it would be interesting to see if authors are embracing the 100% GPL option and find out just how many new WordPress themes released since then have the 100% license.
Where Are The 100% GPL Themes?
Unfortunately it's not that easy to find the 100% GPL themes on ThemeForest. Each theme page has a license information box and if a theme is 100% GPL it's marked with small text "This item is licensed 100% GPL". However there are no specific category, tag or search options to find the GPL themes quickly and easily. So I had to look at each theme released since March 26 one by one to check the license.
100% GPL? No Thanks!
Since March 26, 2013 when Theme Forest made the 100% GPL option available 420 new WordPress themes have been released. So how many of those themes have the 100% GPL license? Fourteen! Yes you read that correctly, only 14 out of the 420 themes, or 3.3% had the 100% GPL license.
What's interesting is that the majority of those fourteen 100% GPL themes were actually themes from Themes Kingdom, Obox Themes and WooThemes – developers that primarily sell WordPress themes from their own websites (with 100% GPL licensing), but also offer some of their themes for sale in the ThemeForest marketplace. Only a couple of those 14 themes were from authors that sell exclusively on ThemeForest.
I must admit I'm rather surprised at the low number of 100% GPL themes on ThemeForest. While there are some consumers that don't want the freedom of the GPL, the average person looking to buy a WordPress theme for their website doesn't really understand or care that much about the licensing. They just want a nice looking theme at a decent price that meets their needs. However with so many highly successful and highly profitable 100% GPL WordPress theme shops around demonstrating there are no real negative effects to using the license and the freedoms it offers, I'm quite surprised so few authors on ThemeForest have chosen to go 100%, or even try it.
So why have so few Theme Forest authors embraced the 100% GPL license option? If you're a theme author on Theme Forest I would especially like to hear from you about what license option you are using now and why?