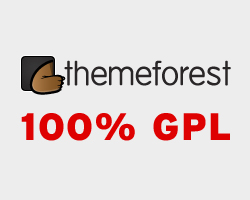 Envato has announced that ThemeForest and Code Canyon authors now have the option to sell their WordPress themes and plugins with a 100% GPL license. Helping launch this new feature, one of the biggest and most well known independent WordPress theme shops – WooThemes has joined ThemeForest as one of the first 100% GPL partners. WooThemes themes will start appearing on ThemeForest in the coming days.
At the moment the GPL option is only available for WordPress themes and plugins, but will be open to other categories (Joomla, Drupal, OpenCart, OS Commerce and Zen Cart etc) in the coming weeks. Authors can select to go 100% GPL or stick with the current split license arrangement. Once an item is switched over to a 100% GPL license it can't be changed back so authors should fully inform themself about the GPL license and what it means for them.
With all the controversy surrounding Envato, the WordPress Foundation and GPL licensing something really had to happen, so it's good to see a positive outcome. The choice to license themes under a 100% GPL license will no doubt please many authors as well buyers.
It will be interesting to see how many ThemeForest authors make the switch to a 100% GPL license and if the new GPL option attracts other developers and existing WordPress theme shops to also sell products in the ThemeForest marketplace.