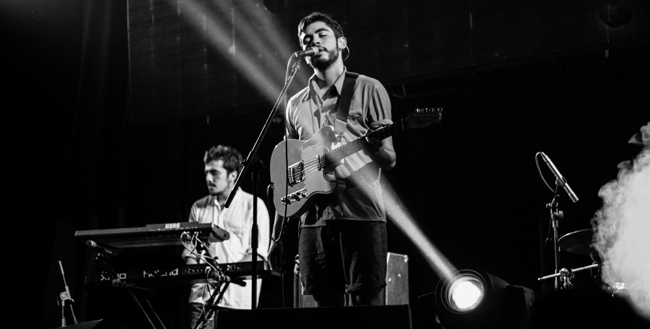 WordPress is an excellent website platform for bands and musicians. Not only is it free and easy to use, it also provides all the tools that bands need to set up their website, show photos of their band, provide a calendar of their upcoming events, show videos, play audio, sell their music and merchandise, and keep fans informed through their blog and social networking.
In this article we'll look at what your WordPress website needs to turn it into a showcase for your band or solo musical career.
What the Website Needs
There are a few pages and features that every band / musician website needs. They include:
Events calendar – this should include show times and venue information such as price of admission and address. Ideally it would provide a Google Map of the location.
Store to sell CD's, DVD's, and merchandise – this can take them to an offsite store or it can allow sales through the site itself.
Blog to share updates – this keeps fans informed and involved. It also gives them content to share with their networks.
Audio player – this will play samples of songs. Websites for bands are one of the few types of websites that can get away with auto-playing music when the site loads.
Video – this can be videos from YouTube or embedded videos. It can be music videos, home videos, or videos of live performances.
Social media – these are links to your social networks so fans can follow you. You should also include sharing buttons so fans can share your information with their networks.
Gallery – this will show pictures of your performances, your band, behind the scenes, on vacation, at home, etc.
Pages
There are a few specific pages that fans expect to see on a band website. Although you can have more pages than these, they're pretty much standard in the music industry.
Home – this should be a landing page that ties everything together.
About – this will give some information and photos of your band members. It can include short bios and maybe a list of songs performed or written. It should also include social networks of each member.
Events – this will tell your tour dates and provide information about your locations.
Store – this will include anything fans can buy from you – clothing, posters, CDs, DVDs, MP3s, etc.
Discography – this is a list of the albums the band has recorded with dates and album art. It should also include an audio sample of each one and a link to purchase the album.
Contact – this will include a form so fans to send you a message. It should also include links to your social networks.
Plugins
Just about all of the features you need can be added to any theme through plugins. Here is a list of plugins that you can mix and match to get the features you want.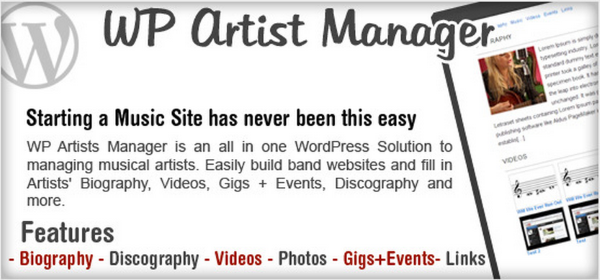 This is an all in one solution for musicians and bands, as well as managers of multiple musicians and bands. It provides everything needed for your WordPress site including events, discography, audio samples, video, gallery, biography, links, etc. It includes three widgets including an artist demo widget. It also includes links to artists' social media networks. You can create pages for contacts forms, testimonials, and stores, and then connect them to specific artists. It's responsive so it looks good on any size screen. It allows front page editing and submission by users. This is helpful for record labels and band managers that want their musicians to upload their own info.
It costs $23 for the regular license and $115 for the extended license.

GigPress is a free plugin that lists and manages live events. You can display the events on any page or post using shortcodes or PHP template tags, or you can display them in your sidebar or widget area using the built in widget. You can easily add multiple artists, venues, tours, and related posts. You can display events combined or by artist. You can show multiple artists or a specific artist. It has RSS and iCalendar feeds for shows and artists, and has Google Calendar and iCal download links for each show. It uses Schema.org structured data for local SEO. You can import and export your data as CSV.

Every musician should join the social network for musicians known as ReverbNation. Once you do you can bring your ReverbNation widgets into your WordPress website using the plugin ReverbNation Master. This includes an Html5 Player, Html5 Fan Collector, Html5 Show Schedule, Tune Widget, Shop, and more. These tools allow fans to sample music through your website, buy your music through ReverbNation, sign up for your newsletter, see event schedules, and get directions using Google Maps. It also includes banners and buttons. You can place them anywhere using shortcodes and widgets. It's fully responsive.
Of course most of these features are found in the premium version for $35.

Music Store is an online music selling platform that lets you sell your music directly from your website using PayPal. It's available in both a free and premium edition, but the premium edition is what you need for professional musicians. It allows you to create samples, sell individual songs, create complete albums, provide discounts, track sales with statistics, sort by popularity, rating, or price, share on social networks, it provides security to prevent unauthorized downloading, a shopping cart, and more. You can place your music anywhere on the site using shortcodes and widgets. It has three audio player skins.
The premium version is $49.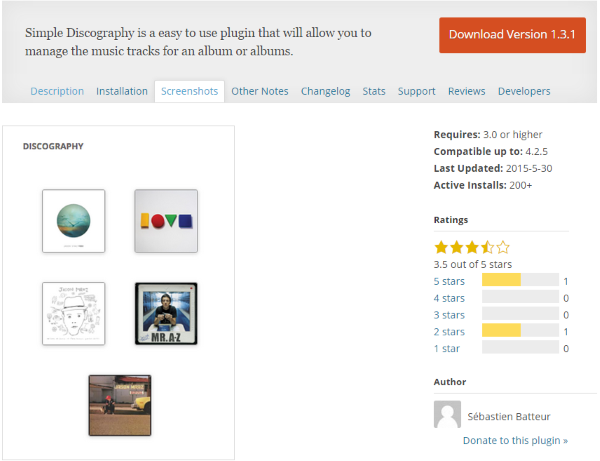 This free plugin lets you manage audio tracks from albums. You can drag and drop tracks to create the order you want. You can place the tracks on any post or page using shortcodes or you can use the provided widget to place them in your sidebar. It will show cover art, album description, song titles, duration, etc. This is a great way to provide samples of your music in the simplest way possible.
More Plugins
Themes
A themes for a band or musician need to look a bit more cutting edge than most WordPress themes. They don't need to look safe, corporate, boring, or too simple. They should put readers in the mood to go to a concert, to buy your music, and buy your merchandise. They need to grab fans and keep them interested in you. Here are a few themes that excel at this and provide most of everything you need without having to mix and match.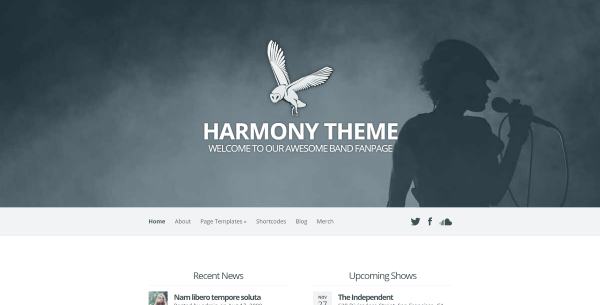 Harmony from Elegant Themes was made specifically to meet the needs of bands and musicians. It has everything you need built in, including the ability to play songs, handle events, show photos in a gallery, and sale your own merchandise. It has unlimited colors so you can customize the look any way you want. It includes page templates: sitemap, full width, image gallery, six portfolios, advanced search, member login, blog feed, and contact. It supports a large background image with parallax scroll. It has built-in icons for Facebook, Twitter, RSS, and SoundCloud. It has a built-in shop. It also includes 16 shortcodes and is responsive. It has a sidebar and three footer columns.
Harmony is part of the Personal Plan which is $69 per year.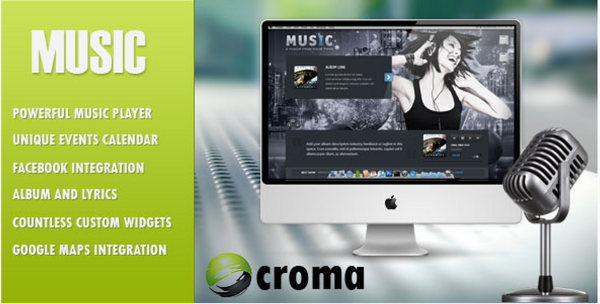 Music adds functions specifically for musicians and bands. It has a dual slider that lets you choose between content and images. It has an advanced calendar that will show a single day, multiple days, and recurring events, and it includes a countdown widget and reminders. It integrates with Google Maps. It has a high level of security that keeps your music from being downloaded without authorization. It includes a Facebook Fan page, team pages, and a unique blog payout. It has several widgets including a menu carousel, newsletter signup, Twitter (both single and multi-tweet), customer feedback, image link, and Facebook. It will display various types of content such as a video player and widgets. It includes parallax scroll and looks very professional.
It costs $49 for a regular license and $2450 for an extended license.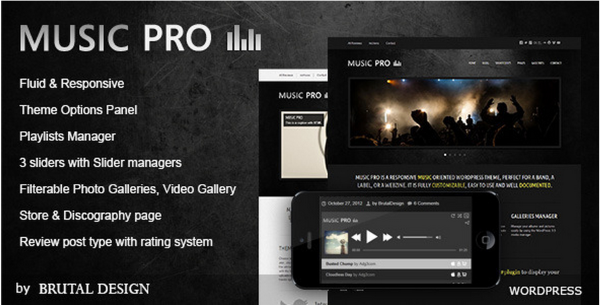 Music Pro is a versatile theme with music in mind. It's especially great for bands. It includes three pre-made skins, three sliders, review post type, a custom message bar above the header, multiple playlists that you can embed anywhere, a store, a discography page, show dates, photo galleries, video galleries, social buttons, contact form, shortcodes (last albums, last video, last tweet, etc), 14 widgets (Instagram, social, shows, etc.), unlimited sidebars and widget areas, and more. It includes four plugins: Wolf Socials, Wolf Music Network, Wolf Shortcodes, and Wolf Gram. It looks sharp and is fully customizable. It includes complete documentation.
It costs $59 for a regular license and $2950 for an extended license.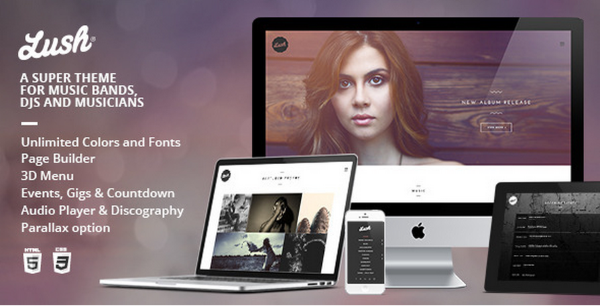 Lush was made with the music industry in mind and is a good choice no matter what your role in the industry is. It integrates with WooCommerce so you can sell your music online. It includes an events manager with countdown, a photo gallery, an audio player with discography, a 3D push menu, parallax, and more. It includes the drag and drop visual composer and page builder with 11 custom widgets. You can style it with unlimited layouts, fonts, and colors. It also includes Slider Revolution, a child theme, and it's responsive. It loads fast and looks great. I especially like the sidebar 3D menu system.
It costs $59 for a regular license and $2950 for an extended license.
Muse is an interesting theme for musicians that shows a full-screen slideshow with video using the include premium plugin RoyalSlider. It also has a touchable lightbox, page templates, eight custom widgets, lots of shortcodes, 22 social music-oriented social networks, and lots more. It includes pages, albums, events, slides, callouts, videos, galleries, and a blog. It's compatible with child themes and you can customize it all you want with unlimited colors. The full-screen slider effect looks unique. It's compatible with WooCommerce so you can create your own store for your music and merchandise.
It costs $49 for a regular license and $2450 for an extended license.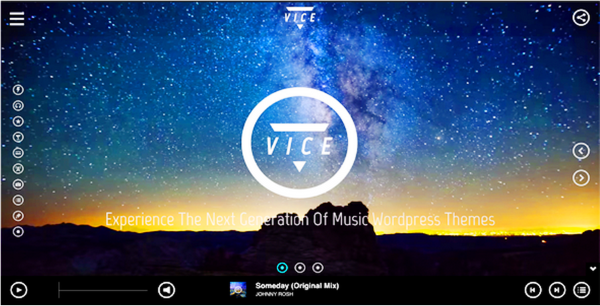 If you want something different that will make your website stand out then you want Vice. It lets you use a YouTube video as a background. It has unlimited sections with custom backgrounds for each one. It has unlimited colors, 120 custom icons (for social networks, etc.), an off-canvas menu, the most advanced music player for WordPress, five custom post types (including podcast, artist, event, releases, and gallery), full-page modules (including Revolution Slider, custom post types, caption, Simple Slider, and news), and lots more. The one-page full screen layout with YouTube video looks outstanding. You can have your music to auto-play or not. Vice is easily one of the most unique and impressive themes that I've seen for bands.
Vice costs $49 for a regular license and $2450 for an extended license.
More Themes
Other premium and free themes for bands include:
For even more themes for bands and musicians see our comprehensive gallery with 60+ of The Best Band & Music WordPress Themes
Final Thoughts
Whether you build your band's website by compiling plugins or buying a theme that provides a complete solution, WordPress has the tools you need. I recommend taking a look at the themes. They're not that expensive and they look amazing. Plus, you need a nice theme anyway. It might as well be one that's made for musicians. Each of the themes on this list have a demo page where you can see how to look and operate.
I'd like to hear from you. Have you created a WordPress website for a musician or band? Did you use one of the solutions here? Do you have one to add? Tell us about it in the comments.