Email is one of the most powerful forms of marketing. It's targeted marketing that will drive revenue. Why is it targeted? Because your list are readers that have subscribed to receive your email. Email addresses are not that difficult to get and once you have them you have a much easier time marketing because you already know they're interested in your topic. They're in a better location within your sales funnel.
The Sales Funnel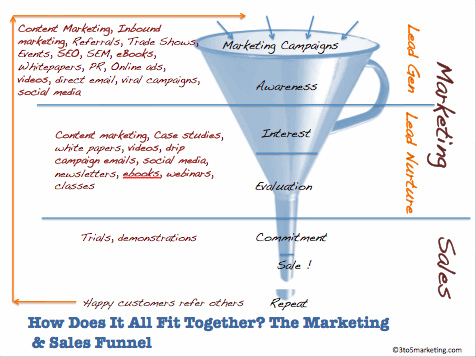 Sales can be described as a funnel with holes. It's large at the top and narrow at the bottom. Unfortunately, most leak out somewhere in the middle. Your goal is to get readers all the way through your sales funnel and make a purchase.
The top of the funnel is your common traffic. In the middle of your funnel are those that have spent more time to understand and interact with your brand by reading your content, following you on social media, and subscribing to your email list. The bottom of the funnel are those that are making a purchase. Those that have signed up are somewhere in the middle and it's easier to get them to the bottom.
E-Mail vs Social Media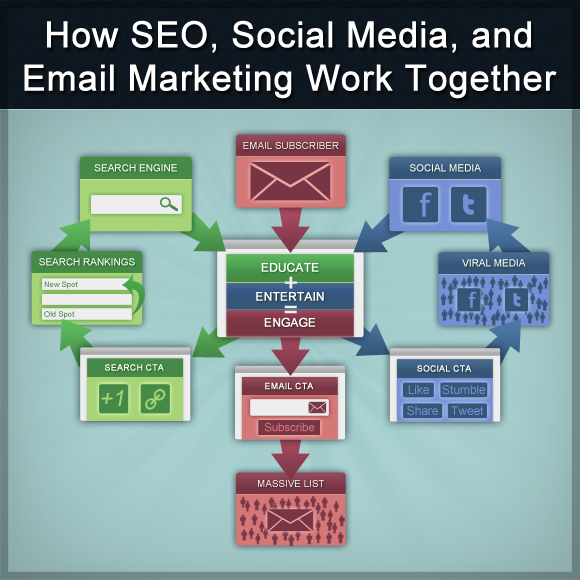 Why would you use email when you could just use social media? Email marketing is more effective than social media marketing. With social media, readers have a lot of things to catch their attention and your posts might simply pass them by without being seen. Posts can get lost in a Twitter or Facebook stream. There might be a lot of people see your marketing efforts, but most of them might not be interested in your topic.
With email, it's there in their inbox. It doesn't go anywhere. It doesn't pass them by. Even if they receive 100 emails per day, that's less for them to deal with than the many thousands of social media updates they might or might not see.
Targeted Audience
Subscribers are giving you permission to contact them with offers. They want you to. They expect you to. They're even asking you to. And they've looking for it. They want to hear from you. They gave you their email addresses with the expectation that they would be hearing from you. It's a sales funnel that is targeted to a specific audience.
There are a lot of things out there to get readers' attentions. Rather than hoping readers have time, and even remember, to come back to your site to check for new content you can send that content directly to them.
It's not about numbers. It's about targeting. 100 people that are interested in what you're selling is more valuable than 1000 people that are not. You email list lets you market to those that have already told you they are interested. They're already in the middle of your sales funnel.
Use Double Opt-in to Increase the Value
Double opt-in sends a confirmation email that they have to respond to in order to subscribe. This means they've opted in twice: once in your subscription form and once in the email. This is a must for best-practice and even a legal requirement in some places. This keeps people from subscribing their friends, which in turn could get you in trouble for spam. It also increases the value of your email list. Advertisers will pay more for a spot in your newsletter. It's targeted marketing. Quality is better than quantity.
Getting Readers to Sign Up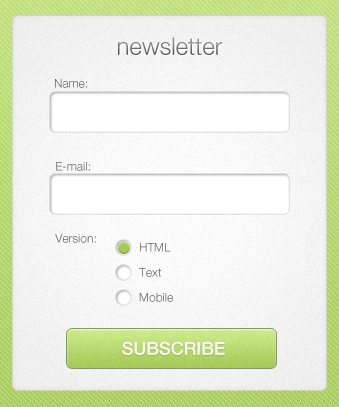 You know you want to create the email list, but how do you get your visitors to sign up? Here are some of the best ways to do just that.
Place Forms on Your Site
Place sign up forms throughout your site. The trick is to add them to the best locations. Sidebars, headers, and your About page are great places for them. Some even place them in the footer. Popups are also popular. Just be careful not to become annoying and interrupt what they're reading.
The best way to make the forms more visible is to eliminate clutter. The fewer things for them to see and click on the better. Too many options tends to be overwhelming and may cause readers to avoid clicking on anything.
Keep the form simple and clean. Only ask for information you really need. If there are too many fields to fill in they might just hit the exit button. Their name and email address should be enough for most email lists.
Give Away Something Good
Giving your subscribers a gift is a great way to entice them to sign up. It's so common now that it's expected. It's easy to do and doesn't have to cost you much if anything. Here is a list of items that works as free gifts:
E-book – this is usually a PDF. It can be short. Even a list of tips will do. The download link should be included within the Welcome email.
Access to content – this can be a video, audio, graphic, course, etc.
Discount on a purchase
Contest entry
Add a Link to your Email Signature
Your personal email should include a link to your website and a link to your newsletter signup form. Anyone that gets emails from you will have easy access to these links. It's a great way to spread the news without even talking about it. Don't put too much in your signature though or it will look cluttered and will be ignored.
Use Social Media
There are several ways you can use social media to spread the news about your newsletter. Here are a few:
Promote an offer and include a link to your signup form
Add social media buttons to your signup forms and encourage subscribers to share them with their networks
Add a call-to-action button for your newsletter on your website's Facebook page
Post offers and promotions on your Google+ page and in the About section
Create images for your content and post them to Pinterest
Post offers on your website's LinkedIn page and include a link to your newsletter signup form in the offer
Create videos for YouTube and include calls-to-action and links to your newsletter signup forms
Encourage Readers to Share your Email with their Friends.
Add sharing buttons within the email and ask readers to share it with their friends. Include an email button so they can forward the newsletter. The email should also include a call-to-action and a simple link to your subscription form in case the reader received the email from a friend.
Your Bio
If you guest post on, or write for, other websites you will most likely have a short bio that appears at the end of your articles. This is a great opportunity for a call-to-action. This can include a link to your website or newsletter.
Host Events
You could host a webinar or other event and use the newsletter subscription as a signup form.
Host a Contest
Contests are a great way to get readers to sign up to your newsletter. The giveaway can be something physical or digital. Free subscriptions and free content such as e-books are good choices for giveaways.
Personal Invitations
Just like you tell those around you about your business, you should also tell them about your email list. It doesn't have to just be in online conversations. Offline person-to-person marketing is a perfectly acceptable way to get subscribers. Tell your friends, and then ask them to tell their friends.
Using the List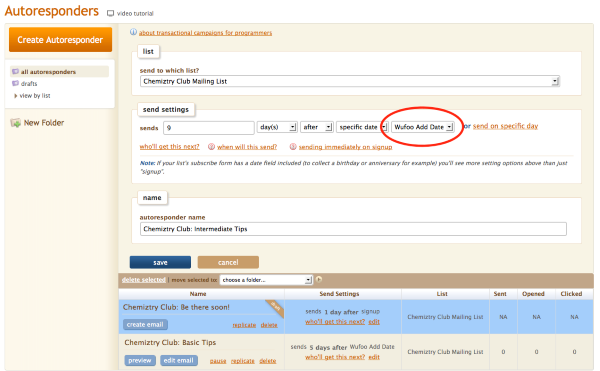 Once you've built the list you'll want to get the best use of it that you can. Here are some ideas of how to use email lists to increase sales.
Email vs Newsletter
I often use email and newsletter interchangeably. After all, they can contain the same content. The primary difference is a newsletter has a designed approach (often styled to follow the branding of the company) and is expected to release on a specific schedule. It can be quarterly, monthly, weekly, or daily. Think of an email as a note to a friend and a newsletter as a magazine.
Create Content worth Reading
It doesn't have to just include snippets of your articles with links. You can create content just for the newsletter. The better your content is the more likely it is that readers will remain subscribed, open your emails, and share your content with others.
Offer Special Discounts and Coupons
These would be discounts that only subscribers could get and use. Simply include a discount code within the email. You could even make it a limited time offer. This would help ensure they would open the email when they receive it.
Drip Email
You could give away a course one session at a time. This is a way of getting your content to drip into their hands in a series.
You would set this up as an auto-responder so the email is automatically sent to subscribers at a specific time after they sign up. It would continue to send on a schedule, for example once per week, until the course has completed.
Notify Your Subscribers about New Offers
These can be any promotions you offer. It's a good idea to reveal this news to your subscribers first. Providing your subscribers with the information first will give them a good reason to remain subscribed and open your emails as soon as they see them. You could even provide offers and discounts that are only available to subscribers.
Creating Headlines
There's still one problem with email to consider: noise. Lots of the emails that get sent out never get opened. With the vast number of emails that get sent out every day you have to create a headline that intrigues your audience. Sometimes marketers try to use fancy tricks to hook their audience. They use something like "You won't believe #7". This actually does work for a while but then readers get tired of it and don't even notice them anymore. I ignore them completely because I know it's just a marketing trick. Entice me with good content – not tricks. I'll open it because I'm interested in the topic.
Here are a few tips to create headlines that don't sound cheesy or sleazy and are opened on a consistent basis:
Avoid overused words
Don't be overly promotional
Keep them short
Describe the contents
Give readers a reason to open the email
Make sure they know who it's from
Don't reuse your headings
Newsletter Providers and Tools
Here's a short list of some of the best newsletter services. Most require a subscription. Using these services you can build your list, create your newsletters, and schedule when they're sent. You can even see statistics such as the open rate. This will tell you which headings and topics are the most popular. Most have templates that you can modify and you can use your own branding.
External Services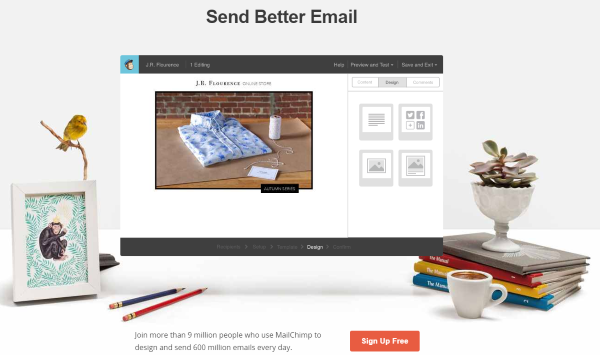 These are services that work outside of WordPress. They can be integrated into WordPress using code they provide or by using separate plugins.
WordPress Plugins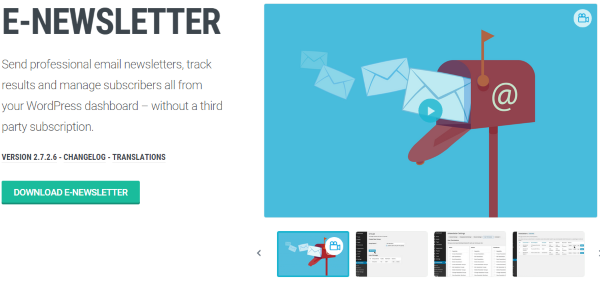 Some of these are newsletter providers that work from within WordPress while others integrate providers into WordPress. Some connect your contact forms to your newsletter providers.
Bloom – an excellent email opt-in plugin for WordPress
Final Thoughts
The permission-based email list is win/win for both the publisher and the subscriber. Subscribers are a targeted audience that are in a great place in your sales funnel. If you use your email list responsibly you will build trustful relationships with your customers and they will help you grow your list. You can market directly to them and have much better success from your marketing efforts.
How about you? Do you have an email list? Do you have any tips to add? Do you have a favorite provider or plugin? Tell us about it in the comments.