ZOOM Builder is a powerful drag and drop layout builder plugin for WordPress. The premium plugin from WPZOOM allows you to quickly and easily build your own mobile responsive page layouts without needing to know anything about coding. The plugin works with any theme and you can simply drag and drop modules and WordPress widgets to create any type of page layout you want.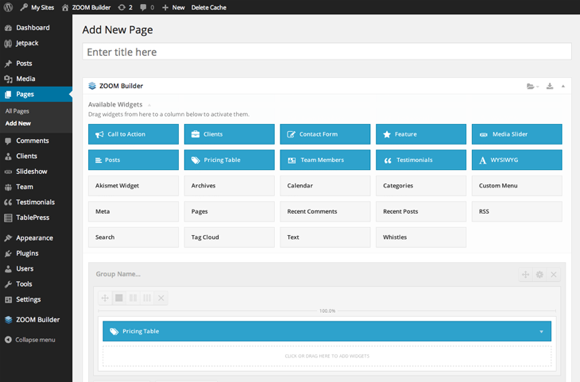 The ZOOM Builder plugin was designed with simplicity and flexiabilty in mind. It comes with 10 built-in modules (posts, text, slider, call to action, forms pricing tables etc) and its also compatible with any WordPress widget. This means you can use the widgets that come with WordPress as well as widgets from themes and plugins. You just drag either the included modules or any WordPress widget and drop where you want it to go and resize or move modules around to make the layout you want.
ZOOM Builder is mobile responsive – so the pages you create with ZOOM Builder have a responsive layout and will look great on any device from large monitors down to small mobile phone screens. Pages built with ZOOM Builder are also fully optimized for search engines.
The ZOOM Builder plugin includes 10 pre-built layouts that you can use to get started in a couple of clicks and then build on them or customise as you like. Amongst the layouts included are a corporate-style, landing pages, magazine look, a template for an iPhone app, an agency-style portfolio and others.
Example Layout Possibilities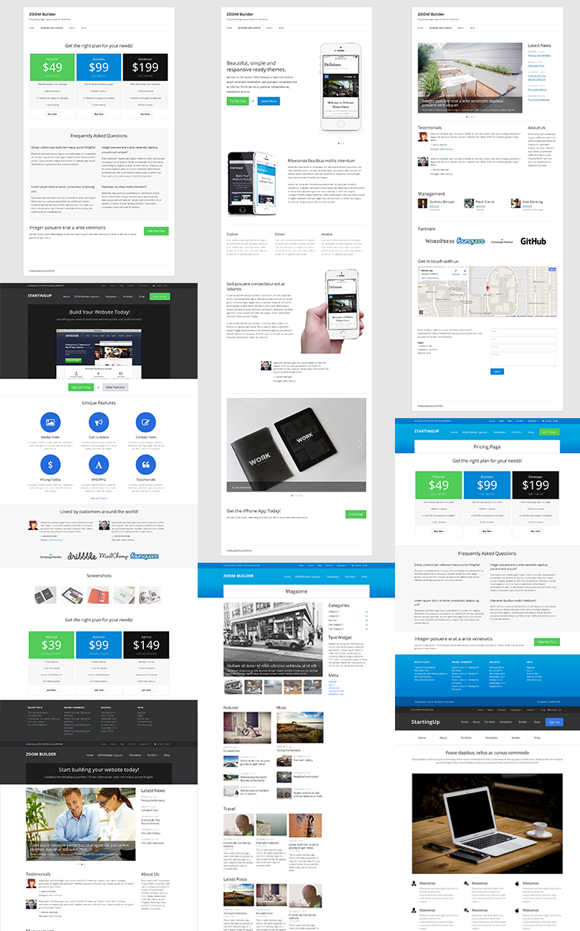 Some of the other great features in the plugin include: layout import / export functionality, automatic updates, live real time changes, style customizer and more.
ZOOM Builder Features
Drag and Drop Page Layout Builder – allows you to build complex page layouts without needing to know how to code
Works with Any Theme and Widget – tested with many popular themes and theme frameworks to ensure that you can use its advanced functionality no matter which WordPress theme you use
10 Built in Custom Modules – posts, forms, sliders, call to action, rich text, teams, testimonials, clients, features and pricing tables
10 Pre-Built Layouts – bundled with 10 pre-built layouts. Drop a landing page, corporate layout or magazine layout (plus seven more!) onto your site in a couple of clicks
Mobile Responsive – the layouts you build with ZOOM Builder are automatically optimized for mobile devices. Keep the same layouts, cross platform and cross device.
Easy to Use – intuitive design with drag and drop makes it easy for anyone to build custom layouts
Fast and Secure – optimized code designed for speed and security
Layout Import / Export – save layouts and use again on other pages
Live Changes – see the layouts you build and changes you make updated in real time
Style Customisation – lets you style independent sections how you'd like
SEO Friendly – ZOOM Builder is SEO optimized
Quick and Easy Installation – ZOOM Builder is a WordPress plugin which you install just like any other WordPress plugin
Automatic Updates – ZOOM Builder has automatic updates built-in so you'll get the latest features and improvements delivered straight to your WordPress installation
More
Price
Personal: $59 (1 site)
Business: $99 (5 sites)
Developer: $159 (20 sites)
Demo & Release Page | Download

WPZOOM offer a great selection of beautifully designed premium WordPress themes. They have a variety of styles including: news / magazine, business, CMS, photo gallery, portfolio, personal and professional blog designs.