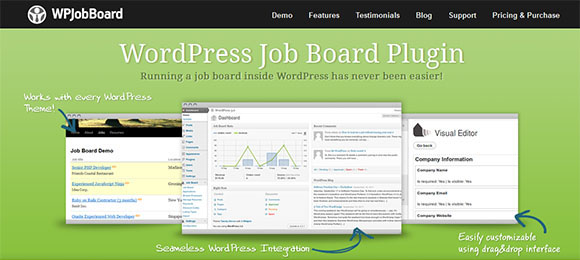 WPJobBoard is a premium WordPress plugin that allows you to easily add a job board section into any existing WordPress website. The WPJobBoard plugin integrates seamlessly with WordPress and works with every free and premium WordPress theme. It also comes with a free custom job board WordPress theme so you can create a great looking dedicated job board website if you wish.
The WPJobBoard plugin gives you a fully featured and professional job board and boasts a heap of great features and functionality. Employers can register to post jobs, manage their ads, create employer profiles and view stats about their listings. Job seekers can easily view and search for positions, upload their resumes, sign up to receive email job alerts and apply for jobs directly on the site via a customizable application form which is sent directly to employers.
The WPJobBoard plugin also offers a comprehensive administration panel in the WordPress backend for the site owner to easily setup, manage and customise everything to suit their needs. It has a powerful visual editor that lets you create and organize the forms exactly the way you want via a drag and drop system. The admin has full control over the job postings. You can set up jobs to be displayed automatically or hold job postings for manual review. You can choose how much you want to charge for job posting (PayPal and Stripe integration) or make certain listing types free. You can create unlimited job types and categories, have control over user resumes and employee and employer profiles, manage the email templates, import jobs from XML files or various job websites, create discount codes and more. See the full list of features and benefits below.
Key Features
Add to Any WordPress Site – you can add a job board section into any WordPress website and keep you existing WordPress plugins, themes and features
Use Any Theme – WPJobBoard works with all premium and free WordPress theme. It works perfectly with"frameworks", such as WooFramework, Genesis, Headway, Thesis and others
WordPress Like Template Engine – a built-in templating engine lets you redesign your job board pages any way you like
Visual Editor and Additional Fields – a powerful Visual Editor lets you add or remove input fields from job, resume and application forms, giving total control to organize the forms exactly as you want using an easy drag and drop system
PayPal and Stripe Integration – allows you to charge for various functions and generate income from your site
Marketing and Communication Features – WPJobBoard can instantly distribute your jobs to job aggregation sites such as Indeed, SimplyHired, Google Base and Juju, and it can even auto-post your jobs on Twitter. Communication features such as job alerts, job feeds and email notifications are also available
Support and Documentation – online Knowledge Base with documentation, tutorials and user guide, plus email support is provided
Job Board Features
Job Posting Control – control who can post jobs. Select between: unregistered users (anonymous jobs), registered members only, or you can disallow users to post jobs, leaving this privilege to admin only
Flexible Job Browsing and Searching – built-in advanced search engine allows searching by location, keyword, job type, category and the time of posting
Job Applications – user can apply for jobs directly from the site which will be sent to the employer
Employer Profiles – registered employers can create their unique profile, which will contain company name, location, description and currently open positions
Jobs and Applicants Management – employers can log in and edit their job posts and view stats about the job post
Job Alerts and RSS Feeds – offers RSS jobs feed and job email alerts
Custom Widgets – WPJobBoard has multiple widgets you can use for better integration with your website, widgets include: job board and resumes menu, alerts subscription, search form, recently posted jobs, featured jobs, , job categories, job types, RSS feeds, recently viewed jobs
Resumes – allow users to register and create their resumes, which can be later found by employers. Option to charge companies for access to details.
Admin Panel Features
One click Install and Activation
Manage Job Postings – from your admin panel, you have full control, adding, editing and deleting jobs with ease. As admin you can approve new jobs and also modify job properties that job posters cannot
Manage Listing Types – options such as job type, how long a posting will be visible or if "featured" in the jobs list. You can choose how much you want to charge for job posting or you make certain listing types free
Browse Job Applications – via your Admin panel
Empower and Employee Profiles – you can control employer profiles, quickly browse all jobs posted by the employer, as well as grant or revoke user access to resumes
Control over User Resumes – as Admin you can view and update user-submitted resumes
Discount Codes – choose set price or percentage, how often the coupons can be used and expiration date
Job Importing – WPJobBoard can automatically fill your job board with jobs from sites such as CareerBuilder.com or Indeed.com and also import jobs from an XML file
Job Types and Categories – create an unlimited number of job types (fulltime, part-time, freelance, etc.) and categories
Visual Editor – powerful but easy drag and drop system lets you organize the forms exactly as you want
Custom Fields – you can create new fields; select their type (text, select) names and validation rules
Email Templates – easy to modify email wording
Pricing
WPJobBoard comes in two license options. The Personal License costs $97 (one website) and the Business License costs $199 (unlimited websites).
Using WPJobBoard
I tested the WPJobBoard plugin with the default WordPress Twenty Twelve theme. Installing the plugin was straight forward with no problems. Once activated the plugin automatically creates two WordPress pages called "Jobs" and "Resume". The job board is embedded in those pages, so by default your job board will have the same styling as all your other pages so it blends in nicely with a consistent design to the rest of your site. You then add various custom widgets such as the "Jobs Board Menu" which has the links to post a job, view jobs, search for jobs etc. You can also easily add the "Jobs" page into your main navigation menu or anywhere else one your site for access to the jobs section on your site.
Getting a jobs section integrated into my existing website was fairly easy and straightforward. It was also very quick. I was able to get a jobs section integrated and up and running on my site in only a couple of minutes which is impressive. The WPJobBoard admin panel in the WordPress dashboard offers all the configuration settings and customisation options you need to be able to easily set up the job board the way you want. Most of the options and settings are fairly intuitive and I could work out what to do without needing to refer to the documentation for most things.
WPJobBoard with the Default WordPress Theme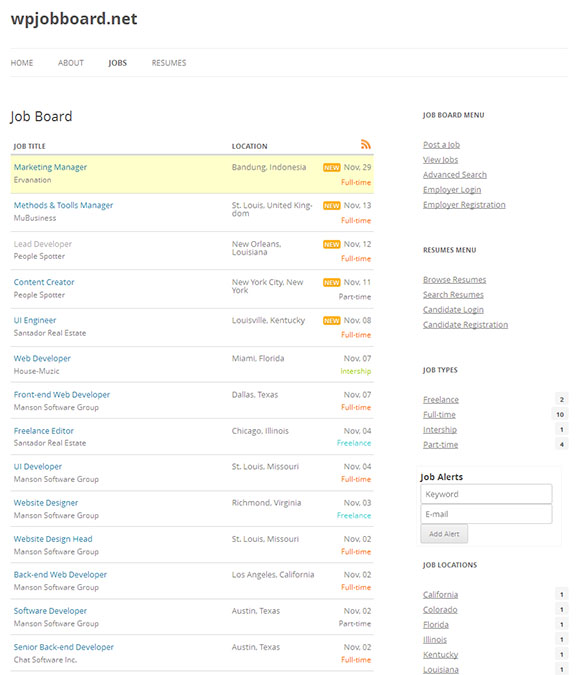 Job Submission Form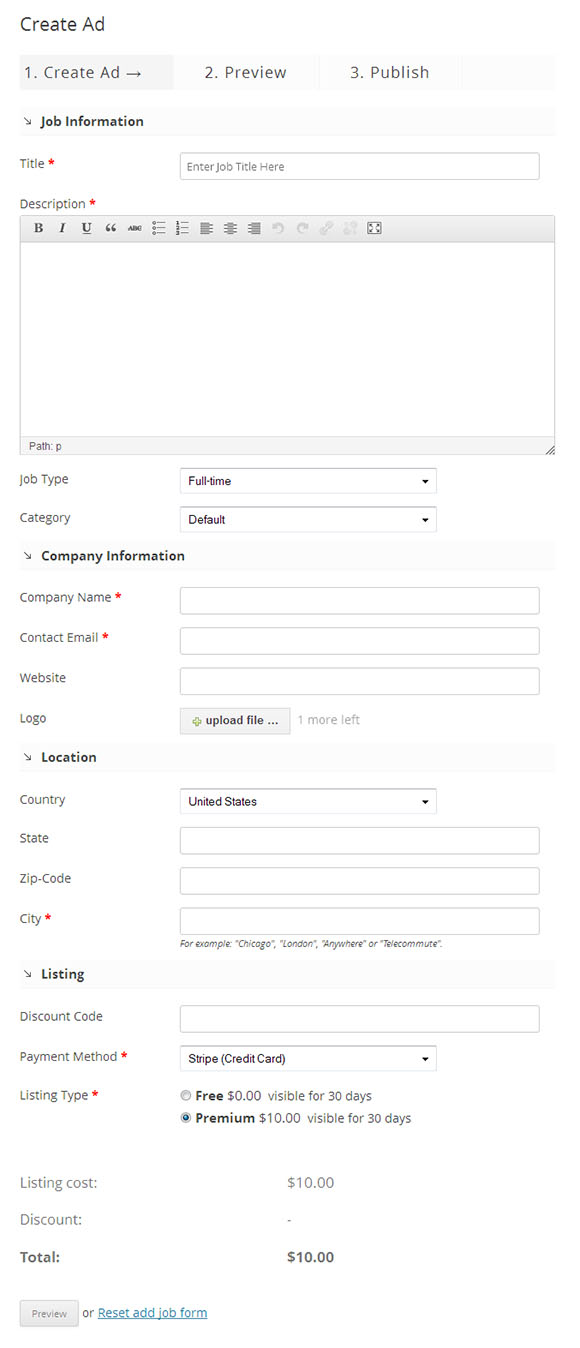 Drag and Drop Visual Forms Editor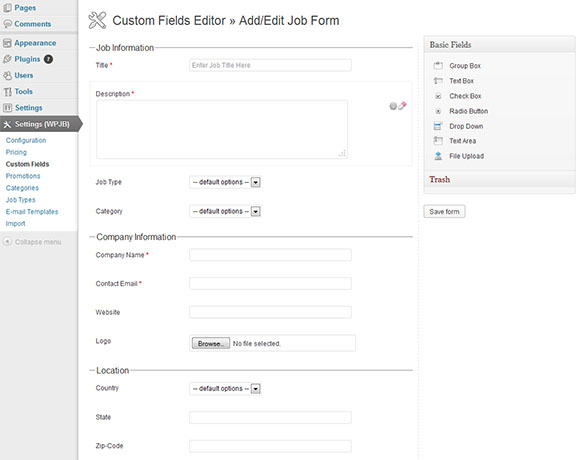 WPJobBoard comes with the free dedicated WordPress job board theme – Jobelon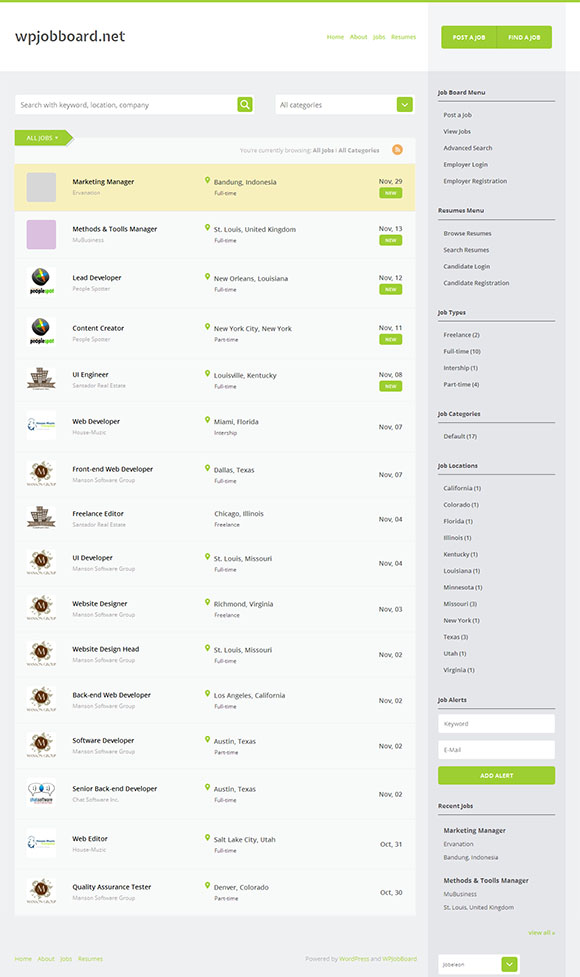 What We Like
We like the fact that WPJobBoard is a plugin (and not a theme). All the functionality is in the plugin itself which gives you to flexibility to use it in any WordPress website with any theme and also easily switch themes later on if you need.
Quick and Easy to Setup and Get Running – it only takes a couple of minutes to integrate the job board section in a site, add the custom menu widgets and then you're ready to go.
The Drag and Drop Visual Forms Editor – makes it really easy to add fields and customize your forms to suit your needs. There is no need to mess about with code.
Extensive Set of Features and Options – the plugin had all the features and options we could think of you would need for a jobs board.
Pricing and Payment Options – you can easily create various job posting options and set prices and accept payments using either PayPal or Stripe.
What Could be Improved
The WPJobBoard.net site has a knowledge base with Users Guide and developer documentation for the plugin. However the User Guide is fairly basic and documentation lacks detail, so that could be improved. Having said that, email support is provided if you have any issues.
There are no in-built styling control options so if you want to make any changes to the styling of your job board (text size, colors etc) you will have to get into the code to make modifications. While you probably won't need to make many changes, some in-built options may be helpful for average users.
Conclusion
We really like the WPJobBoard plugin. If you need to integrate a jobs board section into your existing WordPress website or if want to create a dedicated jobs board website the WPJobBoard plugin is a solid and feature rich solution which works well.
For more details about the WPJobBoard plugin, to try live demos of the front end and back end, and to purchase go to wpjobboard.net
Thanks to Greg Winiarski, creator of the WPJobBoard plugin for providing PremiumWP with a WPJobBoard licence for this review