Pretty Link Pro is a powerful link cloaking and redirection WordPress plugin that makes it easy to shorten, cloak, redirect, track, organise, share, and test all your links on your own domain and server. If you're a professional blogger, run an affiliate website and need to clean up / mask your affiliate links, or you just want a better way to manage and take full control of your valuable links Pretty Link is a fantastic premium WordPress plugin to use.
Manage, Shorten, and Track Links
The Pretty Link Pro plugin gives you all the tools to you need to manage your links in a central place for all your affiliate links, email campaign links, social media links, redirects or any other link you want. You can shorten links and have you own custom link slugs. You can no-follow / no index links, delay redirection, have double redirection and create link groups. It also has tools to search, sort and track the number of clicks of your links. It provides a reporting interface where you can see a configurable chart of clicks per day. This report can be filtered by the specific link clicked, date range, and/or unique clicks. Tracking can be integrated with Google Analytics so you have detailed information on how, when, where and who is clicking your links.
Link Cloaking and Redirection
The Pretty Link plugin gives you the option of a number of different ways to redirect links. It allows you to do traditional server side redirects including permanent (301) and temporary (302/307) redirects. It also gives you options to employ more advanced forms of redirects including Javascript-Based, Meta-Refresh, and Framed Cloak Redirection. In addition Pretty Link Pro has two other innovative redirect options: the "Pretty Bar" and tracking pixels. Pretty Bar is a customisable bar that once people click one of your links, sits on top of the external site and reminds people of your brand and a way to easily get back to your site again. Pretty Links Pro also gives you the option to use your Pretty Links as tracking pixels to track conversions, email opens or anything else you want.
Keyword Replacement and Automation
Pretty Link has a keyword replacement tools where you can automatically add relevant links to your blog posts and pages for specific keywords or key phrases where you would like your links to appear. The plugin will automatically analyse the content of your site and replace these keywords with links. It works for new and old posts and you have complete complete control over what links show up for what keywords, how many can be replaced per post, how these links will appear and where they are replaced.
Link Split Testing
A fantastic feature of Pretty Link Pro is the ability to split test your links to optimise your affiliate commissions. You can split test links and auto rotate links with the ability to have a link redirected to up to 5 different target urls.
Link Sharing
Pretty Link has some innovative features for sharing your links. It can create short links for all of your pages and posts and automatically tweet a customizable message to as many Twitter accounts as you want when a post is published. You can also add social badges to your posts and track how they are being shared.
Link Management Page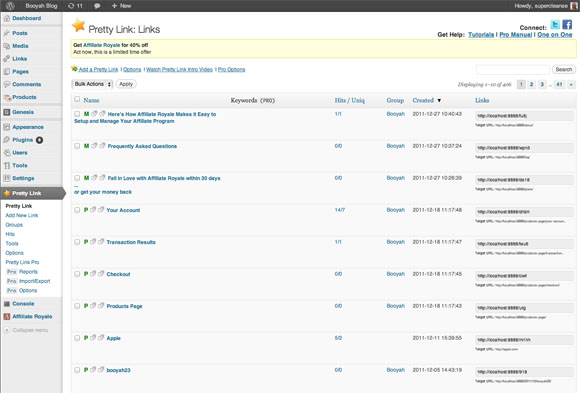 Individual Link Page and Options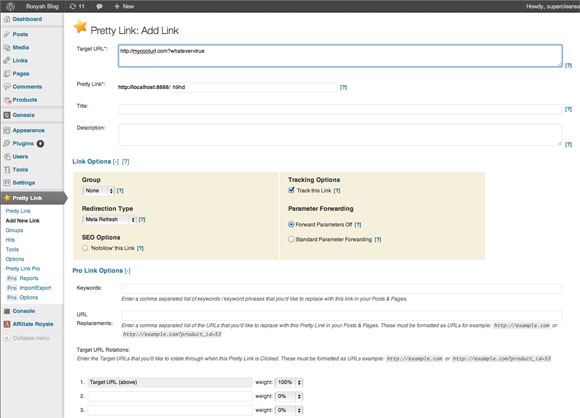 Track Hits and other Stats About Your Link Usage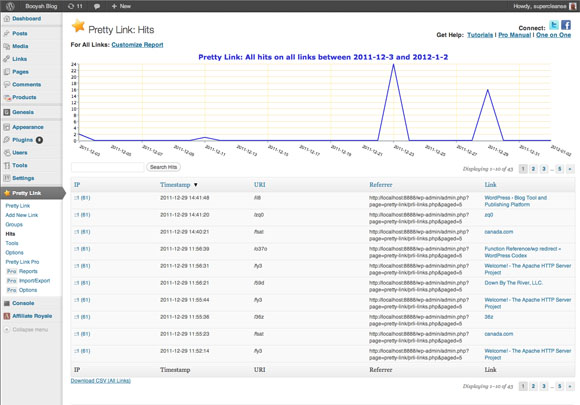 Pretty Link Pro Features
Redirection Types
Temporary (302/307) Redirection
Permanent (301) Redirection
Cloaked Redirection
Pretty Bar Redirection
Javascript Redirection
Meta Refresh Redirection
Tracking Pixel Redirection
Management
Custom Link Slugs
Automatic Link Titling
Link Groups
Create Nofollow / Noindex Links
Forward Parameters
Simple Click Counting
Detailed Click Reporting
Export Click Database
Robot Filtering
Pretty Link Bookmarklet
Customizable Pretty Link Bookmarklet
Alternate Base URL
Conversion Reports
Delayed Redirection
Google Analytics Tracking
Double Redirection
Automatically Generate QR Codes
Automation
Keyword Replacement
URL Replacement
Automatically Create Links for Pages & Posts
URL Rotations
Import Links
Export Links
Split Testing
Sharing
Auto Tweet Pretty Links for Pages and Posts
Tweet Badge for Pages and Posts
Social Sharing Button Bar for Pages and Posts
Twitter Comments for Pages and Posts
Public Link Creation
There are two versions of Pretty Link – a lite version available to download for free in the WordPress.org plugins repository, and a Pro Version which is a significant upgrade and has a lot more tools and redirection types. Pretty Link Pro comes in a Blogger edition for $37, or a Developer Edition for $97. Check all the plugin's features and download Pretty Link Pro.