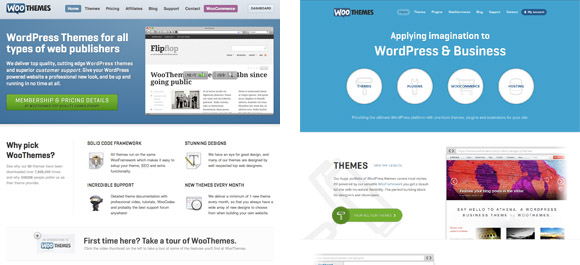 WooThemes has unveiled a brand new design for their website that is now powered by their own freely available WordPress ecommerce plugin – WooCommerce.
Along with the launch of the new design, WooThemes have also introduced some price changes as a result of "operating margins dropping significantly over the last 2 years" due to the growing number and cost of staff members in order to adequately serve more users. These price increases are in the form of support packages for themes, and new tired licensing / pricing structures for WooCommerce extensions and other plugins.
Support and updates for themes has now been limited to one year after purchase. For an extra $30 fee you can extend the support / updates to span the whole lifetime of the theme. A new licensing system has also been introduced for WooCommerce extensions and plugins. You'll now need to buy extension license keys for each site you use the extension on should you want support and future updates for that site. These licence prices vary depending on the product and number of licences.
What do you think of the new WooThemes design and the tiered licensing / support pricing? Have your say in the comments below. You can also get more details about the support packages, pricing / licensing changes and see the new WooThemes here.