Twenty Twelve – the new default WordPress theme for 2012 has been released and is now available for download from the WordPress themes repository. The Twenty Twelve theme was initially planned for release with WordPress 3.5. However with version 3.5 only scheduled for release on December 5, 2012, and the theme already accessible to WordPress.com users for about a month now, it's great to see Twenty Twelve is now available for WordPress.org users.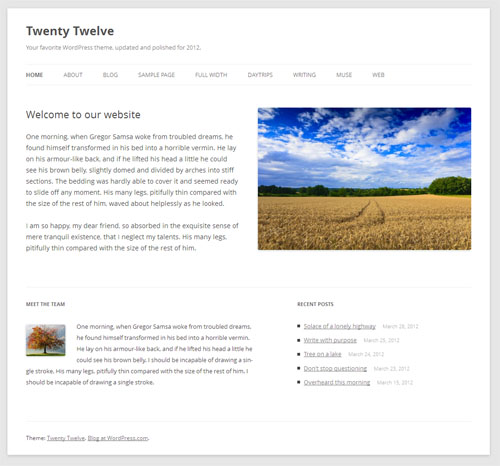 Twenty Twelve is a beautiful, elegant, clean and responsive WordPress theme with a focus on typography, readability and attention to detail. The fully responsive design means the theme automatically scales to fit on all browser widths / resolutions and on all mobile devices. So your content will look great on any size device from smartphones and tablets up to the latest HiDPI/retina screens.
Other features in the 2012 theme include a special CMS style homepage template, custom Open Sans typography, styling for post formats on both index and single views, an optional no-sidebar page template, custom menus, header image, background and more.
The new default Twenty Twelve theme looks great as it is, or makes a perfect framework to build on. Twenty Twelve might actually be the only free premium WordPress theme you need? Download the theme here, give it a try and lets us know what you think in the comments.