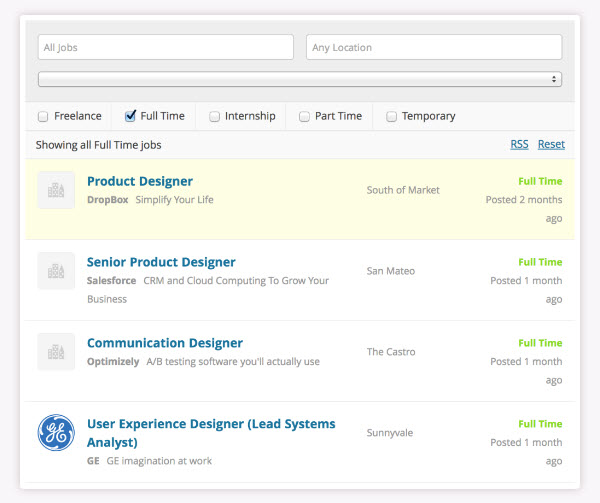 Looking to advertise jobs on your website but not sure what job board plugin to use? Or want a plugin with more functionality? Well don't worry, this article should hopefully spread some light on the pros and cons of the job board plugins currently available in 2017.
Here we look at the 6 top WordPress job board plugins and what they have to offer. By the end of reading, you should be able to identify the right plugin for you, and be ready to set up a job board on your website. So let's get started…
Job Manager

Job Manager is an impressive free WordPress plugin. Not only does it allow you to list jobs on your website, but applicants can apply for a specific job and interviews can be scheduled, all from within WordPress.
Job Manager gives you ease of use, as well as all important customization options. List and manage jobs, selecting categories, dates, and much more. Applicants can be viewed and filtered based on criteria of your choosing, and emails can be sent out to groups or individuals to explain the next phase of the interview process, or with information about other jobs within your organization.
Templates are provided for your jobs and job board, as well as for application forms. These can be quickly altered, enabling you to display the content and design that suits your business. Job Manager is a great job listing and management plugin for WordPress, and is well suited to those looking for a free and easy to use solution.
Price: Free
WP Job Manager

The lightweight plugin, WP Job Manager, will add job board functionality to your WordPress website. Shortcode based, it is extremely quick to set up and will work with any WordPress theme. The core of this plugin is free, but for more advanced features, add-ons can be purchased.
WP Job Manager offers a great user experience for potential applicants. Visitors to your site can view job features and company information, as well as being able to search and filter jobs based on certain data, such like category, job type, and location.
When readers click on a specific job, the single job listing is displayed. As well as the job description, this can show social media links for the company, a Google map link for the location and lots more. An 'Apply' button can also reveal an email address or take applicants to the company website.
WP Job Manager is also easy for employers to use. Employers can list jobs on your site, from the front end, and preview their listing before it goes live.
Numerous add-ons can be purchased to extend the plugin further if need be. However, the core free solution includes such a full range of features, add-ons may not be necessary.
Price: Free / Premium Add-Ons
WP Job Board
WP Job Board is a premium WordPress job board plugin. It works with any WordPress theme and integrates efficiently with a number of third-party providers, like Paypal and Stripe. Quick and easy to setup, this plugin comes with many of the little extras that the free plugins leave out, saving you time in the long run.
WP Job Board gives you full control over jobs and applicants. Manage, browse and modify jobs and applications all from within your WordPress dashboard. Use the plugins powerful visual editor to customize job listings and resumes. And you can even create membership packages and discount codes to help your site produce a revenue stream.
Visitors can make the most of the advanced job searches, and employers can enjoy the ease of resume filters. Custom emails and alerts can also be created to keep users up to date with what is going on and engaged with your site.
If you choose to purchase WP Job Board, as part of the package you will gain access to Jobeleon, a dedicated job board theme. This stylish modern theme is free to use and boasts an interactive customizable map, that lists active jobs and their locations. The WP Job Board plugin is an advanced tool, and is well worth the money if you are looking to set up a serious jobs board on your WordPress website.
Price: from $97
Simple Job Board

Simple Job Board is a freemium WordPress plugin that has been created by PressTigers. This is a good option for those who are looking to add a lightweight job board plugin to their website. Create multiple listings and add them on any page by simply inserting the shortcode.
Simple Job Board is easy to use and has numerous customization options. Add multiple job features, job types, locations and much more. Create application forms and view applicants for each particular job. You can also add notes to an application from within the WordPress dashboard.
This job board plugin is free to install but add-ons will cost you. If you want to add multiple attachment fields on your application forms, use filters for job industries or levels, or add a reCAPTCHA verification codes to forms to avoid spam, then these types of add-ons can all be purchased through PressTigers. So, to create a fully functioning jobs board on your website, you'll need to be prepared to put your hand in your pocket with this plugin.
Price: Freemium
Job Board Manager

Job Board Manager is a free lightweight WordPress plugin. Create a jobs board on your website, allowing employers to submit jobs and applicants to browse and apply.
Job Board Manager contains all the essentials a job board plugin needs. Shortcode is used to display jobs, so job adverts can be added to any page or post on your website. Job adverts by employers can be added on the front end via a submissions form. And notification emails can be sent out for new jobs posted.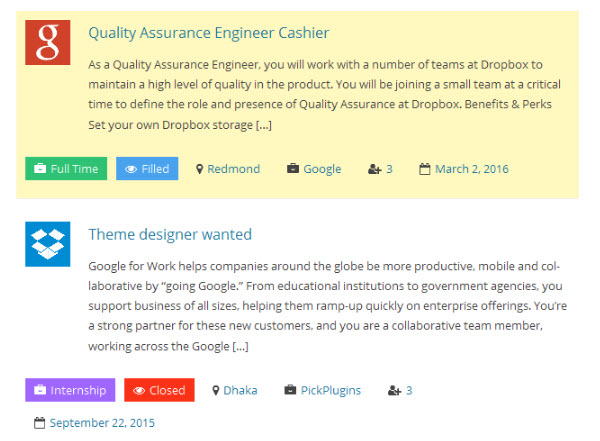 Although this plugin doesn't contain extensive features, it does have an attractive front end design that will appeal to readers and applicants. Job Board Manager is worth checking out if you are looking for a stylish lightweight plugin, that performs.
Price: Free
Apply Online

Apply Online is another low key WordPress plugin. Again free, this job board plugin enables you to create a jobs or advertising boards within your WordPress site.
The main features of this plugin include jobs being added, categorized and managed all from within your WordPress dashboard, and displayed on any page of your site. Online applications can be accepted, along with resumes and CVs. And email notifications are sent once applications have been made.
A fairly basic plugin, but again, one that delivers. If you are just starting out in the world of job board plugins, then this might be a good option to try first.
Price: Free
Final Thoughts on Job Board Plugins
As you can see there are a variety of job board plugins available, and the one you choose should depend on your site's needs and your budget. All of the plugins mentioned in this article are good choices, and will very quickly have your site displaying job adverts, and hopefully your visitors searching and applying.
Which job board plugin has caught your eye? Please share your reasons for the choice in the comments below…
Readers Rating

Rated 4.5 stars




4.5

/ 5 (

Reviewers

)

Outstanding
---