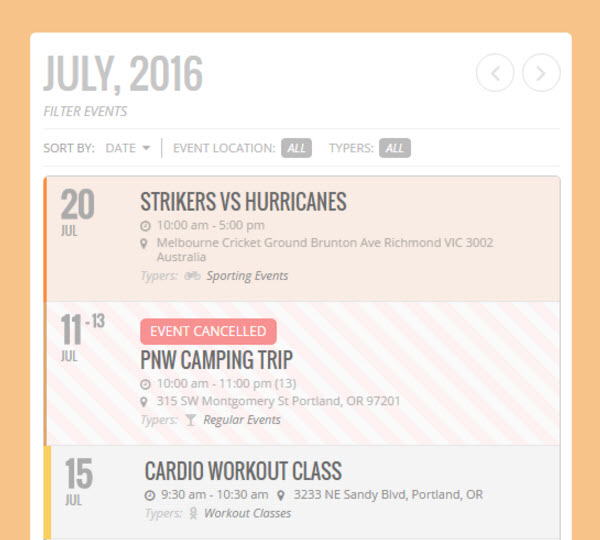 If you want to display events on your WordPress website in a stylish and readable manner then it is important that you find the right events calendar plugin for you. There are a variety of events calendar plugins available, with wide-ranging features, designs, and functionalities. So which one is for you?
In this article we will look at the five top events calendar plugins and what they offer. By the end of reading, you should have a good idea of which plugin best fits your needs and be ready to set up an events calendar plugin on your site.
EventOn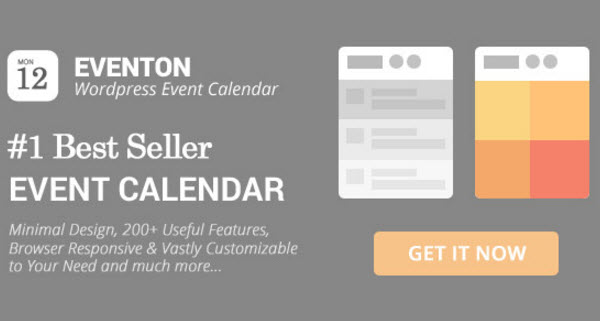 EventOn is a beautiful and stylish WordPress events calendar plugin that can be purchased from CanyonCode. Using a minimal hand crafted design, EventOn is the plugin to use if you are looking to display a creative events calendar that will impress your audience.
However, EventOn isn't just a pretty face. It is also jammed packed with advanced features and customization options. EventOn enables you to add images and descriptions to events. You can use Google Maps to display locations of events. And your visitors can add events to their own Google Calendars if they so wish.
Another helpful aspect of this plugin is that you can create an events card or page, displaying each individual event in detail. These can be set to open in a lightbox window, slidedown, or page, helping your audience easily access the information they need. An appearance editor also lets you customize the look and feel of the calendar, ensuring it matches your website's aesthetics.
Price: $25
My Calendar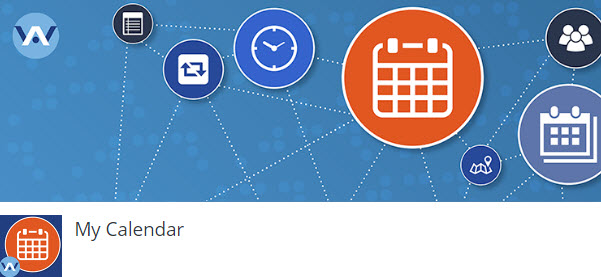 My Calendar is a free calendar plugin that will help you to manage and organize events on your WordPress website. This powerful solution will allow you to display events from multiple calendars on your pages, posts or sidebars, using shortcodes and widgets.
Choose to display your calendar in a list or grid layout, show monthly, weekly or daily events and edit CSS styles if needed. Numerous calendars can be added, displayed by categories, locations, authors, or showing a simple list of upcoming events. Using WP to Twitter you can also post directly to Twitter when events are created. This is a great way to keep your audience up to date with new events.
My Calendar Pro adds extra features that some websites may need. With the premium version of this plugin, you can let your visitors submit events to your site. Events can be added and edited on the front end, either for a fee or for free. Advanced search filters are also included to help improve the user experience. However, by far the most important reason to upgrade is to ensure that your calendars are responsive, a must have feature.
Price: Free / $49
The Events Calendar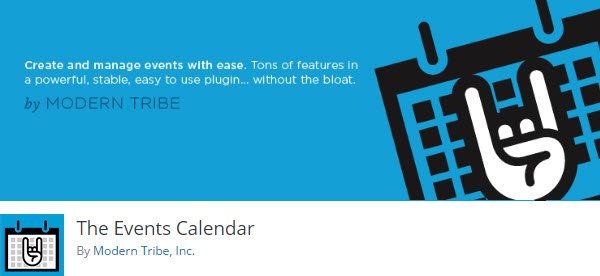 The Events Calendar, is a popular free WordPress plugin, with a wide assortment of premium add-ons available to purchase separately. Created by Modern Tribe, The Events Calendar is a carefully designed plugin that will enable you to share your events with your audience through a stylish calendar.
Easy to use, The Events Calendar will work straight out of the box. Display events, in a list, month or day view, add an event search, use Google Maps to show where an event is happening, and lots more. This core plugin is ideal for displaying basic calendar events.
However, if you are looking to get more out of your Events Calendar plugin than the free core version provides then you may need to upgrade to Events Calendar Pro. This provides the option of adding recurring events, a photo view, and a location search, amongst other things.
Premium add-ons are also available to buy separately. These include Event Tickets Plus, enabling you to sell tickets for events within your WordPress website. And Event Aggregator, letting you effortlessly fill your calendar with events from Facebook, Meetup, Google Calendar, and more. As you can see, The Events Calendar is a great choice if you are looking for a feature-rich professional plugin that caters for a range of needs.
Price: Free / from $89
Booking Calendar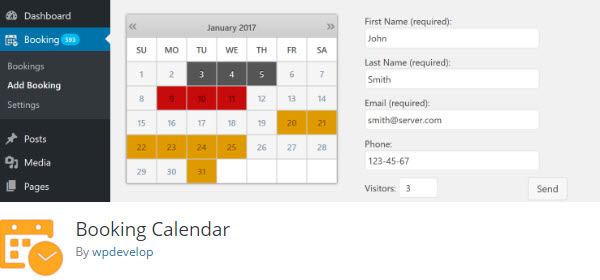 Booking Calendar provides an all round booking system, providing an availability checking and reservation service for your audience. Enabling online booking for your WordPress website, this free plugin is a great asset for a whole spectrum of businesses.
Booking Calendar has an extremely intuitive interface. This makes it easy to install and integrate into your site. Flexible functionality also makes it possible to customize the plugin specifically for your businesses needs. Whether you are a hotel owner, in the rental businesses, or looking to schedule meetings or appointments, Booking Calendar has it covered.
The calendar itself boasts a sleek and modern responsive design. Availability or events can be displayed and managed, and a booking form can automatically take bookings and queries. For more advanced options, including payment options and auto approval, you should consider upgrading to WP Booking Calendar.
Price: Free
Calendar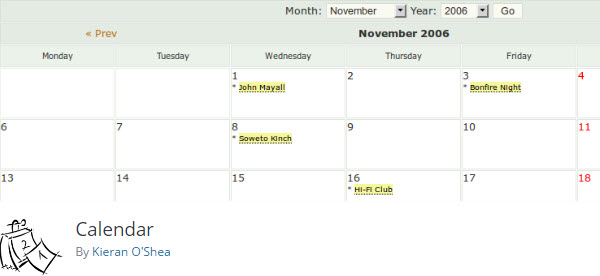 Calendar is a simple yet very effective WordPress events calendar plugin. Straight forward to use, Calendar lets you manage your events and appointments and display them in an easy to digest format on your website.
Create a calendar showing your monthly events. Add multiple events per day if needed, and set up weekly, monthly or yearly recurring events. Your audience can hover their mouse over an event to access further details. You can also add links to each event, taking your visitors to further pages containing extra information on each event.
Within your website, you can add a widget to your sidebars showing 'todays' or 'upcoming' events from your calendar, or add this info to posts and pages. Events can also be placed into categories and a calendar of events for just one category, or all categories can be displayed. As you can see, Calendar is a great plugin, that caters for all basic calendar necessities.
Price: Free
Final Thoughts on Events Calendar Plugins
All of the plugins mentioned in this article are great options. Any of them will help you create beautiful and functional events calendars, enabling your audience to easily access the information displayed. However, when making a selection, choose a plugin based on your requirements. Always bear in mind the features you most need to do business on your site, and what will be most helpful to your audience.
Which events calendar plugin will you choose for your WordPress website? Please share your thoughts in the comments below…