There aren't too many premium WordPress themes with $100+ price tags. Most premium WordPress themes today typically cost around $30 – $70 each. However there are some much more expensive WordPress themes available.
Below is a list of the top 10 most expensive premium WordPress currently on the market. All have price tags over $100 with the most expensive one costing thousands!
With so many WordPress theme shops and developers around and newcomers entering the market almost every day competition is stiff and theme prices are being suppressed as a result.
Several WordPress theme developers have pointed out that the low barrier to entry, the same-same design and a race to the bottom with prices means the current state of the WordPress theme industry is unsustainable and change is needed. Others have pondered what happens if WordPress themes get more expensive.
While there will always be a market for cheap premium WordPress themes, I do think we will see an increasing number of more expensive themes in certain niches and theme types. Some WordPress theme developers have already pushed past the century price point and been very successful selling their themes at well over $100.
Below are the current top 10 (plus a few more) most expensive premium WordPress themes available. While there are some theme and plugin packages that are more expensive than the themes below we haven't included them here. For the purpose of this list we're only looking at single themes.
Saved is a smart and professional church WordPress theme for building beautiful and highly functional church website. The premium theme from churchthemes.com has a bold and modern design and is easy to customize. It has a widget-driven, drag and drop homepage builder that means you have virtually unlimited layout possibilities for your homepage. Briefly, other appearance features include: custom colors and fonts, sticky menu bar, menu highlighting, section navigation, animation effects, header images, sticky notices, logo upload, social media icons and more.
Saved also includes the Church Theme Content plugin. This custom plugin provides church specific functionality to create a complete church website solution. It includes powerful options for publishing sermons, events, church locations, staff profiles, custom pages, ministries, galleries, testimonials, blog, newsletter signup, online giving, blog and more.
Saved is a fantastic church WordPress theme from a great developer that specializes in the church themes niche. They offer a 45-day money back guarantee, one-click updates, setup guides and video tutorials, and helpful support.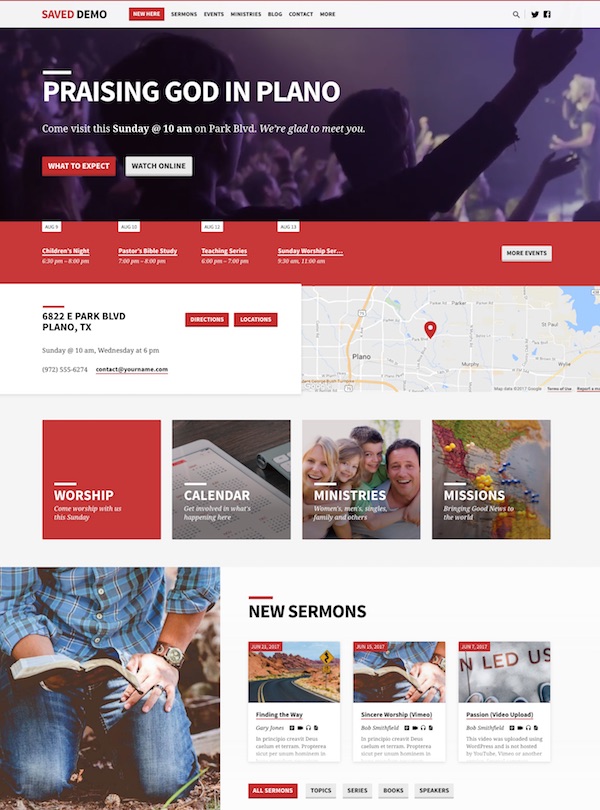 Chronicle is a premium WordPress theme designed to power news and magazine websites but would also be suitable for bloggers, writers, scrapbookers and anyone else wanting a stylish and interesting site. The theme is by Pro Theme Design and has a clean and professional design and would be ideal for sites with lots of categories and content. Some of the key features of the theme include: a customizable homepage (that allows you to have four, three, two, or one columns) with a massive featured slider, mobile responsive design, featured content, support for infinite scroll, custom headers and backgrounds, custom sidebars, testimonials, contributors custom page template, translation ready and more.
With a rather appropriate name – Kaching is a clean and responsive ecommerce WordPress theme built for WooCommerce priced at $149. The premium theme has been carefully crafted to deliver a beautiful shopping experience on all devices from desktops to mobiles. Some of the key features of the theme include: a fully widgetized homepage layout, flex slider, unlimited colour schemes, custom responsive WooCommerce widgets (new and featured products, featured deals etc), showcase / portfolio custom posts, 600+ Google fonts, shortcodes, theme options, HTML5 / CSS3 web standards, internationalization ready and more.
Business Identity is a premium WordPress theme designed for companies, businesses and entrepreneurs to showcase their business, sells products, and connect with customers. It has a clean, professional and versatile design. Some of the key features of the theme include: a unique custom homepage template, a mobile responsive design, and customization options (three custom widget areas, two menus, a custom logo, custom color palettes, a custom copyright notice, custom header uploads, and more). The Businesses Identity theme is priced at $150.
Appetite is a modern, elegant and professional WordPress theme for restaurants, cafes, bars, and food bloggers. The premium theme is also ideal for a clean and contemporary website for companies or businesses. Some of the key features include: a mobile friendly responsive design, 5 custom page templates (front page, full width, grid page, full width grid and menu template), custom header image and background, featured images, translation ready, testimonials, JetPack plugin support (for infinite scroll, tiled galleries, gallery carousel etc), custom logo and more. The theme costs $150.
Endurance is a fitness industry WordPress theme specifically built for fitness clubs and gyms. The premium theme from Energy Themes has a modern and professional design with a focus on images. The homepage has a full width image background slider in the header area and sections to display important information such as open hours, prices, contact info, trainers / activities and latest blog posts. Some of the other key features of the theme include: a mobile friendly design, class schedule, directory template, testimonials module and template, reversed sidebar template, easy customisation options and more. Energy Themes have a couple of other fitness WordPress themes also priced at $150 each.
The aptly named Fortune theme is a multipurpose corporate WordPress theme designed for businesses and non profit organizations. It's a modern and fast premium theme with a clean, highly flexible and professional design that could be used for any type of business website. Some of the key features include: a custom homepage template with six sections, custom page templates (full width, grid page, full width grid), custom backgrounds and menus, 3 custom menu locations, translation ready and a mobile friendly responsive design.
The Corporate WordPress Theme is a great looking business / corporate theme built for small to medium sized businesses. The premium theme from Professional Themes has a modern and classy design with beautiful typography ideal for any type of company. It also has lots of handy features including: stunning and fully-responsive page headers, multiple navigation menus for information-rich websites, testimonials, a variety of page templates, WordPress Customizer support, custom site background, custom site header image, custom site footer image, custom site logo, and custom colors, and total control over your sites layout. At $175 its an expensive WordPress theme but still relatively cheap for a business website theme design of this quality.
The Creative Portfolio WordPress Theme from Professional Themes is designed for artists, photographers, designers and other creative people to showcase their images and work. The premium theme is flexible, robust and simple to use and has a modern and professional design that will make your images and work stand out in style. It includes a featured content home page slider, featured home page video, client testimonials, brilliant calls to action, JetPack support (for customer testimonials handling, featured content, portfolios, infinite scroll, and image optimization), and more.
ProPhoto is a photography WordPress theme with 14 inbuilt design starter options. The premium theme is targeted at both professional and amateur photographers who don't have any previous web design skills or experience. It has a lot of inbuilt customization and control options. Some of the notable features in the theme include: a mobile responsive design, slider galleries, flash-free slideshows / galleries, image theft protection options, simple gallery creation, various layout options, Google fonts, nearly 1000 customisable styling options, social media integration, multi-language support, auto-update options and more. ProPhoto starts at $199 and they also offer additional "add on designs" for an additional cost.
The Ellie ProPhoto theme is a photography WordPress theme from Seaside Creative. It's a child theme for the ProPhoto WordPress theme. Ellie ProPhoto has a simple and minimalist design and can be used as a website with a static homepage or a blog / journal layout. Some of the key features include: homepage with color overlays and links to pages, beautiful blog layout with excerpt or full post option, portfolio layout with unlimited galleries, 3 gallery options (lightbox, slider and slideshow), distinctive menu and contact form. Priced at $225 Ellie is an expensive theme. Plus factoring in you also need the ProPhoto theme ($199) for it you work makes it a really expensive option. Seaside Creative also offer a number other themes also priced at $225 each.
The Startup Design Framework from DesignModo is a drag and drop WordPress website builder. It has an easy to use drag and drop design interface and contains many useful components and complex blocks that can be arrange into almost any design to built virtually any type of website. Its mobile friendly with a responsive design and includes 25 ready to use startup design samples to help you get started. The commercial license of Startup Design Framework costs $249, which makes it one of the most expensive WordPress theme frameworks around.
Carrington Build is a drag and drop WordPress theme framework from Crowd Favourite. It's designed for developers and non-developers alike to easily create custom page layouts via drag and drop. The theme utilizes a modular approach with powerful building blocks or modules that can be arranged as you like for your own custom page layouts. Modules such as carousels, hero images, posts, galleries, rich text, headings, notices, images, callouts, widgets etc. Carrington also embraces WordPress core features like shortcodes, widgets, sidebars and menus. So by adding content Modules and WordPress sidebars and widgets the theme allows you to create any page layout you can possibly imagine via drag and drop ease. Costing $299 for a single site license (and $999 for unlimited sites license) it's the most expensive premium WordPress theme framework available.
Made is a beautiful minimalist portfolio WordPress theme for photographers, designers and artists. The premium theme by MINIMAL has lots of useful features, customization options and settings that allow you to easily build a stylish portfolio website and ensure your photographs are presented in the best possible way. Some of the key features of the theme include: 4 portfolio templates (masonry grid gallery, horizontal scroll gallery, carousel gallery, vertical scroll gallery), 2 menu styles, adjustable left sidebar, custom typography (integrated Google fonts), color scheme options, custom page templates, portfolio projects templates, blog section, responsive design, lots of customization options and more. At $400 its the most expensive WordPress themes we've ever come across!
A 'Free' Pirated Premium Theme – $1,000's
A 'free' pirated premium WordPress theme downloaded from a torrent website, file sharing or other dodgy warez site could quite possibly be the most expensive premium WordPress theme around. Why? While you might think you've saved yourself a few bucks by downloading that nice premium theme for free there's a very high possibility the theme contains malicious code and other hidden nasties. Using such a theme could seriously compromise your website and expose it to exploits and hacking that could potentially end up costing you thousands of dollars in lost work, income and time.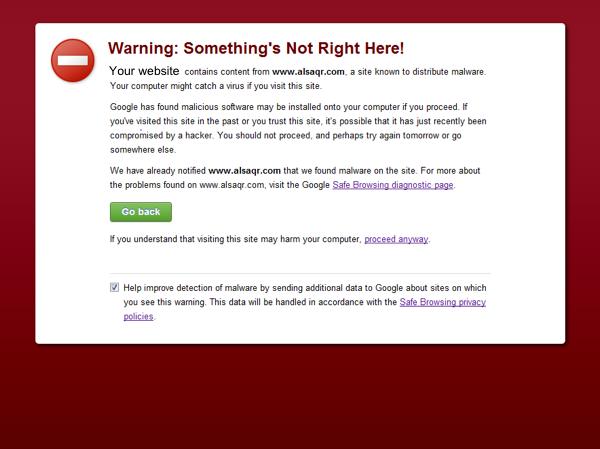 Do you know any other WordPress themes that are more expensive than the ones above? What is the most you would pay for a premium WordPress theme?
Looking for Cheap Premium WordPress Themes?
If the WordPress themes above are too expensive for you. Have a look at:
15 of the Cheapest Places to Buy Premium WordPress Themes