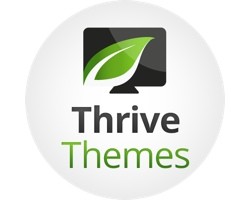 Thrives Themes is a WordPress theme and plugin provider that creates professional, conversion focused WordPress themes. They have a nice collection of premium themes ideal for marketing and business sites, as well as content websites that focus on selling. They have clear and focused designs that aim to convert more of your visitors into subscribers, clients and customers.
The themes don't have loads of fancy effects and image sliders, but are performance focused WordPress themes that help you build a website that's best for real-world use and streamlined for fast loading speeds and high conversions.
As they explain "Thrive Themes are built with the marketer in mind. They're built around features and functionality that help you get more traffic, more social shares, more sales and more email subscribers. The foundation of our themes is not design, it's function."
10 Key Features and Benefits of Thrives Themes
Thrive Themes explain the 10 key features and benefits of their premium WordPress themes:
Built for Speed – automatic image compression and an emphasis on lean, lightweight code
Smart Conversion Elements – add targeted Focus Areas that show the offers most relevant to your visitors, and built-in opt-in feature
Designed for User Engagement and Readability – careful choice of fonts and colors and smart, conversion-focused elements like countdown timers and click-to-call phone numbers
Easy Page Generator – easily create sales pages, opt-in pages, legal pages and more with just a few clicks
Customizable – over 600 fonts, set custom colors for various page elements, choose from multiple header layouts and much more
Landing Page Template – every Thrive Theme comes with a "Landing Page" template – a page that removes header navigation links, sidebars, footer widgets and anything else that could distract a visitor
Mobile Responsive – ensures your site will look great on any device and screen size
Continuous Updates, Improvements and New Releases
Built-n Features – includes ultra-lean, speed optimized features that replace typical plugins such as a social sharing feature, related posts feature, optimized image galleries, a font manager and more
Support Training and Tutorials – access to knowledge base, a wide range of tutorials and video tutorials, training webinars and helpful support staff
The Thrive Themes Collection
Theme Themes currently have 9 premium WordPress themes available:
Storied
Storied is a flexible and eye catching WordPress blogging theme that allows you to tell stories through beautifully formatted multimedia posts that support images, video, audio and more. The homepage has a prominent email subscription section and grid blog section with nice use of featured images to attractive people to read your posts.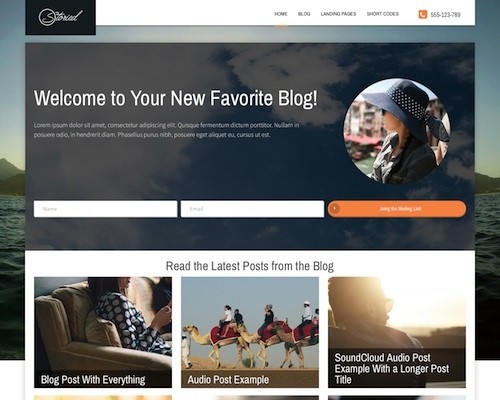 Pressive
Pressive is a business / corporate theme with a stylish and functional design. It strikes a nice balance between impressive design and focused content for a distinct character that still focuses on conversions. It would be ideal for a fully featured marketing website, a small business or company site, a collection of sales pages or just a conversion focused blog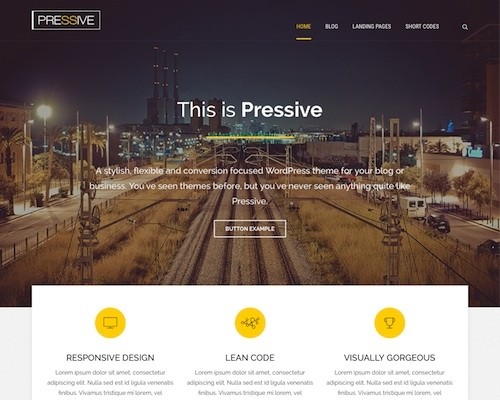 Performag
Performag is a mobile responsive magazine WordPress theme with a clean and modern design. The homepage lets you displays lots of articles in an attractive layout that makes good use of featured images to capture people's attention. The theme is streamlined for the business purpose of a magazine website. Performag is built from the ground up to increase ad revenue, increase social sharing and increase user engagement on your site. It features a built-in ad management and ad targeting system, infinite scrolling and related posts to keep readers engaged, light and dark styles plus unlimited colour schemes, set custom colors for different categories, and more.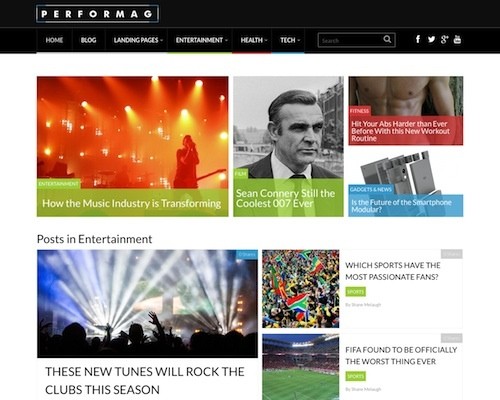 Voice
Voice is a blogging WordPress theme that emphasizes content and authors. The theme has a unique header-less design and a partially static sidebar, nice typography and wide content section. The post author is prominently displayed next to the content making it ideal for personal branding or multi-author blogs. Other key features include: multiple color styles and highlight color options, dynamic background images to reflect the featured image of the current post or page, sidebar options and all the conversion focused features.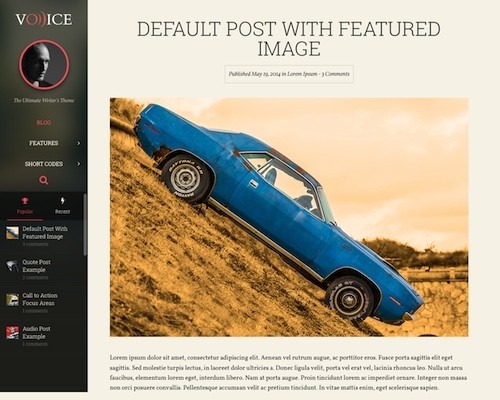 Squared
Squared is a multi-purpose WordPress theme ideal for business, marketing, product showcase, sales pages, professional content marketing blogs or anything else. The theme has a bold, attention grabbing and modern flat design style. It comes with 6 general color styles and options to set your own custom color schemes, extensive range of short code elements and custom widgets, and everything you need to create a stunning blog, build your mailing list with targeted opt-in forms, create high-converting landing pages, sales pages, boost social sharing and followers and more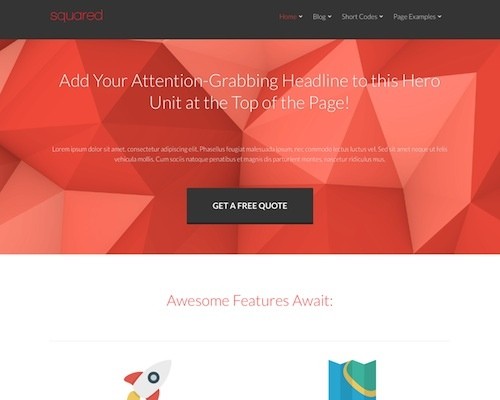 Minus
Minus is a flexible multipurpose WordPress theme that's minimal in design but packed with great features. Its ideal for any type of project or purpose with a low-key design that has lots of white space and great typography to ensure you content is in the spotlight. You can easily switch between several color styles and there are custom color, background and image options available in the theme customizer. You can also choose different colors for Focus Areas, widgets and short code elements. It has detailed theme and post/page level options, lead generation features and more.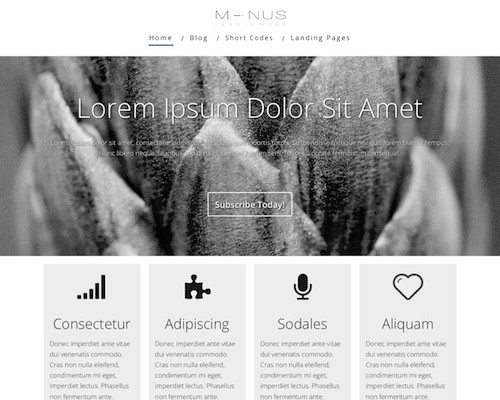 Ignition
Ignition is a mobile responsive multipurpose WordPress theme ideal for anyone who sells online. The theme would be ideal for business or company sites, sales pages, marketing websites for your products, membership and service websites or anything else. It has a clean and professional design and a beautiful, effective homepage layout that can be used to drive sales or free trial signups. Other features include: a selection of page templates and shortcodes, fully functional blog section, custom widgets, attention grabbing "ribbon" you can display at the top of posts or pages, to drive clicks towards the most important parts of your site, multiple color options and customizer options to set you own colors, and more.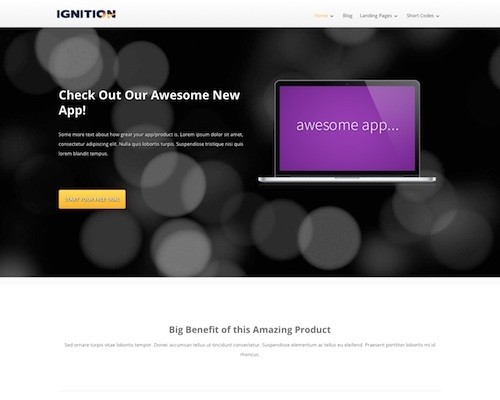 Luxe
Luxe is a multipurpose blog theme that has an uncluttered and minimalist design to put your content in the best possible light. It has a minimal design style with subtle highlights and typography that has been optimized for readability and putting your content front and center. The theme offers multiple color styles and all the conversion-focused features like opt-in forms, landing pages, clear calls to action and more.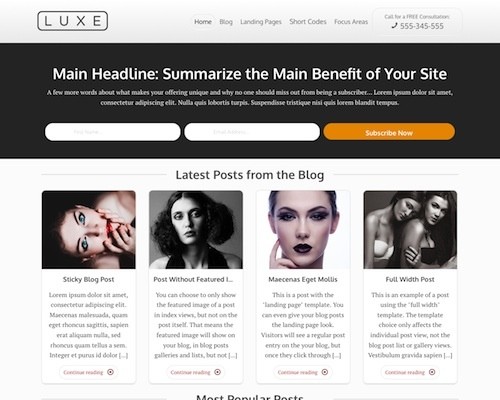 Focus Blog
Focus blog is a simple, elegant and professional WordPress theme for people who want to create business sites or blogs with a strong conversion focus. You can use it to create a corporate website, a marketing site with landing pages and sales pages, a site for a local business and much more. It comes with 5 vibrant color schemes, 100% mobile responsive design, automatic page generator, customizable header, visual theme customizer, extensive admin options and more.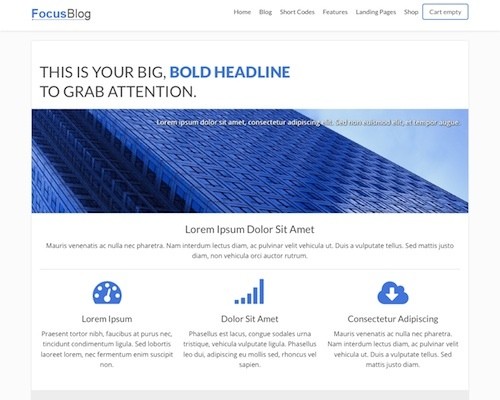 Other Key Features in All Thrive Themes
Built for Speed – optimized code to keep it lean and light
Responsive Design – so your website will look great on any device & screen size
Search Engine Optimized – built following SEO best practices
Visual Theme Customizer – to easily set custom colors, custom fonts, custom backgrounds and more
Extensive Admin Options – detailed preferences for the style and behavior of your site
Customizable Header – choose from different header layouts and apply custom background colors, patterns or images to your site header
Mailing List – built-in functionality to display targeted opt-in forms on your site
Automatic Page Generator – allows you to create pre-built pages with a few clicks
Speed optimized related posts gallery
Built-in floating social buttons
Multi-column extended drop down menus
Click-to-call phone numbers
Font Manager – with 600+ fonts to choose from
Post format support
Shortcodes
Multiple color styles
More
Theme Prices
A single site license costs $49 while an unlimited personal license costs $67. Thrive Themes Membership starts at $147 per year and gives you access to all themes, the Thrive Content Builder, Thrive Landing Pages and all plugins.
Other Thrive Products
In addition to their premium WordPress themes Thrive Themes also have a couple of premium plugins.
Thrive Leads – a feature packed and powerful listing building plugin for WordPress that helps you get more email subscribers and build your mailing list. You can read our full review of Thrive Leads.
Thrive Content Builder – a fast and intuitive front end visual page builder plugin for WordPress. The premium plugin allows you to create beautiful mobile friendly layouts with drag and drop ease.