Thesis 2.0 has been released and is now available for download from DIY Themes. After 2 years of development and countless tweets and teasers, the eagerly awaited new version was released on October 1, 2012 with claims the totally rebuilt theme is a "new website engine that will define the future".
What's New in Thesis 2.0
Thesis 2.0 is not just an updated version of the Thesis 1.8.x theme, it's been totally rebuilt from the ground up into an entirely new engine. DIY Themes claims when you use the Thesis framework for WordPress, you can completely customize your theme without digging into ANY code. The new version has 3 main new features:
Thesis Skins and Skins Editor – Thesis 2 has a visual skin editor for building templates and managing your design. The Thesis Skin Editor lets you "see" HTML and allows you to click on, move and interact with the elements of your website.
Thesis Boxes – add-on functionality with drag and drop, point and click ease, without the hassle of writing your own code.
Thesis Packages – allow you to deploy complicated CSS without writing any code while leaving you to interface with the stuff you actually care about—colours, fonts, and other simple properties.
Thesis Skin Editor
Drag and drop layout editor lets you click on, move, and interact with the elements of your website and "see the HTML"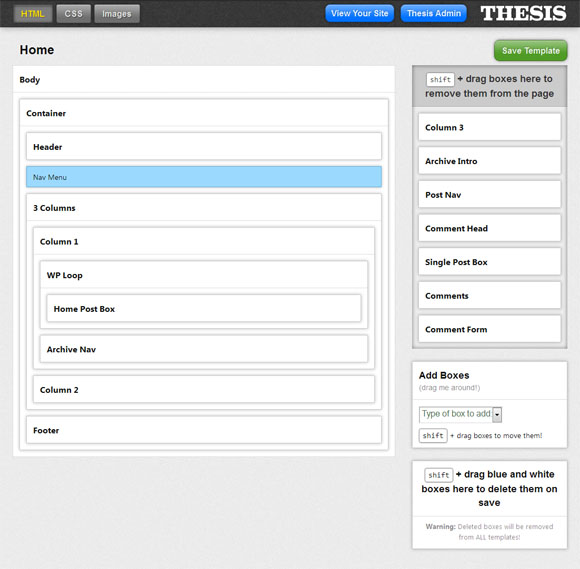 Thesis Packages
Point and click options to customise the CSS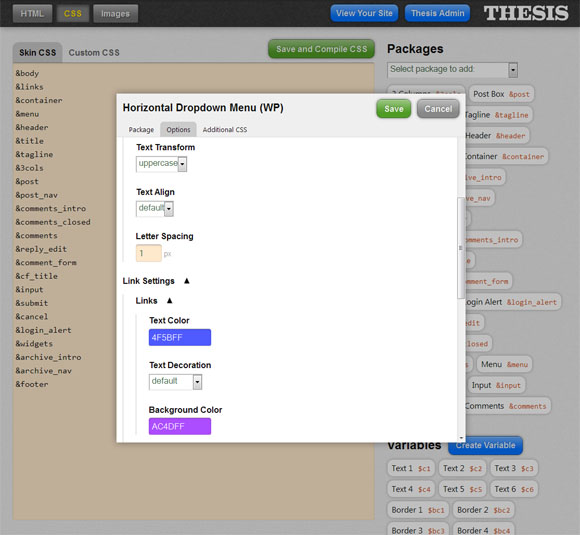 Template Editor
Create and customise your pages individually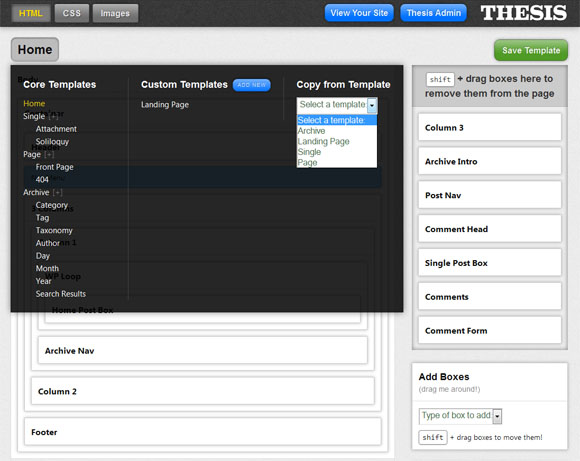 Some of the other features of Thesis 2.0 include the ability to create pixel perfect typography (without any coding), options to create your own custom 404 page in a few clicks, and a template editor that lets you make unique landing pages, or any other page specific web design without needing to get into the code.
Thesis 2.0 Initial User Impressions
Initial impressions of Thesis 2.0 from users have been mixed. Some users are raving about the theme saying it's great and the features and functions are awesome. On the other hand many people are expressing disappointment, frustration and even anger with Thesis 2.0, claiming its buggy, there is no documentation or instructions, and the user experience is not intuitive and its difficult to use.
DIY Themes is recommending existing Thesis users NOT update to version 2.0 just yet, as they squash the bugs and compile user tutorials and documentation. Also Thesis 2.0 is a totally new engine so current Thesis users will need to take care switching over to the new version. Existing Thesis 1.x designs will not be converted for use in Thesis 2. For current Thesis users DIY Themes have provided a nifty plug-in that allows you to install Thesis 2, and lets you play with Thesis 2 options, without altering your existing site. So that will let you play with the new interface and see if its works for you without any risk.
Unfortunately even after 2 years of development the launch of Thesis 2.0 seems to have been a bit rushed in order to meet a deadline and satisfy member's requests for the new version. There are always issues, problems that arise with the release of any new powerful piece of software, and learning curves to understand and use it properly. Thesis 2.0 appears to be no different,but does promise be an amazing drag-and-drop theme builder once the initial kinks are ironed out.
Stay tuned for our full review of Thesis 2.0 which is coming soon.
Have you tried Thesis 2.0 yet? What is your experience so far with using Thesis 2.0?
Read more about Thesis and download Thesis 2.0 here.