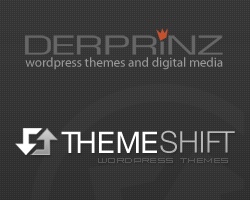 Simon Rimkus has just announced that ThemeShift has been sold to Michael Oeser of DER PRiNZ.
Simon established ThemeShift in 2009 and built it into a small, reliable and high quality premium WordPress theme shop with a collection of 19 modern and professional themes.
However in the last couple of years development and new theme releases at ThemeShift had really slowed down as Simon and his team focused on a new project – wpCasa – a real estate WordPress framework, and their upcoming new wpSight network of products. As Simon explains: "I have to make this step [to sell] because with a new WordPress project that I started I'm not able to dedicate the time to ThemeShift the project actually deserves. As you might have noticed, things at ThemeShift weren't really evolving lately".
Who is DER PRiNZ?
So who is Michael Oeser and DER PRiNZ, and what's in store for ThemeShift? In a follow up announcement post on ThemeShift, Michael states he's a freelance webdesigner / developer from Germany who started WordPress theme development in 2007 and offers web design and consulting as well as a small number of commercial themes for sale on the DerPrinz website.
Those who have been around the premium WordPress theme industry since the beginning will remember Michael from the Brandford Magazine WordPress theme he released for free back in 2008 that caused some controversy due to its similarities to a number of other popular commercial WordPress themes at the time.
It's interesting to see that the antiquated Brandford Magazine theme is still available and now offered for sale as a commercial theme on the DER PRiNZ website.
The Future of ThemeShift
In terms of the future of ThemeShift Michael explains: "In a first step nothing really changes. No price increase or other bad news. I will continue to create great WordPress themes that will be based on the FrameShift framework and push ThemeShift to the next level of small but reliable and high-quality theme-marketplaces. In the next couple of weeks I will integrate the themes from my own website right into ThemeShift".
I look forward to seeing what DER PRiNZ does with ThemeShift and hope they can maintain the high standards Simon set and continue to release high quality, modern premium WordPress themes that ThemeShift has become renowned for.