Sliders continue to be a very popular website feature. Although there has been a bit of a backlash against them from some circles, they are still something that website owners and web designer are keen to make use of, even if their visitors always aren't as enthusiastic about them.
However, if used correctly, they can greatly enhance a website and offer many benefits to the end user.
When it comes to adding sliders or slideshows to your WordPress website, there are plenty of options to choose from. This includes both free and premium plugins, as well as the custom tools that are included in many WordPress themes.
In this article, we will be taking a look at six WordPress slider plugins. This includes the most popular free and premium options, as well as some less well known plugins that still do a great job of adding slideshows to your website.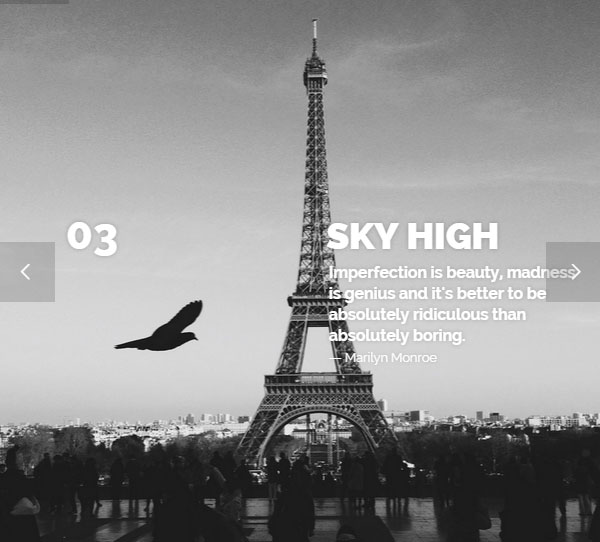 The Best Free and Premium WordPress Slider Plugins
Before we get to the plugins, it's important to consider what you want from your slideshow builder. The most popular premium plugins of this type are packed with features, while also being quite complicated to use.
At the other end of the spectrum, the most popular free plugins are more limited in terms of features, but are very easy to use.
When it comes to the features on offer from these slideshow plugins, you will find a wide range of options. From simply displaying images in a slideshow, through to adding custom content, individual posts, and videos to your slides. You can also find advanced animated transition effects, as well as slides with multiple layers of content, each with their own animation timelines.
While it's easy to get dazzled by the amazing animation effects used on the demo sliders of some of these plugins, if you keep in mind why you are adding a slider to your website, and how it will benefit your visitors, you should be able to choose the right tool for your project.
So without further ado, here are the best free and premium slider plugins for WordPress:
Meta Slider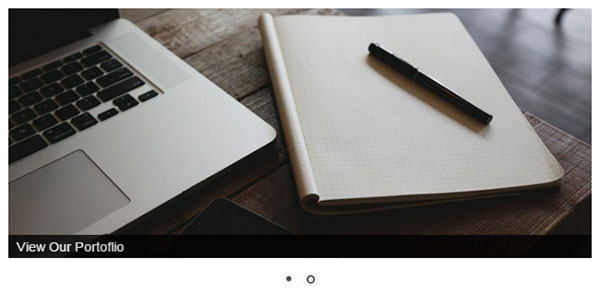 Meta Slider is the most popular free slider plugin available, with over half a million active installs and a near perfect 4.8 star rating out of the 5.
When creating your slideshows you have four slider types to choose from, each with their own themes, transition effects, and other features. With Meta Slider you can only add images to your slides, and then overlay them with a caption. There is no option to add videos or custom content to them, as you can with the premium options we will get to shortly.
However, perhaps thanks to the lack of premium features, the user interface and process for creating your image based sliders is very intuitive. Simply select an image from the WordPress Media Library and that's your slide. As mentioned each slide can have its own text caption, as well as linking to a destination URL of your choice.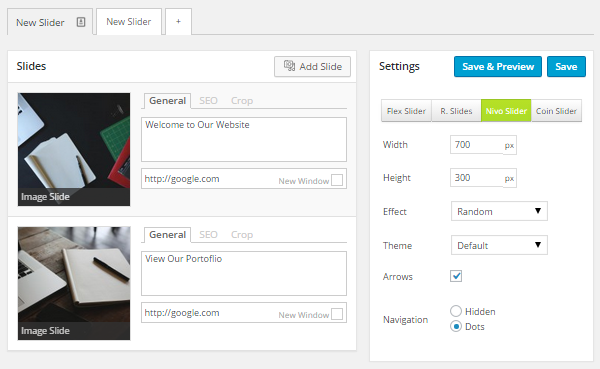 There is a panel of advanced settings hidden away on the slideshow creation screen. These give you the option of stretching the size of your slideshow to fill all the space available to it, aligning the slider, and a few other settings.
Once you've created your slider, you can insert it into your pages using the corresponding shortcode, or display it in your themes files by using the supplied PHP code.
If you only want to display image based sliders on your website, then the Meta Slider plugin does the job and is very easy to use. There is also the option of upgrading to the premium version of this plugin.
Price: free
Nemus Slider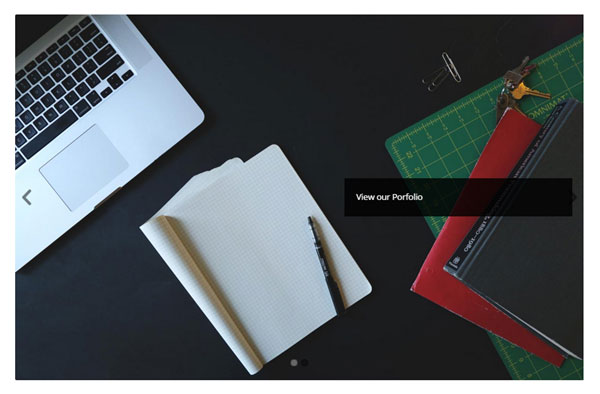 The free Nemus Slider gives you the ability to add more than just images from your Media Library to your slideshow. With this plugin you can add videos from YouTube and Vimeo, as well as photos from Instagram and Flickr to your slideshows. Unfortunately you can't display videos from your Media Library (or elsewhere) in the slider.
When creating your slideshow, you can also display your posts as the individual slides. However, you don't get a great deal of control over which posts are included, apart from being able to filter them by category. In theory though, you could create a special category for this purpose, and only use it for posts you want to display in the slider.
Each slide can have its own caption, and these captions can include HTML. You can easily set the position of the caption, as well as choose the direction of its animation. The slides can also be set as links to content on your website or external URLs.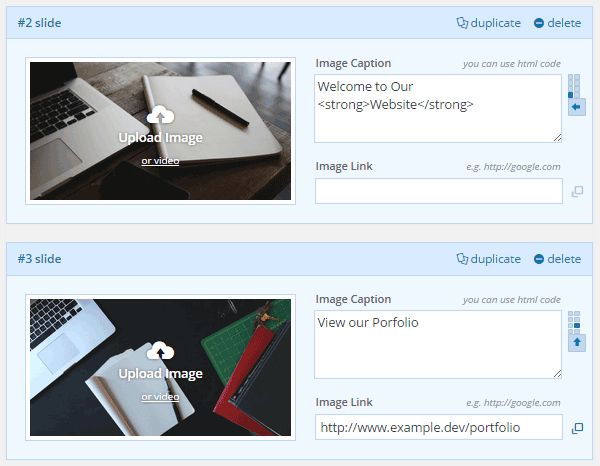 The user interface of Nemus Slider is very easy to get to grips with. Simply create a new slide, set the content and add an optional caption. Once you've published the slider, you can then insert it into your pages using the appropriate shortcode.
The slider settings are fairly basic, but they do cover the essentials. This includes the ability to enable auto-play, selecting auto-height or entering your own value, controlling the speed of the animations, and a few other settings.
Whether you only want to include images from your Media Library in your slider, or those from Flickr and Instagram, as well as post content, the free Nemus Slider comes highly recommended.
Price: free
Easing Slider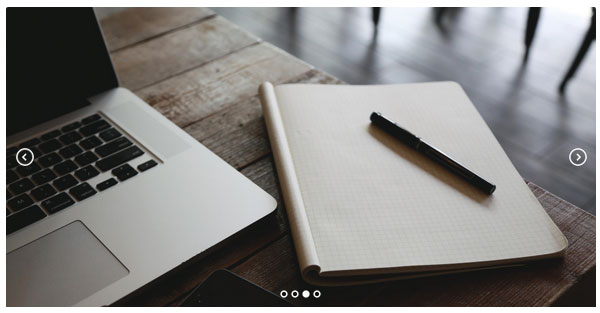 Easing Slider is a free slideshow plugin with a limited feature set. However, it does have one interesting feature not seen elsewhere, and that is the ability to modify the appearance of your slideshow through the WordPress Customizer tool.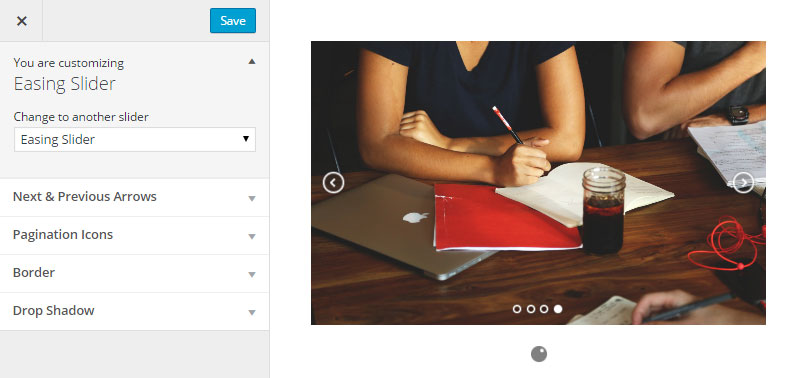 While you can't make too many changes to the appearance of your slideshow through the customizer, it's nice to have a live preview as you modify how it looks.
When it comes to creating your slideshows, this takes place through the more traditional settings page. Adding slides to your slider is as easy as selecting one or more images from your from WordPress Media Library. Through the slideshow settings you can then manually control the height and width of the slider. Alternatively, you can create a responsive slider with a width that is 100% of its container.
There are also two transition effects to choose from: fade and slide. The slideshow controls can be hidden or displayed, and you have the option of positioning them inside or outside the main slider area. You can also choose to enable or disable auto-play for the slideshow.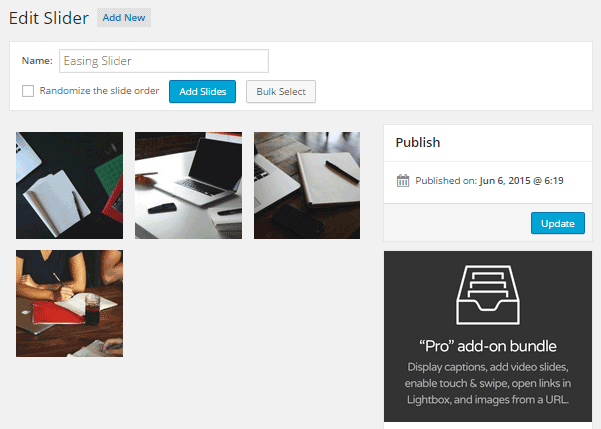 The user interface for creating your sliders with this plugin is easy to use and the use of the WordPress Customizer tool is a nice touch. While there aren't a wealth of settings and options to choose from, being able to work with them through the Customizer and its live preview window is a great idea that has lots of potential.
By making use of the premium add-ons, you can add videos, HTML captions, touch and swipe navigation, and lightbox windows to your slideshows.
Price: free with premium add-ons available
LayerSlider Responsive WordPress Slider Plugin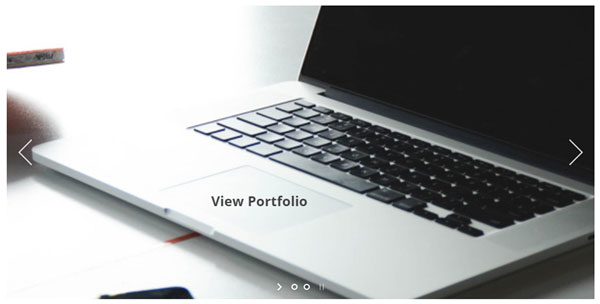 The LayerSlider Responsive WordPress Slider Plugin is hugely popular premium option that has amassed over 30,000 sales to date.
The slideshows and image and video galleries that can be created with this tool can feature advanced animation effects to really make your sliders stand out – just take a look at this demo.  In fact, there are over 200 slide transitions to choose from, and you can apply one of the 13 different skins to your slideshow.
When creating the content for your slides, you also have the option of using dynamic post content, as well as more traditional static text, images, and videos. You can also add HTML to your slides, and then style it using custom CSS.
Although you do have the option of creating some mind-blowing and admittedly resource intensive, full screen animated slideshows, you don't have to make use of all of the features of the LayerSlider plugin. If you practice a little restraint, you can still publish more traditional slideshows that won't cause your visitor's browser to grind to a halt.
With so many options and features on offer, the user interface for creating the slides is a little bit overwhelming. However, after a time, it does start to make more sense. Although if you do want to use this plugin to its full potential, then there will be a learning curve as you work your way through the various settings and options.
This is definitely one for the power users out there. While it's undoubtedly a capable tool, with limited online documentation available you could easily find yourself spending a lot of time trying to build the perfect slider for your website, with mixed results.
Price: $17
Slider Revolution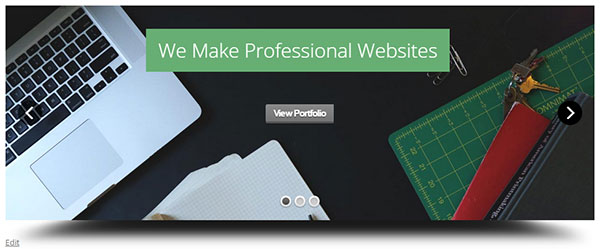 Slider Revolution is the most popular premium slideshow builder plugin for WordPress. With over 58,000 sales, it's only second to the Visual Composer page builder plugin at the CodeCanyon marketplace.
Some of the many features of this plugin include parallax layer effects, advanced layer timelines, a drag and drop slide editor, full screen video backgrounds, and plenty of other animation and transition effects.
When creating your sliders, you have the option of displaying text, images, and videos, as well as post content. If you do want to use post content as the source material for your slider, you can select specific posts to include, or all the items from a particular category.
Each slide in your slideshow can have its own transition effects, period of visibility, animation timeline, links, and background content. You can then use the grid layout and layer system to add content to the slides. The individual layers on a slide can also have their own animation and motion effects to really bring your slideshows to life.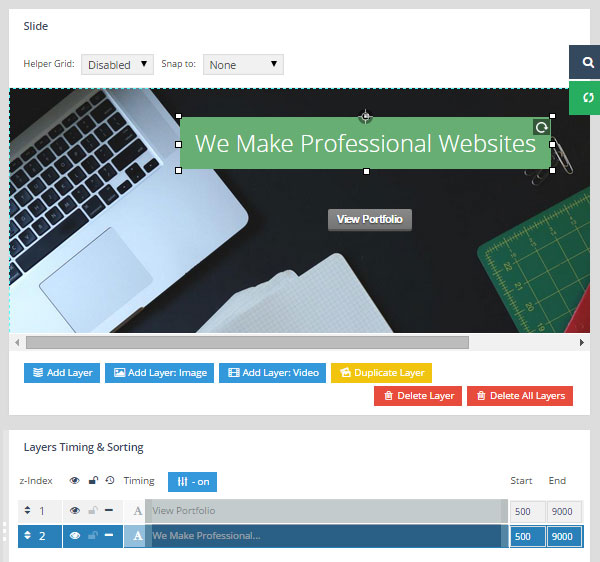 The slide editor includes a number of pre-built buttons and styles which you can apply to your content. You can edit all the available styles through a visual editor, or quickly access the underlying CSS to really personalize them. You can also drag and drop the slide elements into place, through the editor.
While the slide creation pages of the Slider Revolution plugin are huge, and packed with settings and options, they do feel more intuitive and manageable then the LayerSlider plugin.
Although the feature sets and capabilities of this plugin and the LayerSlider plugin are probably evenly matched, Slider Revolution has a friendlier user interface and feels like it would be easier to get started with for most users.
Price: $18
MotoPress Slider

The MotoPress Slider plugin is a premium option that gives you the ability to add fully mobile responsive content sliders to your WordPress website.
Some of the notable features of this tool include support for text, images, and video content; optimization for touch screen devices; animated transition effects; and the ability to display videos hosted on YouTube and Vimeo, as well as those in your Media Library or hosted elsewhere.
Once the plugin is active on your WordPress website, you can begin creating as many sliders as you need. The user interface for building the slideshows makes use of the native WordPress UI to help create a consistent look and feel, across the back end area of your website.
This plugin uses a grid layout to organize the content that is added to each of the slides. Each grid can house multiple elements, such as text, images, buttons, and videos. This allows you to build slides that are as content packed, and as complicated as necessary. Each slide can also have its own background image or video.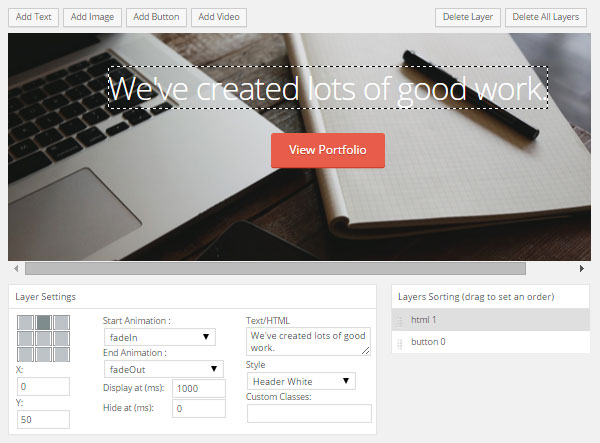 If you do choose to add videos to your slides, you have a number of file formats to choose from. This includes MP4, WebM, OCG, as well as the previously mentioned YouTube and Vimeo content.
When creating your slides, you can set their visibility to prevent non-logged in users from accessing them, as well as setting a period when they will be accessible on your website.
Once you've created a slideshow, you can insert it into your content using the corresponding shortcode. Through the slider settings, you can opt to make your slideshow full screen, or a fixed width. To help you create the slider you need for your project, there is useful documentation and video tutorials available online.
While the MotoPress slider might lack some of the features and functionality of the other popular premium slider plugins, this does make the process of creating an attractive content slider faster and easier.
Pricing: from $19
Conclusion
Judging by the sales of premium slider plugins, and the number of premium themes that include this feature, slideshows are certainly a popular web design feature that shows no sign of going away.
While you shouldn't add a slider to your website just because you can or because everybody else is doing so, they do have a time and a place. If you can make use of this popular feature in a way that adds to the user experience, rather than simply as an attempt to wow your visitors with a series of animations, graphics, and videos, then adding a slideshow is a tried and tested way to upgrade your website.
When it comes to recommending a WordPress slider plugin, it really comes down to your budget, what features you require, and perhaps most importantly, how easily you want to be able to add a slideshow to your website.
While the premium options are fairly evenly matched on price, there is a disparity between features and ease of use. Users who want a quick and easy solution will enjoy the MotoPress Slider. While on the other hand, those who are prepared to invest the time and effort to master the other two premium options, should be able to unlock a more powerful set of features and have the potential of creating more advanced slideshows for their website.
The free options above all do a great job, with Nemus Slider offering an attractive set of features, in an easy to use package.
With a good selection of free and premium slider plugins available for WordPress users, you should have no problem finding the right tool for your needs and budgets.
Which slider plugin will you be using on your website? How do you plan on using slideshows on your site? Do you think sliders have been overused by theme and web designers, or do you think they can still add something to a website? Please share your thoughts in the comments below.