Templatic is celebrating their 5th anniversary this weekend. Five years in business is a significant milestone and quite an achievement for the commercial WordPress theme company.
Templatic launched their website back in March 2008 originally under the PremiumThemes.net name with 25 blogging themes before rebranding as Templatic 2 years later. Today Templatic have 41 premium WordPress themes for all sorts of website styles and numerous advanced app-like themes. They also have a number of free themes available. Check out all their themes here.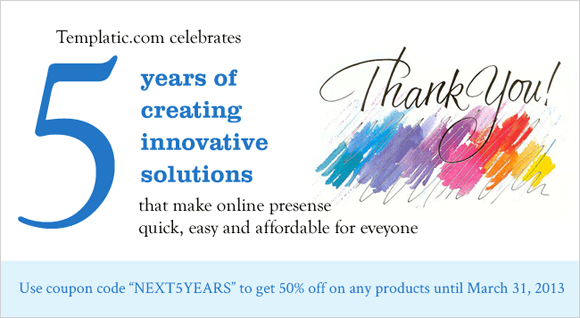 To celebrate their 5th birthday they are giving away some really nice deals. You can purchase any Templatic product at 50% discount using the coupon code "NEXT5YEARS" at the checkout. The discount is valid till 31 March, 2013.
They are also giving away some themes for free to people who spread the word on Twitter and Facebook, and giving away more themes to people who leave a comment on their blog sharing their previous experiences with Templatic.
Head over to Templatic to grab a bargain on a theme and enter the birthday contents for the chance to win some free themes.