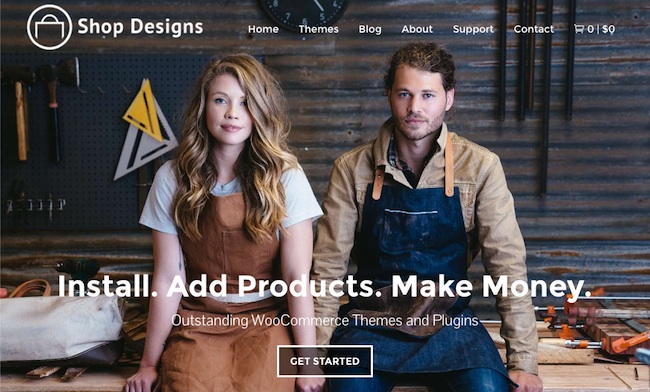 Shop Designs is a brand new WordPress theme shop specializing in WooCommerce themes and plugins. Shop Designs is from the good people behind Organized Themes – the small boutique theme shop that's been creating innovative WordPress themes for non-profits, churches and small businesses since 2008.
Bill Robbins the founder of Shop Designs and Organized Themes explains that when he started Organized Themes almost eight years ago WordPress had zero viable ecommerce solutions available. However in 2015 WooCommerce now dominates not just WordPress e-commerce, but e-commerce across all platforms because it's such as fantastic product that anyone can use to run an online store.
Bill explains that while he's still creating themes for non-profits and churches at Organized Themes he "also wanted to start creating themes for WooCommerce so that's how Shop Designs came about".
Shop Designs is aiming to create innovative and easy to use WooCommerce WordPress themes for business owners. Bill explains that while there are lots of WooCommerce themes and extensions available, he felt that looking through the marketplace what's missing are themes that really cater to business owners.
Many WooCommerce themes come with enormous theme options pages containing items that aren't really options to set, meaning you can spend hours checking boxes and settings before you even get around to added any of your products to sell. Bill explains that while Shop Designs themes do have options so you can create your site just like you want to, they are actually optional. They're designed to be straightforward and simple taking away the necessity of fiddling with countless options so you can get started faster.
Finesse Theme
Shop Designs have launched with just the one WooCommerce theme called Finesse – a stunning, modern and mobile friendly ecommerce theme with lots of great features you could use for any type of store.
Homepage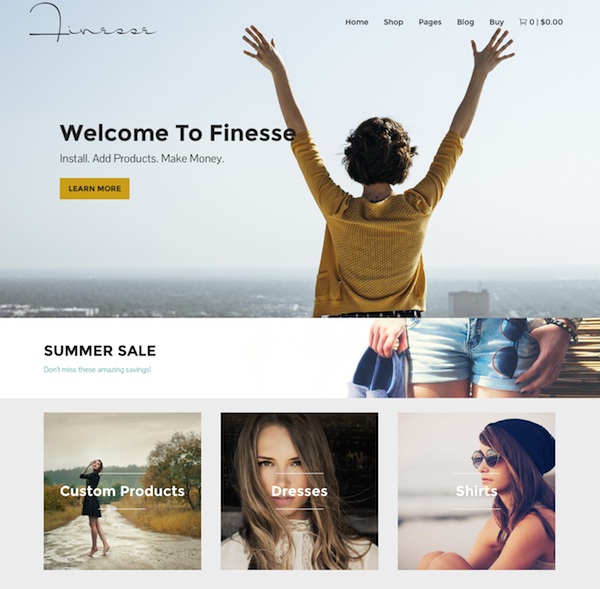 Custom Product Page Example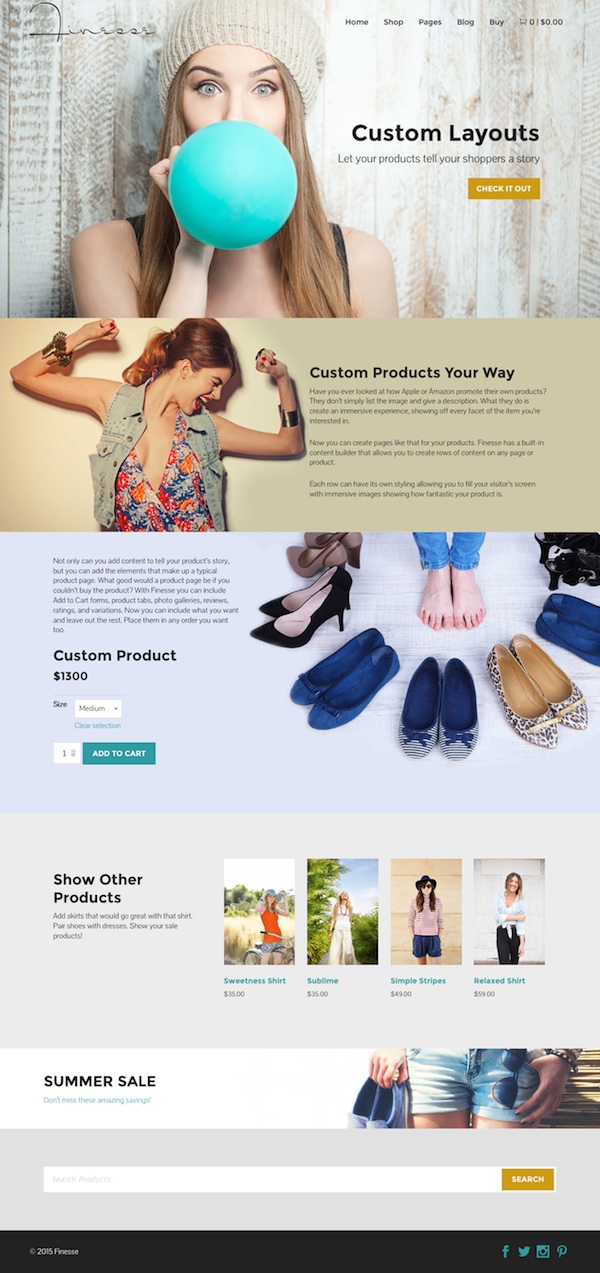 Some of the key features of the Finesse theme include: beautiful custom product pages (with full screen image, slider or video backgrounds), custom product / page builder (to create custom pages and WooCommerce product layouts), app-like smooth transitions between pages, related product sections, improved checkout, customization options (colors, fonts, logo, backgrounds etc), Google fonts, simple set-up, optimized for speed, fully responsive design, and built to WordPress coding standards.
Pricing
Shop Designs themes are priced at $150 each and come with one year of support and updates. However right now they are running a grand opening / Fourth of July sale and the Finesse theme has been reduced to only $98.
Find out more about the Finesse theme and Shop Designs at www.shopdesigns.us