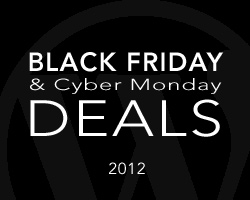 [Updated: 27 November, 2012]
It's that time of year again. Thanksgiving, Black Friday and the Cyber Monday shopping sales. While Thanksgiving is a holiday celebrated primarily in the United States and Canada, everyone can take advantage of the fantastic bargains on offer from premium WordPress developers on Black Friday and Cyber Monday. It's the one time of the year you can be sure to get a bargain on premium WordPress themes, plugins and hosting. Below are all the deals and discounts.
Organic Themes: 20% off all themes. Use the code BLCKFRDY2012. Valid till 26th November, 2012.
Standard Theme: One of the best responsive WordPress themes for professional bloggers and publishers. 30% off all licenses with discount code BF2012. Ends Mon 26th November 11:59 PM EST.
Solostream: 20% off all Solostream products. Use coupon code 5084BE. The promotion ends at midnight 26 November, 2012.
StudioPress: 25% off everything. No coupon code required but you will need to use the link from here. This deal ends promptly at 5:00 pm Pacific time on Monday, 26th November, 2012
Headway Themes: 33% discount on Headway Base and Headway Developer plans. Use coupon code hwblackfriday on the purchase page to save 33% on all Headway licenses (and upgrades). The discount is also available for every addon in Headway Extend. This sale ends at 12:00 am Central Time Tuesday, 27th November, 2012.
iThemes: Get 35% off any iThemes product using coupon code ELF2012. This discount is available till 31 December, 2012.
BluChic: 40% off all themes and bundles. Use coupon code TH4NKYOU2012. The offer ends on Monday 26 November, 11pm EST.
Graph Paper Press: Get 30% off the Annual Plan, Forever Plan, Single Theme Sales and the Sell Media Extensions. The 30% off Black Friday coupon code is blackfriday2012 (valid 21/11/12 – 21/11/12). The 30% off Cyber Monday coupon code is cybermonday2012 (valid 25/11/12 – 27/11/12)
Aloha Themes: Buy One Theme, Get One Free. Use coupon code: BOGOTHANKS. Ends 26/11/12.
Theme Furnace: 50% discount on any purchase. Use coupon code BLACKFRIDAY12. The deal ends on Tuesday 27th November, 2012.
Gabfire Themes: 50% discount on any theme. The offer runs until midnight Monday 26th November EST.
Tokokoo: 75% off all themes and plans. Input the coupon code BLACKFRIDAY on the checkout page.
Theme Junkie: 40% off all themes and memberships. Use coupon code BLACK. This special offer will expire on 27 Nov, 2012.
WP Engine: $25 off your first 3 months of service. WP Engine is one of the best hosting options for WordPress websites. Use the code "blackcyber" when you sign up for WP Engine. Valid only from Thanksgiving through to Cyber Monday.
WooThemes: Have a number of deals available. Buy 1 theme and get 4 bonus themes. You can also get a 20% discount on all themes plugins and WooCommerce extensions using coupon WOOMADNESS. The startup fees for the theme club subscriptions have also been reduced. A standard club membership is reduced to $95 (normally $125) and a developer club membership costs $160 (normally $200). If you spend more you get further discounts. Spend over $200 receive an additional 5% discount, over $300 an additional 10% discount and over $400 and additional 15% discount. The special offers are valid until the end of the month – midnight on 30 November 2012 (UTC time)
WPZOOM: 33% off all themes and subscriptions. Use coupon code BLACK2012 to claim the deal. Offer is valid until Monday 26th November, 2012.
Organized Themes: offering 40% off everything through Monday at midnight. No code required.
Theme Shift: 30% off all themes. Use the discount code TSBLACKFRIDAY30. Offer is valid until 25 November 2012.
Cssigniter: Get a subscription for only $29 /year (normally $39). Use coupon code BLACKFRIDAY. Valid this Friday only.
MyThemeShop: Get 40% OFF on all their WordPress themes. Use coupon code 'blackfriday'.
Press Coders: Save 30% off all themes. Use coupon code gobblegobble. Sale ends Monday at midnight (Pacific Time).
Themify: Get 40% off on all WordPress themes including the Club memberships. Use the coupon code ' BLACKFRIDAY '. Available until 26 November, 2012.
ManageWP: 30% life-time discount. Subscribe to a premium subscription and you'll receive a 30% life-time discount for any ManageWP package or configuration, which will remain active for as long as you remain a customer, even if you upgrade or downgrade in the future.
Thirsty Affiliates: 30% off the affiliate link management plugin for WordPress. Use discount code PREMIUM30 for a 30% discount. Valid until midnight on Cyber Monday (26 Nov).
Theme Fuse: 50% off any purchase. Use code BlackFriday in the shopping cart.
Obox Themes: Have super savings on bundles. The Classic Bundle includes 4 overhauled classic themes + 1 plug-in for $25 making a huge saving of $215. The Super Premium Bundle includes 6 amazing Super Premium themes + 2 plug-ins for $50 making a $610 saving. This offer runs till Cyber Monday (Monday 26th).
Flare Themes: 60% off. Enter the coupon code "BLASTOFF" at checkout. Valid till 26 November, 2012.
Press75: $150 off the Lifetime Theme Package. Offer is available till Sunday.
Magazine3: 40% discount on all themes. Use coupon code CYBERMONDAY. Starts 26th November and ends 27th November.
RichWP: Prices cut almost in half. Over the Thanksgiving holiday theme prices have been reduced to $69.95 instead of $127. Use the discount code: richthanxgiving during checkout to get an additional 25% off. Deal Ends Monday, 26th November.
ThemeWolf: 50% off premium child themes for the Headway Framework. Use promo code CYBERWOLF. Sale ends 5pm 27th Nov, 2012.
WPMU DEV: 75% off any full WPMU Dev membership. Signup from this link which includes the coupon code. Valid Thanksgiving weekend only.
We will be updating this list with all the sales and coupon codes as they are announced so be sure to check back.