Empty Spaces is a simple, light and functional personal blog WordPress theme from Alex Denning of WPShout. The theme has a single column design and a mobile responsive layout ideal for simple personal websites and blogs. The theme allows you and your readers to focus on what matters most – the content – while enhancing the experience with big, bold images.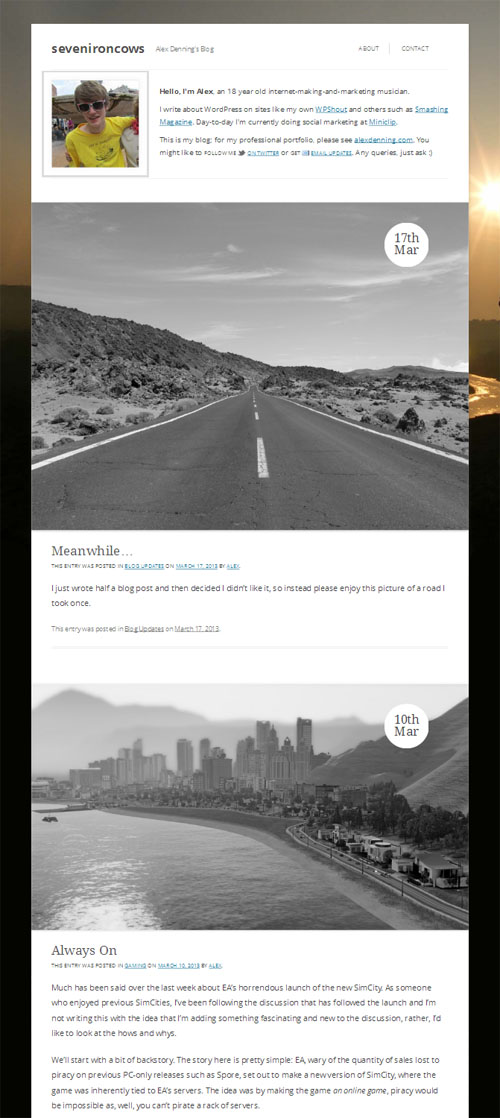 Empty Spaces is actually a child theme for the current default WordPress theme, Twenty Twelve. This means the theme inherits the solid code and some handy features found in the Twenty Twelve theme. Empty Spaces supports WordPress post formats (standard, aside, image, link, quotes, status) which makes it flexible and easy to post various types of content and media. It has various options for its header, supporting custom menus, custom header images and a simple widgetised header area. The theme also has a mobile responsive layout which adjusts to fit on mobile phones and other devices with smaller screens.
Another interesting design element in the theme are the big featured images on top of each post which shift from greyscale into full colour when hovered over on the homepage, or display in colour by default on single posts. You can also use have featured video instead of images as the theme is fully compatible out of the box with the "replace featured images with video" plugin which allows you to achieve that.
The most interesting aspect of this theme however is the price which is "pay what you want". As Denning explains:
Empty Spaces is a bit of an experiment for me, in that the download is "pay what you want", with no minimum price. That means if you'd like to download it for free, you can just enter 0 as the price you'd like to pay and download it right away. If you think it's worth a little of your hard-earned cash, I'd gratefully welcome any contributions.
You can read more about the Empty Spaces theme and download it here.
What do you think about "pay what you want" pricing for WordPress themes. Would you pay some money for the theme or just download it for free? Let us know your thoughts.