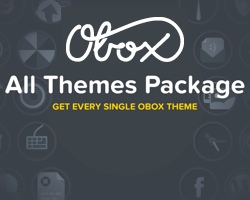 Obox Themes have introduced a new All Themes Package that gives you complete access to their entire collection of premium WordPress themes and plugins.
The Obox All Themes Package includes every single WordPress theme and plugin in their collection for a once-off purchase of $299. The package also gives you access to every new product they release, plus support and updates for 1 year. Once the year is up you can renew the All Themes Package for only $99.
Obox currently have 38 beautiful and high quality WordPress themes for a wide range of different niches and uses including: business, ecommerce, blogging, photography, video, portfolios, magazines, news, writing and more. The also have a number of premium WordPress plugins.
If you're a WordPress developer, freelancer, agency or multi-site owner the Obox All Themes Package is a great deal as the savings are huge (over $2,000).
15% Discount
The good people at Obox Themes have generously provided a special 15% discount for PremiumWP.com readers. If you use this link to purchase you will benefit from a once-off 15% discount, taking the purchase price from $299 down to only $253! No coupon or promo code is required. Just use this special link to get the 15% discount on the Obox All Themes Package.