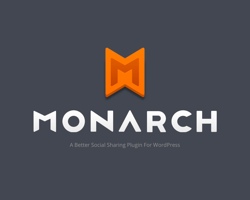 Monarch is a powerful, feature rich and customizable social sharing plugin for WordPress. The premium plugin from Elegant Themes makes it easy to add modern and stylish social sharing icons to your website. Monarch also has lots of great control and customization options.
The Monarch plugin allows you add sharing icons to 5 different display locations, use unique displays like automatic pop-ups or fly-ins, easily customize the design (colours, shape, effects etc.), enable sharing on media (images and video), display your social profiles and follower counts, track social shares stats for your site and more. The plugin supports 20+ social networks, has a retina display design and is fully responsive ensuring it looks good on all screen sizes and mobile devices.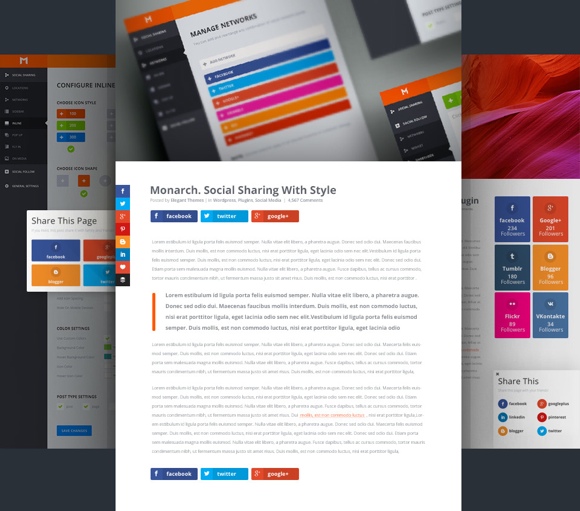 Key Features
20 Social Sharing Networks – you can choose from over 20 social sharing networks to display on your site – Facebook, Twitter, Google+, Pinterest, Reddit etc.
5 Locations to Add Social Sharing Buttons – includes 5 different locations where you can place your social sharing buttons on your website.

Floating Sidebar – the social sharing icons float beside your content so its always accessible to visitors.
Above and or Below Content – dynamically detects where your content begins and ends and inserts social sharing icons above the content, below the content or both.
Automatic Pop Up – automatic sharing pop-ups with customizable title and message with options when it appears – timed delay, when a user reaches the bottom of a post or page, or upon page leave.
Fly In – automatic fly-in social sharing box in the bottom right or left corner of your site with custom trigger settings (time delayed, bottom of content, or upon page exit).
On Media (Images and Videos) – auto detects images and video within post content and enables image sharing to social networks such as Pinterest, Facebook etc.

Social Network Profiles – to display your social network profiles and follow counts so people can follow you.

More than 30 Social Profiles and Networks – attractive and customisable icons for link to your social profiles. You can manually input the follow counts for all social profiles or select it to pull a dynamic follow count.
Widgets and Shortcodes – you can place follow buttons in any widget area or display them with a shortcode you can add anywhere within your content.

Clean and Modern Design – elegant, flat designs with predefined social network colour and icons, plus design tools so you can customize the look and feel of the social sharing buttons.
Design Options – includes options for setting the shape, spacing and orientation (square, rounded or circular), hover effects, names and social counts, icon orientation, columns and unlimited colour options.
Mobile Responsive – each social sharing and following type has been designed to look good on all screen sizes and mobile devices.
Retina Design – developed with retina display assets so will look great on high-resolution displays.
Fast Connections – share and follower counts are cached for optimizing loading speed.
Settings Dashboard – a custom designed setting dashboard built into the WordPress Admin Panel to easily configure, add and arrange networks, set up locations, design and configure display settings, monitor and keep track of your social sharing and following stats and more.
Track Follows and Shares – the dashboard includes a stats section that keeps track of your user engagement to see how effectively your social sharing buttons are performing.
Using the Monarch Plugin
I tested the Monarch plugin (version 1.0) with the default Twenty Twelve WordPress theme. It installed without issue and worked perfectly on my website straight out of the box.
The configuration settings and options in the Monarch settings panel were all relatively intuitive and straightforward and I had my social sharing icons and social profiles widget setup in only a couple of minutes. I didn't need to refer to any of the plugin documentation when setting it up which is a good test of the usability of a product. However Elegant Themes do provide detailed documentation and in-depth video tutorials for Monarch if you need help setting up or configuring any part of the plugin.
All the possible locations you could want to place social share icons are covered and the options for setting pop-up boxes and fly-in sharing boxes with the trigger options is nice. The ability to set sharing options on images and video is handy, and the social sharing stats section is also an interesting feature.
Monarch Location Options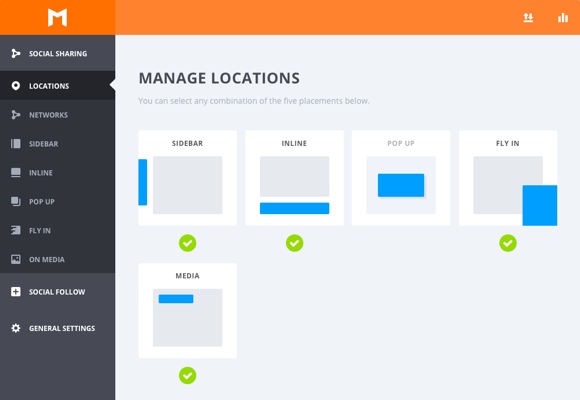 Monarch Statistics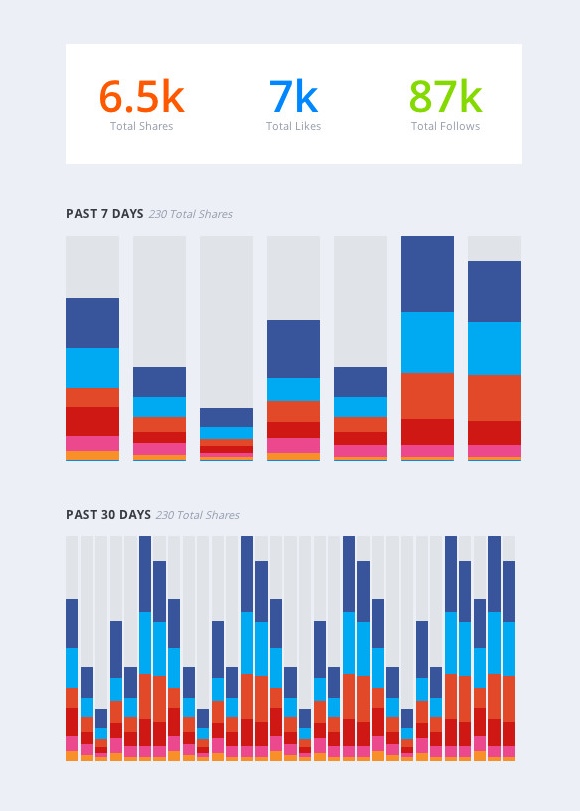 The plugin provides some options to customize the shape, hover style, origin, spacing, color, and contents of the sharing icons. Unfortunately there is no way to control the size of the icons or the size of the text size used in icons, which might be an issue for some users. By default Monarch uses the default network colors for icons. While there are options to select your own button colours, this sets ALL the buttons to the selected custom color. You can't set custom colors for individual buttons as far as I can see.
Monarch Settings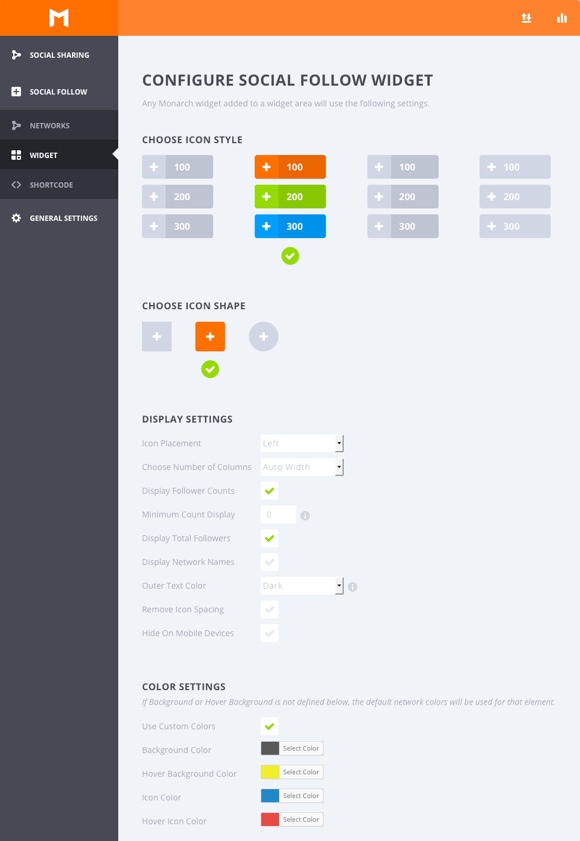 One thing that is missing from the Social Following network options is email. Some folks like to display an email icon for newsletter subscriptions etc. so hopefully an email icon option will be included in future updates.
How Much Does it Cost?
The Monarch plugin isn't sold as an individual product. Monarch comes with the Elegant Themes Developer Package which costs $89 per year and gives you complete access to all their premium WordPress themes and plugins (currently 87 themes and 5 plugins). Considering you get all those premium themes and plugins for the one price it's an incredible deal. An even better deal is their Lifetime Access Package that gives lifetime access with no annual fess for a one-time payment of $249.
Conclusion
Monarch is a powerful, fast, customizable and feature rich social sharing WordPress plugin that will work in any WordPress website. It gives you clean and stylish social icon designs that can be customized and displayed in a variety of locations on your website to suit your needs. Monarch version 1.0 is a very impressive social sharing plugin and I'm sure will get even better with future updates.
Get more information and download Monarch here