According to the latest statistics, smartphone users spend 85% of their time on their mobile devices using apps. Personally, based on my smartphone usage, that sounds about right. If it's a figure you can relate to, then perhaps it's time you gave serious thought to creating a mobile app for your website.
Considering there were 2 billion smartphone users worldwide at the last count, with 6.1 billion predicted by 2020, there is definitely the audience for your app out there. It's fair to say that the majority of those users won't be interested in your website. However, there's a good chance that your target audience are smartphone users who may well prefer to access your site through a dedicated app, rather than the browser of their phone or tablet.
However, while making sure your website is mobile responsive is one thing, creating an app for your WordPress site is a whole other level upgrade you might not be ready for. That is until a number of services were launched to help make it as easy as possible to create Android and iOS apps from a WordPress website.
One of those services is Mobiloud. In today's post, we are going to find out exactly what this service has to offer and how easy (or not) it is to use, in order to create a mobile app for your WordPress website.
Why Create an App? Isn't a Responsive Website Enough?
When creating your website you probably made sure that you chose a WordPress theme that was mobile responsive. Or perhaps you've recently upgraded your website to ensure that it's now mobile friendly.
Either way, you could be forgiven for wondering why you'd also want an app for your site if it's already perfectly accessible on smartphones and tablet devices.
Well, the truth is, a mobile responsive website is enough. However, by creating an app for your website, you not only give your audience another way to discover and consume your content, but you can also tap into a few of the features that make smartphones unique.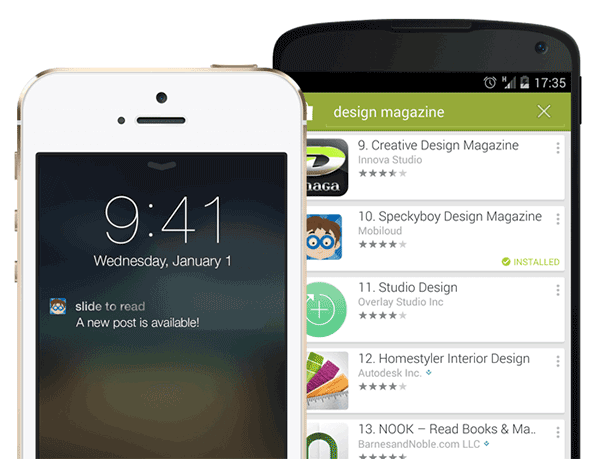 By harnessing the power of your visitors' mobile devices, you can bring them back to your content at your will. Not only that you can also increase social shares, encourage more interactivity, and even generate (more) revenue from your content. Also, by having your very own app in the Google Play and Apple app stores, you're adding another way for your target audience to discover what you have to offer.
If you're already active on the most popular social media networks, maintaining an additional channel might sound like a lot of extra work. However, by using a service like Mobiloud to create and manage your app, the whole process, including pushing out new content from your website to the app and sending out notifications is all automated.

How Does Mobiloud Work?
Mobiloud differs from some of the other WordPress app creation services out there as it creates native apps for both Android and iOS devices. These native apps are built and optimized specifically for the operating system they are being used on, rather than being a general one size fits all app. By being native, the app can take full advantage of the features on offer from the platform it's being run on. This is as well as adhering to the design standards of each system while also ensuring it works smoothly and reliably.
With the Mobiloud WordPress plugin installed on your site, the service will take care of getting any new content you publish on your website, into your app. Then depending on how you've configured the service, a push notification will be sent out to your users. This feature gives them an instant notification that new content is available and is said to be a much more effective way of communicating with your audience compared to email marketing and social media.
Of course, your visitors are free to manage these notifications however they wish. Their ability to mute notifications ensures you won't end up annoying them each time you publish a new post, launch a new product or make other changes to your website.
When you publish new content, these updates to the app are almost instantaneous, and they also apply to changes to the configuration and settings of your website. So if you modify the menu structure, change your site logo, or reorganize the app, these changes too will be automatically pushed out to the app on your users' devices.
What Else Can Your Mobiloud App Do?
As well as taking care of updating your app with any content you publish on your WordPress website; a Mobiloud app has a few more features up its sleeve.
Something you might like to take advantage of is the ability to monetize your mobile traffic. Depending on your pricing plan – which we will cover shortly – there is a range of options on offer for displaying income generating adverts in your app. These advertising options include HTML/JavaScript/iframe ad units that are you free to place wherever you like in your content, Google DFP or MoPub adverts, and AdMob units.
Your app can also include easy to use sharing buttons. This feature gives your visitors the opportunity to share your content via social media, email, or any other app, including offline reading tools like Pocket.
As the app can store your user's details, it makes it much more convenient for them to comment on your blog posts. Whether you are using WordPress, Facebook, or Disqus to power your blog comments, your app users can easily leave a comment via their mobile device.
One particularly impressive benefit of accessing your content through an app is that after being downloaded once, it's available offline. Thanks to automatic article caching, your readers can still access your content, even after they've disconnected from the internet.
Other useful features of your app include: the ability for your users to favorite pages from your site; support for a range of languages, including RTL; Google Analytics usage tracking; swipe-friendly image galleries; and touch screen navigation.
How to Create a Mobile App for Your WordPress Website
Creating your mobile app with Mobiloud couldn't be easier. To get started, it's simply a case of installing the free Mobiloud WordPress plugin. After activating the plugin on your site, you can create your app through the Mobiloud dashboard on your WordPress website – no coding or additional skills are required.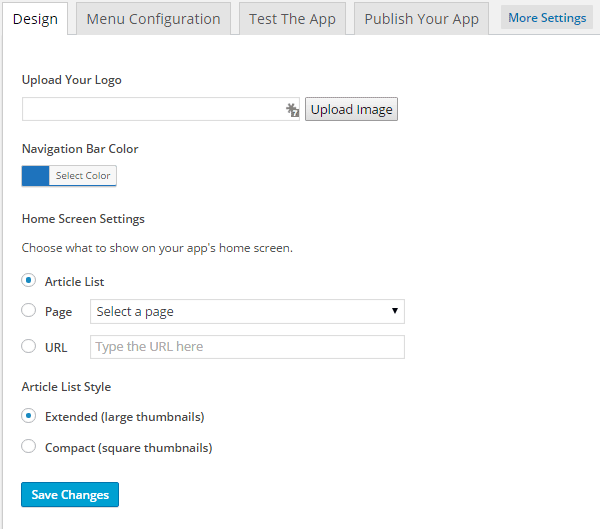 Through the app builder, you can upload a logo for the app, choose custom colors for some of the elements of your app, decide upon the homepage content, and set up the menu configuration. At any point during the creation process, you can preview your website in the online app simulator to see how it will look.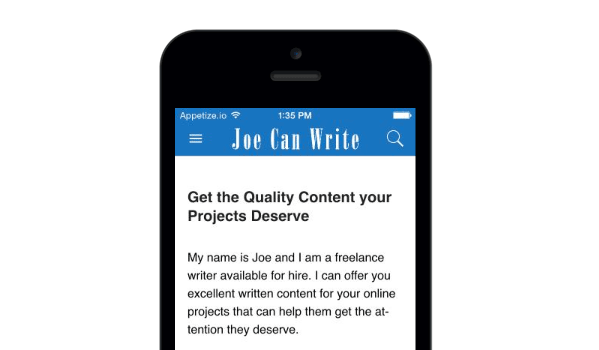 Once you've launched the live simulator, you can see what your app will look like and how your users can go about interacting with it to view your content. Like Mobiloud itself, the live simulator covers both the main smartphone platforms: iOS and Android.
A further way to test your app before launching it is to download the Mobiloud app for your mobile device and then visit your website via the preview section. This feature will then load up the app for your website, making it easy to test further its design and functionality.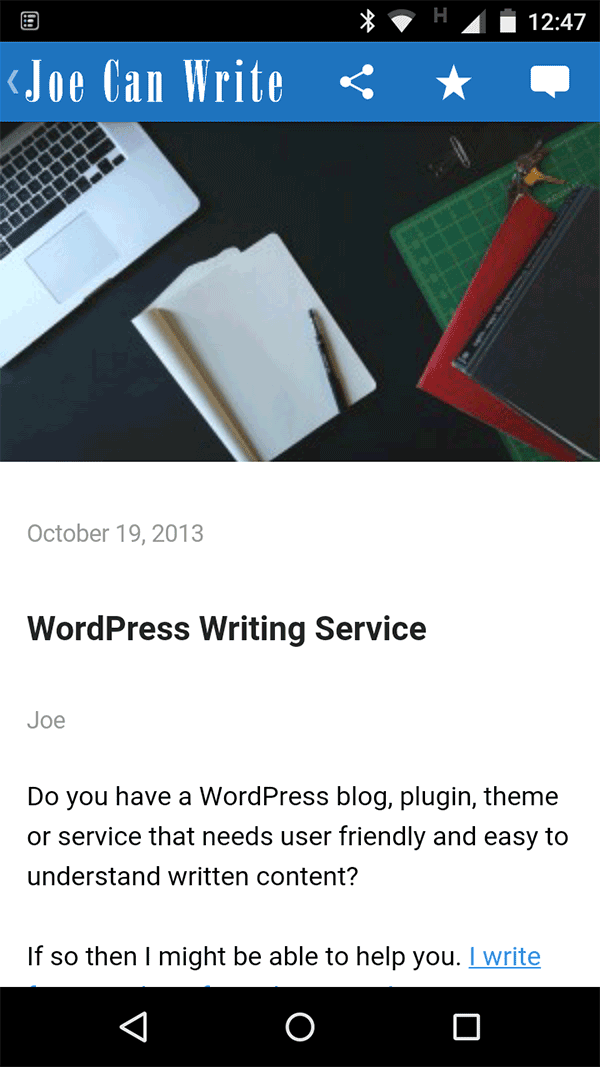 Once you are happy with your new app, it's time to publish it for real, and this is where the premium part of the Mobiloud service kicks in.
How Much Does it Cost to Turn Your WordPress Website into a Mobile App?
So far in the process, designing your app has been free. But if you want to get your app built and published in one of the stores, you will have to sign up for a pricing plan. At the time of writing, the cost of creating and publishing your app with Mobiloud is:
Starter: $69 per month
Professional: $99 per month
Publisher: $199 per month
The lowest price option only covers the Android operating system, while the other two plans get you apps for both Android and iOS. Other features you might want to look out for when comparing the Mobiloud pricing plans are the number of push notifications you can send out and whether your app displays the Mobiloud branding.
All of the pricing plans include submitting your app to the appropriate app stores so that your audience can download it. This process can take from around 6 to 20 business days to be completed and your app to go online, ready for download.
Mobiloud Review: Final Thoughts
With Mobiloud, creating a mobile app for Android and iOS devices based on your WordPress website really couldn't be easier. In just a few clicks, you can give your target audience another way to discover your content and start interacting with it. It's also a great way to keep in touch with regular visitors, who you can bring back to your site with push notifications.
For casual bloggers, the ongoing monthly payments might be too much. However, if you plan to use your website to generate revenue or leads, then the costs involved in creating an app shouldn't be too hard to justify.
If you can use WordPress to publish content on your blog, then you will have no trouble creating a native app via the Mobiloud plugin. With a free testing and preview service available, you've nothing to lose by giving the service a try. If you do decide that an app is right for your website or online business, then the Mobiloud team will take care of everything when it comes to getting your app built and published in the stores.
If you want to tap into the growing number of smartphone users out there, then creating an app for your WordPress website with Mobiloud is an easy way to do so.
What features are you looking for in a mobile app? Do you think your audience will benefit from accessing your website content via a native app? Please share your thoughts in the comments below.