ManageWP has entered the WordPress news space with the launch of ManageWP.org – a people-powered WordPress news aggregation website where the community can freely share, curate, vote and promote all things related to WordPress.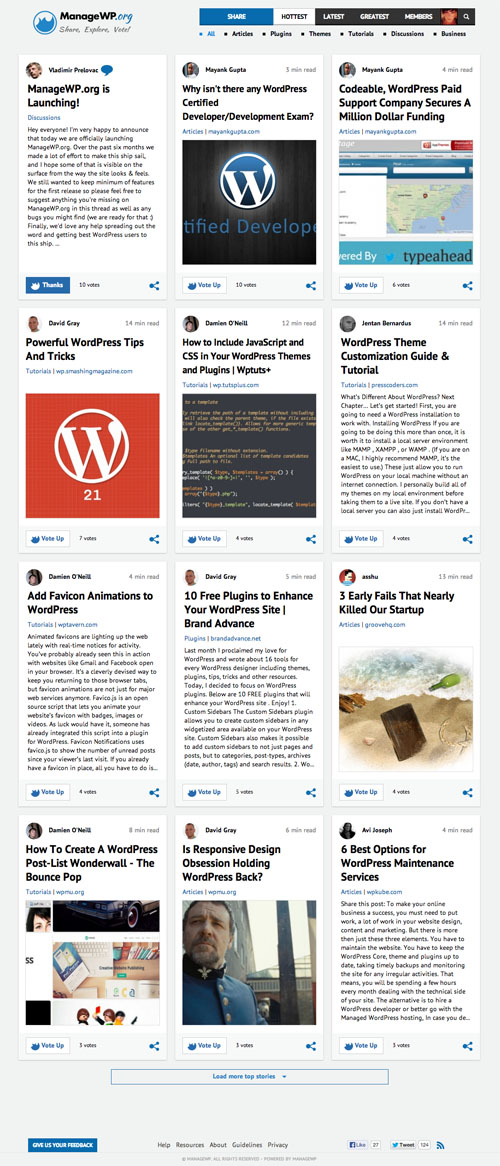 ManageWP's core product is a premium multi-site WordPress management console / plugin that allows you to control any number of WordPress sites with management, monitoring, backup, deployment, publishing and security features. However the ManageWP team has also been hard at work for 6 months building the ManageWP.org project. The result is a good looking, easy to use, responsive magazine style WordPress news site powered by the community for the community.
Anyone can sign-up to ManageWP.org and submit WordPress related content. You can explore the submitted articles which are sorted into the "hottest", "latest" or "greatest" sections. There are additional content filters for: Articles, Plugins, Themes, Tutorials, and Business; so you select to only see content of certain sections if you wish.
Users can vote on content with the "Vote Up" button which influences the popularity and visibility of articles. The site is built with a sophisticated author ranking algorithm that is similar to Google's PageRank. The content you share that receives votes will contribute to your personal rank and position on a ManageWP.org leader board.
ManageWP have also created a browser bookmarklet and sharing button which can be easily add to your website and give users a simple way to submit and vote up your content on ManageWP.org.
With the ever growing popularity and use of WordPress there's certainly a demand for high quality WordPress news. However while many people have tried to build WordPress news websites before most have died, shut down, given up, sold out, or just failed to gain much traction. The lack of profitability, the relatively small market and interest in WordPress news, the rise of Twitter and other ways to get news are just some of the reasons. Even WPVote, a similar community powered social voting WordPress news aggregation site that launched a number of years ago when social voting type sites were popular, never really took off.
It will be interesting to see if a people-powered news site like ManageWP.org will capture the interest and keep the attention of the WordPress community as a source for WordPress news. Will the people-powered aggregation, the "algorithm" functionality, and commercial backing of ManageWP.com be the factors that make this WordPress news website a success? Or will those same factors actually be a detriment ultimately resulting in it ending up like many of the other WordPress news sites before it?
What do you think about community driven news aggregation sites like ManageWP.org? Will you be using it?