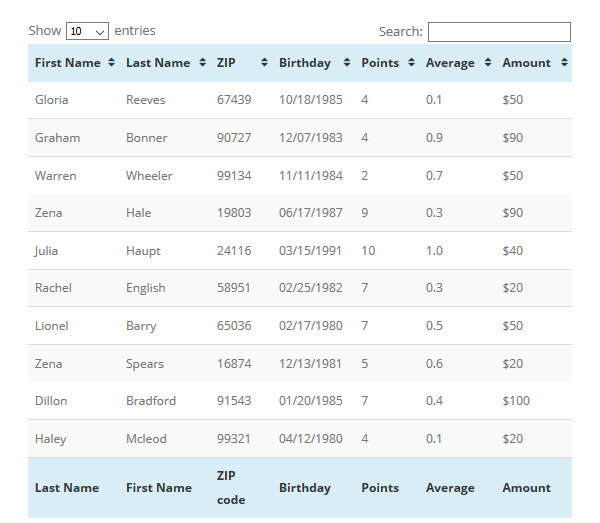 Using a table is a great way to display information on your WordPress site. Adding information to a table can make it easy for your audience to read and digest key facts. Tables can help highlight important statistics, or show comparisons between products, services, or other data.
However, if you want to create tables in WordPress, it doesn't come without its difficulties. If you aren't confident in manually writing HTML and CSS, then you are going to need to install a WordPress plugin to help you add a table to your WordPress website.
But don't worry, there are a number of very effective table plugins available. In this article, we are going to look in depth at TablePress, a free WordPress plugin, and how to use it. We will then discuss the benefits of upgrading to the premium table plugin wpDataTables.
TablePress

TablePress is a free WordPress table plugin that allows you to add stylish tables to your posts and pages. And you won't need to write a line of code!
With TablePress you can create, edit and manage tables, then embed them into your site, in any location, with simple shortcodes. Any type of data can be added to a TablePress table, and JavaScript extensions can be added to give extra functionality.
So now we know a little bit about TablePress, let's find out how to use it…
Installing TablePress
Open your WordPress dashboard and select 'Plugins > Add New'.
Under 'Search Plugins' type in TablePress.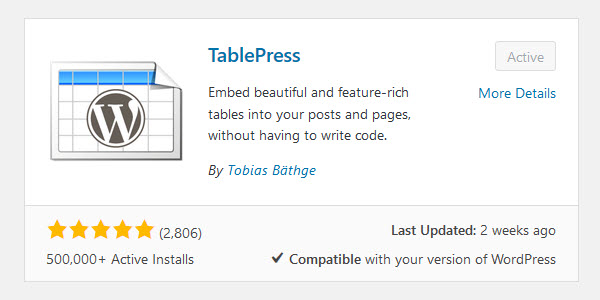 Then click 'Install Now > Activate'.
TablePress will have now added its own 'TablePress' menu in your WordPress admin panel.
Creating a New Table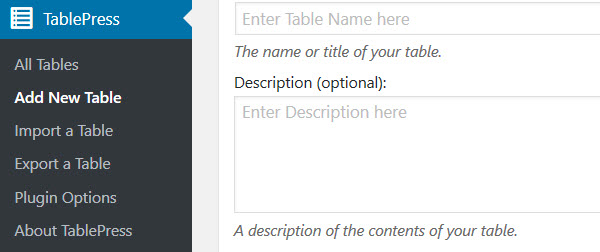 The TablePress menu gives you a variety of table options. To add a new table select 'Add New Table'.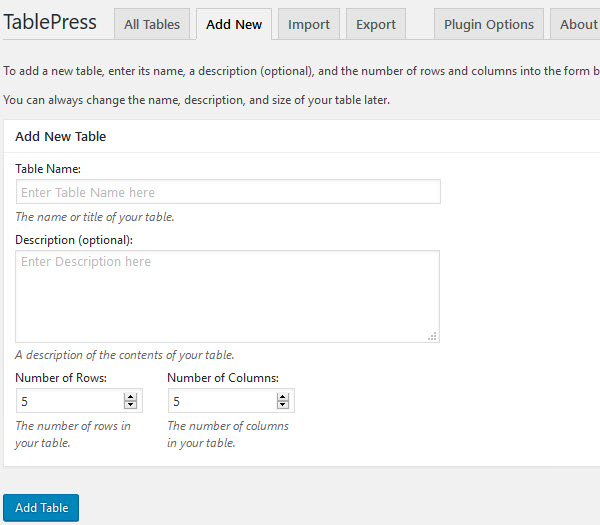 Here give your table a name, and a description if needed, then choose how many rows and columns you require. You can edit the size of the table later on so don't worry too much about getting the exact number of columns and rows at this early stage. Once you have finished, select 'Add Table'.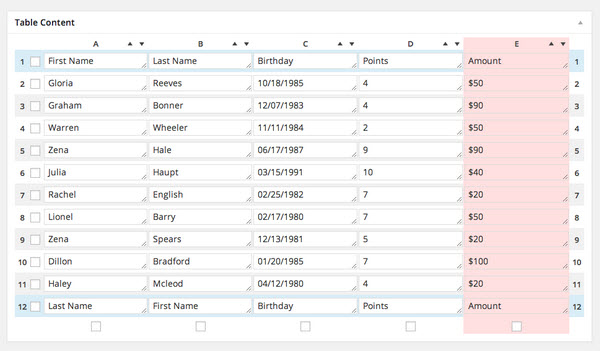 Now you will be taken to the Edit Table screen. This is where you can edit the content and structure of the table. Insert text, data, images, or links into the table. You can also alter the columns and rows by adding, deleting, or dragging and dropping them into new positions. Once you have finished editing your table, select 'Save Changes'.
Adding a Table to a Page or Post
Adding your table to a page or post is very easy and just needs you to add a line of shortcode to your visual editor.
Open the post or page you want to display the table in. Look amongst your visual editor to find the TablePress icon and then click on it.

A popup will now appear displaying a list of all the tables you have created. Find the table you want to use and then select 'Insert Shortcode'. This will insert the table's shortcode into your post or page.
Click the 'Preview' button to check out how your table looks, and if you are happy with your table select 'Save Draft'.
Importing and Exporting Tables
A great feature of TablePress is that you can import and export your own tables, allowing you to easily import/export from CSV, HTML, or JSON. This enables you to quickly add your own tables, without having to make them in WordPress, or export them to use in another program.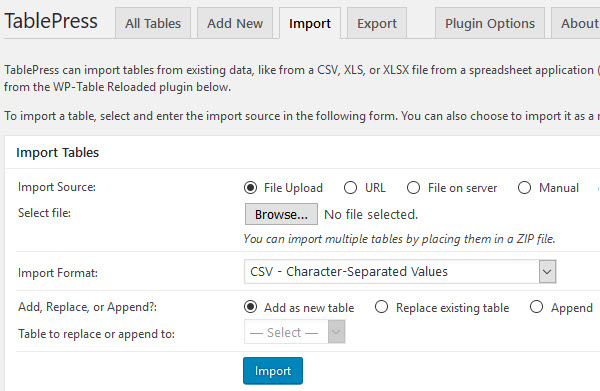 To import or export a table, simply go to 'TablePress' in your WordPress dashboard. Here you can select 'Import a Table' or 'Export a Table', and simply follow the instructions.
TablePress Extensions
There are numerous extensions you can use with the TablePress plugin to improve its functionality. Although all of these extensions are free, a donation is asked for from the developer for some of the more advanced options.
Amongst the extensions offered, Responsive Tables is a sensible download. This helps change the table layout so that the table data can still be viewed on devices other than a desktop.
As you can see, TablePress is easy to use and has a range of features and functionalities making it a great choice for WordPress users looking to add a table to their content.
wpDataTables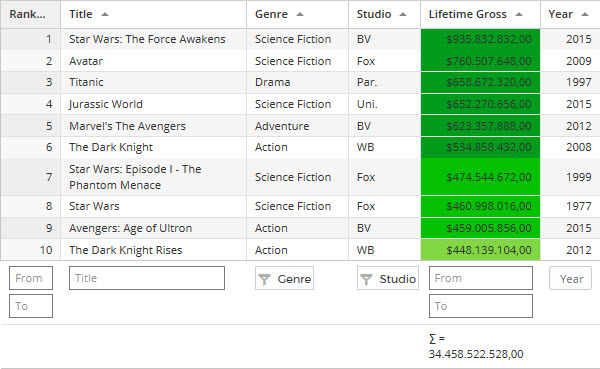 If you are wanting a more advanced WordPress table plugin then wpDataTables maybe the plugin for you. wpDataTables is a powerful all-inclusive data manager, enabling you to display responsive tables, charts, and spreadsheets within your WordPress website. It is particularly helpful for those in education, stock investment, journalism, eCommerce, or any other industry that deals in copious amounts of data.
This premium plugin will help you transform complex data into simple, readable and interactive tables and charts. Tables can be created and managed from existing data, or created manually. Built to work with MySQL databases, you can show or edit MySQL data. There are also numerous built-in front and back end editing tools including an Excel-like editor interface, editor dialog, and in-line editing. If you are looking to add beautiful and engaging tables to your WordPress website, this is the plugin for you.
wpDataTables Lite

wpDataTables also offer a free Lite version of their premium plugin. Although missing many of the pro features, you can still quickly create tables from a number of sources including Excel, CSV, JSON, and XML. It doesn't, however, include a responsive mode, front-end editing, or MySQL query based support for tables, which are the some of the main features you gain from the premium version. If you aren't sure whether to purchase the premium version, then wpDataTables Lite is worth a try, otherwise, in my opinion, TablePress is your best option.
Posts Table Pro

Posts Table Pro is a WordPress table plugin that lists your content in a searchable and sortable table. The other WordPress table plugins in this article let you display static data in a table. Posts Table Pro is a new type of table plugin released in 2016. Instead of creating tables manually, it does this automatically using information already stored on your WordPress website. This makes it much quicker to create tables.
The plugin supports various types of WordPress content including pages, posts, custom post types, custom fields and taxonomies. This lets you create a wide range of tables including a website table of contents, index of blog posts, member directory or events list. It integrates with any plugin that uses custom post types, so you can also use it to create product tables using any WordPress e-commerce plugin, events lists using any events plugin, and more.
The plugin is ideal for creating document libraries, indexes, directories, archives, books, music, portfolios, resources, products, events… the possibilities are endless!
If you want to create tables of information already stored in your WordPress database, Posts Table Pro is the plugin for you.
Which Plugin Should you Use to Create Tables in WordPress?
For straightforward, easy to create tables, TablePress is the go-to plugin. The simple process of creating or importing tables as well as the quick editing and embedding into posts and pages with a generated shortcode makes TablePress an obvious choice for those needing to display tables in their WordPress website.
That said, if you are dealing with large amounts of data and need more advanced editing tools, numerous display methods, and an all round more professional finish to your tables, charts and spreadsheets, then a premium plugin like wpDataTables will be more appropriate for your needs.
Which table plugin will you use on your WordPress site? Please share your thoughts in the comments below…