CSSIgniter is a premium WordPress theme and plugin company based in Greece. It was founded in 2009 by two friends Gerasimos Tsiamalos and Anastis Sourgoutsidis.
Gerasimos, a veteran web designer / front-end developer discovered WordPress back in 2007 when looking for a reliable CSM option for his web projects. After a couple of years successfully using WordPress for client projects he wanted to test the waters in the WordPress themes market.
After some prompting Gerasimos convinced his friend Anastis to come on board with the idea. They opened the CSSIgniter theme shop in 2010, initially as just a side project, with a handful of themes. Experiencing only limited success for the first couple of years, the duo decided to go all in and focus 100% on CSSIgniter. They relaunched in 2012 with 10 themes, a solid plan and determination to claim a slice of WordPress themes market.
Since then CSSIgniter has released at least one new theme every single month.
Through their consistent development of beautiful high quality WordPress themes and attractive pricing CSSIgniter has grown to become a popular, reputable and top WordPress theme shop with a collection of 75+ beautiful WordPress themes and 50,000+ customers.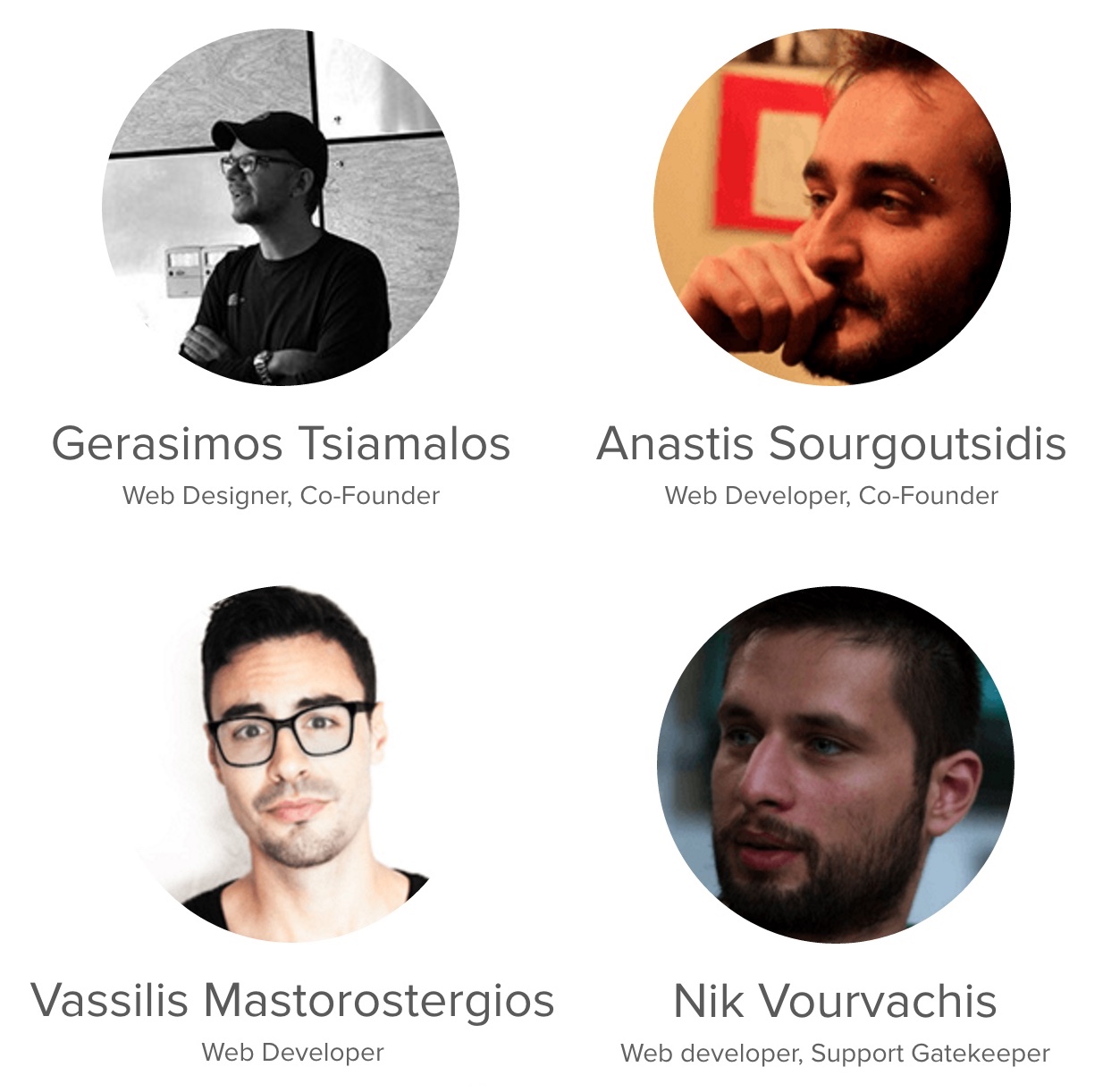 You'll be able to read our full interview with Gerasimos on PremiumWP soon to learn more about him and the CSSIgniter story.
Aesthetics
CSSIgniter themes have clean, contemporary and unique designs. They definitely keep pace with modern design trends and you can see a lot of thought an attention to detail goes into every theme.
What's great about CSSIgniter is that each theme has been specifically designed and purpose built for a specific use or niche.
With such a large collection of themes for all sorts of applications you're bound to find a nice theme for your latest project.
What I like about CSSIgniter is that all the themes in their collection look fresh and contemporary – even the older ones. Usually when a theme shop has been around for many years they tend to have a lot of dated and old-fashioned designs in their collection. However all the themes at CSSIgniter, even the older ones still look contemporary and very usable to me.
Below are a just few (of their many) beautiful themes.
Noozebeat – Magazine Theme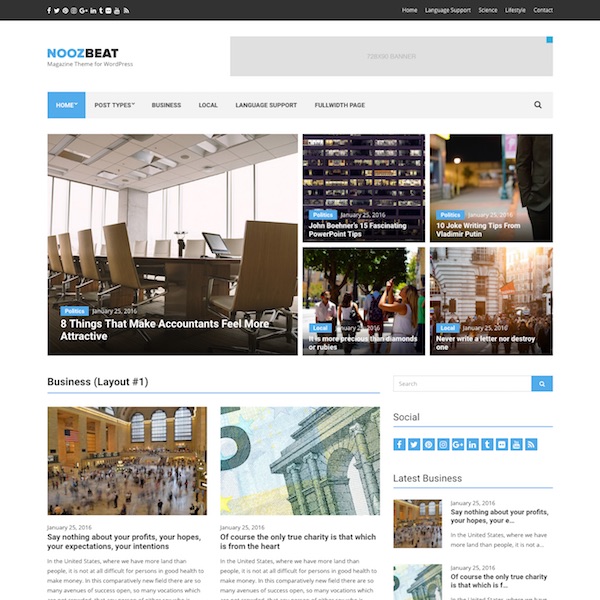 Struct – Business / Corporate Theme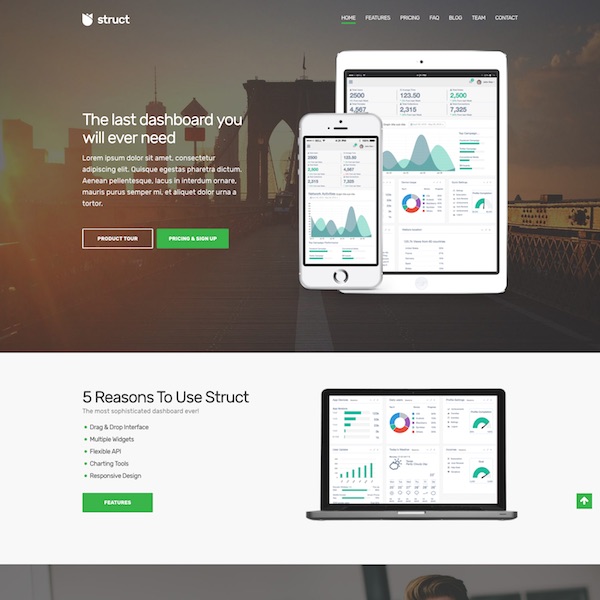 Oscillator – Music Theme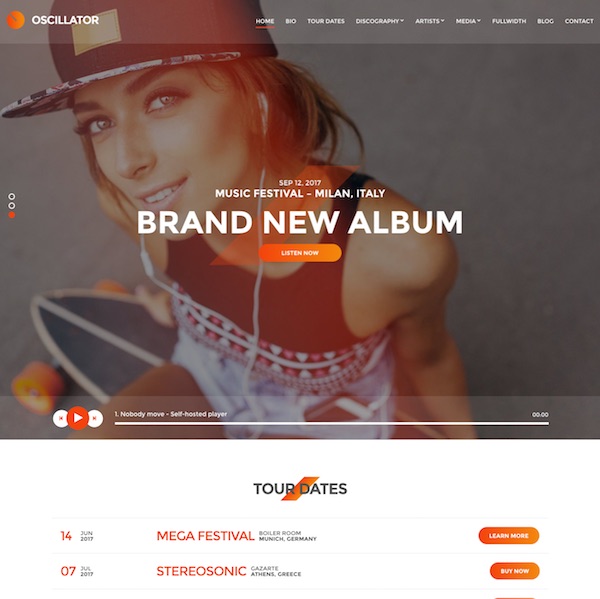 Olsen – Blog Theme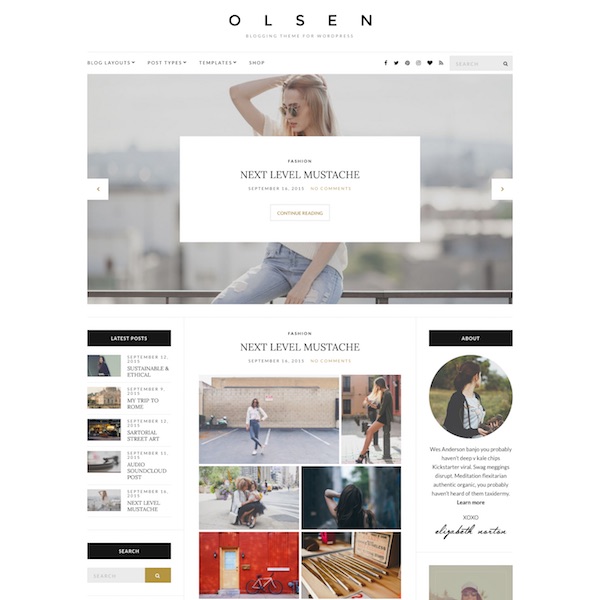 Flevr – WooCommerce Theme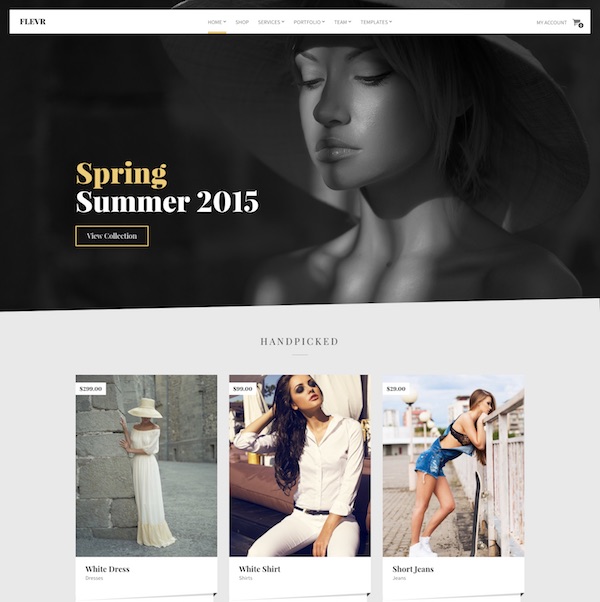 Olympus Inn – Hotel Theme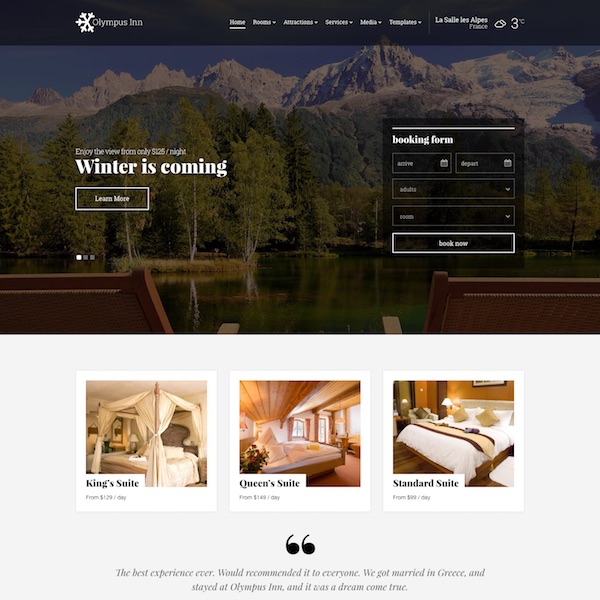 Hellomouse – Portfolio Theme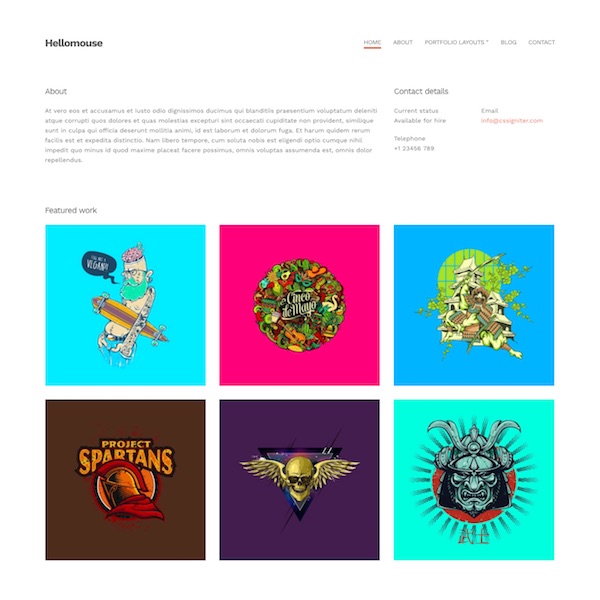 Features
CSSIgniter have themes for just about every kind of website – blogging, business, portfolio, photography, magazine, hotel, church, restaurant, food, real estate, music, video, gaming, conference, medical, beauty and fashion, and others.
Each theme is purpose built so individual themes have different features specific for the purpose for which they were built. However all themes have a common set of features:
Theme Control Panel – with useful settings and options such as: upload your logo, insert your Google Analytics tracking code, change colors, set special settings for your various posts, custom pages, layout options etc.
Mobile Responsive Design
Retina Ready
Translation Ready
Speed Optimization
Sample Content
To give you a better idea of the features and options available in a typical CSSIgniter theme we'll take a look under the hood of one of their latest themes – Paperbag – a versatile blogging / magazine theme aimed at lifestyle and fashion bloggers.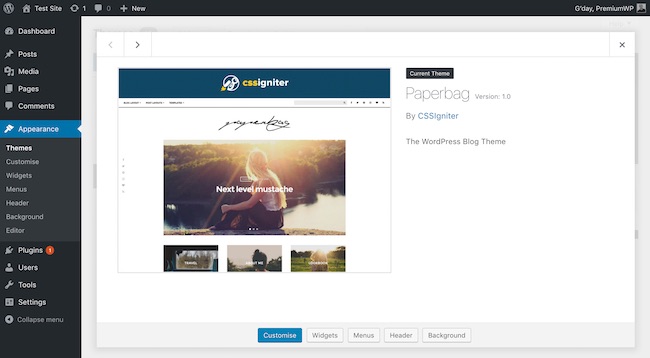 The Paperpag theme comes with 80+ customizer settings to easily customize the appearance of your site to suit your needs. It provides options to customize the header, a choice of 10+ different layout options for the blog, archives and pages, colors and typography change options, post and page display options, footer options and more.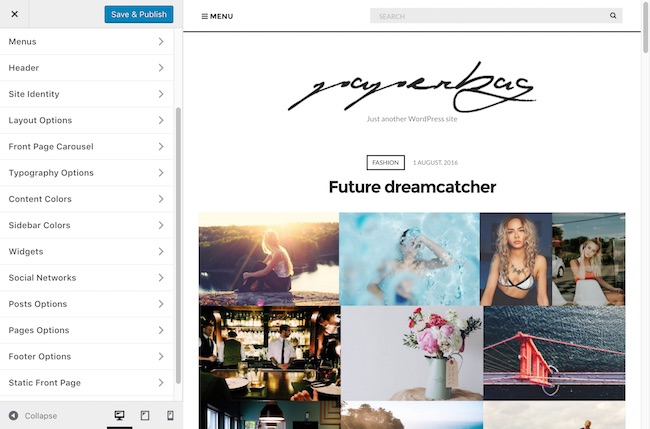 The Paperbag theme also comes with 6 custom widgets to easily display different information around the site, 5 different post formats (standard, image, gallery, audio, and video), and a customisable LookBook page template for showcasing photos of your latest fashion collection or other content for marketing purposes.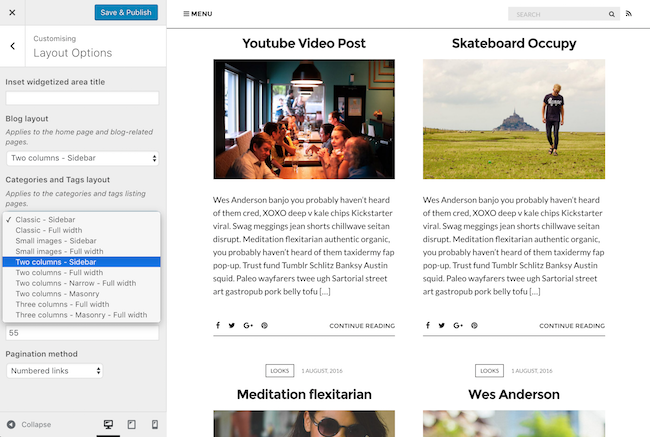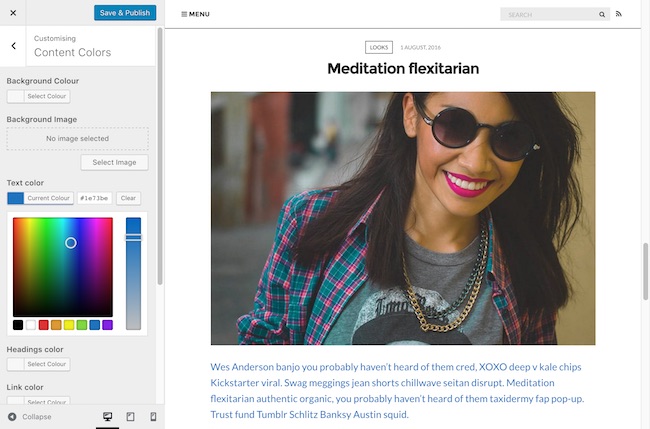 Usability
CSSIgniter claim their themes are easy to setup – "upload, activate, done".
To test the setup and usability of CSSIgniter themes I tested the Paperbag theme. Installation was easy and straightforward and I didn't have any issues. I also uploaded the demo content, which went soothly as well.
All the theme options and customization is done via the WordPress customizer. This makes everything feel native to WordPress, and I found all the options and settings initiative and easy to use.
Using the WordPress customizer allows you to see the changes instantly as you make them in the live preview window of your site that's next to the options panel, which makes customizing your site easy.
I found setting up and using the theme straightforward, but if you're unsure of a feature of option they have detailed documentation for each theme that explains all the setup and customization options. If you're still having problems you can always contact support for one-on-one help.
The provided demo content also makes it easy to get your own website looking like the theme demo site on CSSIgniter so you see the possibilities of the theme more clearly.
Overall CSSIgniter themes are easy to use and work perfectly.
Cost
CSSIgniter have a number of different purchase options to suit individuals, freelance web designers and agencies. All the options very reasonably priced.
Single Theme – $49
1 year of support and updates
Unlimited site usage
HTML + Photoshop theme template
Standard – $59
Access to all themes
1 year of support and updates
Unlimited site usage
Developer – $79
Access to all themes
1 year of support and updates
Unlimited site usage
Access to all plugins
HTML + Photoshop theme templates
Lifetime – $249
Access to all current and future themes
Lifetime support and updates
Unlimited site usage
Access to all current and future plugins
HTML + Photoshop theme templates
As you can see they really cater to everyone with single theme purchase options, membership plans with access to all themes and plugins, and even a lifetime membership package that gives you access to all their products for life.
The best thing is that every single purchase option is great value for money. For example the standard membership costs only $59 and currently gives you access to 75 themes. That works out to be only $0.79 per theme – fantastic value!
Another fact that makes a CSSIgniter membership worth buying is you can be sure you'll get a new theme every month. A lot of other WordPress theme shops with membership plans promise access to current and future themes – but under deliver when it comes to releasing new themes regularly. That's not the case with CSSIgniter. They've been habitually releasing a new theme every single month.
Support, Documentation & Services
Premium support is included with each theme purchase and membership package. CSSIgniter invest heavily in their support system and pride themselves on their friendly and helpful support team, ensuring someone will always be there for you and provide answers to all your questions within 24 hours.
CSSIgniter use a forum based support system. The support forum is divided in sub forums, with one dedicated sub forum for each individual theme.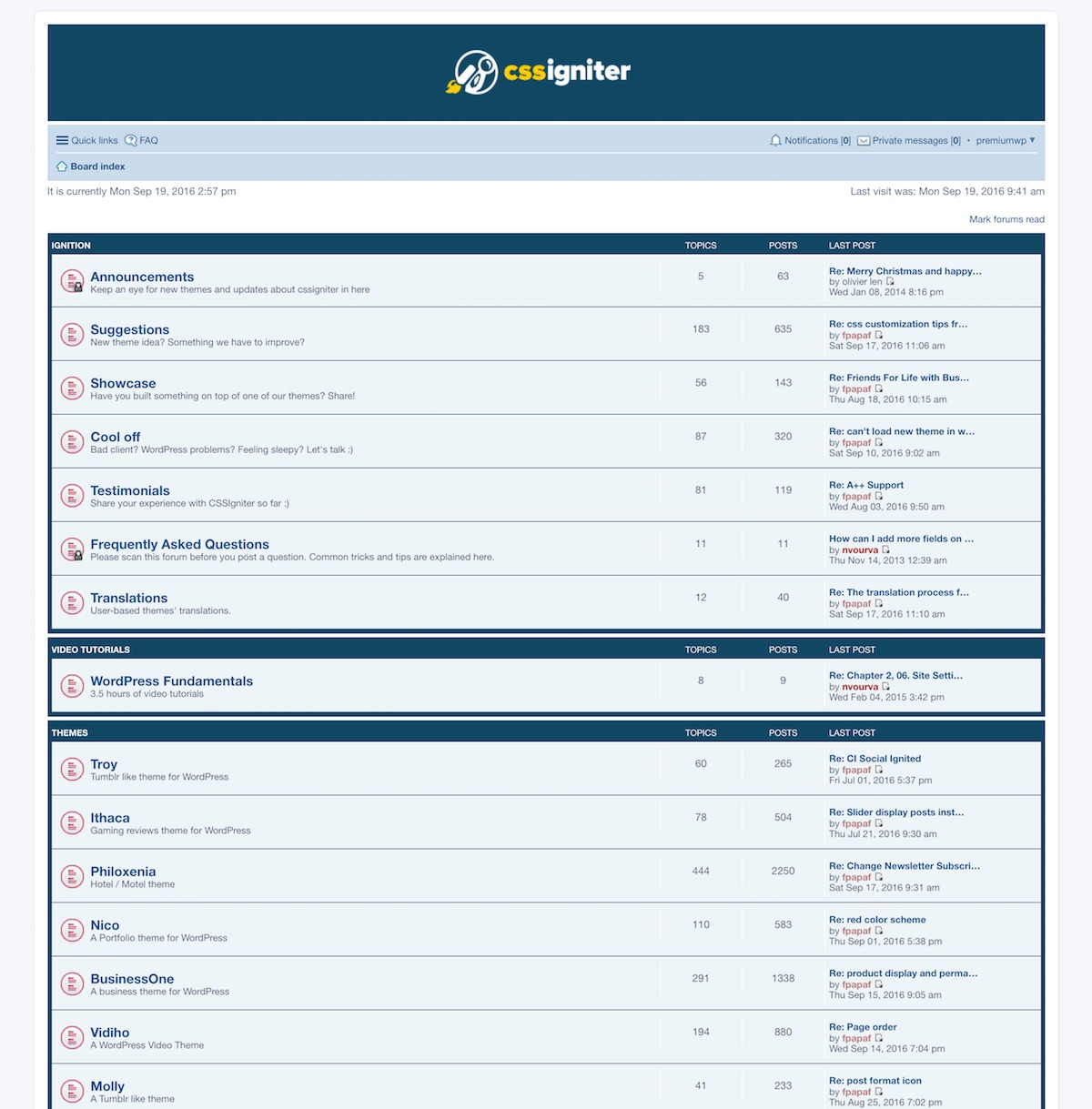 While a discussion forum might not be the ideal system for providing support to customers, and many theme shops now use a ticket or email based support system – I still like the forum based approach for theme support. I find it an easy and fast way to get help. With a quick search of the forums you'll often find the answers to your questions. Makes it fast and easy to resolve issues you might encounter. No need to waste time writing your own support request and wait for a reply because its often already been answered for another person. However if you can't find the answer to your question you can always easily post your question and ask for help.
Browsing the CSSIgniter support forums I could see questions where responded to quickly with helpful answers, often with code provided for making the required changes or modifications.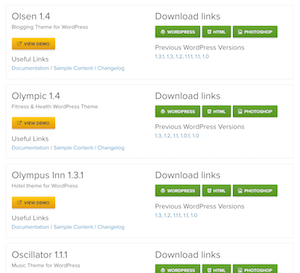 CSSIgniter also provide detailed documentation for each theme to help you with the setup process and use the specific theme features and options. They also have a detailed and searchable knowledge base with information and tutorial articles teaching you have to use WordPress and interact with your theme and plugin. It's a handy place to find information and answers before seeking support in the forums. If you're a complete WordPress newbie they also have 3.5 hours of WordPress fundamental video tutorials in the support forum.
If you're new to WordPress and a bit unsure how to set everything up properly yourself CSSIgniter also offer a "WordPress Theme Setup Service". For $99 they will set everything up for you in less than 48 hours. The setup service includes: WordPress installation, theme and sample content installation, theme settings, logo upload and Google analytics setup.
Plugins
CSSIgniter currently offer one premium plugin – AudioIgniter Pro – a music player plugin for WordPress.
They plan to release more premium WordPress plugins in the future.
A Developer or Lifetime membership will give you access to all their premium WordPress plugins.
Licensing
CSSIgniter WordPress themes are released under the GPLv2 license.
The Bottom Line
CSSIgniter offers clean, modern and high quality WordPress themes. They have a large collection of beautiful and purpose built themes for a wide range of applications. The themes are designed with attention to detail and coded to a high standard. The themes are functional, easy to use and just work well.
CSSIgniter has become one of the most popular, reputable and top theme shops around today due to their consistent release of quality WordPress themes and incredible value for money.
Overall CSSIgniter offers excellent themes, good support, and fantastic value for money, making them highly recommended.
Have you used CSSIgniter? Tell us about your experience in the comments below.
Pros
Beautiful collection of high quality themes for a wide variety of applications
Good documentation and support
Very attractive prices
Membership plans are fantastic value for money
Lifetime membership option
Cons
While not really a negative, most themes have a restrained set of inbuilt customization options and settings