Fundify is an amazing crowd funding WordPress template and plugin combo that allows you to easily create your own crowd funding website with WordPress. If you want to build a crowd funding platform similar to the likes of Kickstarter or Indiegogo this is an awesome solution. The Fundify app theme integrates with the free Easy Digital Downloads and Ignition Deck plugins to create a beautiful and solid crowd funding website that lets you lets you crowd source funds for everything from films, games, and music to art, design, technology or anything else you can imagine.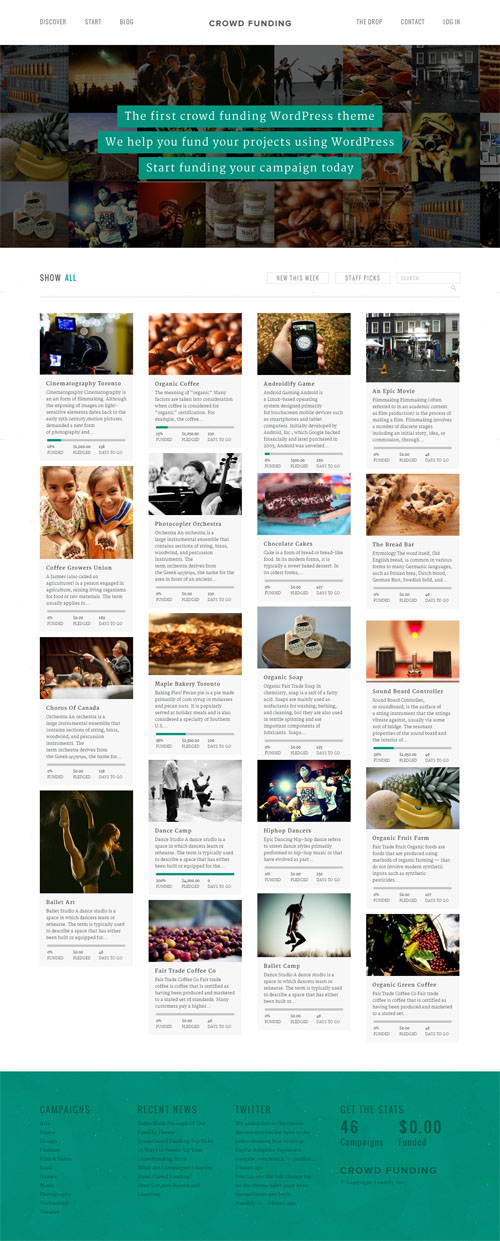 The Fundify app theme has a front end submission form that allows people to easily submit new campaigns to your website. They can set the goal amount, the length of the campaign, and images and video can also be easily added to the campaign page. Once submitted, campaigns are set to "pending" for a site administrator to review and publish. Its supports 20+ payment gateways including PayPal, Stripe, Google Checkout, etc
Visitors can browse the site and "back" campaigns they are interested in supporting. Campaign "Backers" can pledge specified amounts of money towards a project and receive rewards for their contributions. The theme integrates with the PayPal Adaptive Payments extension to preapprove a pledge amount, so the pledged amount will be charged and backers receive their reward only if a campaign reaches its goal in the time specified. Pledges can be split with the campaign author as well as the site administrator. The campaign backers are listed so you can all see who is involved, and comments allow for interaction between authors and backers.
The theme has full design controls so you can easily get the design and branding you want by adjusting the colours, logo, background, text colours and other elements using the WordPress native Theme Customizer. Fundify has all the standard WordPress blogging functionality, with various page templates and other things, so you can use the theme as a standard WordPress blog if you wish.
Fundify has a mobile responsive design so it doesn't matter if people are viewing on a widescreen monitor, or a smartphone. The responsive design means browsing, contributing, and interacting with the site is an optimised experience and every page looks amazing on any device.
Example Campaign Page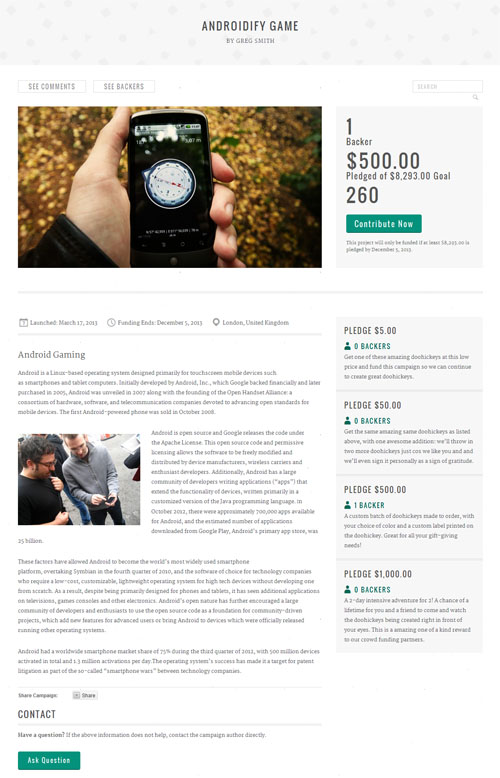 Key Features
Front End Campaign Submission Form – use the frontend submission form to accept campaigns from site visitors, and publish them with your approval
Unlimited Campaigns – create unlimited campaigns for anything imaginable. You have full control to fund exactly what you want
Easy Digitals Downloads Plugin integration – requires the free Easy Digital Downloads plugin to display the campaigns feature
Ignition Deck Plugin Integration
Pledge Amounts – Integration with the PayPal Adaptive Payments extensions allows "Backers" to preapprove their pledge amounts. This is a "promise" that if the campaign reaches their set goal within the specified time, the pledged amount will be charged, and backers will receive their reward
AppThemer Crowdfunding Plugin Integration – integrates with the free plugin to create and display crowd funding campaigns in a nice looking way
Live Funds Data – see the money come in live. As soon as someone pledges money to a campaign the total updates instantly
Campaign Administration – site administrators can track backers on the backend, while campaigns display them on the frontend
Split Payments Between Site Admin & Campaign Author (Using PayPal Adaptive Payments)
Supports Fixed Campaign Style (Flexible Campaigns Coming Soon)
Support for PayPal Standard Payments (Free Plugin)
Custom Integration for PayPal Adaptive Payments (Paid Plugin)
XML Dummy Content Included For Easy Setup
Responsive Design – the design will scale to fit on all browser widths and resolutions, and works great on mobile devices (Optimised for iPad and iPhone)
Full Localisation Support (contains .po/.mo files)
Full Design Customization – easily adjust the theme colours, logo, background, text colours and more through the WordPress native Theme Customizer
4+ Custom Widgets
Standard Blog – the theme has all the standard blogging functionality so can be used as a standard WordPress blog also
WordPress 3.5+ Ready (Menus & Featured Images)
Page Templates (Home, Archives, Full Width, Contact Form)
Built on the _s-ThemeFramework
Compatible with the Ignition Deck Plugin
Extensive Documentation
Supports 20+ Payment Gateways i.e. Stripe, Google Checkout, etc
Price: $99