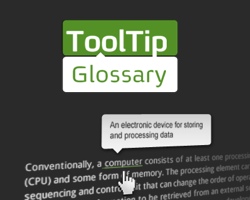 CM Tooltip Glossary is a plugin for WordPress that enables you to create a glossary, encyclopedia or dictionary of terms in a WordPress website. Once enabled it highlights the defined term, word or phrase in your posts / pages so when users hover over the defined term a tooltip will display the definition.
If your website topic or blog posts use a lot of industry specific terms, acronyms, abbreviations, or jargon the CM Tooltip plugin makes it very easy to create a glossary of terms section as well as functionality for a tooltip definition of terms in your posts / pages to help visitors when they're reading your content.
Glossary of Terms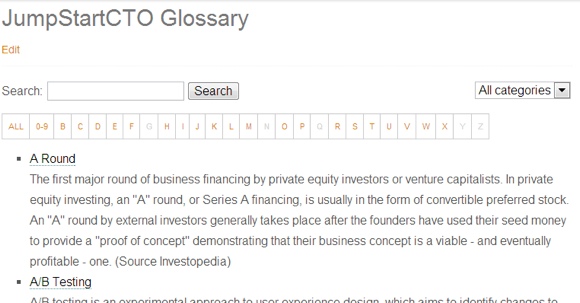 The CM Plugin has a wealth of advanced features and options. Some of the key features are outlined below.
Key Features
Abbreviations – add abbreviation for terms in Glossary. Abbreviation will be highlighted in post and pages
Tooltip Window – tooltip window can optionally appear when term is hovered over by the cursor
Export – export all glossary terms and content to a CSV file. Share with other glossaries.
Import – import terms into the glossary from external sources
Localization – use Glossary with any language you want. Add your language characters to glossary index
SEO – glossary terms are an important SEO enhancement to your site
Style – style and customise glossary index page and tooltip in the way you want
Synonyms – add synonyms to terms in the Glossary. Synonyms will be highlighted in post and pages
Mobile – tooltips are mobile friendly and are shown in a mobile friendly way
Audio – add audio file to Tooltip and term page. An audio player will be embedded
Video – integrate Videos inside Tooltip from Youtube / Vimeo or other providers
Thesaurus – add Merriam Webster Thesaurus definition to any term you have in the glossary
Dictionary – add Merriam Webster Dictionary definition to any term you have in the glossary
Images – set featured image for each term. Tooltip will show featured image once hovered
Amazon – show products recommendation from Amazon inside the tooltip
Google Translate – translate every term content using Google Translate to your own language
Wikipedia – insert Wikipedia term into your terms content. Also show in the Tooltip
Double Click – support double click on any word / phrase on the site to produce a pre-set tooltip
Transparent Tooltip – tooltip background could be set to transparent to support showing video/images and other content types
Term Template – term page template can be designed according to need
Related Terms – automatically shows all related posts/pages per each term and all related terms per each post/page
Shortcodes – support for multiple glossaries and external API's (Wikipedia/Google/WM) inside any page or post using shortcodes
Search Glossary – search glossary for terms using local ajax based search
Glossary Index Views – select between several templates to display glossary index page
WooCommerce Products – display WooCommerce Product Widgets inside tooltip
Tooltip Fonts – change the Tooltip font from a list of Google's available fonts
WordPress Multisite – supports WordPress Multisite
Social Share Widget – add social share widget to term page and glossary index page
Much More
Price
CM Tooltip is available in four editions with different levels of features and functionality:
Free: $0
Pro: $35
Pro+: $45
Ecommerce: $60