The general public is becoming more and more comfortable with making and paying for bookings online. If you run a business where taking a booking is a necessary transaction, it is important that your website can cater for this particularity.
If you are looking to set up a reservation or booking facility on your WordPress website, or upgrade the plugin you currently use, then keep on reading. In this article we will discuss the different solutions available, including the features they each offer, to help you choose a plugin appropriate for your business.
Why You Need a Booking System on Your Website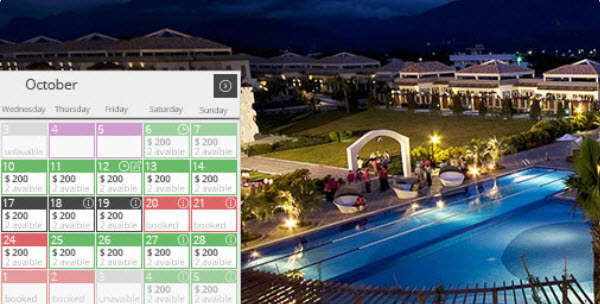 Online bookings for hotels, flights, tours, and tickets are all commonplace for large companies. However, fitness centers, hairdressers, solicitors, doctors, restaurants, and many other industries can also benefit from reservation and payment facilities on their website.
An online booking system should be viewed as another way to reach clients and generate revenue. Engage with the online side of your customer base, whilst saving yourself time answering phone calls and booking appointments.
A calendar and automatic booking system is also an effective way to organize your business and keep all data in one central location. This will help eliminate human error and provide an impressive customer service.
Using a WordPress plugin is a sensible way to set up bookings on your WordPress website. Let's have a look at some of the options available…
WP Booking Calendar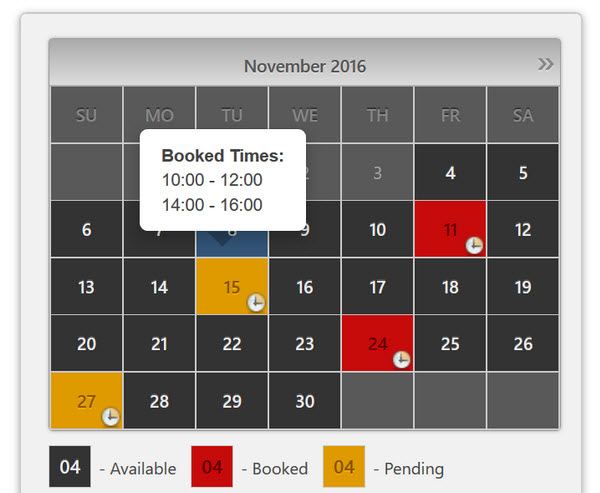 WP Booking Calendar is an online booking system for availability checking and reservations. Easy to use and extremely flexible, it is ideal for hotel or holiday home bookings. However, this plugin can also be used for equipment rentals (cars and bikes), patient scheduling (doctors and dentist), and client scheduling (photographers, massage therapists, etc), to name a few.
WP Booking Calendar gives you control over your calendar functionalities, booking options, forms and many other features. Calendars have a sleek, responsive, and customizable design, so they can fit in with the style and needs of your site. Bookings can all be managed within the Admin Panel, and online payments can be received. This plugin is also very straightforward to install and setup, meaning your reservation system can be up and running in minimal time.
A great all-around solution, WP Booking Calendar will help you create a successful online reservation system on your website, whatever your business. A free version is also offered, which may be worth trialing before you opt to make a purchase.
Price: From $79
BirchPress Scheduler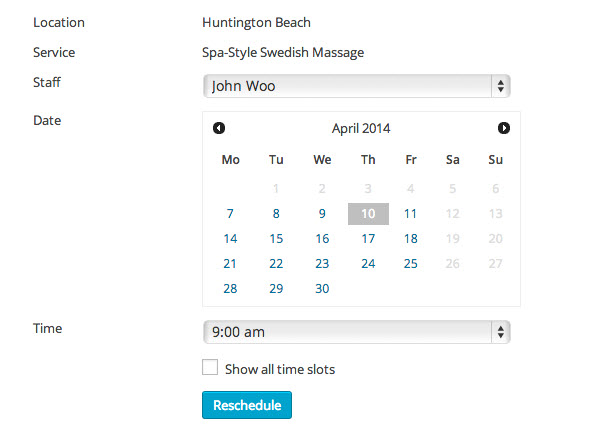 BirchPress Scheduler is a premium WordPress appointment booking plugin. Providing a great user experience, a calendar and booking form can be embedded into a post or page. This enables visitors to quickly check availability and make a reservation or book an appointment online.
The calendar is synced with Google, or another provider of your choosing, and automatically displays your availability, appointments, and events. A built-in editor also enables you to quickly build and design your booking form, enabling you to select the appropriate fields for your business.
Once an appointment has been made, BirchPress Scheduler ensures top notch customer service with email notifications and reminders. Send out customized messages to confirm, reschedule or cancel an appointment. Online payments can also be taken via Paypal, or other gateways using WooCommerce integration, helping ensure smooth transactions.
BirchPress Scheduler comes with in-depth documentation and support. Alongside its advanced options, you will be able to create a suitable appointment system for your site. And one that provides a fantastic user experience for your visitors.
Price: From $75
Checkfront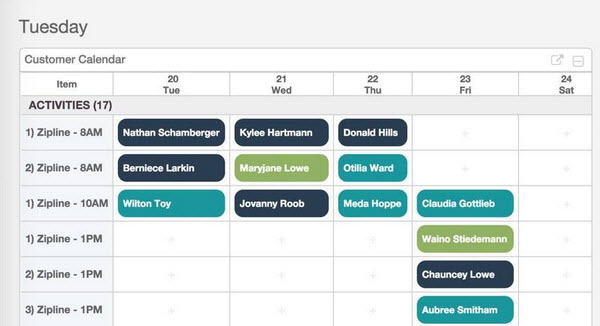 If you are looking to take automatic bookings on your WordPress site, then Checkfront could be a good option for you. Checkfront allows you to turn your website into a booking engine, letting your customers book from any location, at any hour.
This plugin has been designed especially for the tourism industry, perfect for booking tours, activities, rentals, and accommodation. Visitors can check real time availability, make online reservations and pay through a secure payment gateway, using automated procedures. Checkfront also enables bookings to be made via Facebook and TripAdvisor, helping you reach a wider customer base.
Relatively quick and straightforward to set up, Checkfront comes with support documentation and videos to help you get started. Responsive booking forms can be created, customized and added to any page and post. Custom notifications, including automatic confirmations and invoices, can also be enabled, providing a professional service for your customers.
Analytics for your booking system can be tracked by Checkfront. Get a real-time insight into your bookings and inventory, and access information on customer demographics. This will help you understand your audience and keep them coming back.
Checkfront is an advanced booking and reservation facility. Once established, it will take charge of managing your bookings, so your site delivers a streamlined and reliable service.
Price: From £29 (GBP) a month
Pinpoint Booking System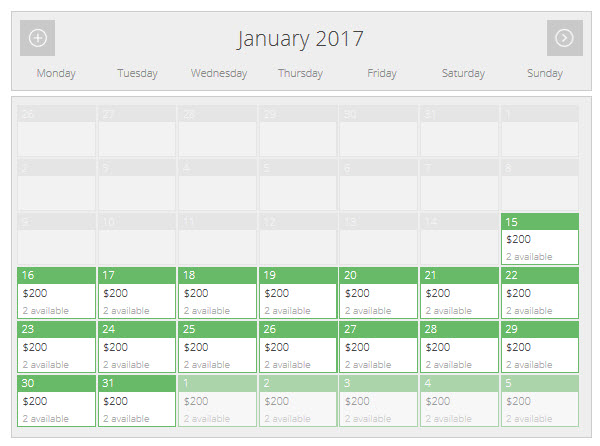 Pinpoint Booking System is, like WP Booking Calendar, a tool for every booking eventuality. Whether you want your site to schedule services, appointments, or reservations, book events or rent accommodation, this solution can help.
Pinpoint uses a unique AJAX calendar to display the availability of a product or service to your audience. The calendar can be tailored to set the availability, price, discounts, and other information, as you wish. Visitors can then select the time, date and other specifics they would like to reserve and send an appropriate booking form.
Pinpoint Booking System can be extended with WooCommerce, and add-ons for payment gateways can be purchased, to give extra functionality. A free version of the plugin is available, but if you would like the flexibility of customizing the booking system to match your site's demands, you will need to upgrade to the Pro plan.
Price: Free / from $50
Bookings on your WordPress Site
As you can see, there are some powerful booking systems available that can help your website display availability, take reservations, make appointments, accept payments and lots more. Creating a booking facility on your site will help you connect with a wider range of customers, as well as help increase your profit. So, which plugin will you choose?
What booking facility do you use on your WordPress website? Please share in the comments below…