AudioTheme is a new theme shop specializing in WordPress themes for bands, musicians, and labels. Their premium themes are complete music website solutions and have all the features you'll need to manage your site content, gigs, discography, videos, and more; all in one WordPress powered website.
AudioTheme is owned and operated by 3 experienced developers and music connoisseurs: Brady Vercher, Brody Vercher and Luke McDonald. As they explain on their website: "AudioTheme was born out of the needs of music makers who want an awesome site, but don't have the time to struggle with complicated setups or money to afford a totally custom solution."
They currently have three premium music and band WordPress themes available with more to come soon.
Americanaura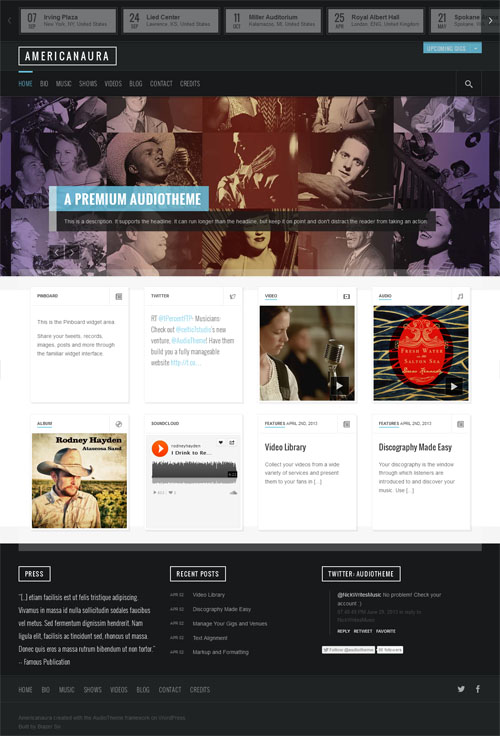 Shaken Encore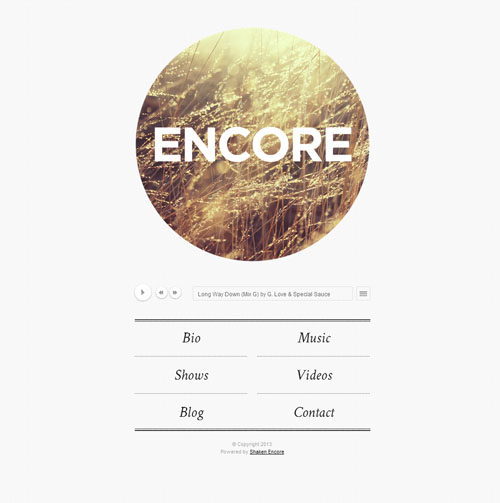 Blocco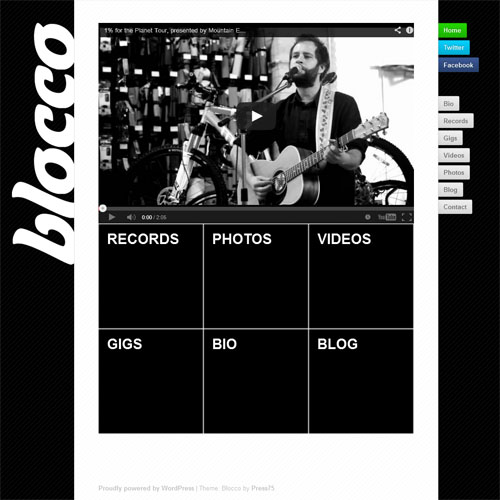 All Audio Themes are powered by the AudioTheme Framework – a reliable, structured codebase in the familiar form of a WordPress plugin that has a load of useful features and functionality to make it easy to build and manage music oriented websites.
Features
Content Management – control your own content including dates, photos, video and more
Gig Management – list your upcoming shows and all the relevant details, including date, time, location and ticketing information
Venue Management – ability to build a venue database with relevant info about the venue and assigned shows to different venues
Discography – everything you need to build and maintain your discography. You can add/edit records, upload cover art, audio files, define record type, add lyrics, credits, add purchase links and more
Track Management – options to easily add and manage your tracks. You can upload the track to your site or use an external link to an .mp3 file, allow downloads, upload cover art, set purchase links etc
Video Library – ability to create your video galleries by simply embedding videos from a number of video services, including: YouTube, Vimeo, Daily Motion, Viddler and others
Built in Audio Player – the jPlayer library and jPlayer Playlist plugin are bundled with the framework in order to add audio player support to themes. You can use the built in audio players or bake your own
AudioTheme Framework – all themes are powered by the AudioTheme Framework. It provides a reliable, structured codebase in the familiar form of a WordPress plugin
Custom Widgets – to add content and features to your sidebars

Upcoming Gigs Widget – display a list of upcoming gigs
Video Widget – display a selected video
Record Widget – to display a selected record
Recent Posts – improved widget to display posts
Track Widget – display a selected track

One Click Updates – when new updates are available you can update to the newest version with a click of a button
Translation Ready – built-in translation capabilities, giving you maximum language translations to deliver your music to a worldwide audience
Features for Developers
Documentation – extensive online documentation
APIs – various APIs to easily build your own extensions and unique WordPress themes
Templating – easily modify templates directly or use the many hooks & filters in the Framework
Hooks and Filters – allow you to easily modify, add and remove code from core templates / functions without touching the core files
AudioTheme Settings API – the settings API built into the AudioTheme framework provides a consistent and greatly simplified interface for creating new options screens or adding settings to the Theme Customizer
LESS Support – the wp-less library by Robert O'Rourke is bundled with the framework to provide a LESS compiler directly to themes
Clean, Commented Code – inline documentation, plus Getting Started and Developer Reference guides
Prices
Individual themes start from only $59 each which includes a Personal License of the AudioTheme Framework Plugin. The AudioTheme Framework itself can be purchased separately starting at $29/year for a personal license, $59/year for professional, or $199/year for a developer license.
For more about information about the features of the AudioTheme framework and to try their music themes visit AudioTheme.com