Before making a purchase online, I'll often scour the internet looking for unbiased product reviews. If I like what I read, I'm far more likely to open my wallet.
This is the power of social proof at work, and it's one of the main reasons why review websites are big business – write a detailed and unbiased product review, convince a visitor to make a purchase, and earn a tidy affiliate commission.
Best of all, it really works. It's the main reason that so many bloggers monetize their website with product reviews and affiliate links. And, because every niche has at least one product, it's a viable method of monetization for almost any website. Don't believe me? Take a look at just about any profitable blog and you'll probably find a review section – including here at PremiumWP.
Of course, to make this opportunity work, you're going to have to get pretty handy at writing reviews. To make your life as a reviewer easier, however, WordPress boasts a number of high quality review plugins. This is the focus of today's post, as I take a look at five of the best.
Here are the top review and ratings plugins for WordPress.
Taqyeem WordPress Review Plugin ($17)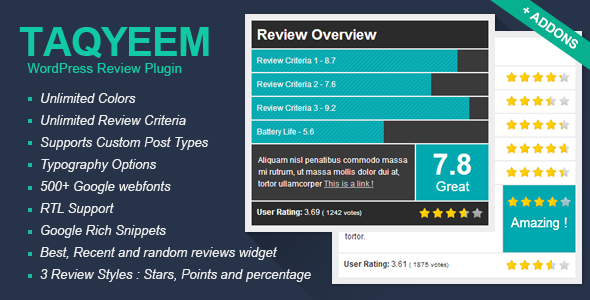 Let's kick things off with probably my favorite review plugin, Taqyeem, available from CodeCanyon for just $17.
Why am I such a big fan of Taqyeem? Because it produces by far the most stylish review boxes, and it comes loaded with customization options. These customizations include infinite colors and a choice of over 500 Google fonts, giving you complete control over the design of your review box.
You can also create an unlimited number of custom criteria, which can be rated using three systems: percentages, stars/5, and points/10. At the bottom of the review, you can write a quick summary and display the overall rating in bold and in a custom color.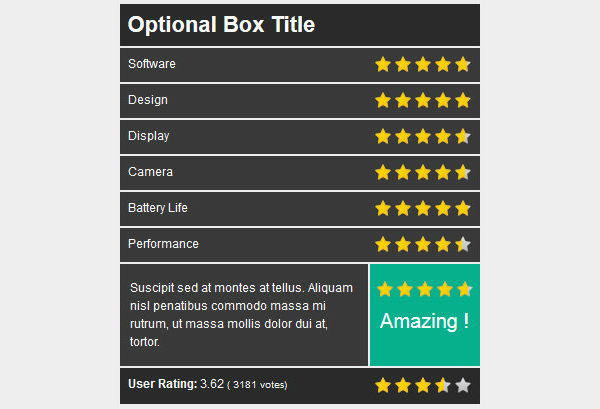 Now that we've covered the amazing aesthetics, it's time to look at what the plugin can do. You can add a review to any post, page, or even custom post type – the latter making it ideal for rating eCommerce products. To create a community rating, Taqyeem allows your visitors to leave a rating, too, which the plugin collaborates for an overall rating.
To utilize the sidebar, Taqyeem also supports a review widget – you can choose to display a popular, latest, or random review in any widget area. Throw in the automatic schema markup for generating Google rich snippets – proven to boost CTR – and you've got a really capable review plugin on your hands.
If you want more control over your reviews, the developers have created two premium extensions for Taqyeem:
Taqyeem Predefined Criteria ($7) – this extension allows you to preconfigure the review criteria for each category, saving you a substantial amount of time.
Taqyeem Buttons ($6) – this extension allows you to add buttons to the bottom of your review (for example, Buy It Now!). There are 470+ icons to choose from, three button sizes, three button shapes, and two button types, plus you can choose from infinite colors for your button.
WP Product Review (Freemium)

Next up, a review plugin built by the highly regarded developers at CodeinWP: WP Product Review Pro.
For those of you on a budget, or just looking to test the plugin out first, the core version of the plugin is available for free from the WordPress repository – WP Product Review. If you want to make money from your reviews, however, I strongly recommend purchasing the more powerful functionality supported by the premium extensions.
CodeinWP have released four WP Product Review extensions over at ThemeIsle. They are: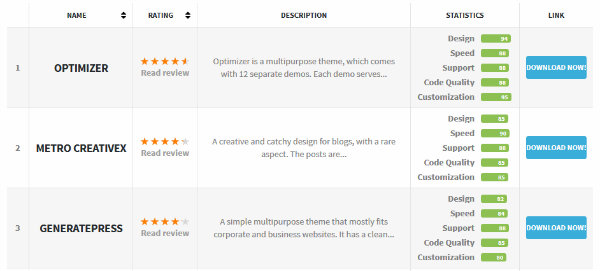 If you like the sound of all that extra functionality, the most cost effective way to buy it is via WP Product Review Pro. The Pro version bundles all the premium extensions in one and costs $59 – giving you savings of $31.
It's also worth pointing out that CodeinWP have also released one extension for free, WPPR Related Reviews. The extension lets you add a related review section in any widget area.
Back to the core functionality, and WP Product Review lets you build simple, stylish review boxes. You can add your own criteria, plus you can choose the colors for each. There's also space to add a product image, an overall rating, and a summary of pros and cons — in other words, the most important details a potential customer needs to know.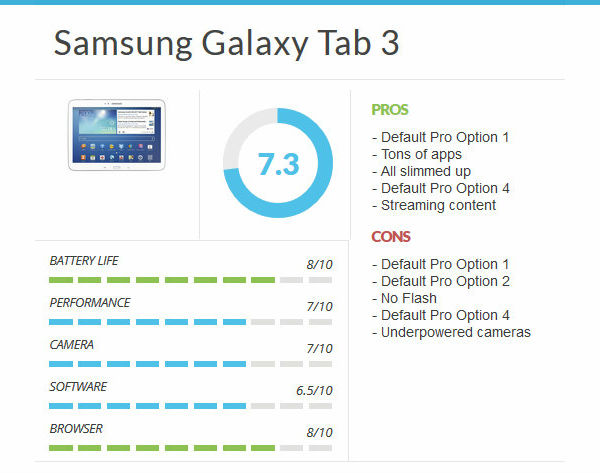 If you want your visitors to leave reviews, you can add compulsory review criteria to the comments section, with the ratings displayed alongside the user's comments. The plugin also generates the relevant schema markup for Google rich snippets.
WP Review Pro ($39)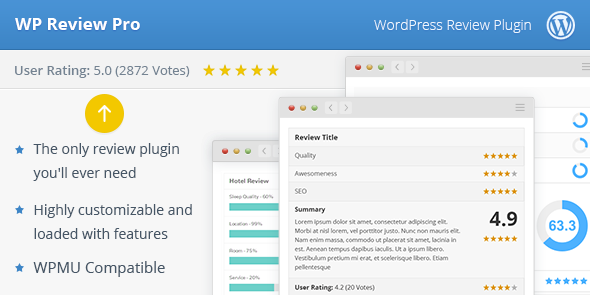 If you're looking for a lightweight and speed optimized review plugin, look no further than MyThemeShop's WP Review Pro plugin.
The plugin is one of the more stylish review plugins around and is also one of the most powerful.
For a start, the reviews look great, with plenty to customize. This includes four rating systems (circle, stars, points, and percentages), multiple alignments, custom dimensions, and infinite colors. I've included a screenshot below to demonstrate the simple-yet-stylish flat design.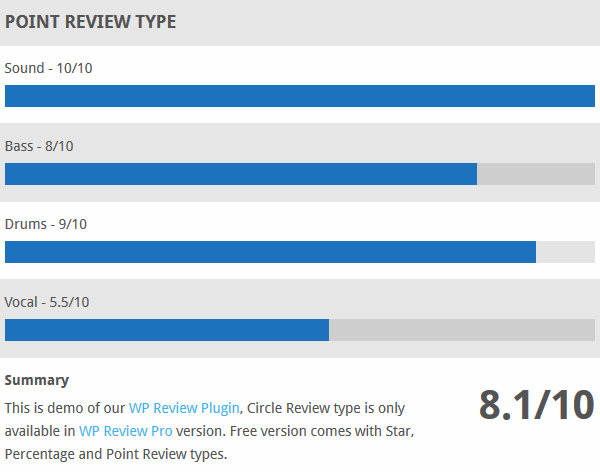 To ensure maximum visibility for your reviews, WP Review Pro also supports eye-catching CSS animations and the option to overlay product reviews on your thumbnail images. You can display your reviews within your content using shortcodes, too.
The plugin also adds a rating system to the comments section. This allows users to rate a product out of five, with their rating displayed next to their comment. This is a great way to promote different opinions on a product, which is proven to add credibility to your own review.
Finally, and to help you attract more traffic to your website, WP Review Pro also adds the relevant scheme.org markup to your Google listing.
Not convinced? There's also a Lite version of the plugin available, allowing you to test out the plugin's features risk-free.
Reviewer WordPress Plugin ($25)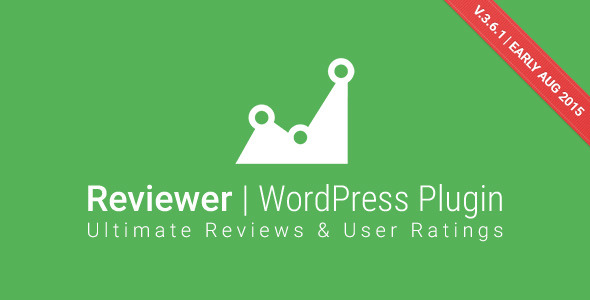 The next plugin in today's list is Reviewer, available from CodeCanyon for $25. It's one of the best plugins for adding review boxes and comparison tables to your WordPress website.
Like many of the other plugins in today's list, Reviewer is big on style. In an innovative move, the developers have included nine review themes with the plugin, giving you lots of different starting points for designing your reviews – each template is fully customizable, too.
Each review box includes an image, overall rating, unlimited number of criteria, and a short list of pros and cons. This gives you everything you need to summarize your reviews and (hopefully) drive conversions. Users can also leave reviews, which are completed via the comments section – Reviewer also gives you the option to specify the compulsory criteria all user reviewers must complete.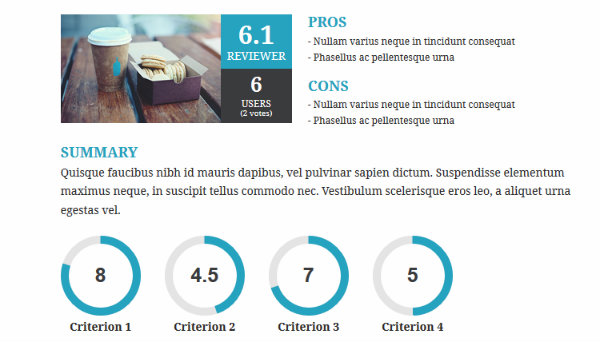 The plugin's other main feature is comparison tables. This allows you to create overviews of related products, so that visitors can immediately identify their preferred product.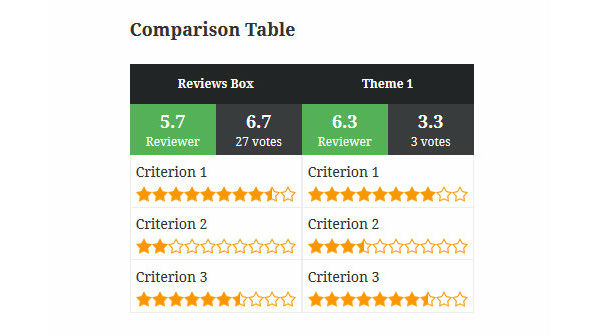 To utilize the widget space, Reviewer supports a handy reviewing widget, too.
WP Reviews ($69)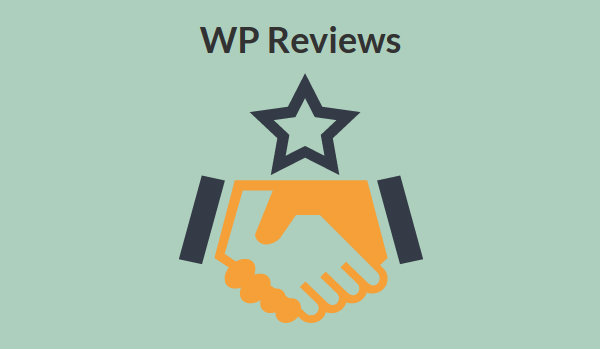 The final plugin featured today is WP Reviews. The relatively steep $69 price tag is offset by the inclusion of the developer's other plugin, Author hReview – this second plugin is also highly relevant if you're looking to build a high quality review site.
Our main focus, though, is WP Reviews. The plugin developers have put a lot of thought into what a review summary needs, and, in my opinion, they've covered everything you could possibly want. This includes a large product image, price, editor/user ratings, review criteria, review summary, and review details. This is quite a comprehensive review box, and would look great either at the top or bottom of a review page.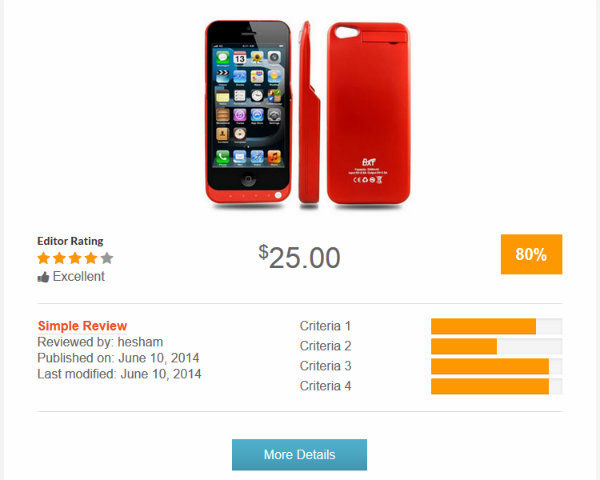 Despite the comprehensive review summary, actually putting together your review box is relatively simple. Every field is controlled from a metabox below the WordPress Visual Editor, allowing you to fill in the summary as soon as you've finished writing your content. WP Review also boasts shortcode and widget functionality, automatically generated schema markup, and fully responsive design, giving you the full range of review website functionality.
Final Thoughts
After writing a long, comprehensive product review, a visitor's thoughts are often all over the place. If you want to get them focused on the buying decision again, displaying a summary of your review is the best strategy.
With this in mind, a quality review and ratings plugin is essential. Not only does one of these plugins allow you to create beautiful summaries, they also allow other visitors to chime in their two cents (another important consideration during the buying process) and even boost visitor numbers courtesy of schema markup.
What does this mean for you and your review website? More visitors and even more conversions — and this can only be a good thing for your bottom line!
Do you have a favorite WordPress review plugin? Share your thoughts in the comments section below!